Fall Packing List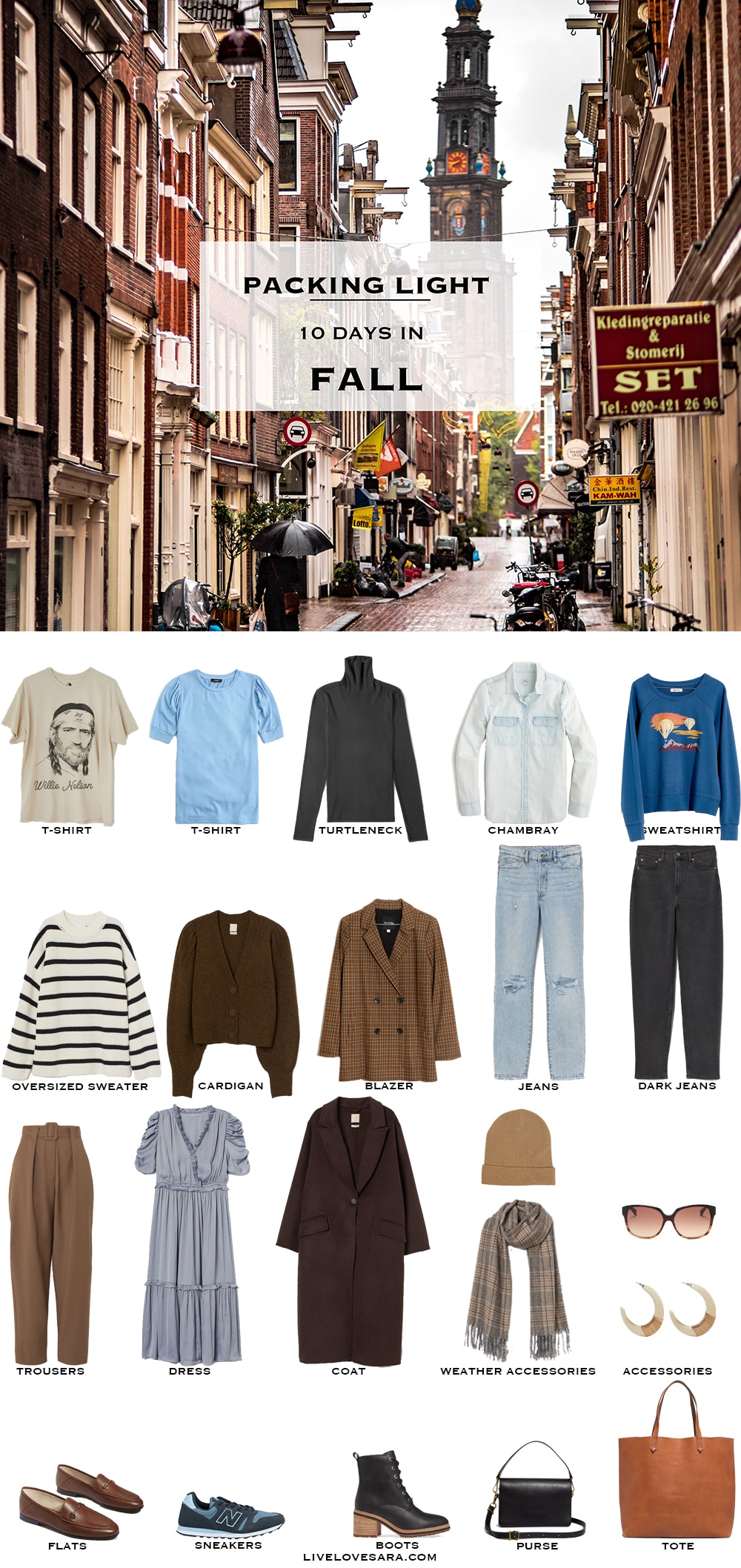 Band Tee | Blue T-shirt | Black Turtleneck | Chambray | Sweatshirt | Striped Sweater | Brown Cardigan | Check Blazer | Blue Jeans | Black Jeans | Trousers | Dress | Brown Overcoat | Beanie | Scarf | Sunglasses | Earrings | Brown Flats | Blue Sneakers | Black Boots | Black Purse | Brown Tote
SHOP THE POST


Are people even going anywhere yet? I guess the question should be, should people be going anywhere?
Because I have in fact seen a lot of people (mainly US-based Instagram influencers) carrying on and travelling about as nothing has changed.
It's actually quite infuriating to watch.
So maybe we won't be back to travelling this fall, but hopefully, we will by next fall.
Fingers crossed…knock on wood.
Whatever works.
So if you are hanging at home still, maybe bookmark this post for future reference.
Not to be all cliche and shit but fall/autumn is my favourite season. I wish it lasted more than a few weeks before here winter rolls in, but I still enjoy that small blip of time.
I don't mind early winter either so I won't complain about it. Walking in nice light snow is almost as good as walking in a nice light rain.
Although I need some new, short rain boots.
There is a lot of construction in this area and the streets tend to get VERY deep puddles when the rain is heavy.
The ankle boots style is what I am looking for because the high boots tend to hit me right where my knee bends making an awkward walk.
This is the season that shows my style to it's fullest. It's also a forgiving season fashion-wise since much of what you wear is layered and loose.
I'm all about the comfort factor and hopefully, this packing list reflects that.
Layers, turtlenecks (in shirt, or sweater form, or even both if you love turtlenecks), and sweaters key pieces in a fall travel capsule wardrobe.
The days tend to start off cool, warm up a bit during the day, and then get much colder in the evening/night as the sun sets earlier each day.
This means that you might not always want to wear a jacket, sometimes a sweater layered under a blazer will do.
The occasional hot day can also pop up so having a t-shirt or two will come in handy in that situation.
Does it rain a lot where you are going?
Take that into consideration when you are choosing what to bring.
Will you need an umbrella, or a rain coat?
Waterproof footwear? You can stay stylish, warm, and dry in the rain with waterproof booties from Blondo.
As I was searching for Blondo's I saw that there is also a lot of styles that are included in the Nordstrom sale. Not in Canada though :/
No need to pack a bulky rain boot…because how can you actually pack light if you need to bring those?
These waterproof boots are great. They are from Timberland which has an excellent reputation, they come in black and a beautiful brown, and the reviews are all great.
A block heel is also a perfect choice if you like a heeled boot for travel. It is safer to walk on cobblestones streets, and much easier to walk in.
And I love the combination of witchy, Victorian era, and Little House on the Prairie vibe they give.
Don't forget the accessories.
What kind of fall hat do you like?
While I am faithful to my favourite wool fedora, I tend to prefer a nice beanie.
They easily mask a bad hair day, are warm, easy to pack, and won't blow off.
That makes them a must have in my books.
This is a 10-day fall packing list and I put together 10 outfit ideas below. This packing list makes way more than 10 outfits and I will put put together more tomorrow,
I got sidetracked building a Scooby Doo Playmobil set that took about 4 hours longer than I thought it was going to and it got too late to finish this post.
So come back to this post tomorrow night for some more fall outfit ideas if you are interested.
Note: Fifteen more outfit ideas were added to the bottom of the post.
You may also like:
The Ultimate Summer Packing List
Fall Capsule Wardrobe Essentials
Packing a Fall Travel Capsule in a Carry-on
Fall Travel Outfits
Band Tee | Blue T-shirt | Black Turtleneck | Chambray | Sweatshirt | Striped Sweater | Brown Cardigan | Check Blazer | Blue Jeans | Black Jeans | Trousers | Dress | Brown Overcoat | Beanie | Scarf | Sunglasses | Earrings | Brown Flats | Blue Sneakers | Black Boots | Black Purse | Brown Tote
SHOP THE POST


Fall Outfit Ideas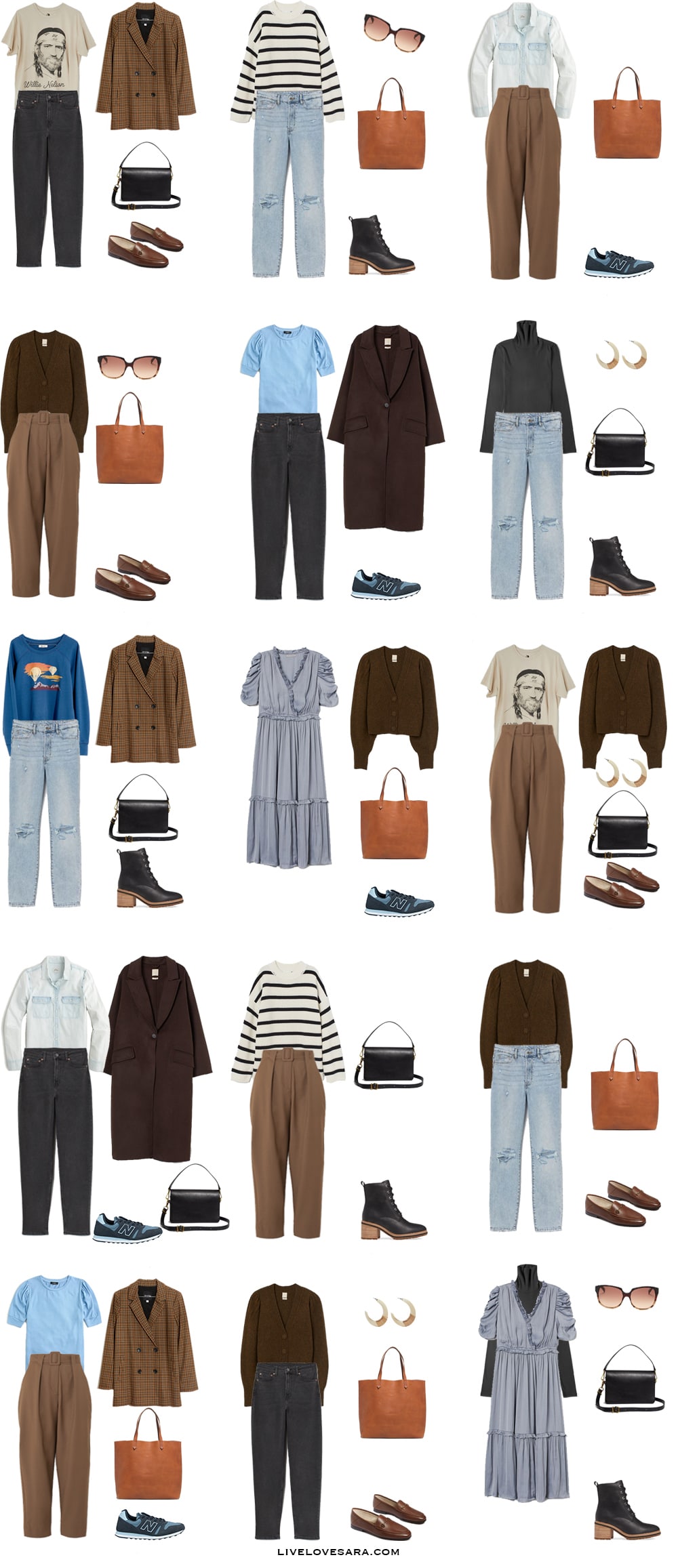 Band Tee | Blue T-shirt | Black Turtleneck | Chambray | Sweatshirt | Striped Sweater | Brown Cardigan | Check Blazer | Blue Jeans | Black Jeans | Trousers | Dress | Brown Overcoat | Beanie | Scarf | Sunglasses | Earrings | Brown Flats | Blue Sneakers | Black Boots | Black Purse | Brown Tote
SHOP THE POST


This post contains affiliate links. By using my links to shop I may receive a small commission (at no cost to you). Thanks for supporting what I do