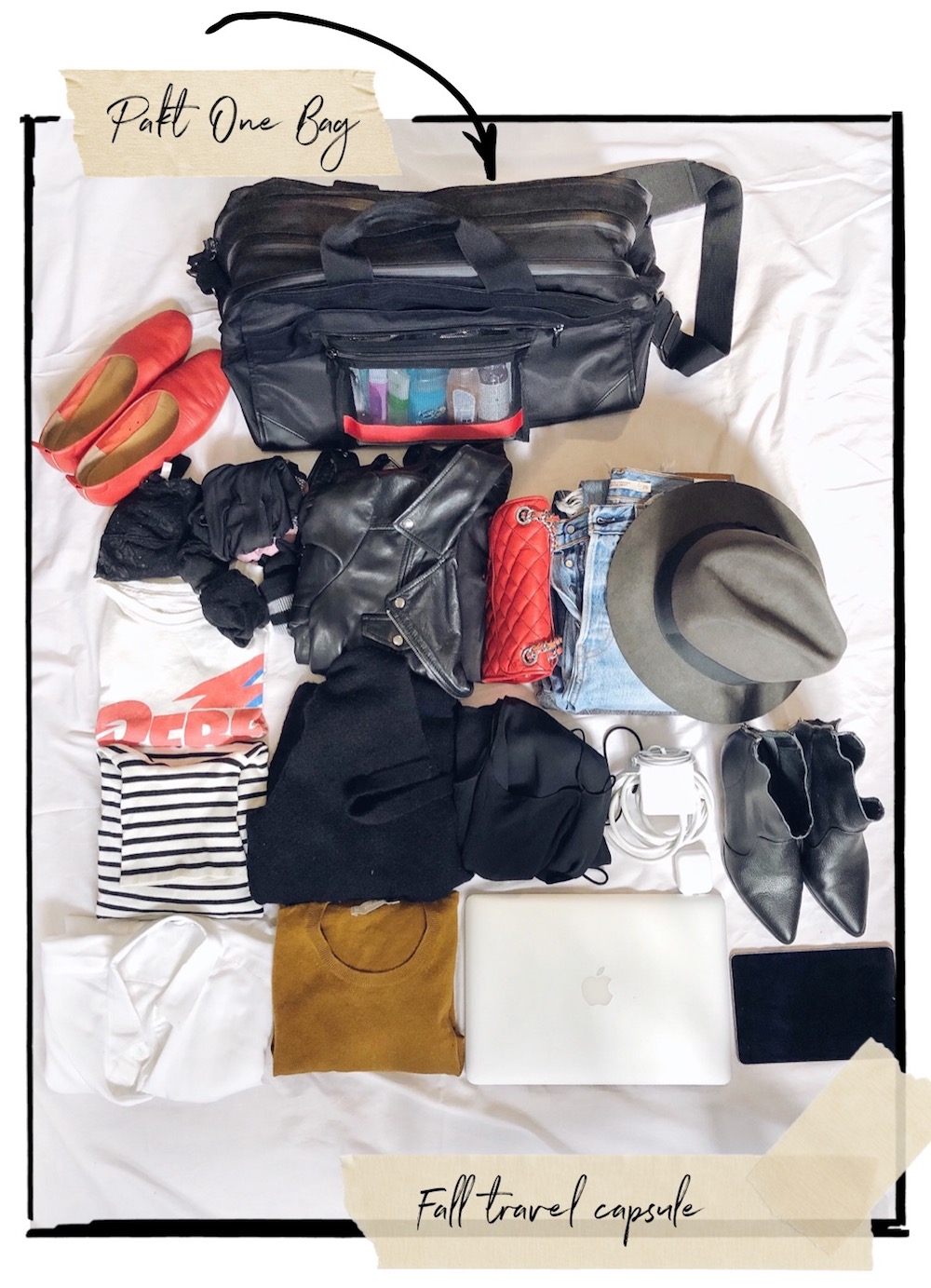 This week my packing list series is looking a little different. I had the opportunity to work with Pakt One Travel Bags to take the challenge of putting together a fall travel capsule wardrobe using only the Pakt one carry-on bag.
They were kind enough to send me a bag so that I could make this Packing a Fall Travel Capsule in Pakt One Bag post. Which gave me the opportunity to dig through my clothes for my favourite autumn wardrobe pieces and see if I could fit everything in the Pakt One.
Success! I managed to put together a packing list travel wardrobe with 27 outfits (all shown at the bottom of the post), and fit all clothes, toiletries, and necessary electronic travel devices into the bag with ease.
Based on the number of outfits I put together you could pack for a month long vacation with this bag.
For shorter durations, I could easily fit my stuff and at least one of the girls (if not both) into the same bag. This is one well thought out travel bag.
Pakt One Bag Specs
A quick backstory on The Pakt One, is that it is a collaboration design by the Minimalists, and Malcom Frontier.
The Pakt One is vegan, but it is also shipped 100% plastic free, so not only have they taken environmental considerations, but they have high ethical standards as well. These can be seen here.
It is carry-on approved and has a capacity of 35 L. It measures L 20″ (50.8cm) x W 10″ (25.4cm) x H 11″ (27.9cm) and the exterior is made of durable nylon with water-resistant zippers. All details can be found here.
It has a removable padded shoulder strap and top handles which makes it easy to grab and go if necessary. A lot of people like the ease of wheels on their suitcase, but I like to be able to pick up my bag and move quickly if I need to, so the straps are perfect for that.
The Pakt One has a clamshell design that makes both packing and access to your items easier. No need to open the entire bag to find a particular item. The smart design of the bag with multiple zipper access points allows you to open it quickly and efficiently.
There are four external pockets. Two in the front with one having slots for bank cards, passports, and a clip for your keys. The longer one on the back is fairly deep and has magnetic closures. Great for books, iPads, headphones etc.
The smaller zippered pocket adjacent to that contains a small, zippered, mesh pouch with a long red stripe across it. It can be pulled outside the bag for ease going through security.
They call it the "TSA pocket" and it is intended for your cellphone, liquids, or anything else that is required to be outside your bag while passing through airport security.
The red stripe is meant to remind you to collect and repack everything that you removed from your bag while going through (like your computer).
The Pakt One's main body has three separate zippered compartments. The center zipper opens the bag into its clamshell design and will resemble a traditional suitcase when opened this way.
The other two zippers are for accessing each compartment separately without having to open the entire suitcase.
When opened via the center zipper, one side has a mesh closure and the other a partition with a large padded pocket which is perfect to slide your laptop into.
Being kept in the center of the bag both protects the computer, as well as makes it easily accessible when needed. There is no need to open the bag completely to remove it, just partially unzip and slide it out.
The Pakt One Travel bag also contains many smaller internal zippers, pockets, and pouches that make keeping your smaller items both easy to find and organized. It also comes with a folded up bag that can be used for keeping dirty laundry separate or as a tote if needed.
This bag is very stylish and minimalistic. They obviously put a lot of thought in to the design to make a small space work so well. I'm really impressed with the number of things I was able to fit in the Pakt One.
Now on to what I actually included in this fall travel capsule. Every single piece this week comes from my personal wardrobe. They are the pieces that are in constant rotation, and part of my go-to fall wardrobe.
Some of my items are older or no longer available. In these cases, I linked to this season's version or the closest available option.
What I fit in to the bag which can be seen in the top photo.
---
SHOP THE POST


---
Not seen is what I deem the "airport outfit" which consist of a pair of leggings, sweatshirt (mine is hard to find, but last years graphic is available), long cardigan, sneakers, purse, and hat since they are comfy travel clothes.
This resembles what I usually include in my weekly packing lists. Below you can see the visual breakdown of exactly what I included in this fall capsule travel wardrobe, and then the fall travel outfits I put together with all those pieces can be seen on me in the corresponding collage of photos.
If you are wondering what to wear when travelling without having to pack your entire wardrobe, know that you can have a stylish travel wardrobe in a few simple steps with the right planning. The Pakt One bag helps to keep everything together and organized while still travelling light. It's a wonderful bag.
*This post was sponsored by Pakt Bags. As always all opinions are my own.
You may also like:
A Fall Capsule Wardrobe
What to Pack for London in Autumn
If you are travelling in fall and enjoyed my Packing a Fall Travel Capsule in a Pakt One Carry-on Bag packing list, please feel free to share it via Pinterest, Facebook, or Twitter. Thank you.
Fall Travel Capsule Wardrobe

---

---
Follow me on
FACEBOOK||INSTAGRAM||PINTEREST||BLOGLOVIN'