How to Wear a Bodysuit

When asked How to wear a bodysuit, my first response is usually, "just wear them like you would wear a fitted t-shirt". Which should work in 99% of your dressing situations.
A bodysuit was a trend that I truly thought I wouldn't see again. Surprise! I really like them and consider it one of my wardrobe staples.
The first bodysuit that I ever wore was a crushed velvet beauty in lush raspberry colour. This was around 1993 which I also wore with Levis 501s.
I probably wouldn't wear a crushed velvet bodysuit today but this black one that I bought from Everlane has got a lot of use recently.
I also have a Madewell bodysuit coming in the mail which is, grey, and short-sleeved, but the mail is taking forever at the moment so who knows when it will arrive.
This bodysuit fits true to size, although I made the mistake of sizing down. When I ordered it, it was free shipping to Canada weekend and they were sold out in my size, so I ordered the next size down.
And while it fits, it does lean towards tight and waiting for my proper size would have probably been smarter.
I have eight bodysuit outfits for you below.
Outfit 1: Bodysuit with an Oversized Blazer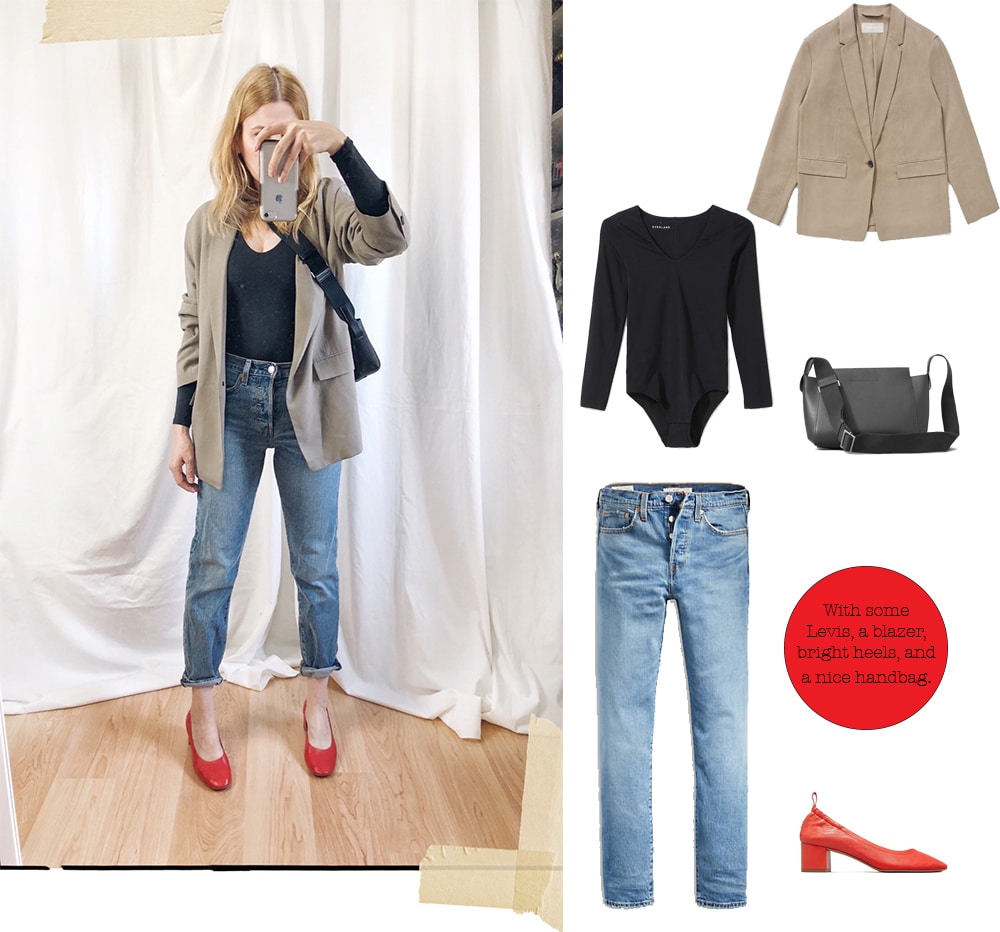 Bodysuit | Jeans | Blazer | Crossbody | Heels
The first outfit is my go-to when I want to look put together with minimal effort.
Minimal effort is like my whole mantra with my wardrobe. I don't want to have to spend too much time or brainpower trying to figure out what I am going to wear. Which is why I tend to just throw a blazer over any and everything.
An instantly pulled-together look in the span of seconds.
Outfit 2: The Summer Look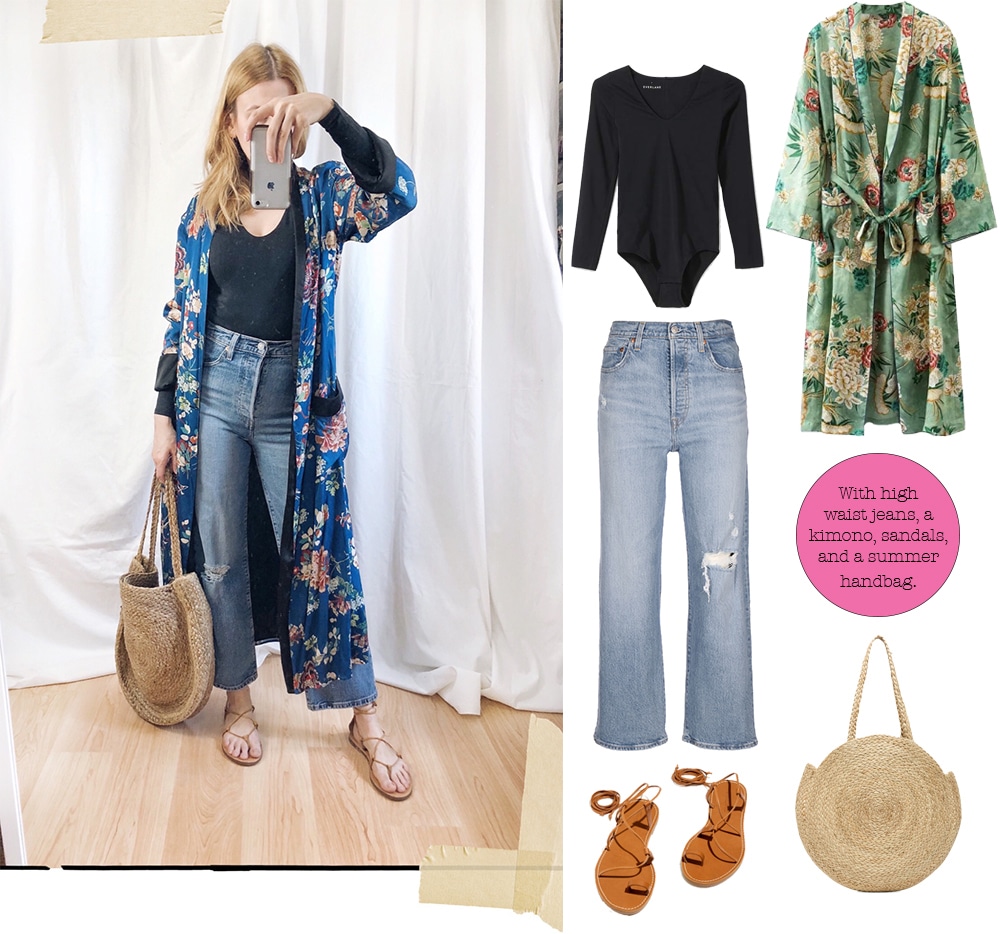 Bodysuit | Jeans | Kimono | Straw Bag | Sandals
A Bodysuit with a kimono and high waist jeans give a summer boho vibe. I bought this kimono a Zara a few summers ago and it is more like a robe than light a gauzy but I love it.
This bag is also one that I have had for a few years. I originally bought it from Mango but it seems that they have the exact same bag at Sole Society this season.
The sandals are the Madewell Boardwalk from several seasons ago. They carry them each summer with small changes in the style each year.
I don't generally like to classify a certain look as french, but this one would be ay home there.
A trench coat is a wardrobe staple that will instantly dress a look up. These jeans are the Levis Ribcage style and apparently the darker washes fit bigger so I had to go down a size in these.
The Chanel-esque shoes I bought on Poshmark several months ago after searching for a while.
I love the challenge of trying to find something secondhand.
I find that I have much more success on Poshmark when I am searching for something specific. Otherwise, I tend to just go through page after page and never see anything that catches my eye.
When you don't know what shoes to wear, just slip on some converse. You can't go wrong with this classic.
A black blazer and black jeans complete the look. Don't pay attention to the smudges on my mirror, I swear I cleaned it well before it just is always so noticeable with black clothing.
Outfit 5: The 90s Classic Outfit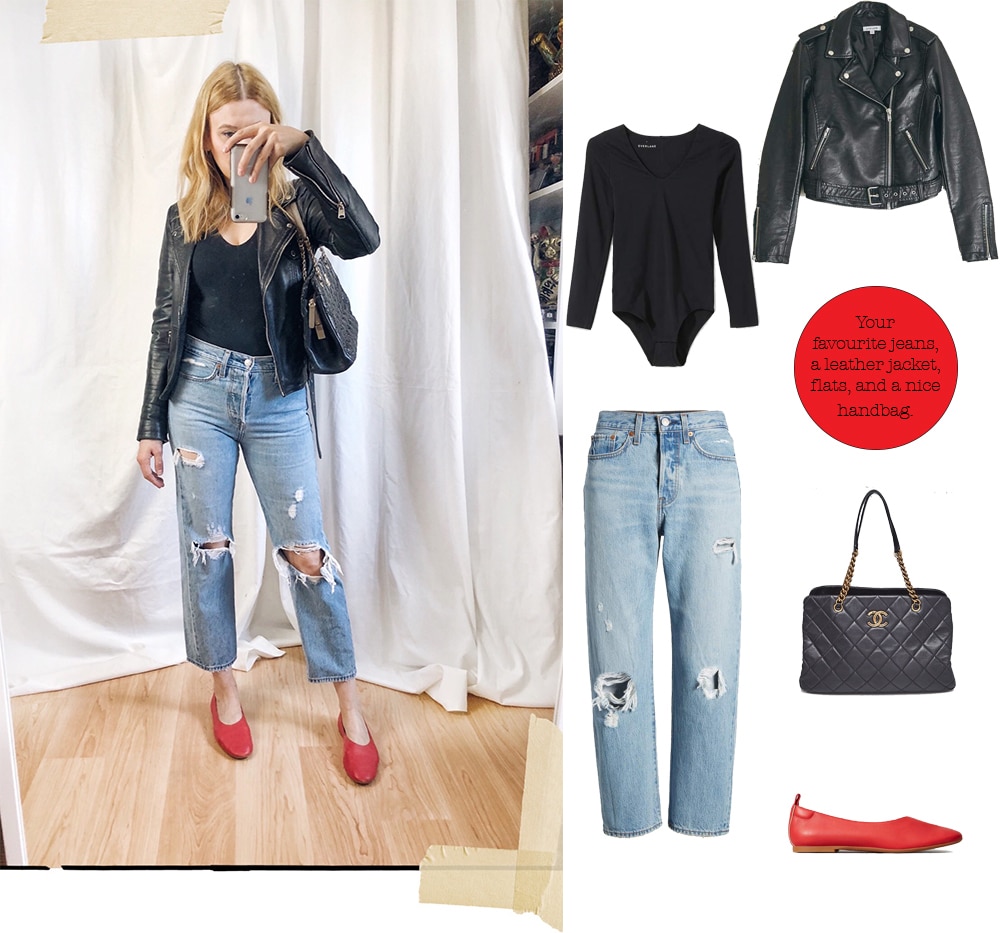 Bodysuit | Jeans | Leather Jacket | Purse | Flats
Last week I had the 90s classic of a t-shirt and slip dress, this week it is a bodysuit with lives, a leather jacket, and some flats.
I consider this also one of my go-to's. It is always a look that I feel good in.
These red shoes are currently included in the Choose What You Pay Event. I'm really hoping that it doesn't mean that they will no longer carry this colour because I would love to replace these once they start to wear.
Outfit 6: A Bodysuit with a Slip Dress
Bodysuit | Slip Dress | Crossbody | Vans
Last week I had How to Style a slip Dress 10 ways and this outfit wasn't on the list, so you can add another look.
A bodysuit works well under any dress, skirt or jumpsuit that you can wear a t-shirt under.
And you can never go wrong with a pair of Classic vans slip-ons. I've worn the shit out of these, and they are actually starting to wear in the toe.
I'll keep my eye open for another pair at Value Village.
Outfit 7: The Safari Outfit?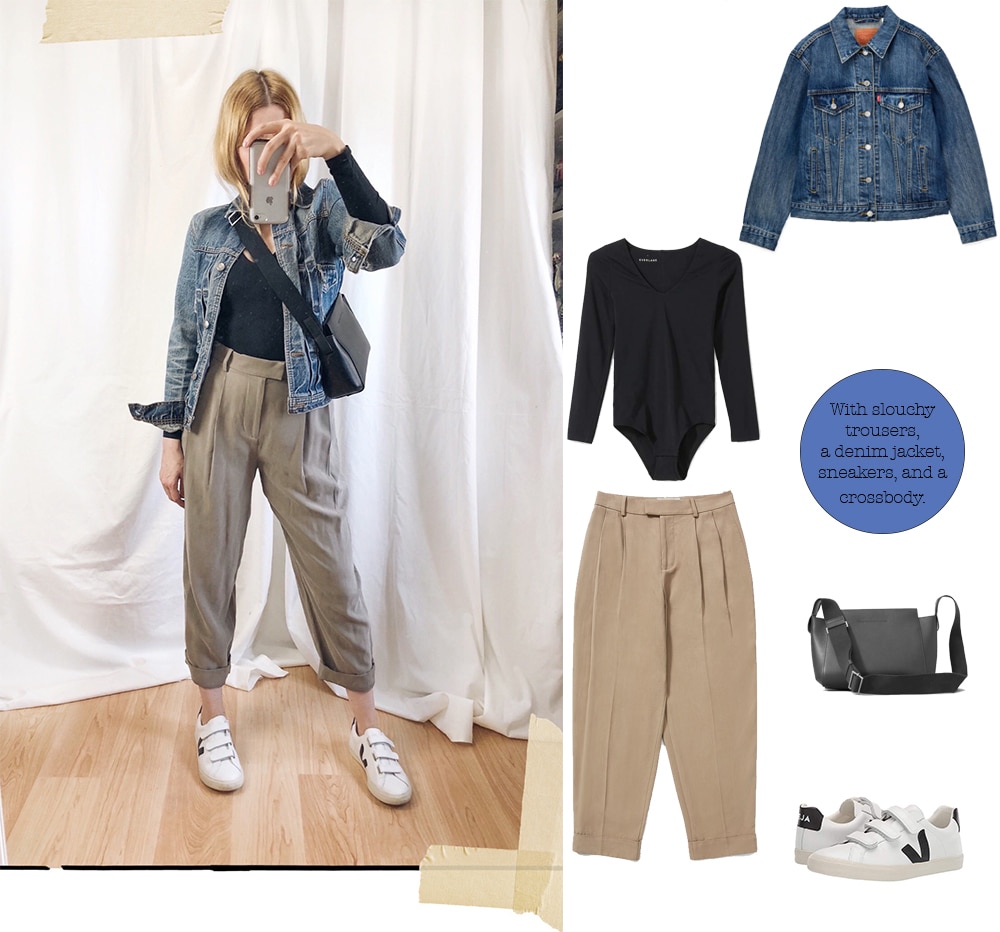 Bodysuit | Jean Jacket | Trousers | Crossbody | Sneakers
Or at least it kind of looks like I am going on a safari.
I paired the bodysuit with some slouchy khaki trousers, a really old denim jacket, and some sneakers.
This is also a weekend errand look which I would wear with sunglasses and my watch, only my watch isn't retaining a charge right now :/
Outfit 8: The Night Out Look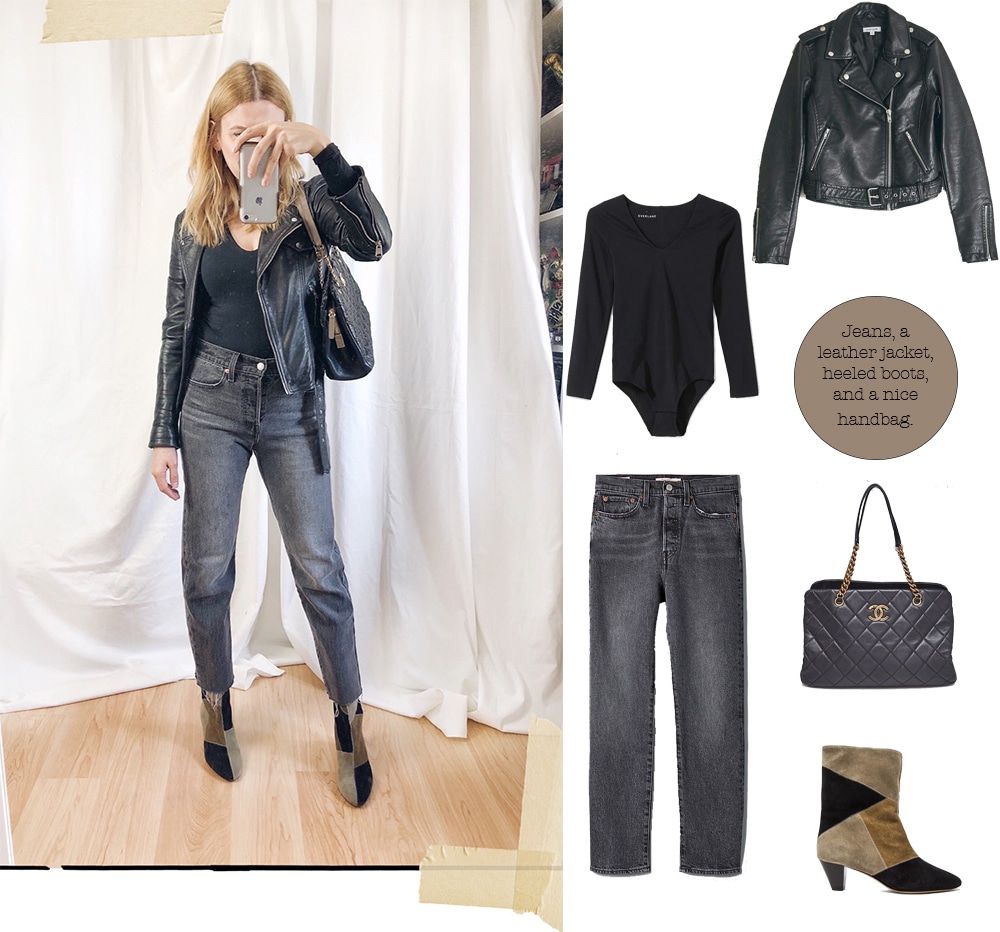 Bodysuit | Jeans | Leather Jacket | Boots | Purse
Not too fancy, but just enough dressy that you can wear it out on a night "on the town" if that ever happens again.
These boots were also a Poshmark find. It's funny because this week six out of the eight pairs of shoes I am wearing here were bought second hand.
Have you ever wondered how to style a bodysuit?
Did this post help?
Stay Safe.
If you want to see some more ways to wear things you may like:
How to Wear a Slip Dress
How to Wear a Shirt Dress
How to Wear Pants 4 Ways
How to Wear a Jumpsuit
This post contains affiliate links. By using my links to shop I may receive a small commission (at no cost to you). Thanks for supporting what I do.
---
SHOP THE POST


---
Follow me on
FACEBOOK || INSTAGRAM || PINTEREST || LIKEtoKNOW.it