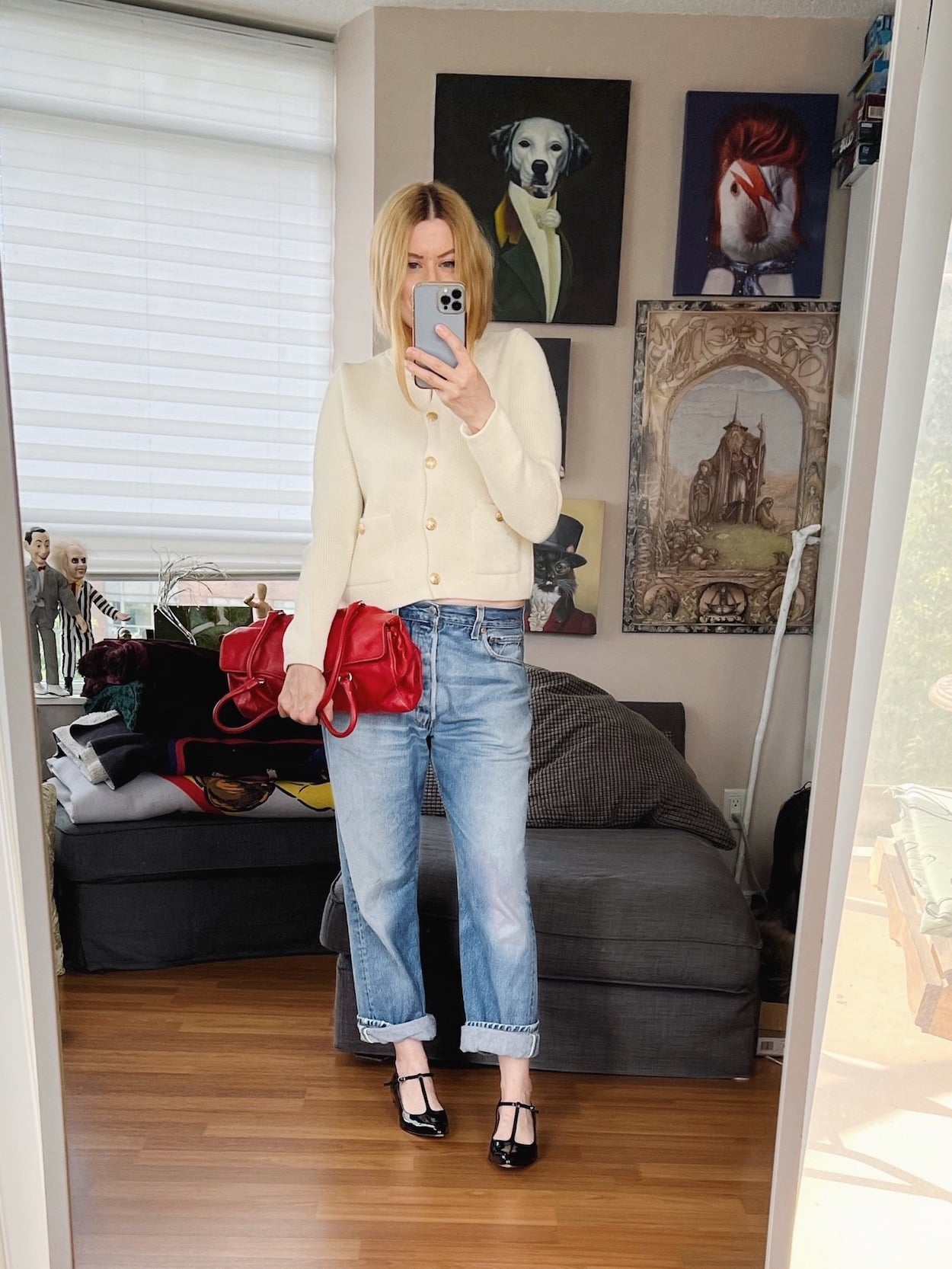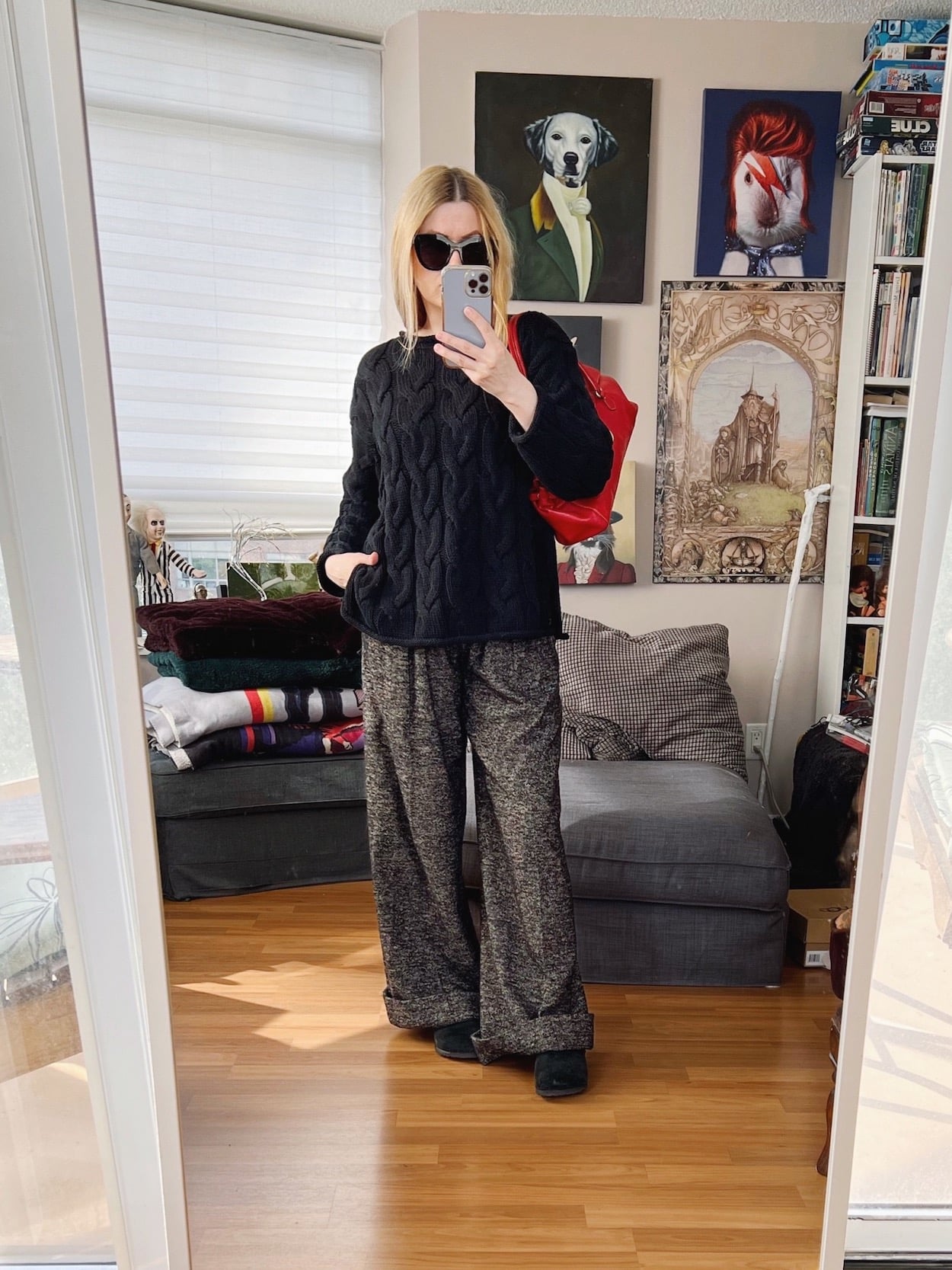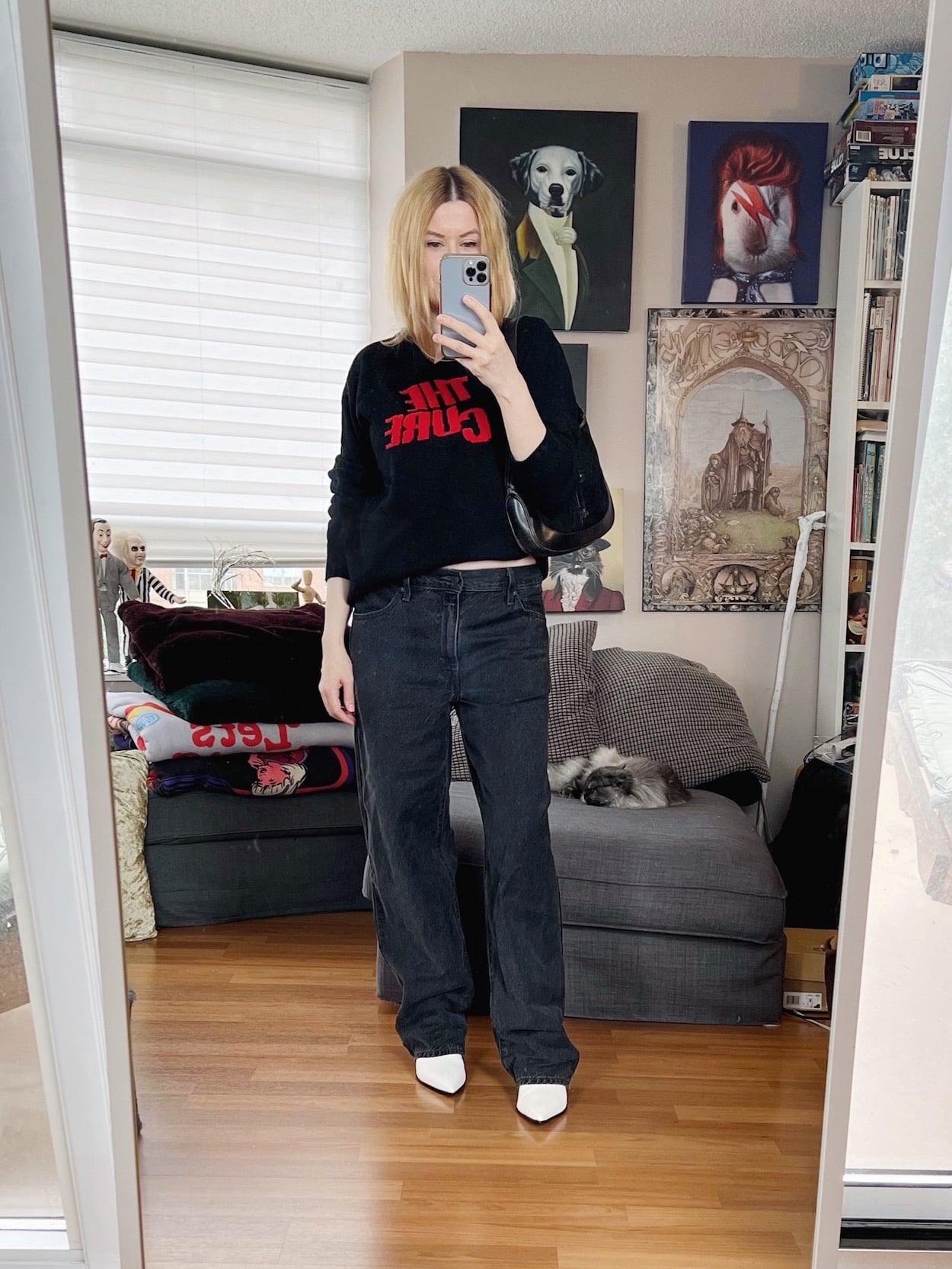 Outfit 1 – Cropped t-shirt | Leather Maxi | Ballet Flats | Vintage Bag
Outfit 2 – Cardigan | Vintage Levi's | Mary Janes (similar) | Handbag
Outfit 3 – Sweater | Trousers (old) | Birkenstocks | Sunglasses | Handbag
Outfit 4 – Cure Sweater | Jeans | Boots | Vintage Bag

I wish this weekend was the long weekend instead of last because we were all sick last week and I wasted it, although I am still sicker than the kids since they caught it first I do feel like I am finally on the other side of it.
And now that it is Halloween candy time of year, I just realized that I ate the entire bag of mini Snickers over the last day and a half, and now I both feel kind of yucky, but also sad that they are gone.
The only purchase that I made last week were the white 80s inspired boots from Zara.
I included them in the edgy capsule from the past week, and you can see me wearing them yesterday in the last outfit photo.
They are a textured faux leather-ish material with a very tiny kitten heel and a point toe. Quite a fun boot.
I think my first class starts this Thursday, so I hope they send out the welcome shit tomorrow, so I know if I need to get any books or anything.
Last time I had to rent them from Vital Source because they were way too expensive to buy secondhand. Like $40 rental fee compared to $225 for one which was ridiculous.
Textbooks are so expensive.
I am actually pretty excited about this, and I think I can get them all done by the end of the spring semester.
Hopefully.
I often find that I bite off more than I can chew, and then I exist in a bubble of anxiety until I finish everything.
I am hoping that isn't the case this time since I am spacing it out a bit better than last time.
Fingers crossed.
Have a great week!
You might also like:
What I Wore Last Week
SHOP THE UK LINKS


I am now offering digital styling guides, and personal styling services. If you are looking for some styling help that is inexpensive and easy, check out my digital styling guides. If you want some one-on-one help shopping, building and editing your wardrobe, or packing for a trip, I can also assist. Check out all the styling services that I offer here.
This post contains affiliate links. By using my links to shop I may receive a small commission (at no cost to you). Thanks for supporting what I do