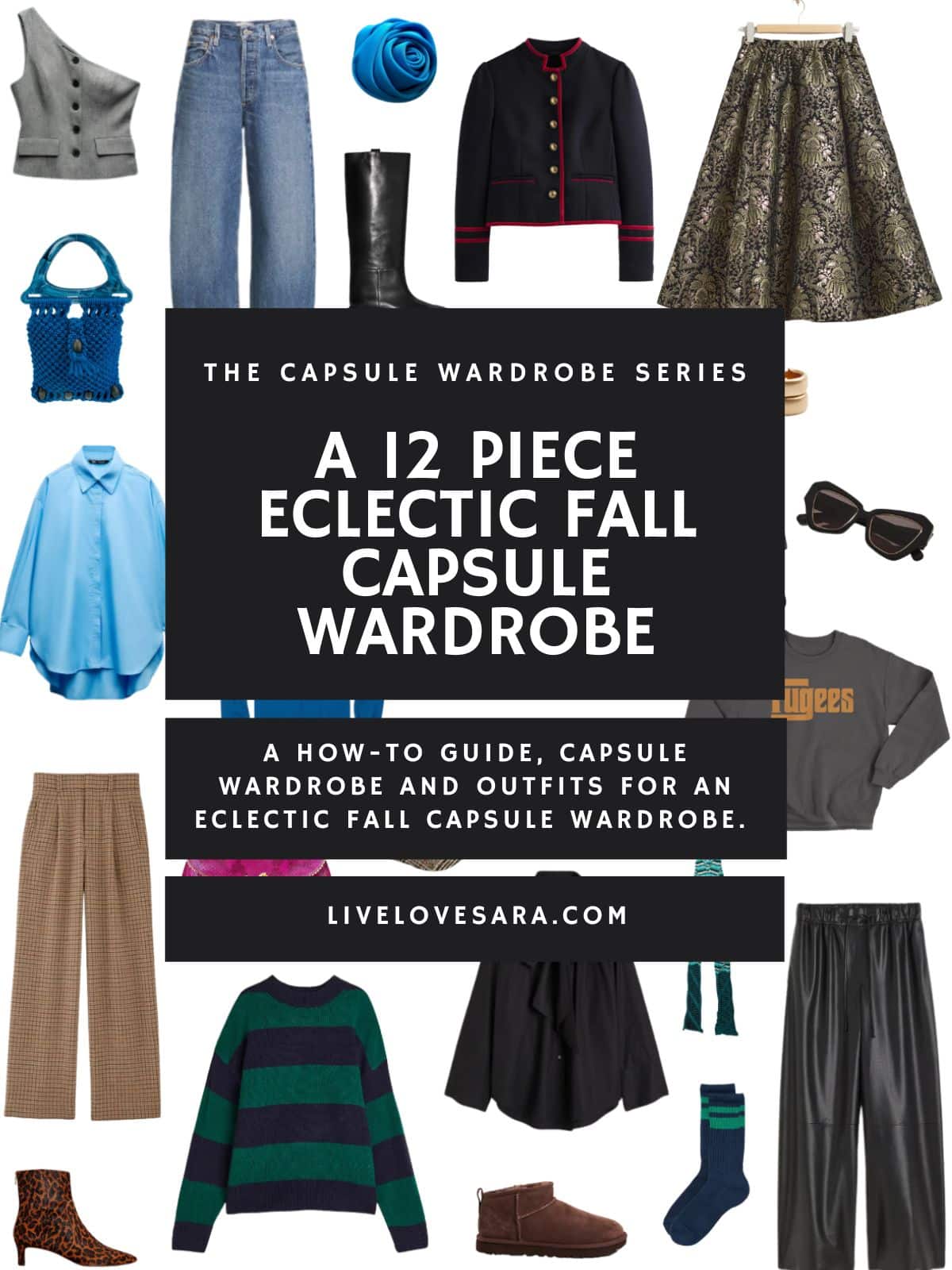 I love the term eclectic style. I feel like it coexists in the same style universe as maximalist fashion but is a bit less. A few weeks ago on my Instagram stories, I posted about asking what your three style adjectives were.
I want to eventually put together a post regarding the answers. In actuality, it was probably more than a few weeks ago, but I have lost all concept of time since 2020.
Anyway, I digress.
One word that I saw repeated a lot was eclectic which I actually found fascinating because in the same groupings, I often found the adjective casual which seems so different from eclectic, yet actually makes a lot of sense.
Then I sat back and realized that I often group eclectic with maximalism style because of their crossover and out of ease.
So this week I went with an eclectic fall capsule wardrobe because I felt it fell on my fashion Venn diagram in a spot that overlaps both edgy and maximalist.
I don't actually have a style Venn diagram, but last week I was talking about how all the different style of fashion overlap and this is another example of that.
A 12 Piece Eclectic Fall Capsule Wardrobe
Vest | Jeans | Flower brooch/choker | Riding Boots | Military Jacket | Skirt | Earrings | Sunglasses | Black Handbag | Smiley Sweater | Kitten Heels | Blue Knit Bag | Blue Button Up | Turtleneck | Sneakers | Fugees Sweatshirt | Skinny Scarf | Fingerless Gloves | Hat | Magenta Clutch | Brown Trousers | Animal Print Boots | Striped Sweater | Black Blouse | Mini Uggs | Socks | Faux Leather Trousers

What is Eclectic Style?
The term "eclectic" signifies diversity.
In the realm of fashion, an eclectic outfit is a combination of various garments that need not necessarily match or follow any specific rules.
And honestly the fewer rules the better.
It is a very freeing mindset when you let that go.
Because this means complete freedom in selecting and wearing clothing items as one desires which should be something that we all do anyway but is something that many of us still struggle with.
There are still many who think that you can't wear white after Labour Day. Just wipe it from your brain, please.
An eclectic outfit typically comprises pieces from different eras and styles, that are unified through elements like colour, texture, shape, and accessories.
While the colour scheme may vary, neutrals are often used to provide a cohesive base for the look.
Neutrals are what make a really solid foundation in your wardrobe. If you have a collection of neutrals you can then add anything, and it will be very easy to tie them all together.
Nonetheless, achieving this style can be challenging, as it can appear quite different depending on an individual's personal preferences.
For this reason, it is really hard to give a specific example of what an eclectic wardrobe looks like, as it will be different for everyone.
But the concept is the same.
Eclectic fashion allows one to express their creativity and personal style by blending contrasting elements in a way that feels cohesive and harmonious.
I put together a list of concepts to help to guide your thought process in building an eclectic wardrobe.
Start with a mix of styles. Eclectic fashion often involves combining pieces from different fashion styles, such as bohemian, vintage, modern, sporty, and more.
It's about breaking traditional fashion rules and embracing diversity.
Both vintage and contemporary. Vintage clothing or accessories are often incorporated into eclectic outfits to add a sense of nostalgia and uniqueness.
These vintage pieces can be mixed with contemporary and on-trend items.
We use trends to enhance our style because if we become too trends-focused we lose that individuality and it takes away our authenticity of personal style.
Use bold colour combinations. This style can incorporate a wide range of colours, and it's not uncommon to see unexpected colour combinations that catch the eye.
Layering is key. Layering is a common technique in eclectic fashion. Try layering various clothing items like tops, jackets, vests, and scarves to create depth and texture in your outfits.
Mixing Patterns. Eclectic dressers often mix different patterns like florals, stripes, plaids, and animal prints. The key is to find patterns that complement each other or share a common colour palette.
Focus on unique accessories. Statement jewellery, hats, belts, and scarves are often used to add personality and flair to eclectic outfits. Accessories can be sourced from various places and time periods.
Thrifting and Secondhand Shopping. Many eclectic fashion enthusiasts enjoy thrift shopping and finding one-of-a-kind pieces that can be incorporated into their wardrobe.
Your individual expression. The essence of eclectic fashion is individuality and self-expression. It allows you to experiment with your style and create looks that reflect your personality and interests.
Confidence. Own that look. Wearing eclectic fashion often requires confidence because it's not about conforming to established fashion norms but embracing personal creativity which can be scary for some people.
Creating eclectic outfits involves mixing and matching various clothing pieces, patterns, and accessories to achieve a unique and personalized look.
I want to show you how diverse eclectic fashion is and how it incorporates all styles.
Bohemian Chic
Start with a flowing maxi dress in a bold print.
Layer with a lightweight jacket of some kind. Change it up for different looks
Add a hat and oversized sunglasses.
Finish the look with boots, a stack of bracelets or rings, and a large clutch.
Vintage Glam
Pair a high-waisted, wide-legged pair of vintage trousers with a fitted retro blouse.
Add a statement belt and a faux fur stole or removable collar for extra drama.
Choose vintage-inspired shoes.
Accessorize with vintage-style jewellery like pearl earrings and a cocktail ring.
Mixing Patterns
Combine a striped top with a print midi skirt.
Layer with a checkered blazer for added pattern contrast.
Try loafers or oxfords with a coloured sock.
Keep accessories simple.
Artistic and Creative
Mix a graphic print T-shirt with wide-leg, high-waisted pants.
Throw on an oversized, colourful cardigan or light jacket.
Choose unique, artsy sneakers or slip-on shoes.
Accessorize with funky earrings and a bold, abstract tote bag.
Punk Rock Edge
Pair distressed black baggy jeans with a vintage band tee.
Top with an o trend Chanel inspired jacket or cardigan.
Messily cuff the jeans and wear ballet flats with fishnet stockings/socks to complete the look.
Accessorize with chunky silver jewellery, and a colourful clutch or handbag.
Eclectic Minimalism
Start with a simple, neutral, well-tailored jumpsuit. If you don't have a jumpsuit do a high-waisted, wide leg trousers with a tank in a similar tone.
Add an oversized scarf as a shawl with a statement belt to cinch the waist and hold it together.
Wear sleek, minimalist heels or mules.
Wear a statement earring and colourful structured bag.
Retro Modern Mix
Combine a retro full midi skirt with a contemporary, oversized sweater.
Layer with a removable collar or mini shoulder cape.
Finish with boots or platform sneakers.
Accessorize with oversized sunglasses and a retro-inspired handbag.
Remember that the key to eclectic fashion is to experiment, have fun, and embrace your unique style.
There are no strict rules, so don't be afraid to mix and match pieces that resonate with you and express your individuality.
A good way to start building an eclectic wardrobe is to curate a collection of clothing and accessories that reflect your unique style and personality while allowing you to mix and match items to create diverse, individualized outfits.
Start by identifying your personal style preferences. Consider what colours, patterns, and clothing silhouettes you naturally gravitate towards.
Are you drawn to bohemian, vintage, modern, or a combination of styles? Understanding your style preferences will guide your wardrobe choices.
Do this by collecting Inspiration.
Browse fashion magazines, websites, and social media platforms to gather ideas.
Create a mood board or Pinterest board to visualize the eclectic looks you admire. Pay attention to the details, such as colours, patterns, and accessories that catch your eye.
This is my Pinterest Fall Mood Board to give you an idea of what I am seeking this season.
Take a close look at your existing wardrobe. Identify pieces that align with your eclectic style vision and set them aside. Donate or sell items that no longer fit your style or that you haven't worn in a long time.
Every eclectic wardrobe (and every wardrobe) should include some versatile basics as a foundation.
These might include well-fitting jeans, a white button-down shirt, a black blazer, a basic black dress, and neutral-coloured shoes.
These basics can serve as a canvas for your eclectic additions.
Embrace pattern mixing and varied textures. Look for clothing items with unique prints, embroidery, or textured fabrics.
When combining patterns, consider selecting prints with complementary colours or a unifying element.
Thrift stores, vintage shops, and secondhand boutiques can be treasure troves for eclectic pieces. Look for vintage clothing, accessories, and unique finds that you can incorporate into your wardrobe.
Accessories play a crucial role in an eclectic wardrobe. Collect statement jewellery, scarves, belts, hats, and handbags with interesting details. These accessories can transform basic outfits into eclectic ensembles.
Here is an account on Pinterest of a woman who is magic with using scarves to accessorize. A seriously underrated accessory that can make a huge impact.
Don't be afraid to experiment with your style. Try pairing unexpected pieces together, like a vintage top with modern jeans or a bohemian skirt with a tailored cinch waist blazer.
Play with layering and mixing and matching until you find combinations that feel uniquely you.
Building a wardrobe that reflects your personal style is an ongoing process. Keep an eye out for unique pieces during your travels, at local markets, or online. Be patient and selective, adding items that truly resonate with your style.
Keep your wardrobe organized, so you can easily see and access your clothing and accessories.
Regularly assess your collection and remove items that no longer fit your style or needs.
Remember that eclectic fashion is all about expressing your individuality and creativity through clothing. There are no strict rules, so trust your instincts and have fun building a wardrobe that reflects your unique style and personality.
Ultimately, eclectic fashion for is about celebrating diversity and embracing the freedom to wear whatever makes you feel confident and uniquely yourself, regardless of conventional fashion guidelines.
It's a style that encourages self-expression and creativity in the world of clothing and personal style.
Eclectic Outfits for Women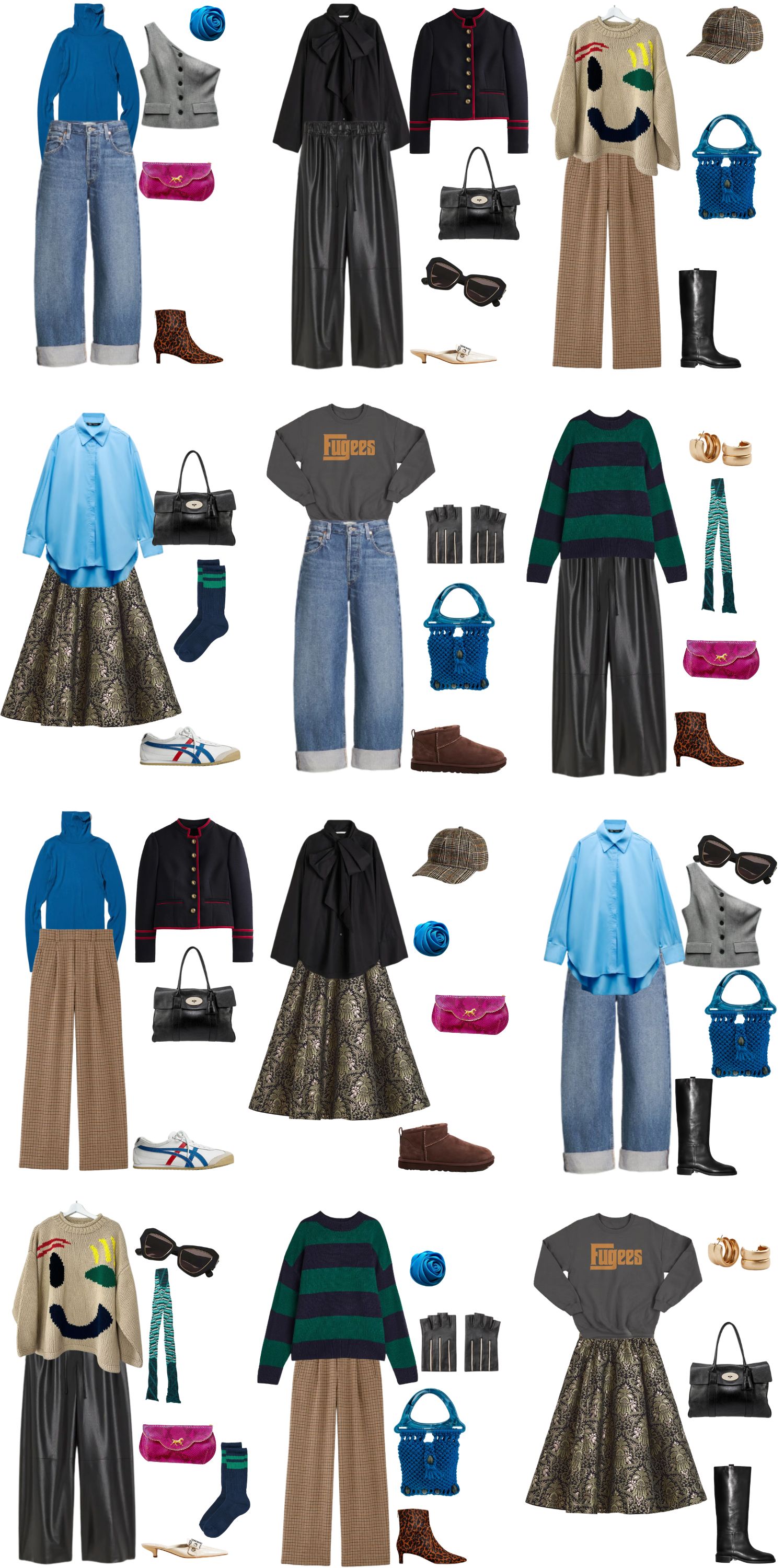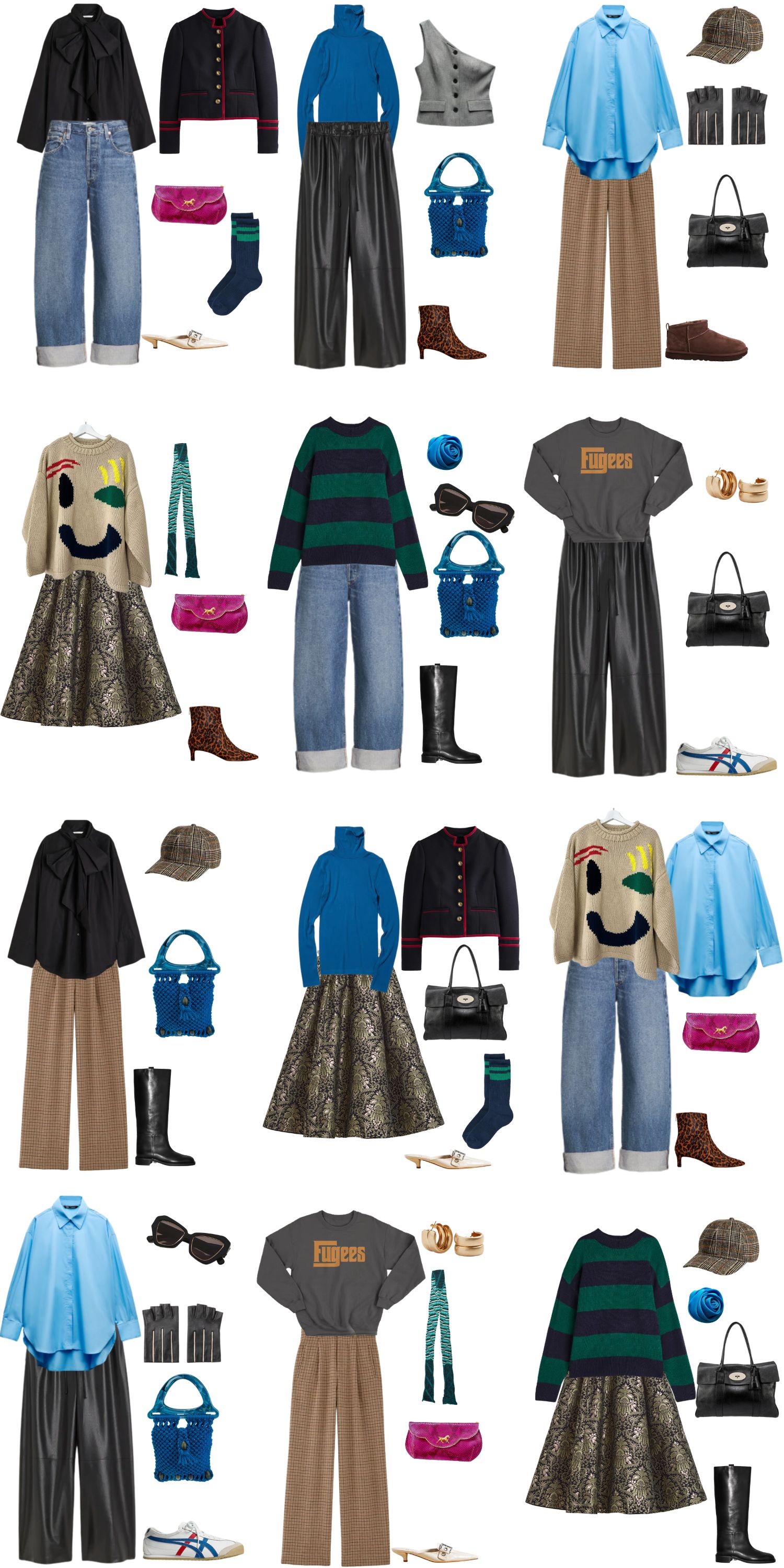 Vest | Jeans | Flower brooch/choker | Riding Boots | Military Jacket | Skirt | Earrings | Sunglasses | Black Handbag | Smiley Sweater | Kitten Heels | Blue Knit Bag | Blue Button Up | Turtleneck | Sneakers | Fugees Sweatshirt | Skinny Scarf | Fingerless Gloves | Hat | Magenta Clutch | Brown Trousers | Animal Print Boots | Striped Sweater | Black Blouse | Mini Uggs | Socks | Faux Leather Trousers

You might also like:
A 12 Piece Edgy Fall Capsule Wardrobe
A 12 Piece Ralph Lauren Inspired Fall Capsule Wardrobe
A 12 Piece Scandinavian Street Style Fall Capsule Wardrobe
A 12 Piece Indie Style Fall Capsule Wardrobe
A 12 Piece New Preppy Style Fall Capsule Wardrobe
A 12 Piece Minimalist Fall Capsule Wardrobe
A 12 Piece 90s Fashion Fall Capsule Wardrobe
A 12 Piece Quiet Luxury Fall Capsule Wardrobe
A 12 Piece Rock Inspired Falls Capsule Wardrobe
A 12 Piece Dark Academia Capsule Wardrobe
SHOP THE UK LINKS


I am now offering digital styling guides, and personal styling services. If you are looking for some styling help that is inexpensive and easy, check out my digital styling guides. If you want some one-on-one help shopping, building and editing your wardrobe, or packing for a trip, I can also assist. Check out all the styling services that I offer here.
This post contains affiliate links. By using my links to shop I may receive a small commission (at no cost to you). Thanks for supporting what I do