Yes, I know that we are currently going through a heatwave, and we just clocked the world's hottest days on record but fall fashion is where the industry is shifting now. So this week I have a fall capsule wardrobe that might appeal to you if one of your style adjectives is rock.
I did put together an Easy Summer Outfit Formulas Digital Style Guide for those that are still pondering summer wardrobes or are stuck on what to wear in this heat.
Today's fall capsule wardrobe is fun, and although my style adjectives don't contain the word rock, there are many elements from this capsule that work with my own personal style and style adjectives.
That is what makes fashion so flexible and interesting.
The same pieces will look different on every individual because your personal style will always affect the way you wear it, pair the pieces together, and accessorize.
Personal style is what makes a look yours, and we are going to talk more about this journey below.
I also have a previous post about finding your style adjectives here that goes deeper into the topic.
I feel like we need seasonal refreshers both to remind us, and for those that may have missed it the first time around, or are new readers.
A 12 Piece Rock Inspired Fall Capsule Wardrobe
Peplum Top | Yellow Clutch | Jeans | Black Bag | White Shoes | Blazer | Dress | Moto Boots | Green Button Up | Grey Sweater | Skirt | Black Buckle Heels | Belt | Black Lace Insert Top | Small Gold Hoops | Blue Sweater | Black Trousers | Red Socks | Clogs | White Handbag | Sunglasses | Denim Shirt | Large Earrings | Striped Trousers | Pink Flats

What Are Style Adjectives?
This is something that I get asked frequently, along with how do I find my style adjectives? And what are my style adjectives?
All good questions, all important to answer if you are on a journey to discover or rediscover your personal style.
Style adjectives in fashion are descriptive words used to characterize or define different styles or aesthetics. They help convey a fashion style's overall vibe, mood, or specific characteristics.
Some style adjectives in fashion are:
Classic
Elegant
Sophisticated
Chic
Edgy
Bohemian
Retro
Vintage
Minimalist
Simple
Romantic
Casual
Sporty
Glamorous
Grunge
Preppy
Eclectic
Modern
Avant-garde
Quirky
Cool
Trendy
Fun
Maximalist
Relaxed
Unexpected
Rock
Androgynous
French
Feminine
That should be a good start to think about if you are wondering what your style adjective may be.
These adjectives can be used to describe various fashion styles and aesthetics, helping to articulate the overall look and feel of a particular outfit or wardrobe.
It's not always about the individual piece, but the way that you wear it and style it that will really bring those adjectives to the forefront.
It's important to note that these adjectives are not mutually exclusive and can be combined to create hybrid styles or unique personal expressions.
Which is where we move on to The Three Adjective Method.
What is The Three Adjective Method?
The "Three Adjective Method" is a technique often used in fashion and personal style to define and articulate one's desired style or aesthetic.
It involves selecting three adjectives that best describe the overall look, feel, and mood you want to achieve with your fashion choices.
These adjectives serve as a guide to curating your wardrobe and making more informed fashion decisions.
Because we all know we need to make better fashion choices, and this helps to reduce impulse shopping.
I won't say that it cures impulse shopping, but it definitely gives you the tools you need to properly think about a purchase before making it.
There will always be those 3 am whoops purchases though. Something about that time really makes all rational shopping thoughts go out the window.
Which I know from personal experience, and although I am fully confident in my style, these purchases still happen.
It's all about the combination of learning your personal style, and figuring out what your shopping triggers are.
Once you are aware of both these things, you will notice a huge decrease in impulse shopping.
There are a few steps to take when starting to use the three adjective method.
The first is self-reflection.
Take some time to reflect on your personal style preferences, inspirations, and the image you want to project through your fashion choices.
Consider your lifestyle, personality, and the message you want your style to convey.
By reflecting you should be able to come up with and choose your three adjectives.
If you are struggling, you might have to go through your closet first and pull out the items that you wear the most, and feel the best in.
Lay them out and really look at them, both individually, and as a whole. You will notice themes that may connect them like colours, accents, details, fabrics, cuts, and styles.
They will be like a visual storyboard of your style.
This step should narrow down the selection, and picking three adjectives that capture the essence of your desired style should be easier.
These adjectives should reflect the overall vibe, mood, and aesthetic you want to achieve. For example, mine are classic, casual, and unexpected.
Everything I wear has a combination of these elements in varying degrees depending on my mood that day.
Next is to apply these three adjectives when making fashion choices.
Consider whether a particular outfit or clothing piece aligns with the adjectives you've chosen.
This method helps you streamline your wardrobe, make cohesive outfit combinations, and ensure that your fashion choices match your personal style vision.
Experiment and evolve your look because personal style is a journey and can change over time. Feel free to experiment with different combinations and adjust your three adjectives as your style preferences change.
Do not become trend focused. Trends are fleeting, some last longer than others and make a nice addition to your wardrobe but strictly wearing clothes that are the newest trends is hard.
You will become trapped in a buying cycle that is never ending, and it really leaves no room to build a wardrobe with intent and longevity.
Plus, it is so very expensive to maintain. Trends cycles are moving at such a rapid pace right now that it is even hard to nail down specific trends and how long they will last.
It is more realistic to spend money on a trend that will last several seasons than one that sticks for one season.
And this is something hard to predict due to the fickleness we are seeing in fashion.
Once upon a time you could buy something that was a trend, and would wear it for years. Now, you are lucky to get 4 months.
Thanks, TikTok, for making this so very difficult for us.
There are so many style aesthetics that it seems like fashion is starting to become style focus versus trend focused and that is something that I am here for.
Purchase items with how you feel over if it is "cool" or "trendy".
This is especially important when it comes to secondhand shopping because often, even more so when buying secondhand designer.
The pieces are older and no longer considered trendy, especially shoes and handbags.
I say screw that.
If a piece makes your heart flutter, then it is for you and you will find a way to bring it into your wardrobe and wear it in a way that no one will ever look down on you and say "That is last season's handbag".
No one has time for that shit.
Clothes are supposed to be fun and if you spend all of your time and thought behind each purchase worrying whether you will be trendy or in style, you are going to miss out on some pretty spectacular additions to your wardrobe.
So if you get anything from today, it is to not get caught in the trend wheel, buying with your feelings and your style adjectives instead, and you will never go wrong.
Easy Fall Outfit Ideas for Women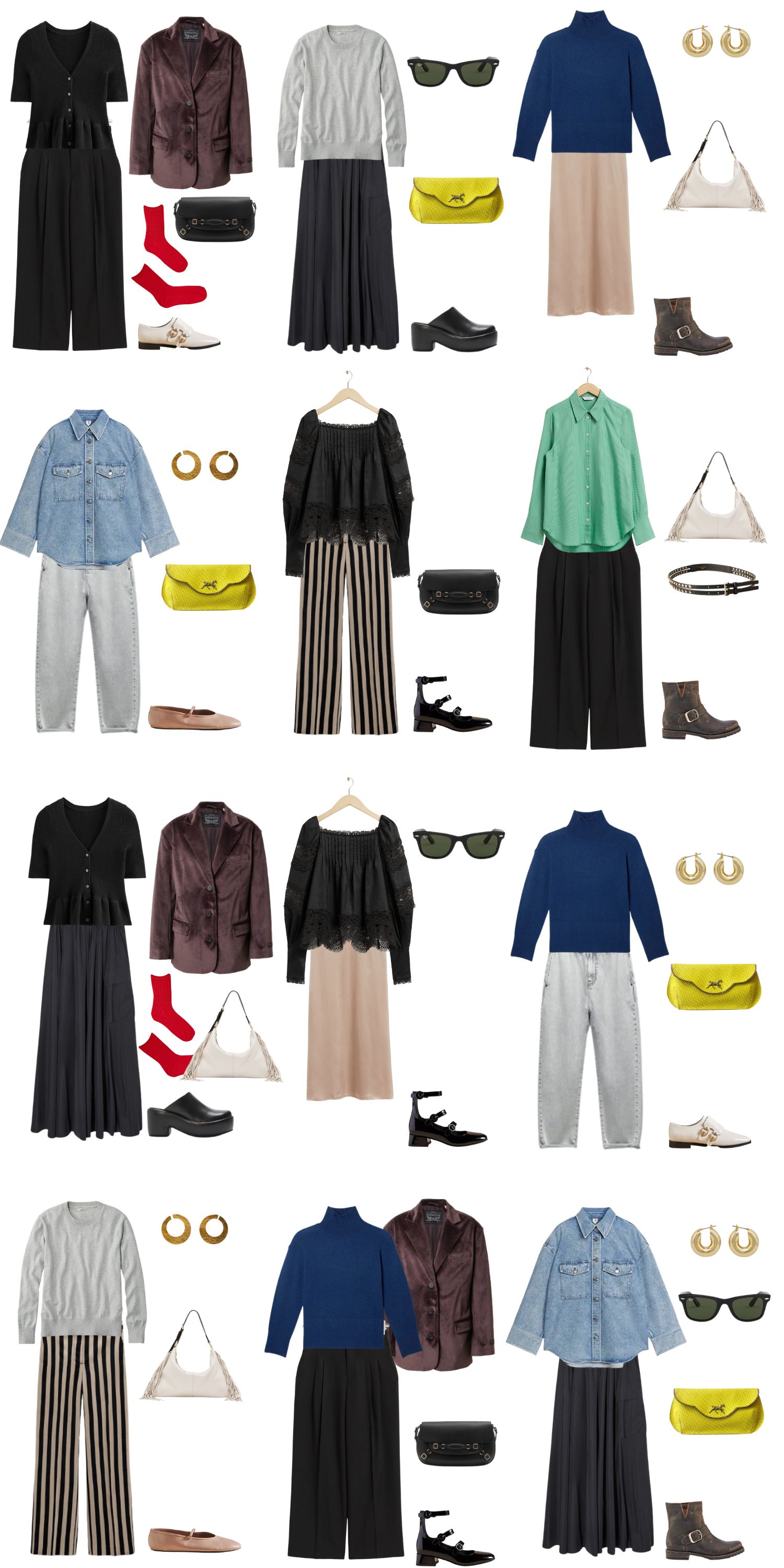 Peplum Top | Yellow Clutch | Jeans | Black Bag | White Shoes | Blazer | Dress | Moto Boots | Green Button Up | Grey Sweater | Skirt | Black Buckle Heels | Belt | Black Lace Insert Top | Small Gold Hoops | Blue Sweater | Black Trousers | Red Socks | Clogs | White Handbag | Sunglasses | Denim Shirt | Large Earrings | Striped Trousers | Pink Flats

You might also like:
A 12 Piece Dark Academia Capsule Wardrobe
A 12 Piece Stay At Home Mom Summer Capsule Wardrobe
A 12 Piece Colourful Summer Capsule Wardrobe
A 12 Piece Warm Palette Summer Capsule Wardrobe
A 12 Piece Cool Palette Summer Capsule Wardrobe
A 12 Piece Edgy Summer Capsule Wardrobe
A 12 Piece 90s Minimalist Summer Capsule Wardrobe
A 12 Piece Budget Summer Capsule Wardrobe
A 12 Piece Romantic Summer Capsule Wardrobe
A 12 Piece Maximalist Summer Capsule Wardrobe
A 12 Piece Minimalist Summer Capsule Wardrobe
SHOP THE UK LINKS


I am now offering digital styling guides, and personal styling services. If you are looking for some styling help that is inexpensive and easy, check out my digital styling guides. If you want some one-on-one help shopping, building and editing your wardrobe, or packing for a trip, I can also assist. Check out all the styling services that I offer here.
This post contains affiliate links. By using my links to shop I may receive a small commission (at no cost to you). Thanks for supporting what I do