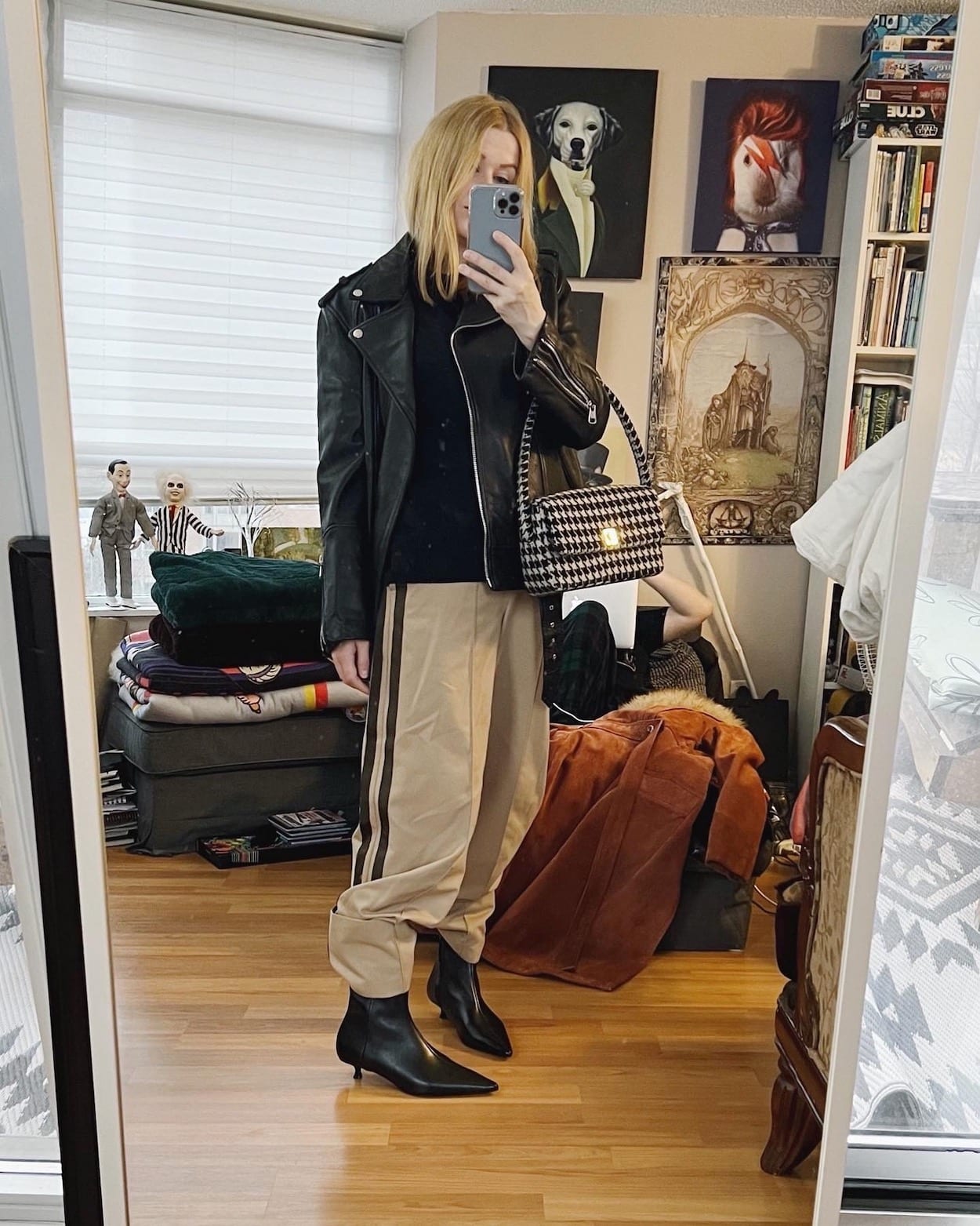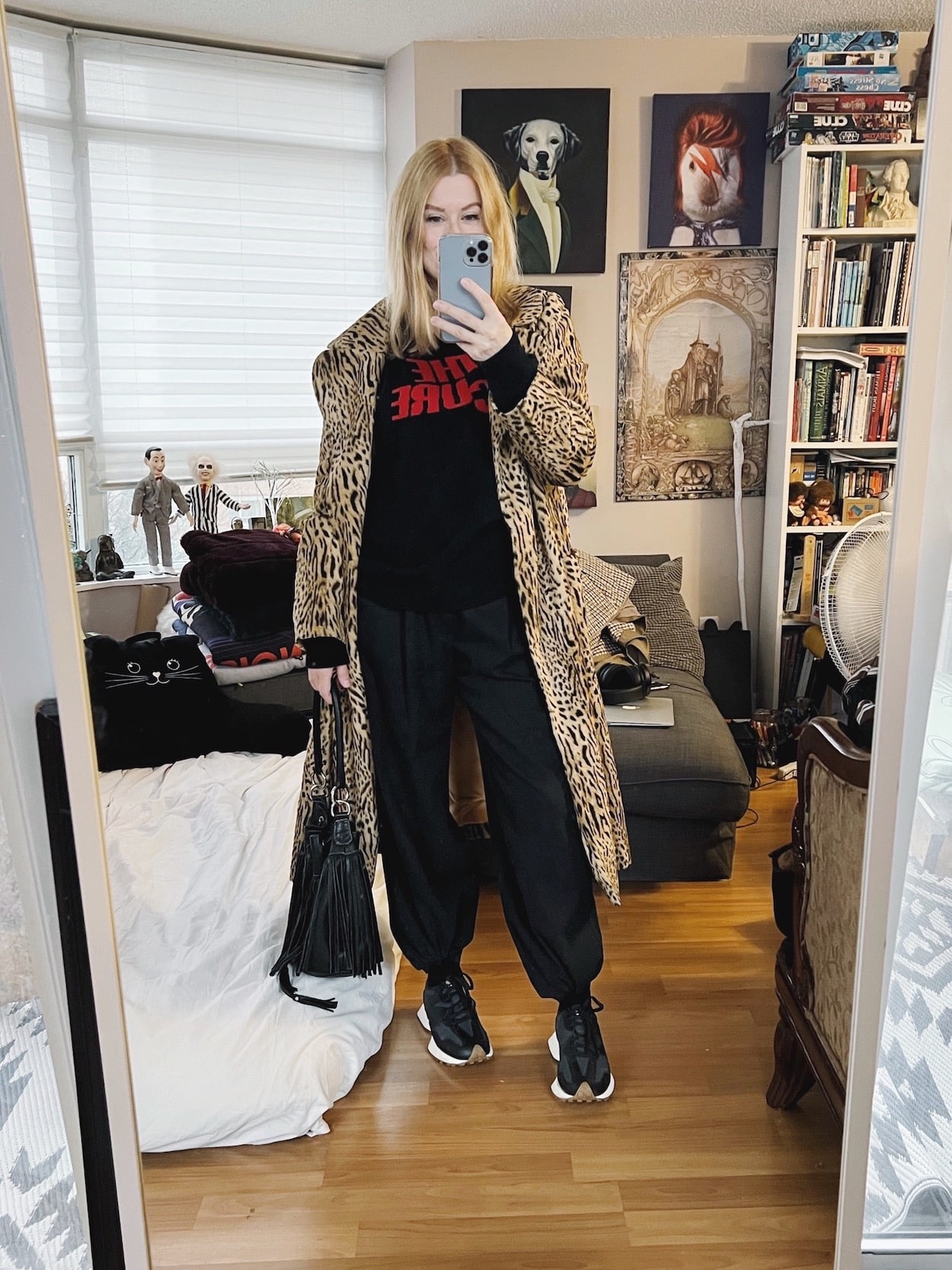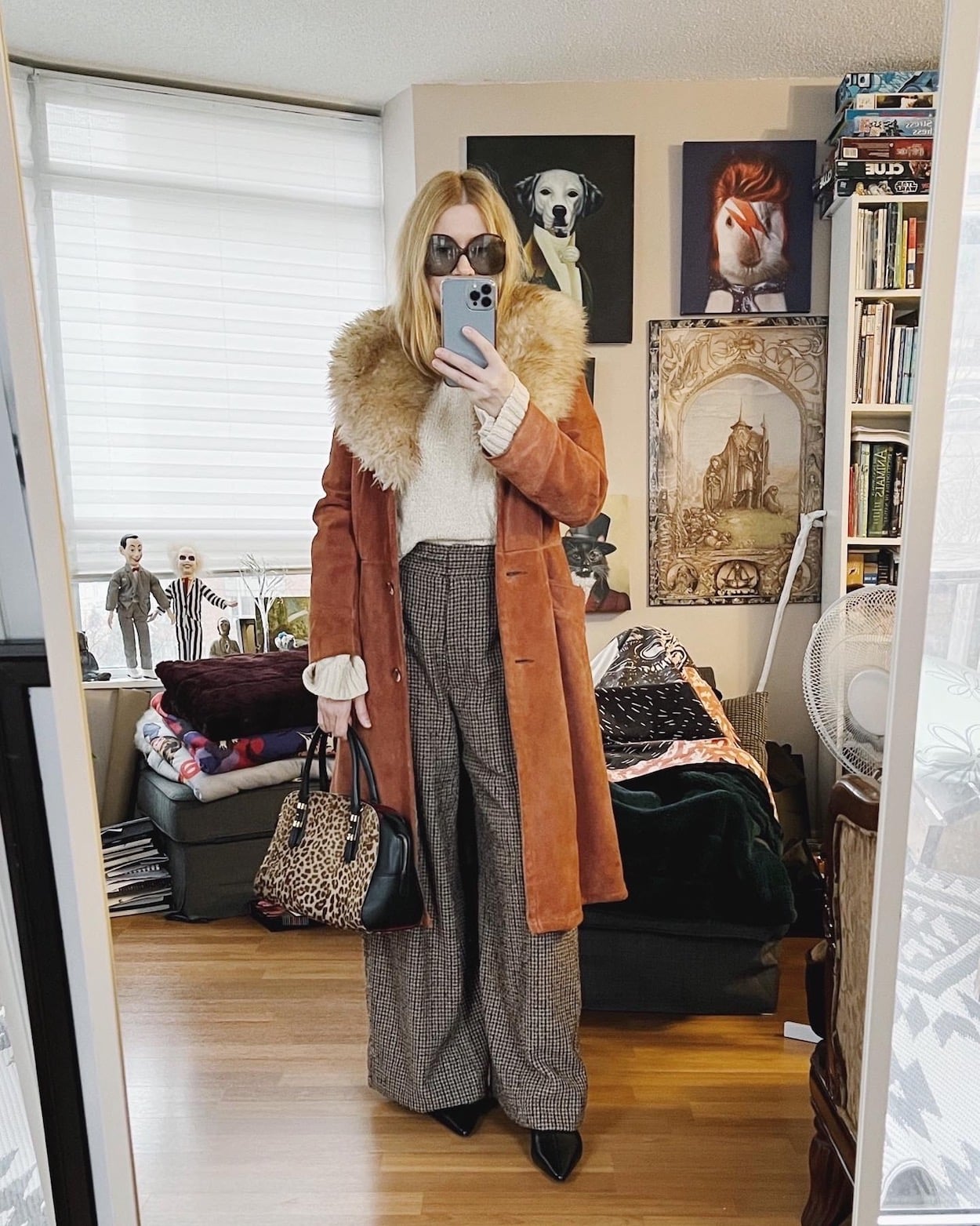 Outfit 1 – Sweater | Trousers | Moto (similar) | Boots | Bag
Outfit 2 – Sweater | Vintage Coat | Trousers | Sneakers | Vintage Bag (similar)
Outfit 3 – Sweater (similar) | Jeans | Coat (similar) | Hat | Boots | Vintage Bag
Outfit 4 – Sweater | Trousers (consignment) | Vintage Coat (similar) | Bag | Boots | Vintage Sunglasses

I got off to a late start today with this post because I wanted to finish off my newest Digital Style Guide first. It has my top 10 spring fashion trends and how to wear them when you aren't a Gen Z.
As women of a certain age we seem to get lost in the world like we don't exist. So when we are seeing the newest trends to watch out for it is usually accompanied by someone in their late teens to early 20s.
Which is fine because I firmly believe that we should wear anything we want at any age, but it would be nice to see some inclusion of older women because sometimes the trends just don't integrate into my personal style or lifestyle like they would have when I was younger.
I don't want to wear metallic silver, heeled, knee-high boots, but I will wear metallics in a ballet flat, bag, or some other smaller way.
It's all about adjusting and adapting until it works for you.
Anyway, I received a lot of Instagram DMs when I was talking about spring trends and I wanted to put something together that helps to clarify what I was trying to explain.
I often do better with showing visually than verbally explaining something.
Also, on to another topic. I wanted to give a warning to anyone who lives in Canada about the store JD Sports. I don't know if this applies to the American stores too, but they have appalling customer service.
I figured since they were a decent size chain store that is located in malls and stuff that I didn't need to read reviews about them before purchasing like I usually do.
That was a mistake.
When you actually search their social media sites literally every comment and review is about how they take forever to ship something and never, ever respond to customer service calls, emails or online chats.
It's beyond ridiculous.
I ordered a pair of jeans on Dec 18th because they were on sale for a great price.
I knew we were in the nick of the Christmas season and figured I wouldn't see them until after Christmas.
My order is still listed as processing, I have received no reply to my email I sent to their customer service line, and I was in queue for online chat and when I made it to number one it just sat there.
No one joined the chat.
There are comments from people stating they haven't even received orders from November, so I am not sure what to do.
I would advise going into a store and not ordering from them online because the customer service is the worst I have ever experienced.
That being said, I would still very much like to get the jeans, so I hope they get their shit together.
You might also like:
Weekly Reads and Finds last week
SHOP THE UK LINKS


I am now offering digital styling guides, and personal styling services. If you are looking for some styling help that is inexpensive and easy, check out my digital styling guides. If you want some one-on-one help shopping, building and editing your wardrobe, or packing for a trip, I can also assist. Check out all the styling services that I offer here.
This post contains affiliate links. By using my links to shop I may receive a small commission (at no cost to you). Thanks for supporting what I do