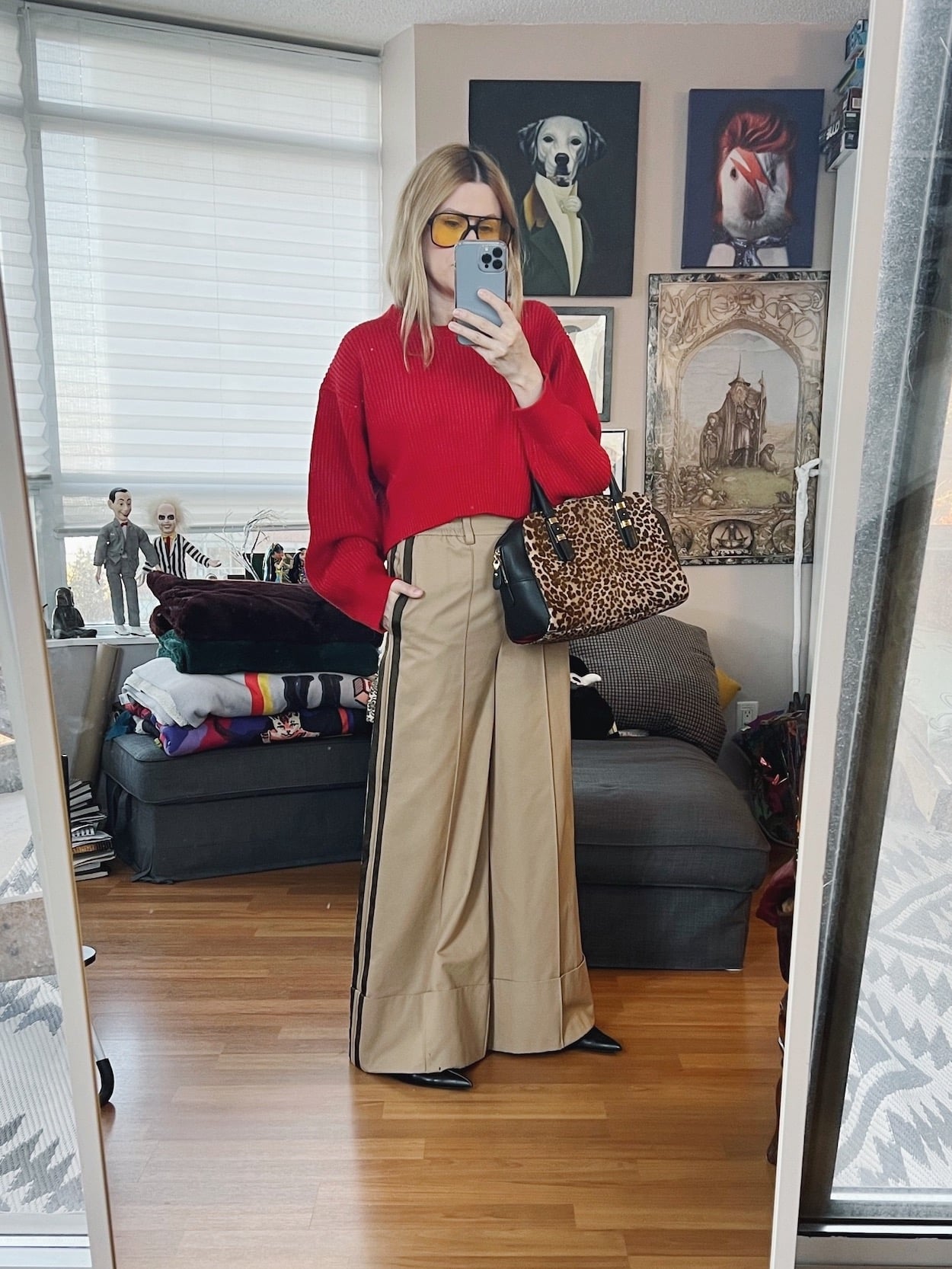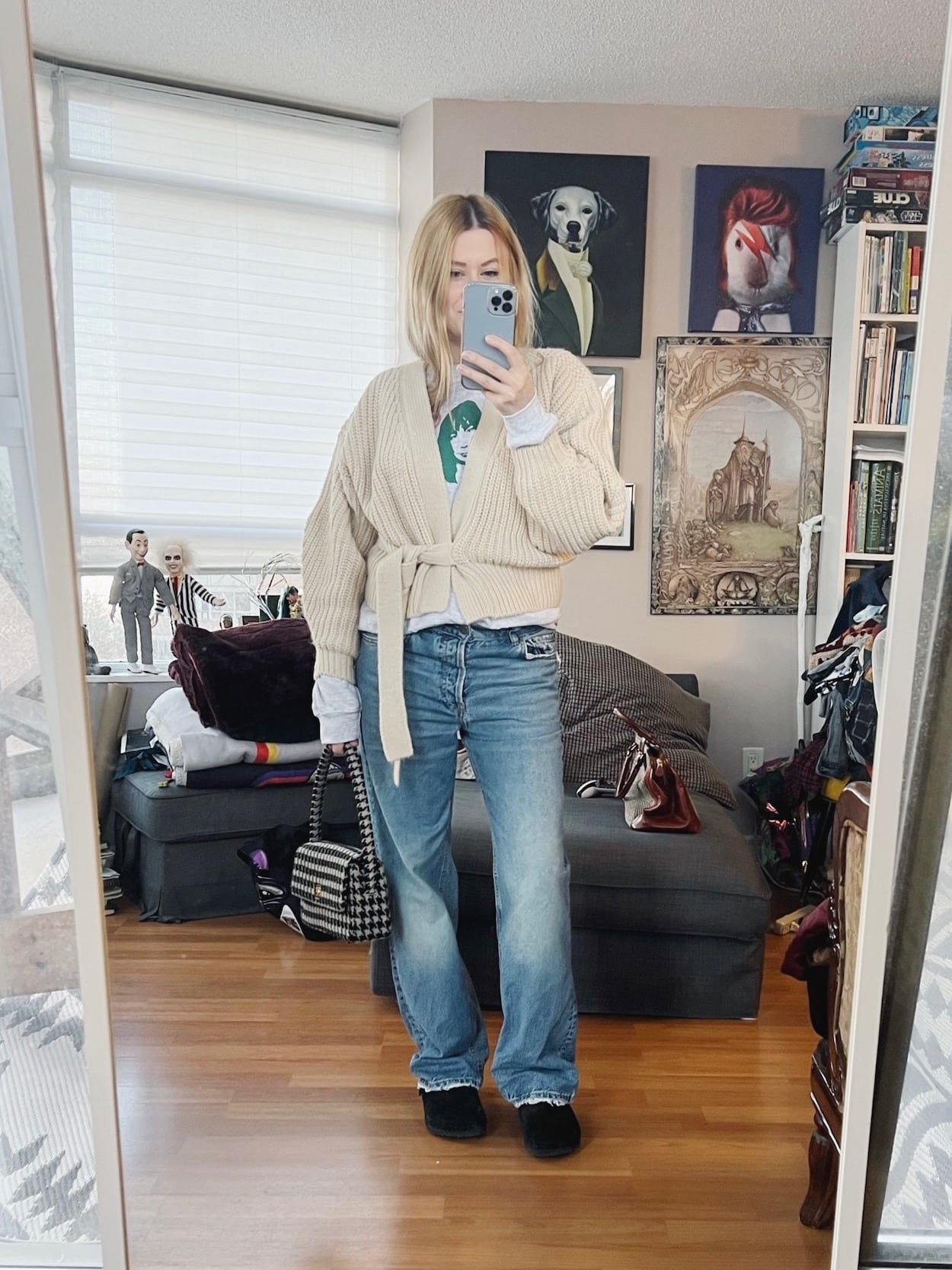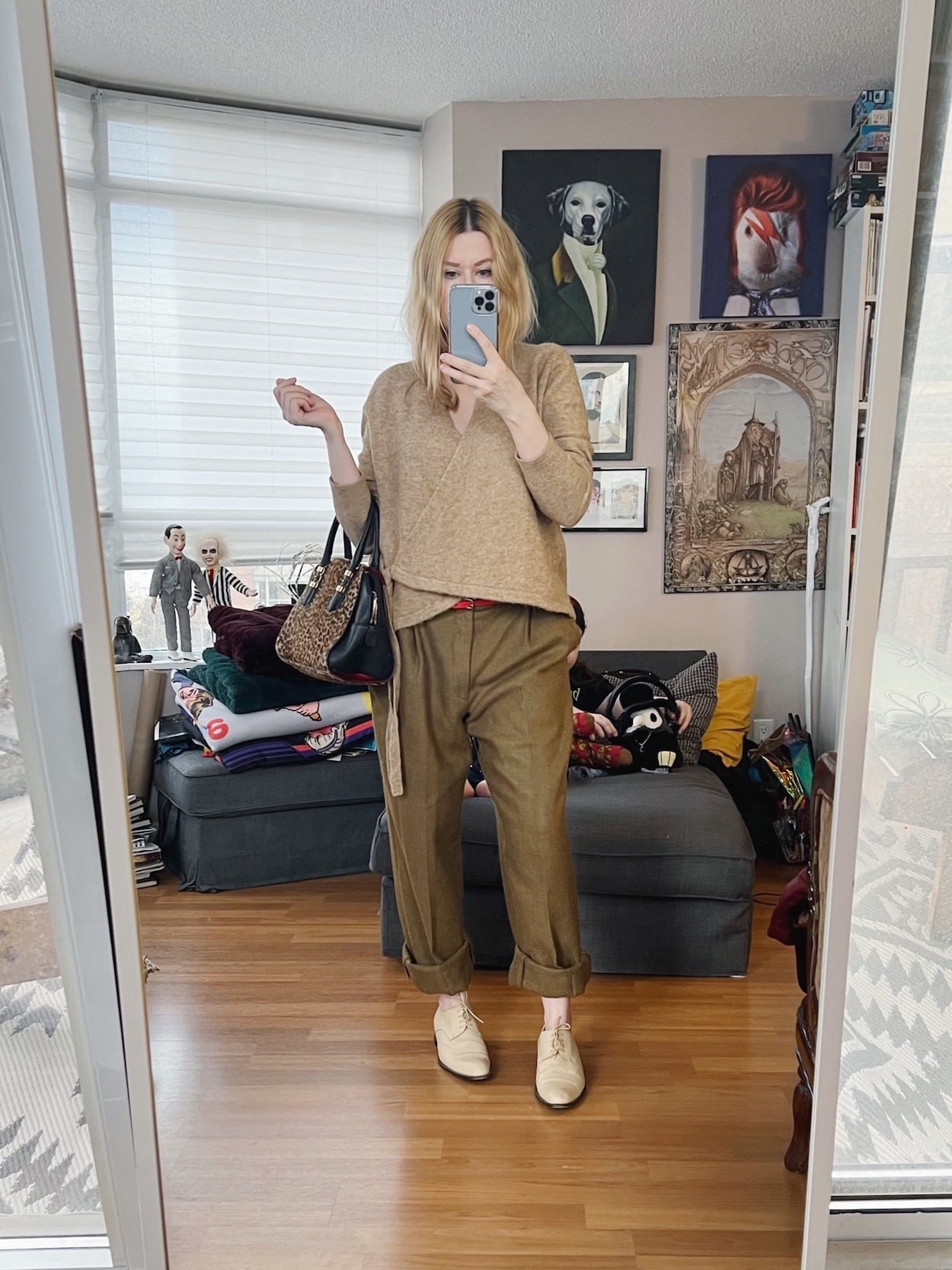 Outfit 1 – Red Sweater (similar) | Trousers | Shoes | Sunglasses | Bag
Outfit 2 – Sweatshirt | Cardigan (similar) | Jeans | Shoes | Bag
Outfit 3 – Sweater | Vintage Coat | Jeans | Shoes (old Miu Miu) | Bag (similar)
Outfit 4 – Sweater (similar) | Vintage Trousers | Shoes (similar) | Belt | Bag

I don't know if this is indicative of the future but the weather this week has been really wacked out. First, we had some intense fog for a couple of days.
I don't think I have ever experienced two nights of fog that thick here before, especially with no rain.
Second, the temperature Saturday was 25°C. That is insane for November.
We are usually heading towards our first snowfall but now, not busting out the sandals again. It's actually kind of scary. And scared we should be.
We went thrifting today which was fun because we haven't gone in a while.
The whole month of October felt like a write-off because we all got sick in a long, drawn-out process at different times and because of that we didn't get to do much.
I found a few things for myself like a framed picture, a brand new with tags men's white button up, and a vintage J.Crew merino wool, 3/4 length sleeve sweater in black.
It fits perfect with my 90s minimalist aesthetic obsession.
So I kind of just pushed the cart while the girls looked.
While they were filling the cart, I posted a Styling Questions box on my Instagram stories, so head over there if you have a question, and I'll try to answer it if I have time.
I spent more than I thought I did, and I also thought that I had a 30% off coupon that they emailed me.
Which I must have accidentally deleted.
I got some joy though to see my youngest finding some clothes. She found a pair of Levis, a vintage LL Bean Argyle cardigan, a dark purple vintage Calvin Klein merino wool v-neck sweater, and amen's pinstriped blazer.
Plus some cat tchotchkes as per usual.
My teen never has trouble finding things.
You might also like:
What I Wore last week
SHOP THE UK LINKS


I am now offering digital styling guides, and personal styling services. If you are looking for some styling help that is inexpensive and easy, check out my digital styling guides. If you want some one-on-one help shopping, building and editing your wardrobe, or packing for a trip, I can also assist. Check out all the styling services that I offer here.
This post contains affiliate links. By using my links to shop I may receive a small commission (at no cost to you). Thanks for supporting what I do
This post contains affiliate links. By using my links to shop I may receive a small commission (at no cost to you). Thanks for supporting what I do