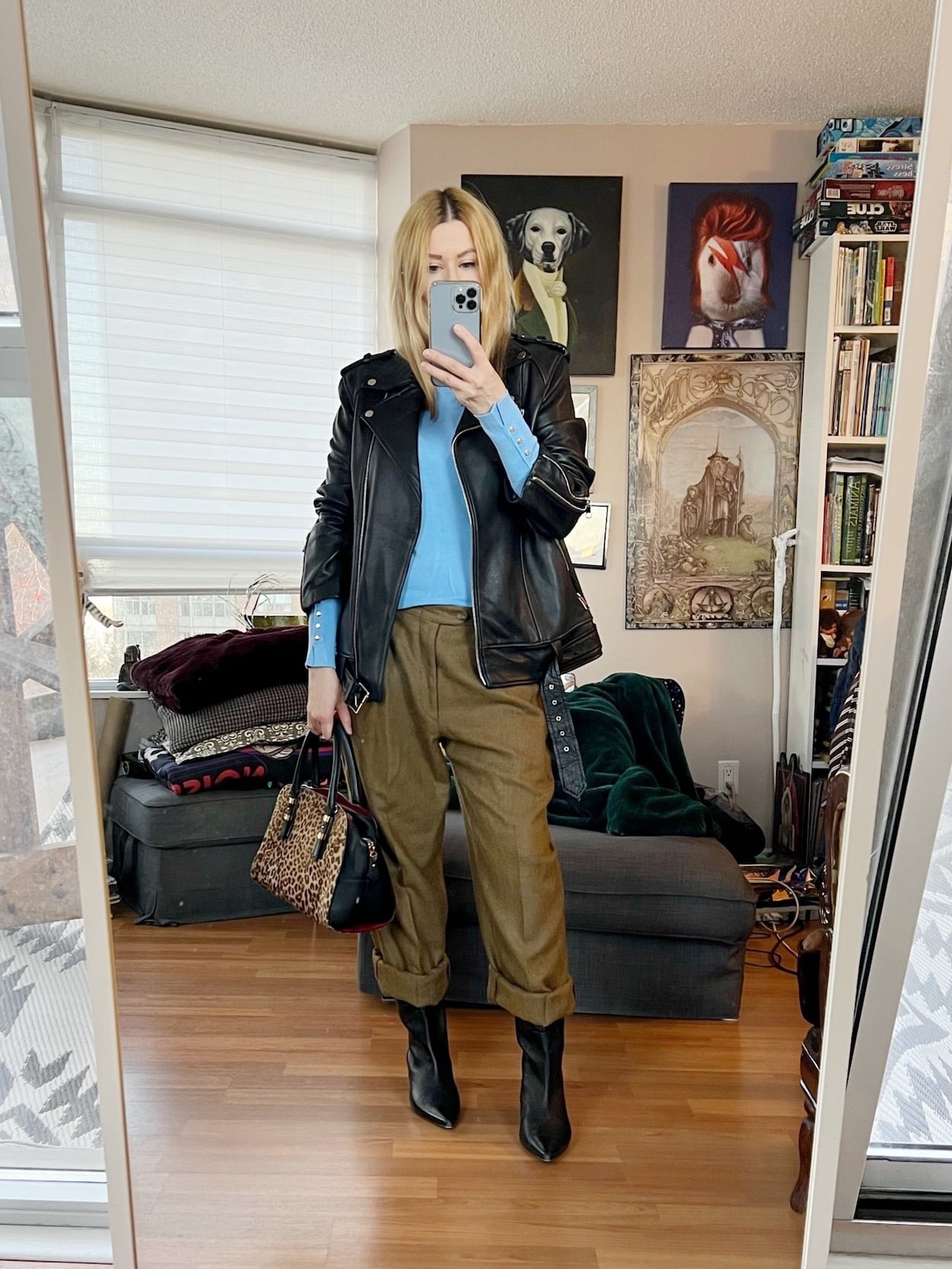 Outfit 1 – Bodysuit | Leather Pants | Coat (similar) | Boots | Sunglasses | Bag (similar)
Outfit 2 – Button Up | Cardigan | Jeans | Boots (similar) | Bag
Outfit 3 – Sweater | Vintage Trousers | Leather Jacket | Boots (similar) | Bag
Outfit 4 – Sweater | Jeans | Boots | Bag | Necklace | Ring

People were setting off random fireworks tonight really close to the building and scared the hell out of the kitten. He doesn't like loud noises, and it was really sad to see.
And setting them off that close to apartments with balconies and open windows was pretty stupid as well.
I spent a huge chunk of the day rushing around tonight trying to finish Merle's Halloween costume. The weapon portion of it is not working out so well.
I have the pieces but getting them to work together to give me the desired outcome is the issue.
This is the problem that I always have. The end result never looks like it did in my head, and it frustrates me and brings out a perfectionist that I didn't know was in there.
I should have done this weeks ago.
I am currently waiting until Tom gets home to see if his brain can figure out a better idea than mine has.
It is also supposed to rain all day tomorrow, which I feel will put a damper on trick-or-treating and cut the evening short.
We just aren't really feeling Halloween quite as much this year I think. We are looking forward to Christmas more.
I finished the Jeans Style Guide late last night and uploaded it to the site. It took me longer than I thought it was going to which ended up using most of my daytime hours that I was going to put to getting the costume done.
I never said that time management was my forte.
If anything I would say that it is definitely my weakness which has forced me to excel at panic production.
I'd rather have better time management skills to be honest.
You might also like:
What I Wore Last Week
SHOP THE UK LINKS


I am now offering digital styling guides, and personal styling services. If you are looking for some styling help that is inexpensive and easy, check out my digital styling guides. If you want some one-on-one help shopping, building and editing your wardrobe, or packing for a trip, I can also assist. Check out all the styling services that I offer here.
This post contains affiliate links. By using my links to shop I may receive a small commission (at no cost to you). Thanks for supporting what I do
This post contains affiliate links. By using my links to shop I may receive a small commission (at no cost to you). Thanks for supporting what I do