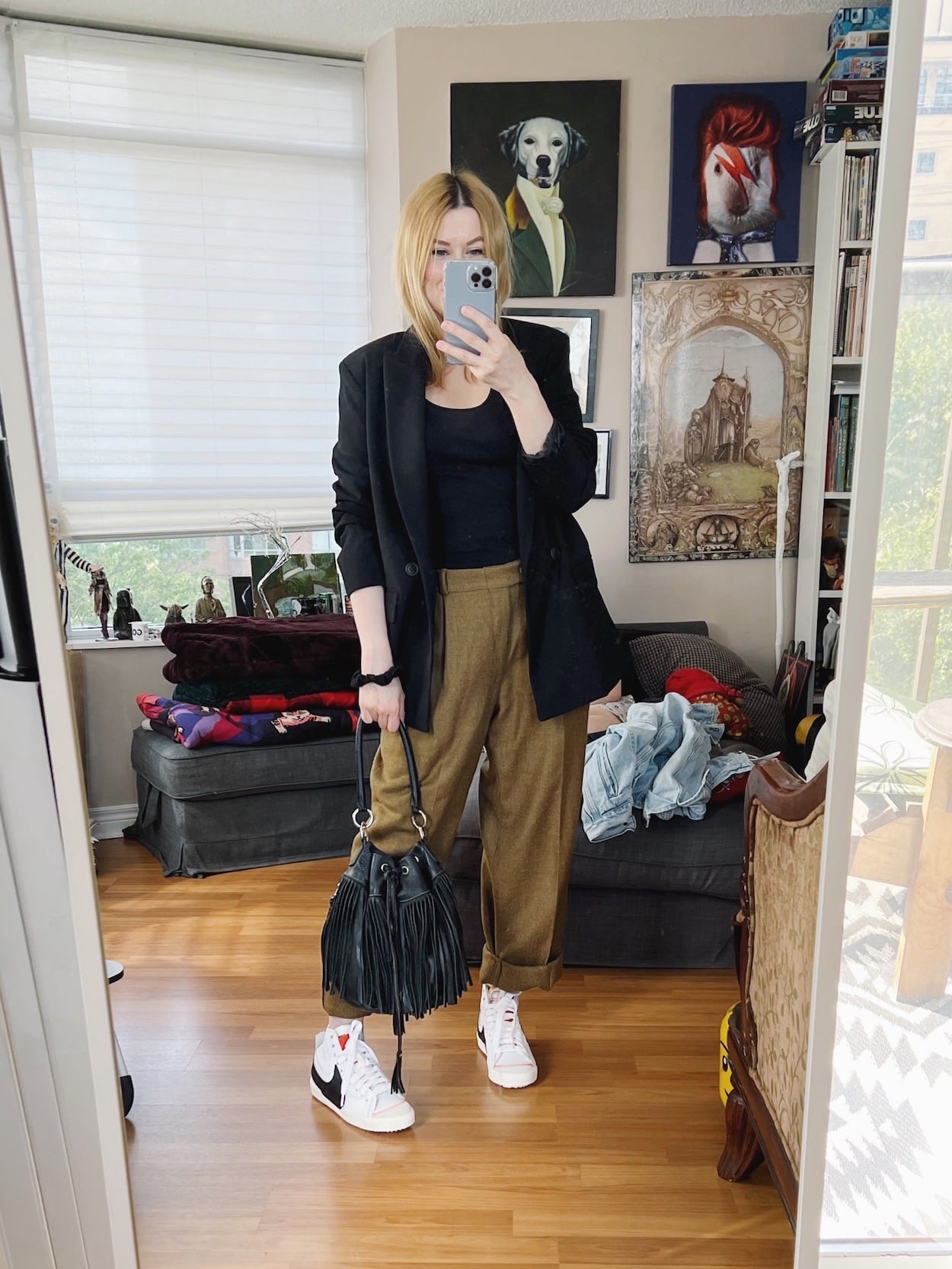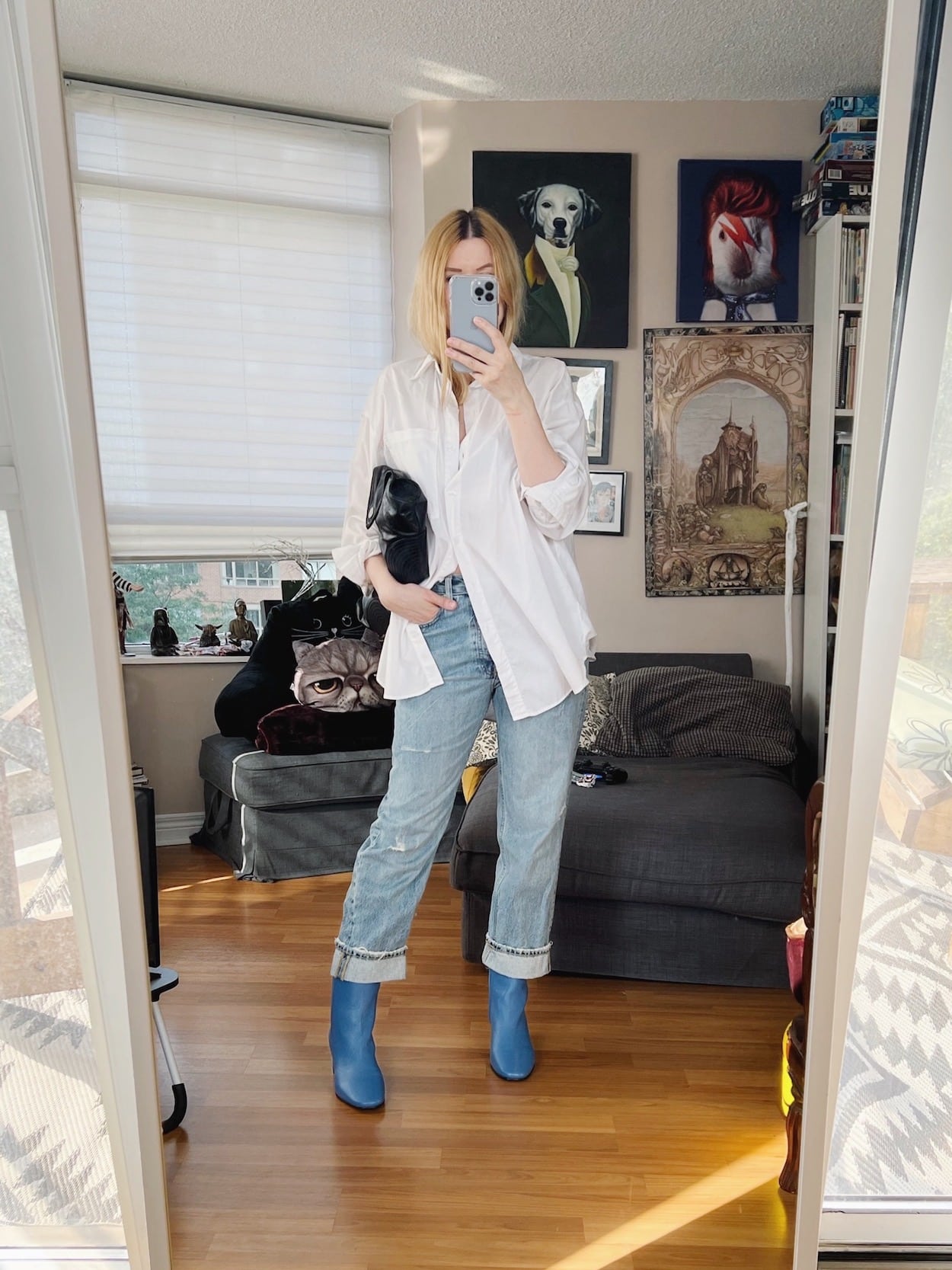 Outfit 1 – Vintage Blazer | Slip Dress (similar) | Sandals (similar) | Socks | Purse | Sunglasses
Outfit 2 – Oversized Blazer | Tank | Vintage Trousers | Sneakers | Bucket Bag (similar)
Outfit 3 – T-shirt | Trousers | Socks | Sandals | Bag | Hat
Outfit 4 – Oversized Button Up | Jeans | Boots | Clutch

It has been a ridiculously expensive, and hot summer, and we haven't done much because of that, so it has been rather boring.
I figured one fun thing to do might be to go to the Barbie Experience. They both thought it would be a good time to walk through life-size Barbie set-ups.
I was hoping to get tickets for this week to help take my teens mind off of things for a bit, but it was sold out straight across the board for the next week.
I was able to get tickets for a couple of weeks out though, so at least it is something to look forward to.
I've never been a huge summer holiday person because we all get terribly uncomfortable and grumpy in the heat. My youngest even gets to the point of almost fainting so it kind of sucks the fun out of things.
I prefer to wait for cooler weather.
That being said, it would be nice to squeeze a couple of outings in before the summer is over. It always flies by so fast after my birthday.
One fun thing to look forward to? Standing in line at the Service Canada to get mine, and my teen's health cards renewed before they fully expire at the end of September.
That's going to be super fun since people who are trying to get their passports start lining up outside it at 3 am.
Procrastination isn't my friend in this instance, but in my defence, I had to wait until I received proper documents for my teen to use.
She doesn't have a lot of ID, and I had to apply for alternatives that would work. I am hoping that me getting her a family Visa card (my card can be used as a family card so she was able to get one with her name on it) will work since a credit card is one of the accepted documents.
So many hoops to jump through. I liked it so much better when she was small and all I had to do was send in a renewal card and call it a day.
Being a grown-up sucks.
Also, my new boots came, and you can see them in the last photo. I love them.
Also, I have had an influx of orders for personal styling services so most of them are currently sold out. Once I complete these orders, I will add more to the inventory to open up the sales again.
I don't want to bite off more than I can chew with this, so I can only do a few at a time without getting overwhelmed.
Stay safe.
You might also like:
What I Wore Last Week
SHOP THE UK LINKS


I am now offering digital styling guides, and personal styling services. If you are looking for some styling help that is inexpensive and easy, check out my digital styling guides. If you want some one-on-one help shopping, building and editing your wardrobe, or packing for a trip, I can also assist. Check out all the styling services that I offer here.
This post contains affiliate links. By using my links to shop I may receive a small commission (at no cost to you). Thanks for supporting what I do
This post contains affiliate links. By using my links to shop I may receive a small commission (at no cost to you). Thanks for supporting what I do