Summer Packing List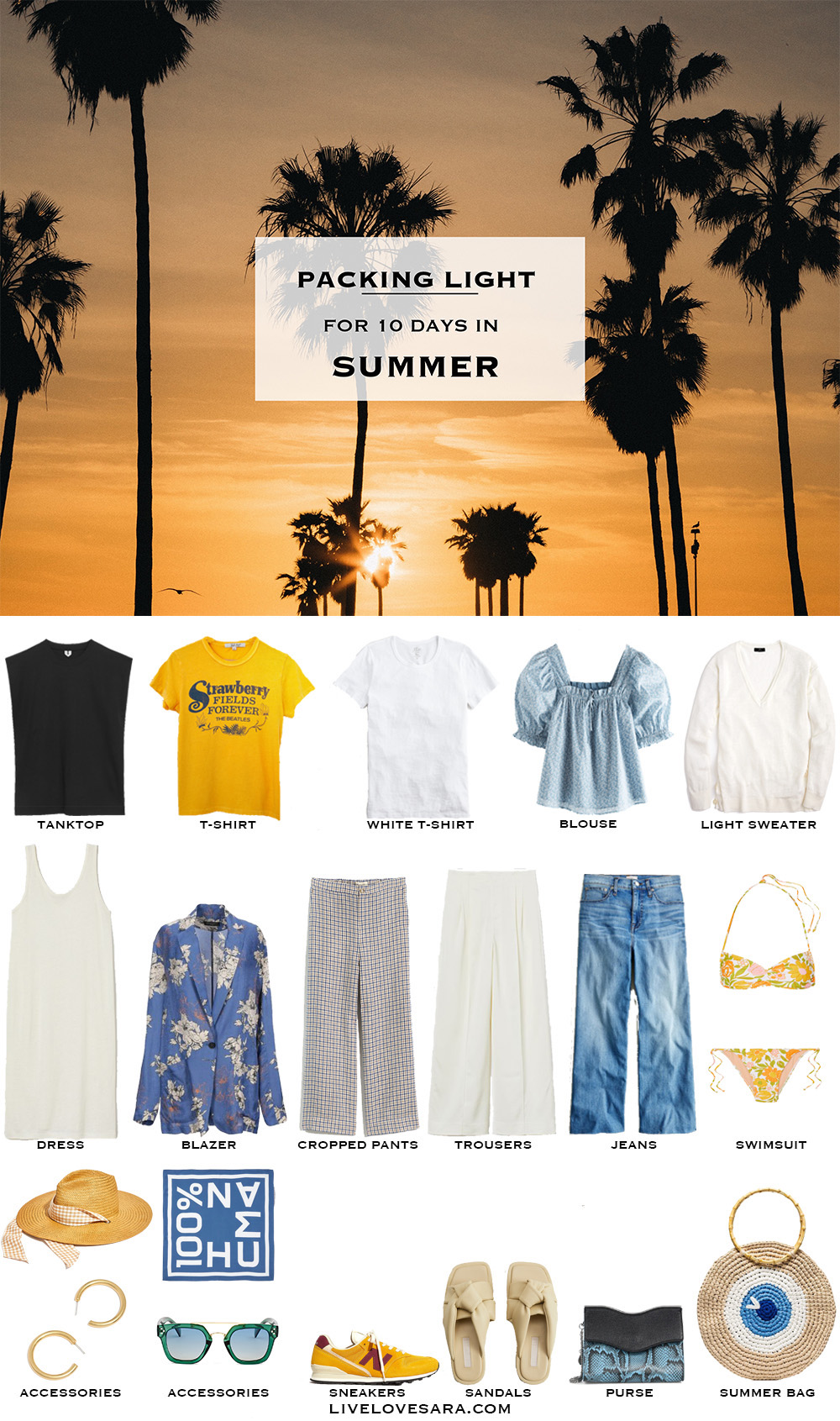 Black Tank Top | Beatles T-shirt | White Tee | Blue Peasant Blouse | White Linen Sweater | White Linen Dress | Floral Blazer | Cropped Check Pants | White Wide Leg Trousers | Jeans | Floral Swimsuit | Straw Hat | Hoop Earrings | Blue Scarf | Green Sunglasses | Yellow Sneakers | Cream Sandals | Blue Purse |Straw Eye Bag |

A 10 day packing list seems like a nice middle of the road number for those that are trying to plan out what to pack for summer vacation…if you are lucky enough to be able to have one.
It's really ridiculously hot right now, it has been for the last two+ weeks and seems to be predicted for the unforeseeable future.
It's gross and makes me and everyone else in here not to want to leave the house.
Except for Tom.
But I think that is just because he is stir crazy.
I have a list of things that I need to do and work on each day, and he doesn't so he is really bored.
At least he got to spend some time pre-prepping for going back to work.
When that will be? No idea.
But if prepping has started then it can't be too far off. Hopefully.
Anyway. Spain opened its borders to 12 of the 15 countries on the EU's list and Canada was on it…and I could really go for a vacation 😉
I said that and Tom asked if I wanted to go camping.
Ummm. No. I hate camping.
Like, really, really hate it.
So I guess I don't want a vacation that bad right?
I am a city traveller which is why my packing lists focus on city wardrobes versus outdoorsy vacations.
I know what to pack for a beach vacation (although I also don't like beaches), and I know what to pack for a weekend at a cottage because I have done both multiple times.
But outdoorsy/adventure vacations stump me.
Since it is so hot I included a lot of white pieces in today's travel wardrobe because I find myself gravitating to my white and linen pieces (this is one of my go to's that are nice and breezy) with the hopes of keeping cooler.
The white tank dress is a linen blend and comes in several other colours because I know white can be hard to wear.
That is why Tide Pens are something that I keep in my purse at all times. I am a notorious spiller but I refuse to stop wearing white.
My friend Naomi used to wear head to toe white all the time and I never knew how she stayed stain free.
Tide Pens my friends.
She is the one who got me hooked.
I usually include 3 pairs of shoes in my travel capsule wardrobes but I have basically been alternating between sneakers and my sandals since the heat came along and it's been fine.
I figure if I can do it at home when I have a large selection of shoes, then I could do it elsewhere without issues.
If you are a person who needs more than two pairs of shoes, then it is easy to just add another pair.
Wear one, pack two.
One of my favourite weekend bags (it holds a lot more than a weekends worth of clothes) has a zippered bottom for shoes that I love.
I fit two+ weeks worth of clothes into that bag with a little planning and access to a washing machine.
Note: The Eyeball bag is fantastic. I want and eyeball bag.
Head to the bottom of the post to see the travel outfit ideas that I put together with these packing list selections for different scenarios.
This packing list represents a 10 day summer vacation to a city. All of the visuals in this post are meant as a guideline to aid you in creating your own summer packing list based on your own clothing, colour preferences, and personal style.
If you are looking for some packing ideas for your summer vacation and enjoyed my What to Pack for Summer a 10 Day Packing List, please feel free to share it via Pinterest, Facebook, or Twitter. Thank you.
This post contains affiliate links. By using my links to shop I may receive a small commission (at no cost to you). Thanks for supporting what I do 🙂
You may also like:
The Ultimate Summer Packing List
What to Pack for Summer
A Summer Weekend Packing List
What to Pack for a Week in Summer
Summer Travel Outfit Ideas

Black Tank Top | Beatles T-shirt | White Tee | Blue Peasant Blouse | White Linen Sweater | White Linen Dress | Floral Blazer | Cropped Check Pants | White Wide Leg Trousers | Jeans | Floral Swimsuit | Straw Hat | Hoop Earrings | Blue Scarf | Green Sunglasses | Yellow Sneakers | Cream Sandals | Blue Purse |Straw Eye Bag |
SHOP THE POST


This post contains affiliate links. By using my links to shop I may receive a small commission (at no cost to you). Thanks for supporting what I do
Follow me on
FACEBOOK || INSTAGRAM || PINTEREST || LIKEtoKNOW.it