England Packing List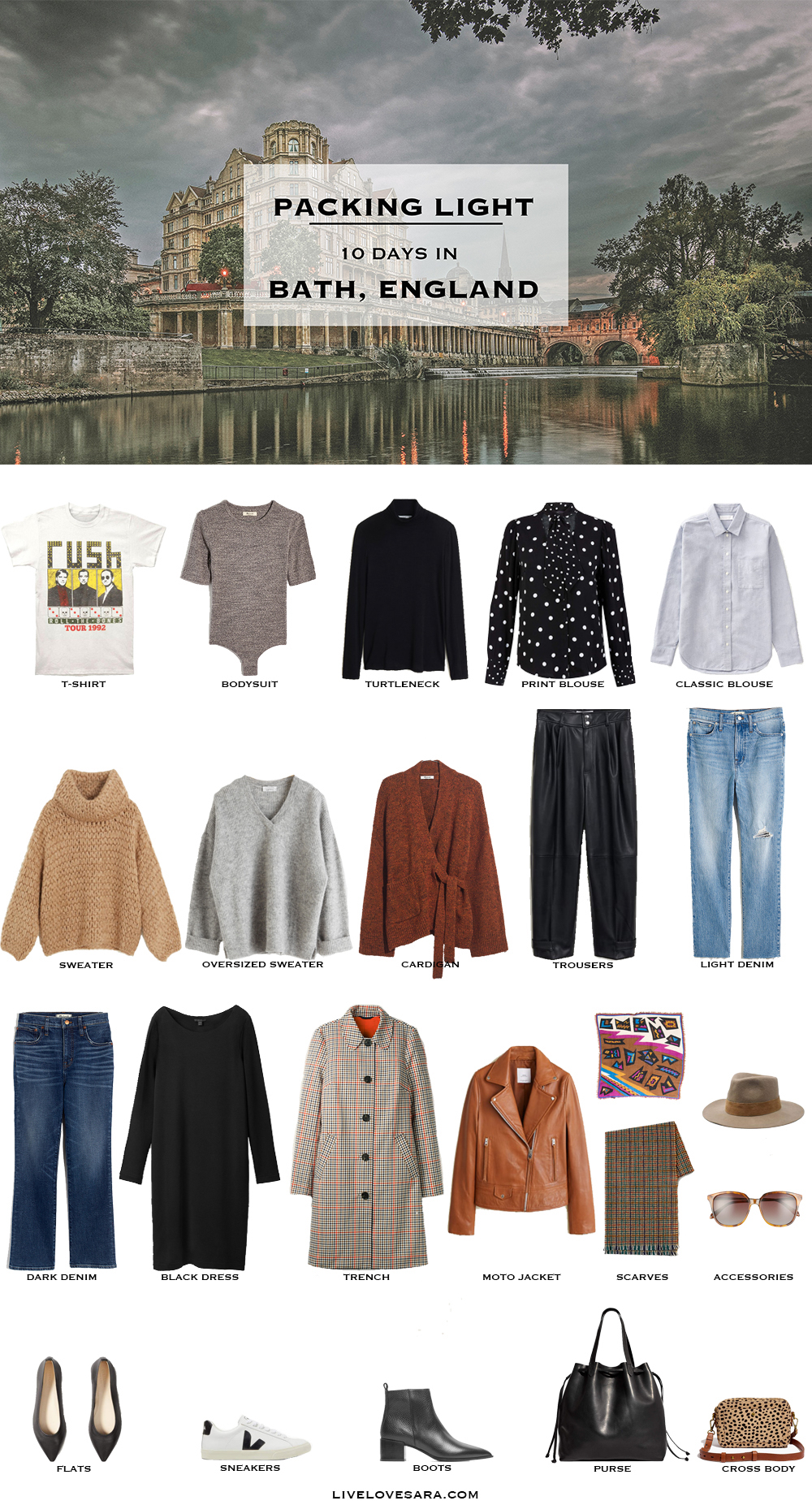 T-shirt | Bodysuit | Turtleneck | Polka Dot Blouse | Classic Blouse | Turtleneck Sweater | Grey Sweater | Cardigan | Faux Leather Trousers | Light Denim | Dark Denim | Black Dress | Trench | Moto Jacket | Print Scarf | Check Scarf | Hat | Sunglasses | Flats | Sneakers | Boots | Black Purse | Crossbody |
---
SHOP THE POST


---
If you are looking for ideas of what to pack for Bath, England during the springtime then today's post may be for you. I have a 10 days in Bath, England packing list as requested by a 40 something mom of two.
I read a lot. Historical fiction and Medieval mysteries are my favourite genres, so over the years, I have read a lot of stories where characters visit the Roman Baths for health reasons. It was common to take vacations in Bath as recommended by a physician for all kinds of ailments. I'm guessing it didn't help for many, but the idea behind it is nice.
I recently reread The Dirt on Clean: An Unsanitized History and there is obviously a large section on the Romans and their baths. It was probably the only time in history aside from modern times that people were really, really clean.
If you want to be grossed out you should read the part on the time of Louis XIII and children's washing. You'll want to take a bath and have a good scrub after.
People travel to Bath England for a different reason today, and that is to admire the history and beauty of the ancient Roman baths. You can't bathe in them like you once could because of the quality of the water, but if you want to experience the Thermal springs you can visit Thermae Bath Spa. It uses the same waters as the baths but it is treated to make it safe.
Note: In the New Royal Bath, children under 16 are not permitted (proof of age required). In the stand-alone Cross Bath, children of 12 are permitted when accompanied by an adult or guardian on a 1:1 ratio. (Taken from the Children and Young People section on the Spas information page.)
What is the Weather in Bath During Spring?
Bath, England has Spring temperatures of low to mid-teens in April which will drop at night, and be cooler during rainy times…and it will rain. You are guaranteed to have a couple of rainy days no matter what in April so make sure that you are prepared with either an umbrella, trench or light raincoat.
Everlane has released a raincoat/windbreaker today. It is a short style that comes in 4 colours that would pack well and look cute on (I like the black). I don't actually have a raincoat but I want one because I walk so much, so I added this to my wishlist.
What to Pack for Bath, England
You'll be spending a lot of your time in Bath walking to and touring sights so think of clothes that are both comfortable and adaptable.
Although it is a popular tourist destination, Bath is also a chic city, so if you're dining at mid-range to higher-end restaurants you will want to dress nicer so make sure to include some outfits for such occasions.
Jeans and sneakers are fine when going to pubs, bistros, or other casual restaurants.
Remember that if you plan on visiting the Thermae Springs Spa then you will need to bring your bathing suit. Robes, towels, and slippers are provided unless of course you want to bring your own. If you plan on packing light I suggest to use theirs.
The travel outfit ideas that I put together using the above packing list are located at the bottom of this post…so keep scrolling 🙂 I hope this gives you some inspiration to build your travel capsule wardrobe.
Things to Do in Bath
Go to a museum. There are lots, more than I want to list out (although the fashion museum looks amazing). As a museum junky myself I could easily spend an entire vacation visiting different museums.
Take the Bath Abbey Tower Tour to get a spectacular view of the city from way up high.
Do you love Jane Austen? Visit the Jane Austen Centre.
If you are feeling motivated you can take The Bath Skyline Walk which is actually not far from the city centre. It is a 6-mile walk through nature that will give you great views of the city.
There is a reason why Bath is a UNESCO World Heritage site, so go take an architectural tour to see it all.
Dine out at Sally Lunn's, the oldest building in Bath.
And of course a trip to Bath is never complete without actually going to tour the Roman baths which is completely family friendly, and actually has a lot of extras for kids.
All of the visuals in this post are meant as a guideline to aid you in creating your own Bath, England Travel Capsule based on your own clothing, colour preferences, and personal style.
If you are planning to visit Bath in spring and enjoyed my What to Pack for Bath, England in Spring packing list, please feel free to share it via Pinterest, Facebook, or Twitter. Thank you.
This post contains affiliate links. By using my links to shop I may receive a small commission (at no cost to you). Thanks for supporting what I do🙂
You may also like:
How to Pack for Bath, England
What to Pack for England – Packing Light
What to Pack for London in Spring
What to Wear in England

T-shirt | Bodysuit | Turtleneck | Polka Dot Blouse | Classic Blouse | Turtleneck Sweater | Grey Sweater | Cardigan | Faux Leather Trousers | Light Denim | Dark Denim | Black Dress | Trench | Moto Jacket | Print Scarf | Check Scarf | Hat | Sunglasses | Flats | Sneakers | Boots | Black Purse | Crossbody |
---
SHOP THE POST


---
Follow me on
FACEBOOK || INSTAGRAM || PINTEREST || BLOGLOVIN'