London Packing List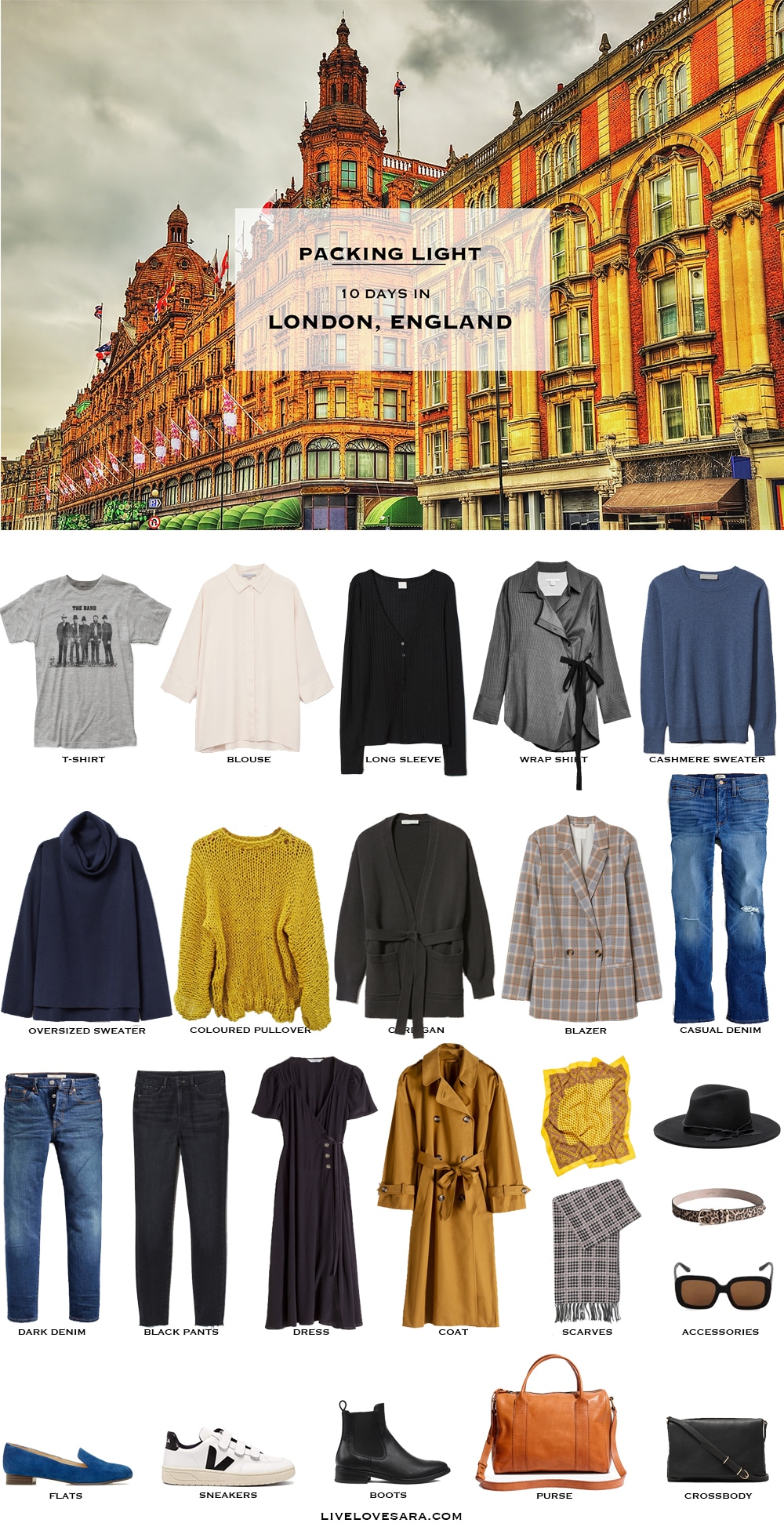 Grey T-shirt | Blouse | Black Long Sleeve | Grey Wrap Shirt | Blue Cashmere Sweater | Navy Turtleneck Sweater | Yellow Sweater | Cardigan | Blazer | Casual Denim | Dark Denim | Black Pants | Black Dress | Trench Coat | Yellow Scarf | Knit Scarf | Black Hat | Belt | Sunglasses | Blue Flats | Veja Sneakers | Boots (there is a vegan option too) | Brown Purse | Black Crossbody
---
SHOP THE POST


---
Oh boy, what a week it has been weather-wise and it's only Wednesday.
Winter just blew through again with a couple of snowstorms and some freezing rain. So much freezing rain that the trees and lamp posts are covered, and my window had a thick enough layer that you couldn't see out of it.
Okay Mother Nature, I get the point. I would like the early spring-like the groundhogs, on Groundhog day predicted please.
I love spring…….at least after everything thaws and the mud disappears, and I must admit that I felt a little jealous today when I saw some of my London, England living friends running around in light jackets, and shoes without socks.
To feed the fire of my jealousy, as well as to help someone out with their travel packing list I am once again returning to London, England with this what to pack for London packing list.
I have to return to these popular destinations posts mores frequently because people message me a lot letting me know links on older posts no longer work.
So to keep them fresh I just redo them every few months, or at least every two seasons.
If you were to ask what my number one international packing list request is? I would say Paris first, then Italy, but the UK, (specifically London) probably ties for a close second.
The fact that I have a handful of friends there whom I can ask questions to comes in handy as well.
If things work out the way that I want them too, then one day I will also be writing one of these posts from my own flat as an expat…..or maybe a permanent resident.
One can dream, right? 😉
For London weather in April, think mid-teens (celsius) and some rain.
Sweaters, long sleeves, and trench coat are the perfect addition to your London travel capsule.
A handful of bottoms, a versatile dress or skirt, and a few pairs of shoes.
Maybe add some accessories (scarf, hat, belt) for some colour and you are good to go.
It doesn't have to be difficult and it shouldn't feel like a fashion show when you put together a travel capsule wardrobe.
Stick with what you know and what makes you comfortable and there will be no shortage of things to wear when you get there.
Fingers crossed that we are done with snow for the week.
If you are planning to visit London this spring and enjoyed my What to Pack for London in Spring packing list, please feel free to share it via Pinterest, Facebook, or Twitter. Thank you.
This post contains affiliate links. By using my links to shop I may receive a small commission (at no cost to you). Thanks for supporting what I do🙂
You may also like:
What to Pack for London in Summer
What to Pack for London in Autumn
What to Wear in London

Grey T-shirt | Blouse | Black Long Sleeve | Grey Wrap Shirt | Blue Cashmere Sweater | Navy Turtleneck Sweater | Yellow Sweater | Cardigan | Blazer | Casual Denim | Dark Denim | Black Pants | Black Dress | Trench Coat | Yellow Scarf | Knit Scarf | Black Hat | Belt | Sunglasses | Blue Flats | Veja Sneakers | Boots (there is a vegan option too) | Brown Purse | Black Crossbody
---
SHOP THE POST


---
Follow me on
FACEBOOK || INSTAGRAM || PINTEREST || BLOGLOVIN'