Weekend Packing List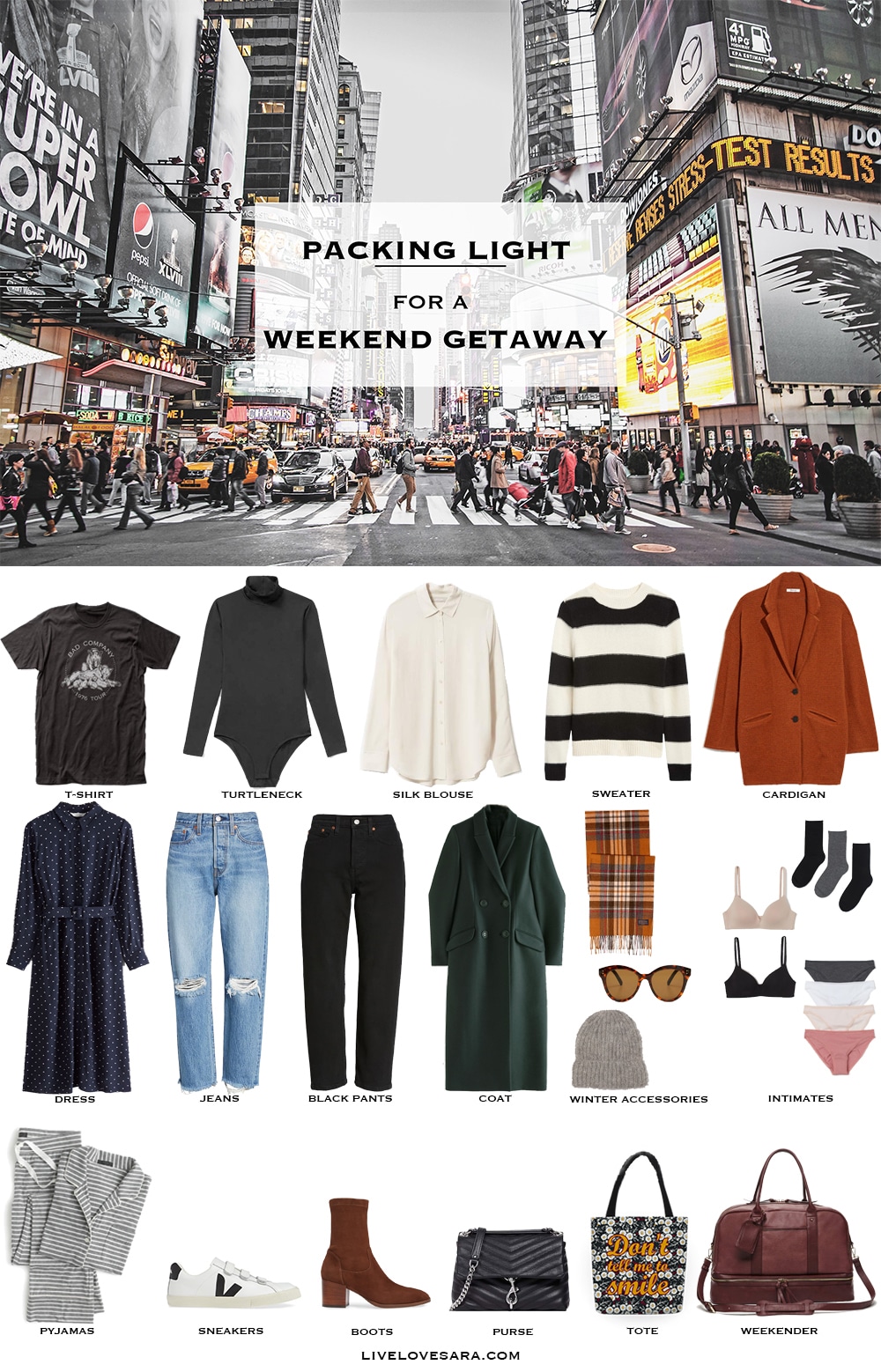 T-shirt | Turtleneck Bodysuit | Silk Blouse | Striped Sweater | Cardigan | Dress | Blue Jeans | Black Jeans | Green Coat | Scarf | Beanie | Sunglasses | Bras | Underwear | Socks | Pyjamas | Sneakers | Boots (these are on super sale)| Purse | Tote | Weekender Bag |
SHOP THE POST


If you are heading out for a weekend getaway and trying to plan your weekend packing list, then start with your favourite pants and shoes and build from there.
This post focuses on the weekend packing list in winter.
When most of us are planning our vacation time, we usually aim for anywhere from 7-14 days.
That seems to be the average or "norm" when I get packing list requests. It's the reason why I tend to focus on packing lists for 10-day trips because it falls in the middle.
So while that tends to be the average, there are also many of us who have to book our holidays in smaller groupings.
We look forward to those long weekends so we can plan a 3-day city break. and sometimes 4 if we can use a vacation day to extend the weekend.  
Today's post focuses on a short duration trip, and those that are in need of a long weekend packing list.
Since we are now into full-blown autumn, which is actually resembling winter more and more each day, I thought I would highlight a winter travel weekend packing list.
Many people will be travelling home for the holidays and may plan on staying away for a couple of nights.
This is also a popular time for planning a city break.
Maybe not for 2020 though, but one can hope.
If you can't book an extended trip due to time or finances, you can have a great experience by travelling to a nearby city for the weekend, and exploring the unfamiliar without having to break the bank (or sacrifice your vacation time) doing so.
A Basic Weekend Packing List
You're not going to need much.
Depending on whether the weekend is going to be a short 2, or an extended 4-day long weekend trip, the amount you need to bring with you will vary.
It will also vary depending on if you plan on doing anything that may require much more formal outfit options.
If you are planning on hitting a fancy restaurant, going to the opera, or to the ballet then you should probably plan out one solid dressy outfit to pack.
For a winter show I would bring a dress that is similar to this or this, along with some heels.
As for the rest, I would include these options: 
2-3 tops, make at least one a dressier top like a silk blouse.
one sweater, and one cardigan (to wear over tops or as an extra layer).
two bottoms
one dress or skirt depending on tastes and your city break itinerary
One pair of sneakers, and one pair of boots. Also depending on the location and itinerary one of those choices may have to be winter boots.
Purse
Coat
Winter accessories like hat, scarf, gloves.
3 pairs of underwear
3 pairs of socks
your favourite bra or two
pyjamas
Any extras travel accessories to pack?
I never leave the house without bringing a fabric tote with me, and not just any fabric tote, but something that is super fun.
It comes in so handy to help me carry things for every single outing I go on.
Even if I just use it to carry everyone's hats, scarves, and mitts that they don't want to carry, and I know they will end up losing.
The one that I love, that I have been using for well over a year is this one. I also really like it in the patterned fabric that I included in this weekend away packing list.
They come in two sizes, and I tend to prefer the larger of the two.
I literally left the house today and there was absolutely no snow on the ground and it was sunny. Fast forward 1.5 hours and when I was walking back home it was in the middle of a snowstorm.
Winter weather is unpredictable so it is important to make sure that you pack weather-appropriate gear.
When it comes to choosing what bag to use for a weekend away, it depends on your mode of transportation.
I have this weekender bag (in grey) and I love it. I bought it years ago, and the zippered shoe partition at the bottom is so useful.
Although it is listed as a weekender I managed to pack for a week in it easily.
I included it in this city break packing list in the oxblood colour. It works well for car travel, as well as train, bus, or airplane.
I also have the Pact One travel bag which you can see my review here. It would also work well for all methods of travel.
While a bag with roller wheels is nice to have for extended stay trips, I don't find it absolutely necessary for a weekend getaway.
Everlane also has a new weekender, although the black is sold out (probably due to Christmas, but they have a waitlist).
I have also heard good things about the Osprey Packs Porter 46 Travel Backpack. It might be a little too big for packing for a weekend getaway, but would work well for a short camping trip, or cottage weekend away.
I put together a bunch of travel outfit ideas at the bottom of this post to give you an idea of how well this weekend packing list would work for different outings, and even an extended trip. Packing light is easy with proper planning.
If you were looking for the perfect weekend packing list, and enjoyed my What to Pack for a Weekend Getaway in Winter packing list, please feel free to share it via Pinterest, Facebook, or Twitter. Thank you.
You may also like:
What to Pack for the Holidays
What to Pack for Chicago in Winter
What to Wear on a Weekend Getaway


T-shirt | Turtleneck Bodysuit | Silk Blouse | Striped Sweater | Cardigan | Dress | Blue Jeans | Black Jeans | Green Coat | Scarf | Beanie | Sunglasses | Bras | Underwear | Socks | Pyjamas | Sneakers | Boots (these are on super sale)| Purse | Tote | Weekender Bag |
SHOP THE POST


This post contains affiliate links. By using my links to shop I may receive a small commission (at no cost to you). Thanks for supporting what I do