Home for the Holidays Packing List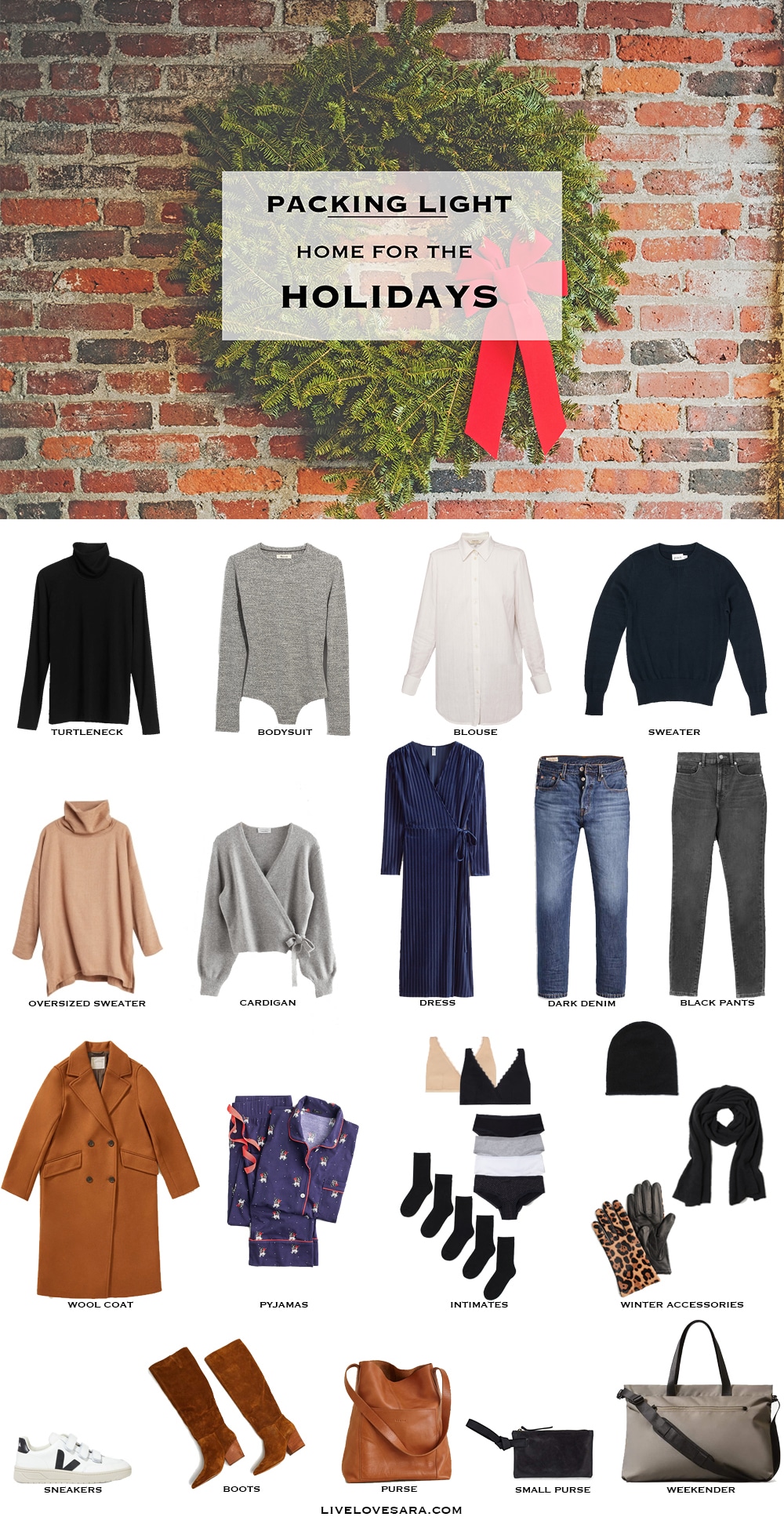 Black Turtleneck | Grey Bodysuit | White Blouse | Navy Sweater | Oversized Sweater | Wrap Cardigan | Wrap Dress | Dark Blue Jeans | Black Jeans | Wool Coat | Pyjamas | Bras | Underwear | Socks | Beanie | Scarf | Gloves | Sneakers | Boots | Purse | Small Clutch | Weekender |
SHOP THE POST


Whether you are heading home for the holidays or taking a mini break to the city in search of a white Christmas you are probably wondering what the right amount of clothes to pack would be.
When most people are travelling for the holidays it is usually for 2 to 5 days which with some proper planning should easily allow you to pack in a weekender bag…..because let's face it, when you head home with family in tow, space is limited. Especially if you are travelling with kids and presents.
For today I looked into making this as a sustainable packing list as I could. I went to my favourite sustainable retailers and pulled some winter pieces that I love.
Travelling over the holidays also means that there will be a much higher chance that you will have parties to attend, so don't forget to pack some dressy outfit options. As much as we all love sitting around in our loungewear, that isn't a good look when you head over to the neighbours for a late night Christmas party.
Let's not forget about New Year's. If you are going to be away over New Year's Eve you may want to: a) make sure you have booked a reservation to anything that you plan on attending that evening that may require so, and b) once again make sure you have the proper attire.
In this travel capsule, I included a velour wrap dress, in rich navy colour. This dress can be dressed up for New Year's or dressed down for dinner at home….because we all know that we put a little extra effort into our Christmas outfit even if we are just eating in our living room.
The winter holidays are a time for relaxing so make sure to bring nice but comfortable pieces. An oversized cowl neck sweater will get a lot of use because it is both cosy and chic.
Jeans are a good choice, but keep it to dressier darker denim versus any distressed pair that you may have and love. That way you can pair it with a sleek black turtleneck, and knee-high boots for a really polished but casual outfit.
What travel shoes should you pack?
For a trip this short all you truly need are two pairs, a causal pair, and a dressier pair. Unless you plan on attending the theatre, or dinner in an upscale restaurant you can probably forgo the heels.
If you are a die-hard heel person and want a cute, comfortable pair for everyday wear you should check out the Everlane Day Heels. I have two pairs and they are the easiest heels I've worn.
Size up a half size to full size in these because the toe box is narrow.
Do you need a winter coat?
And by winter coat I mean the hardcore parka kind. It depends. If you are travelling to a city that is expected to be exceptionally cold then obviously yes. Or if you plan on doing a lot of nature walks, then yes as well.
In most cases you will be going from a warm house to a car, to a warm building over the holidays. A wool jacket will suffice in this case as it is both warm (when worn with a sweater) and always look polished.
What travel extras will I need?
Are you going to be in a house with a lot of people? Then I would suggest some headphones, and a tablet of some kind loaded with books, and your favourite tv apps. This will give you something to do if you need some quiet time.
Alcohol? You can't always guarantee that people will have your favourite drink stocked so you may want to bring your own. Also, alcohol can be a good hostess gift…….obviously depending on the hostess. Viewer discretion is advised 😉
Will you need pillows or blankets? Sometimes it is nice to have your own pillow, but if you are staying in a hotel then it is not necessary, as it's probably not for an Airbnb either. When visiting family or friends then it may be a different story. When in doubt ask.
If you are travelling for the winter holidays and enjoyed my What to Pack for the Holidays packing list, please feel free to share it via Pinterest, Facebook, or Twitter. Thank you.
What to Wear Traveling for the Holidays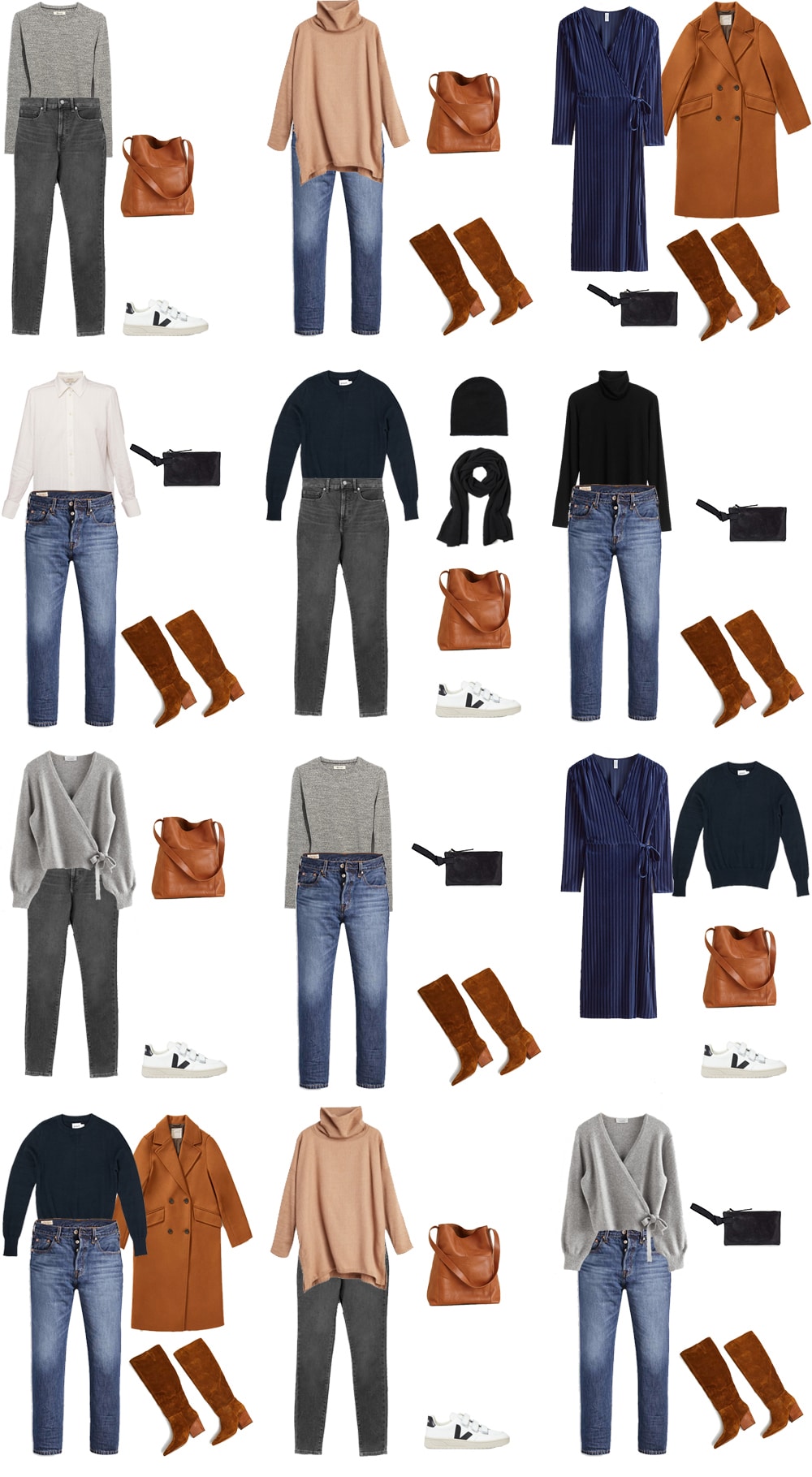 Black Turtleneck | Grey Bodysuit | White Blouse | Navy Sweater | Oversized Sweater | Wrap Cardigan | Wrap Dress | Dark Blue Jeans | Black Jeans | Wool Coat | Pyjamas | Bras | Underwear | Socks | Beanie | Scarf | Gloves | Sneakers | Boots | Purse | Small Clutch | Weekender |
SHOP THE POST


You may also like:
How to Pack for Christmas in New York
What to Pack for a Month in Europe over Christmas
This post contains affiliate links. By using my links to shop I may receive a small commission (at no cost to you). Thanks for supporting what I do