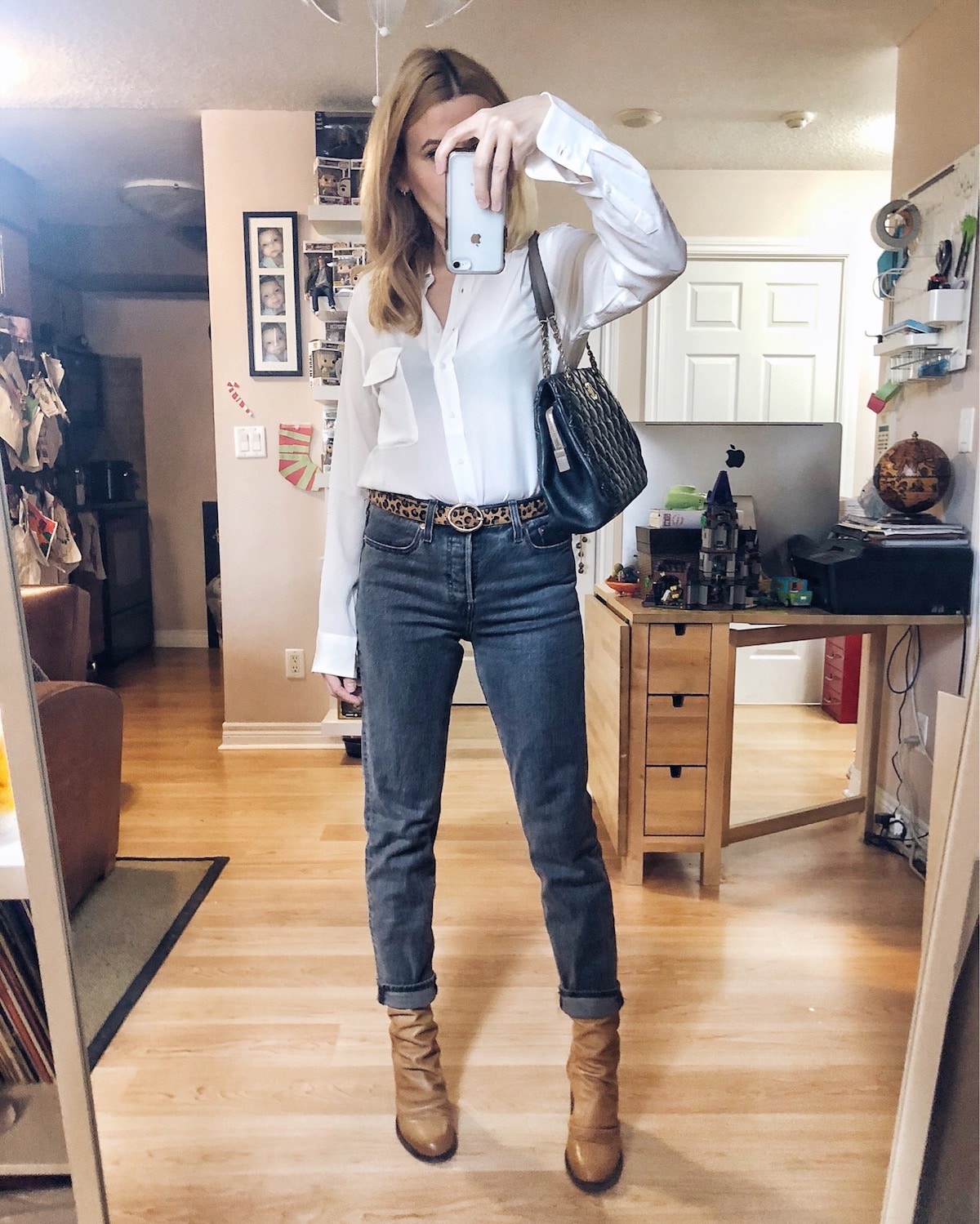 Outfit 1 – Mott and Bow Silk Blouse (gifted) | Levis | Boots | Belt | Purse (similar) |
Outfit 2 – Sweater | Trousers | Boots | Purse |
Outfit 3 – Wrap Sweater | Turtleneck | Levi's | Boots | Purse |
Outfit 4 – Grey T-shirt | Cardigan | Levi's | Boots | Coat (similar) | Purse |
Outfit 5 – Vintage T-shirt | Cardigan | Mott and Bow Skinny Jeans (gifted) | Boots | Jacket (similar) | Vintage Fedora | Scarf | Purse |
---
SHOP THE POST


---
I regret my hasty declaration last week where I told my sore throat to pick a lane. Either get better or turn into a cold. Guess which way it went? I have been dealing with a horrendous head cold this weekend.
To make it even better, I had to venture out into the icestorm today to run some errands. It wasn't quite so bad at first. More slush than ice because the temperature was hovering around freezing, but on the way back the temperature had dropped and we (Merle and I) basically had to skate home.
Not cool Mother Nature, not cool. Way to welcome in the month of December.
Many of the sales I shared on my Black Friday post are continuing throughout Cyber Monday. One of my favourite small business Etsy shops that sell band tees are having a 40% off sale for Cyber Day.
It is where I bought my Rebel Rebel tee and Aerosmith one (they no longer have this style though).
Even though I literally just watched The Marvelous Mrs. Maisel, I am rewatching it to prepare myself for the next season on December 6th. I do that with books too, regardless of how many books are in the series. I will prepare myself months in advance if I am anticipating a new book from one of my favourite authors.
I was pretty excited to find a video game that was on Roo's Christmas list marked down about 20% this weekend. Needless to say, I ordered asap before they sold out. It's a popular one.
I was also excited to see that Disney+ has Adventures in Babysitting. I love that movie, although in this version they edited out the swearing which kind of sucks the fun out of some scenes.
Someone this week on my Instagram mentioned that my fourth outfit from above looked very Adventures in babysitting inspired. I was absolutely thrilled 🙂
You may also like what I wore last week.
Follow me on
FACEBOOK || INSTAGRAM || PINTEREST || BLOGLOVIN'