Italy Packing List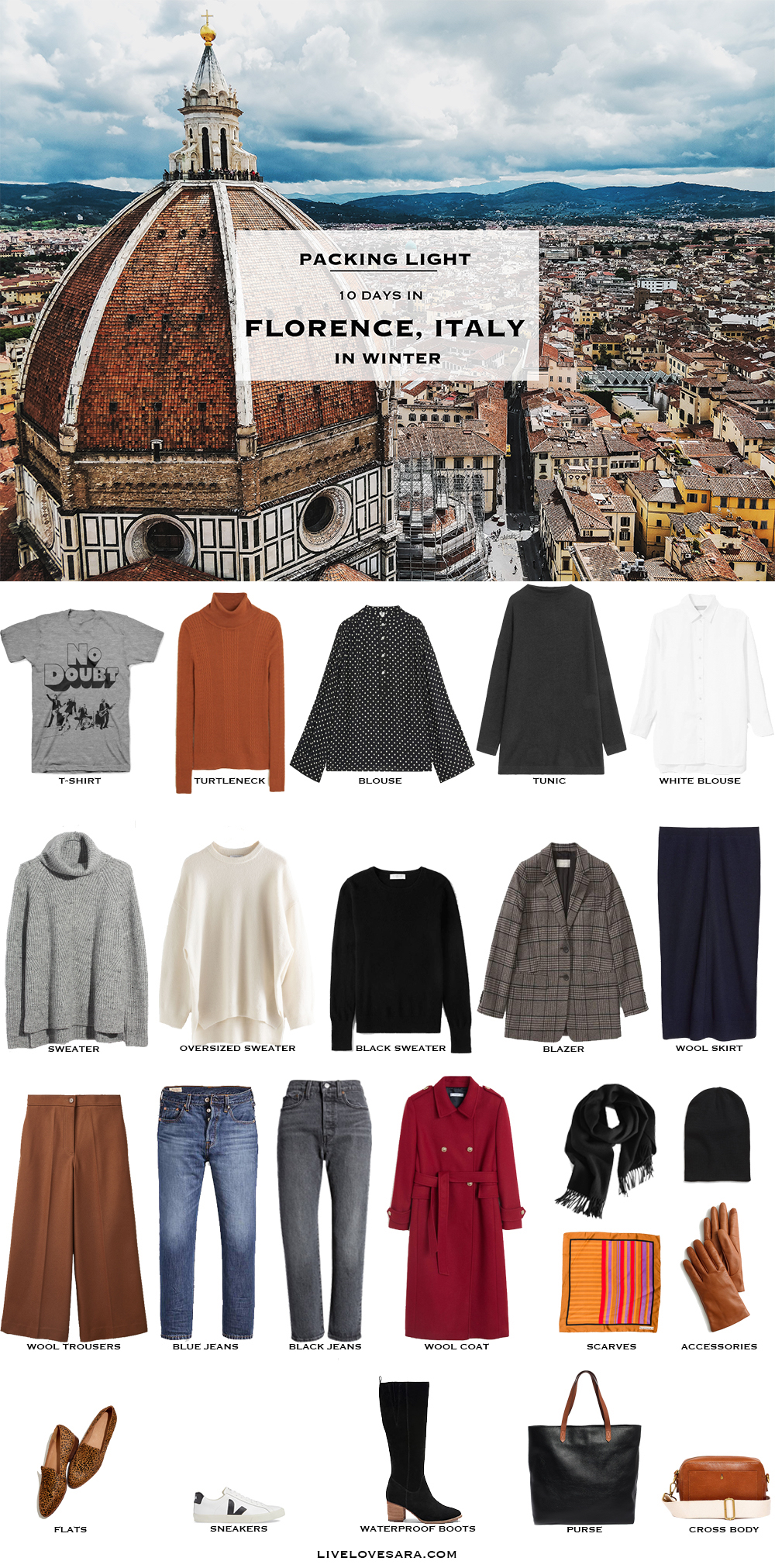 Grey T-shirt | Brown Turtleneck | Polka Dot Blouse | Black Tunic | White Blouse | Grey Sweater | White Sweater | Black Sweater | Blazer | Wool Skirt | Wool Trousers | Blue Jeans | Black Jeans | Wool Coat | Black Scarf | Striped Scarf | Black Beanie | Brown Leather Gloves | Animal Print Flats | Sneakers | High Boots | Black Tote | Brown Crossbody |
---
SHOP THE POST


---
If you are planning to travel to Florence in the winter you are going to want to spend some time preparing what to wear.
Travelling in the winter is one of the hardest seasons to pack for because you face the challenge of keeping your choices both stylish and practical while still managing to pack light in a carry-on (if that is your intention).
That isn't the easiest thing to do when your Italian travel wardrobe includes chunky knits, boots, coats, and winter accessories.
Florence is part of Tuscany in Italy that encompasses a large area, which is why you can't generalize the weather for this region. Once you plan your itinerary you should check the weather and average temperature, day by day.
Florence Weather in Winter
The weather varies considerably from year to year in Italy in winter anyway, so it is quite difficult to know what it is going to be like for more than 4-5 days in advance which isn't helpful when choosing a travel wardrobe.
It can rain, sometimes heavily, it can even snow, but you have just as an equal chance of the sun. While the temperatures won't be warm they can be pleasantly dry which is ideal for sightseeing.
The Florence average temperature in January is 7°C with highs of 12°C and lows around 0°C. Remember while it may be coldish outside, they heat may be blasting inside so it is important to wear layers.
As long as you are prepared for cold and wet your holiday wardrobe should be smooth sailing. It's easy to dress for the sun, not so much for wind and rain. Which gets us on to the topic of umbrellas…
A good travel umbrella is always great to have on hand, but honestly, they are not very functional given the narrow streets and the blowing wind in the piazzas. A good hooded coat might be a better choice, although it won't hurt to carry an umbrella in your bag if your coat doesn't have a hood.
What to Do in Florence in Winter
Florence it the capital of the region of Tuscany and there is a reason why it is considered one of Italy's must-see cities.
It is the land of art and of amazing food, and Unesco declared the historic centre of Florence a World Heritage Site in 1982.
If you are a history buff it is also the birthplace of the Renaissance which is one of my favourite periods in history. It has an extremely rich history, and one of Florence's best known attractions is the Duomo.
Try the hot chocolate. It's not like hot chocolate as we know it, it is a thick, velvety drink that is almost pudding-like in its consistency.
If the weather sucks, then visit a museum. You should visit a museum even if the weather doesn't suck though.
Go and visit David. I mean you can't really go to Florence and not see David, right?
See a show or concert.
Shop and support the local artisans.
What to Wear in Florence
Even when the weather is cold Italian women still manage to keep it stylish. The key to this is layering so make sure everything that you include in your Italy packing list can be layered.
If you are prone to cold and plan on spending the majority of your time outside visiting Florence sites, then you might want to include some thermal undergarments, like these.
Don't forget some waterproof footwear (like these waterproof boots), and your winter accessories like gloves, a hat, and a warm scarf.
Take a statement coat. Since it will be the piece that people will be seeing the most, a nice jacket in a fun design or bold colour is a good choice.
The key to packing light is to make sure that every individual item fits seamlessly into several outfits, so plan smart, and plan well ahead so you can focus on your trip to Tuscany not what you are going to wear.
If you are visiting Italy this Winter and enjoyed my What to Pack for Florence in Winter packing list, please feel free to share it via Pinterest, Facebook, or Twitter. Thank you.
You may also like:
What to Pack for Genoa, Italy
What to Pack for Milan, Italy
What to Wear in Italy

Grey T-shirt | Brown Turtleneck | Polka Dot Blouse | Black Tunic | White Blouse | Grey Sweater | White Sweater | Black Sweater | Blazer | Wool Skirt | Wool Trousers | Blue Jeans | Black Jeans | Wool Coat | Black Scarf | Striped Scarf | Black Beanie | Brown Leather Gloves | Animal Print Flats | Sneakers | High Boots | Black Tote | Brown Crossbody |
SHOP THE POST


Follow me on
FACEBOOK || INSTAGRAM || PINTEREST || BLOGLOVIN'