Paris Packing List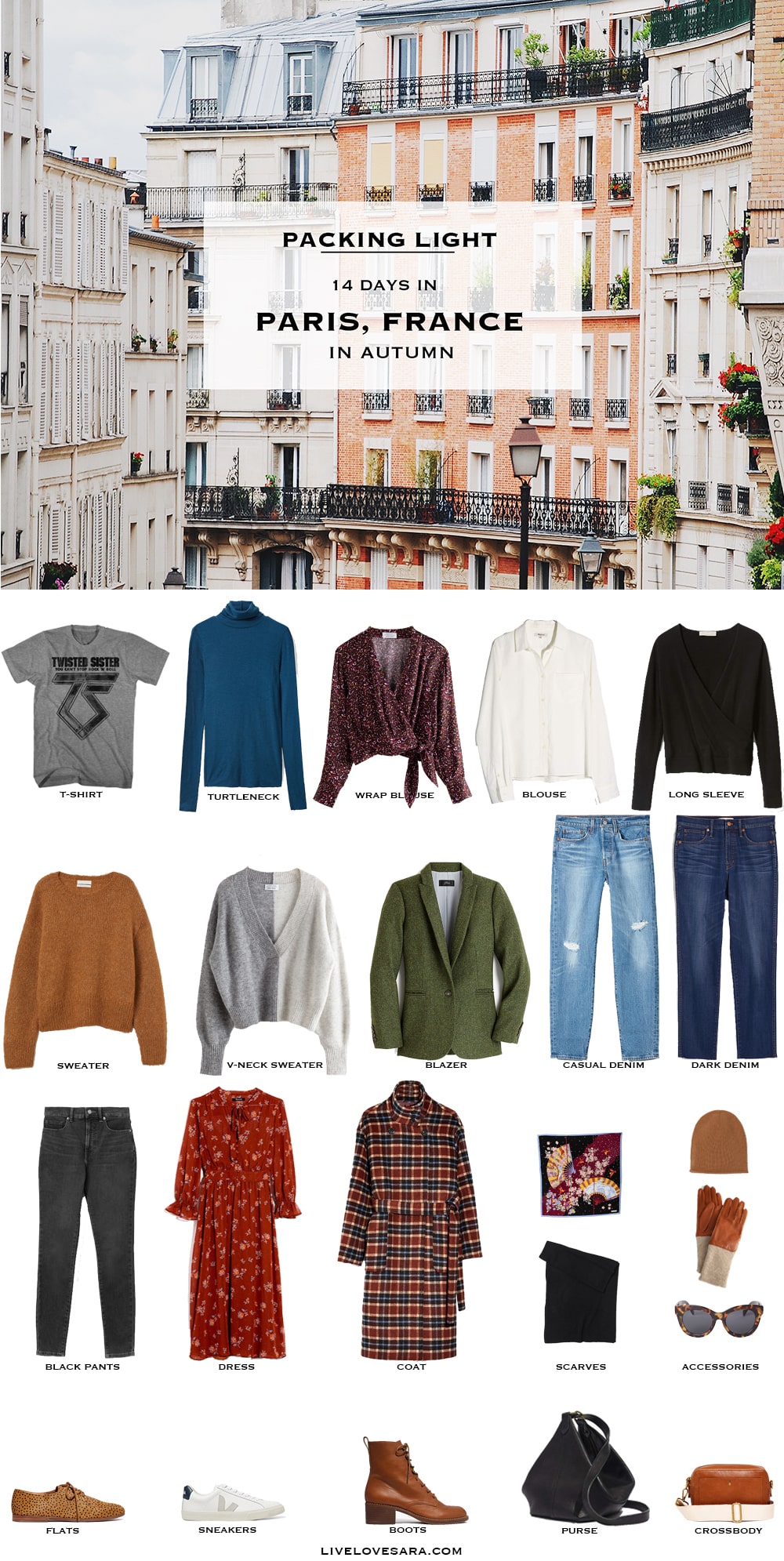 T-shirt | Turtleneck | Wrap Blouse | White Blouse | Black Long Sleeve | Camel Sweater | V-neck Sweater | Blazer | Casual Denim | Dark Denim | Black Pants | Dress | Coat | Print Scarf | Black Scarf | Beanie | Gloves | Sunglasses | Flats | Sneakers | Boots | Black Purse | Crossbody |
---
SHOP THE POST


---
What do you do when you need a mixed climate packing list? I may have a solution for you in this post. I have a request for a two week trip to Europe in October (the end of) that covers approximately three days in Paris, three days in Barcelona, and three days in London.
Luckily both London and Paris have similar weather during this time. Slightly cooler in the mid to low teens, overcast, and rain, so a basic fall packing list will cover those two destinations.
Barcelona, on the other hand, is usually sunny with much warmer temperatures, rain is predicted as well so pay attention to the weather channel until the day you leave.
That way you can make sure to add or take away anything from your autumn packing list that you feel will not be suitable for the duration of your trip.
What does this tell us about packing for a mixed climate?
Don't forget a coat. One that isn't too heavy, but is warm enough for the cooler evenings. Bonus points if it is both stylish and waterproof. No worries if it isn't because you can always…
Pack a travel umbrella. This should get you through any piss poor weather (pun intended) unless it's so heavy it is slanting sideways. And in that case, not much will help aside from seeking immediate shelter until it passes. Umbrellas can also work for the big, wet, heavy snowflakes when the weather hovers around freezing.
When you are packing your travel footwear selections you won't need rain boots. They can be clunky, not easy to walk in for extended periods and take up a lot of room in your suitcase. Just bring a good pair of leather boots and make sure you weather treat them before you go.
Tights make good base layers in a pinch. Just in case you need a little bit of extra warmth.
Don't forget the colder weather accessories. A good knit scarf, gloves, and a beanie/winter hat don't take up much room in a suitcase and can make the difference between a comfortable outing and uncomfortable. If the day starts of warmer and you want to bring them with you, just slide the gloves into the hat and store it in your purse. A scarf can easily be tied around a purse strap if need be. Just make sure it doesn't drag or hang long enough to get snagged or stuck in things.
You can still pack light while packing for mixed temperatures. Just make sure the pieces that you include in your travel wardrobe are easily layered. You may start your day off in a sweater, by lunch it may be warm enough for just a t-shirt, and at dinner, you may need a sweater and light jacket. Having travel capsule wardrobe sections that check these boxes will make dressing for mixed climates easier.
Unless you are doing any trekking in the snow then a good pair of sneakers will also be an excellent travel footwear choice. Wear them with warmer socks for cooler outings, and invisible or short socks on warmer days. They are versatile, comfortable, and literally everyone wears sneakers now. You see them everywhere from the pricier Golden Goose, to the affordable Adidas, and ethical Veja's. There are so many sneaker choices for whatever your desires, needs, and price points are.
Preplan your outfits. In theory, packing light seems easy. In reality, it's easy to pack a bunch of things that you think will work well and mix and match only to still run into the "I don't have anything to wear" dilemma. Make sure to preplan your outfits. Put together as many outfits as you can and try them all on. All the way down to the shoes and accessories. That way you can see if it truly works beyond what you visualize. Then document it. Quick photos kept on your phone for reference are probably easiest, but I have seen people use wardrobe planning apps, and even pencil/paper notes. Whatever works for you. That way you aren't going to panic and wonder what to wear in Paris which happens to be one of the most fashionable cities in the world.
When packing for mixed climates it is important to note that your suitcase will be heavier so you should select your heaviest pieces to wear as your airport outfit. You can always take them off once you board the plane, but it is a good practice in learning to pack light.
Choose a good carry-on suitcase. Last week I gave a review on the Pakt One suitcase and highly recommend it if you want to pack light in a very organized manner.
Using the Pakt One with packing cubes would be the ultimate combination for making the most out of the bag.
Also, don't fret. Learning to travel light is a skill that gets better with practice. No matter how well you plan things out you will inevitably pack something that you could have left at home. It happens.
But the more you practice the easier it is. The point of packing light is to take away some travel stress. You don't have to worry about lost luggage, standing at the luggage carousel, or wondering what you are going to wear. Good luck! And don't forget to have fun while doing it 🙂
You may also like:
What to Pack for Paris in Spring
What to Pack for London in Autumn
What to Pack for Barcelona Spain
If you are visiting Western Europe in November and enjoyed my What to Pack for Paris, Barcelona, and London in Autumn Mixed Climate packing list, please feel free to share it via Pinterest, Facebook, or Twitter. Thank you.
Paris Outfit Ideas


T-shirt | Turtleneck | Wrap Blouse | White Blouse | Black Long Sleeve | Camel Sweater | V-neck Sweater | Blazer | Casual Denim | Dark Denim | Black Pants | Dress | Coat | Print Scarf | Black Scarf | Beanie | Gloves | Sunglasses | Flats | Sneakers | Boots | Black Purse | Crossbody |
---
SHOP THE POST


---
Follow me on
FACEBOOK||INSTAGRAM||PINTEREST||BLOGLOVIN'