London Packing List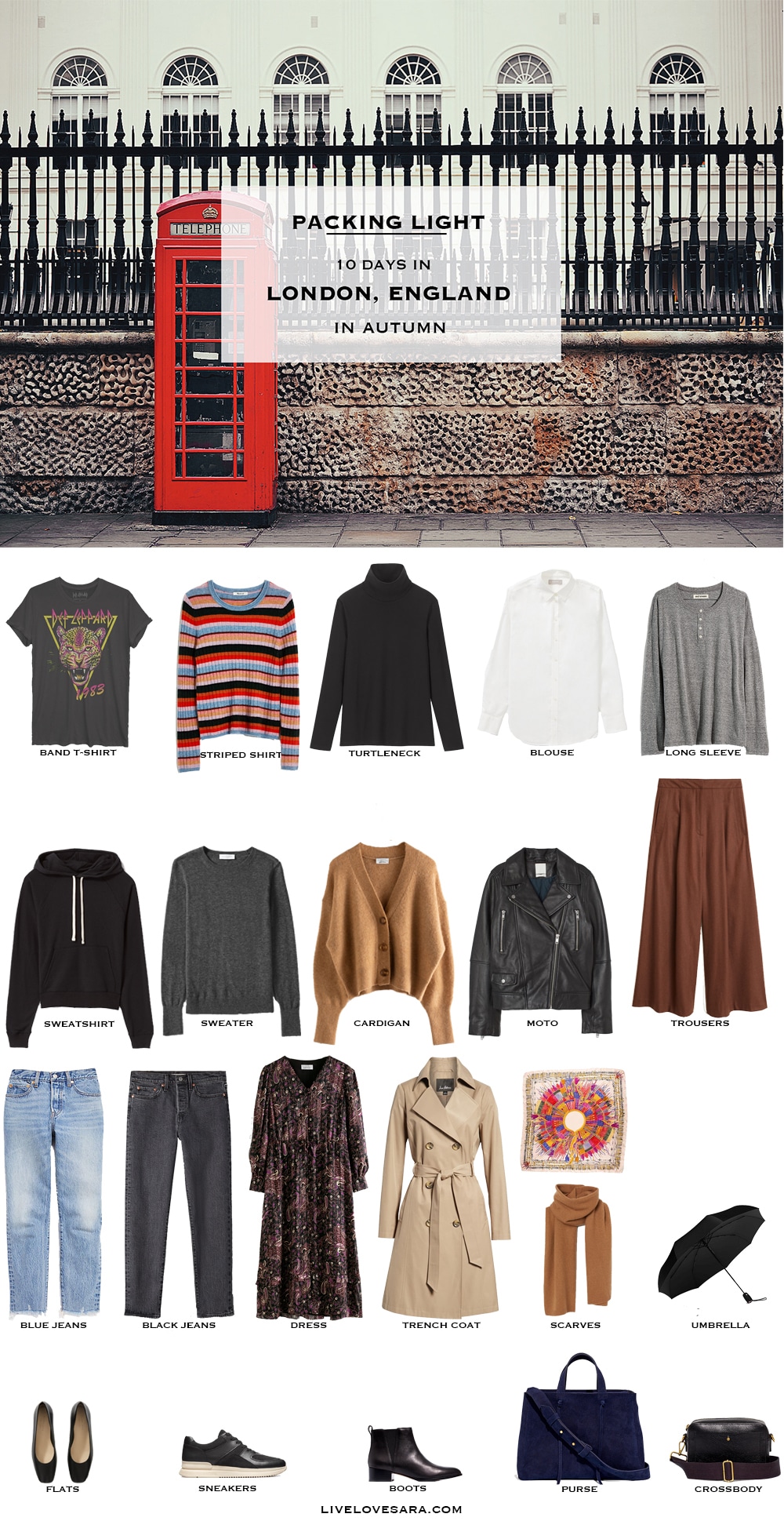 Band T-shirt | Striped Shirt | Turtleneck | White Blouse | Grey Shirt | Sweatshirt | Grey Sweater | Cardigan | Leather Jacket | Brown Trousers | Blue Jeans | Black Jeans | Dress | Trench Coat | Print Scarf | Cashmere Scarf | Umbrella | Flats | Sneakers | Boots | Blue Purse | Black Crossbody |
---
SHOP THE POST


---
This London packing list post also includes what to pack for Paris in autumn. They are hitting both locations during their trip, and it is better for my SEO to pick one location for the title so London packing list it is. I'm learning these things as I go 😉
Today was glorious out and it is reflective of my favourite season for everything…..autumn. My favourite for weather, clothes, food, smells, and travel. This is why I always get resurgence of excitement every time I get a request for autumn packing lists.
Each one is like a perfect small autumn capsule wardrobe, and although it gives me the urge to shop (which isn't always the best thing) it also inspires me to be more creative with my personal wardrobe (which is a good thing).
A Europe packing list will vary slightly between many regions but travelling between Paris and London you won't have that much weather fluctuation. You won't have to worry about packing for multiple climates in this instance which makes piecing together a travel wardrobe significantly easier.
First things first you need to always research the weather. Weather obviously changes at a blink of an eye so you need to keep updated on the predicted weather in order to pack properly. You can also check the historic trends for the cities you plan to visit as well.
This trip is planned for the end of September to early October and both of these cities trend towards rain during this time period. If you don't want to bring a raincoat because you want to dress more chic, then a water resistant trench and a windproof umbrella are good choices.
You will see a lot of trench coats there.
Travel footwear choices are always a battle for me because people have so many different needs and requirements for their shoes. The thing that they all have in common is comfort though….unless of course you are one of those women that refuse to wear anything but heels regardless if your feet fall off or not 😉
In this instance I would select a bootie of some kind. Preferably a waterproof bootie but if you have a tried and true favourite leather boot I would bring it and just make sure to weather treat it before I go just in case.
Then I like to bring a sneaker option because sneakers are my favourite comfort shoe. I actually own this pair that I included. They are Tread by Everlane and I find them extremely comfortable, even straight out of the box. For the third option I like to choose a flat. They are fun, cute, simple, and can be your dress shoe option if need be.
At this time of year you probably won't need a knit beanie in early October, but it wouldn't hurt to bring one just in case the temperature decides to do a significant drop overnight.
My style leans more towards a laid back, edgy-chic and my travel wardrobe selections usually reflect that. That being the case, these holiday packing lists are always meant a suggestion guidelines. Nothing is obviously set in stone and personal style is so very…..personal.
You can use my packing list guidelines to help you choose pieces that are your own personal style and build your travel capsule wardrobe to reflect that.
I hope this gives you some ideas, and some packing list inspiration.
You can find more packing lists and what to wear guides in my:
Packing List Series
Travel Outfit Ideas
If you are travelling to London or Paris and enjoyed my What to Pack for London in Autumn packing list, please feel free to share it via Pinterest, Facebook, or Twitter. Thank you.
London Outfit Ideas

Band T-shirt | Striped Shirt | Turtleneck | White Blouse | Grey Shirt | Sweatshirt | Grey Sweater | Cardigan | Leather Jacket | Brown Trousers | Blue Jeans | Black Jeans | Dress | Trench Coat | Print Scarf | Cashmere Scarf | Umbrella | Flats | Sneakers | Boots | Blue Purse | Black Crossbody |

Follow me on
FACEBOOK || INSTAGRAM || PINTEREST || BLOGLOVIN'