Europe Packing List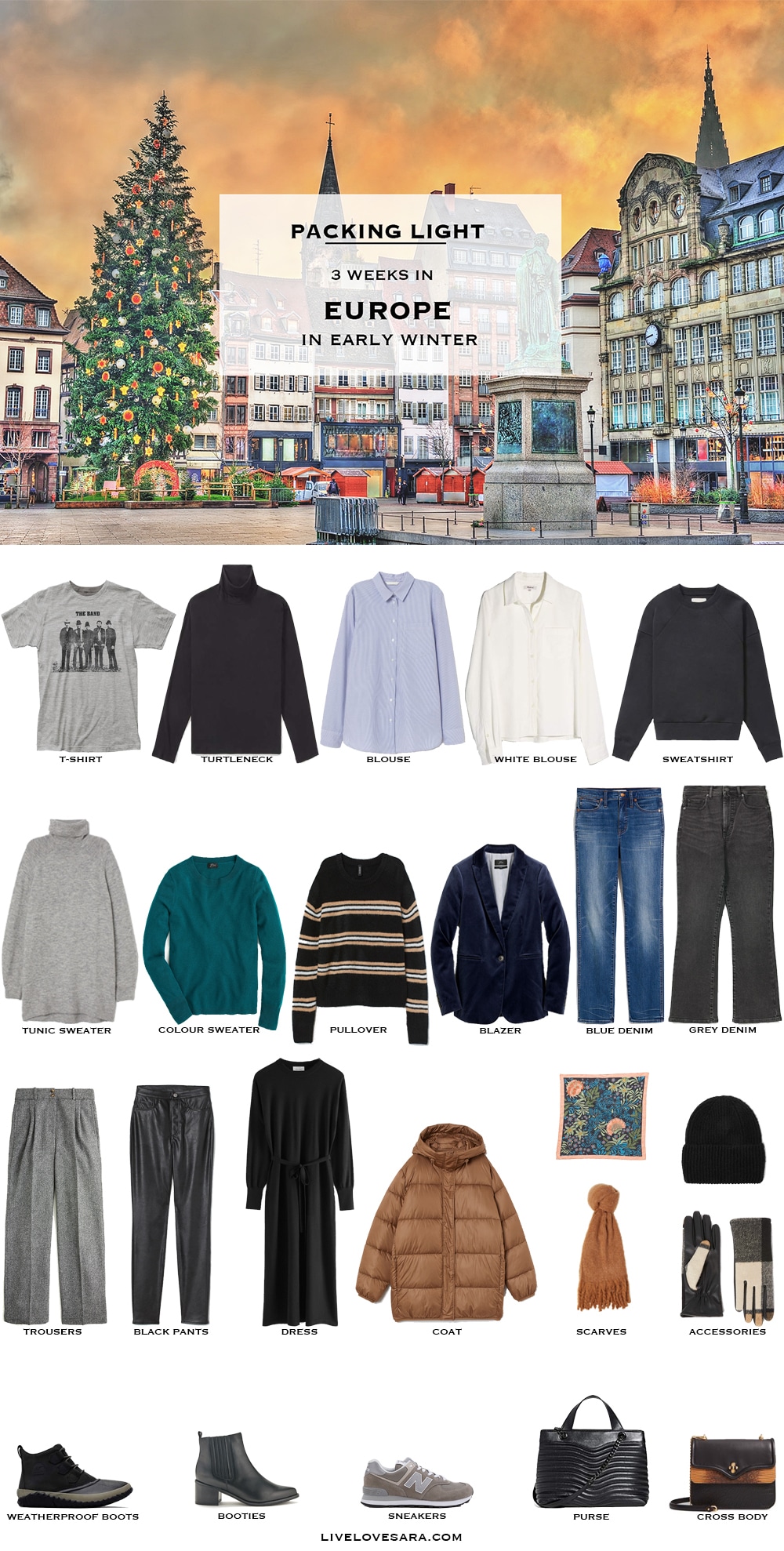 Grey T-shirt | Black Turtleneck | Blue Striped Blouse | White Blouse | Black Sweatshirt | Grey Sweater | Green Sweater | Striped Sweater | Blue Blazer | Blue Jeans | Black Jeans | Grey Trousers | Faux Leather Pants | Black Dress | Down Coat | Floral Scarf | Brown Scarf | Beanie | Gloves | Weatherproof Boots | Booties | Sneakers | Black Purse | Crossbody |
---
SHOP THE POST


---
When you are packing for 3 weeks in Europe in winter you need to realize that it will be significantly different than winter at home because you will be spending more time out in it. For this reason, it is important that you are not underprepared for the weather.
Packing in winter is also much harder than packing in summer because of all the extra bulk from heavier weight items. This is where a good set of packing cubes can save the day.
This set is longer and thinner than the regular packing cubes that you see and can fit A LOT of items in them when you compress them. There is no art to using packing cubes.
It will be trial and error each and every time you use them, but with practice, you will begin to get the hang of how to fold/roll/compress items to maximize the space in each packing cube.
I had a request to refresh this packing for Christmas in Europe post from last year at this time. Her trip to Europe will be 2.5 weeks and will include Prague, Vienna, Budapest, Brussels, and Amsterdam.
She is also from Florida and hates winter so she'll need to be extra prepared compared to someone like me who lives in a city with extremely cold winters.
When packing for a Europe trip in winter you need to determine your itinerary so that you include weather appropriate outfits for your travels. Are you can to be walking around on foot in the city? or are you going to be venturing out of the city for nature hikes?
Consider this just a template for what you should pack for 3 weeks. It will help to give you a basic outline of where to start and then you can change it around to suit the needs of your own style, tastes, and needs.
Something that you should always include on a winter trip is base layers. Something thermal that you can layer underneath your clothes to keep you warm on those days that you are walking outside for hours.
Uniqlo makes excellent base layers, and they can also be easily used as sleepwear, and for working out if you want. Your base layers can be packed in your packing cube that contains your underwear, bras, and socks. Everything should fit nicely all into one.
Which winter jacket to pack is a hard question. You want something lightweight but is also warm. I have several winter jackets. One is gorgeous, warm, but so heavy that I would never bring it with me on a trip.
I have a down jacket that isn't quite as nice looking, is also warm, but is quite lightweight and very easy to squish down into a small size to pack.
For winter travel footwear you want to make sure it is both waterproof, and warm. If you plan on staying in the cities you could probably get away with something like these worn with a warm sock.
If you are looking for something a little more winterier these are quite nice, without the extra bulk of a heavy-duty winter boot.
I often don't bust out my own winter boots until there is a decent amount of snow on the ground, or until the temperature plummets.
A winter travel capsule wardrobe can be easy with the right preparation. Make sure to include items that layer easily, because it can get really warm under a winter jacket.
Packing winter accessories is key. Don't forget a knit hat, scarf/scarves, and gloves or mittens. Mittens are warmer, but gloves tend to look chicer and are easier to wear.
It's also important to include pieces that work multi-purpose jobs like the base layers do.
Europe Packing Don'ts
European cities are not like North American cities, and many are still quite known for their cobblestone streets. These can make walking at any time of the year harder, but in winter or when wet they can become much slipperier and harder to manoeuvre.
Cobblestone streets are also a good reason to avoid packing heels. You will be happy that you left them at home.
European Luggage Tips
Trying to pack light for winter can be tricky but with the right tools, and proper organization you can be successful.
Packing cubes are sworn to be the holy grail of packing light. Not only do they allow you to keep everything nicely organized, but they also allow you to not have to keep digging through your entire suitcase when you are searching for something.
Each cube if packed smartly will contain a group of like items that make searching for what you want easy.
Suitcases are another story. Depending on your preferences for backpack vs roller bag vs duffel style. There are a lot of varying opinions and options. You can read my post on how I fit a month's worth of outfit in the Pakt One carry-on here.
Remember to always check your airline's guidelines for what their carry-on bag allowance is.
You may also like:
What to Pack for Vienna in Winter
What to Pack for Paris in Winter
What to Pack for Riga, Latvia
If you are visiting Europe this Christmas and enjoyed my What to Pack for 3 Weeks in Europe packing list, please feel free to share it via Pinterest, Facebook, or Twitter. Thank you.
Winter Travel Outfits

Grey T-shirt | Black Turtleneck | Blue Striped Blouse | White Blouse | Black Sweatshirt | Grey Sweater | Green Sweater | Striped Sweater | Blue Blazer | Blue Jeans | Black Jeans | Grey Trousers | Faux Leather Pants | Black Dress | Down Coat | Floral Scarf | Brown Scarf | Beanie | Gloves | Weatherproof Boots | Booties | Sneakers | Black Purse | Crossbody |
---
SHOP THE POST


---
Follow me on
FACEBOOK || INSTAGRAM || PINTEREST || BLOGLOVIN'