Packing List for Europe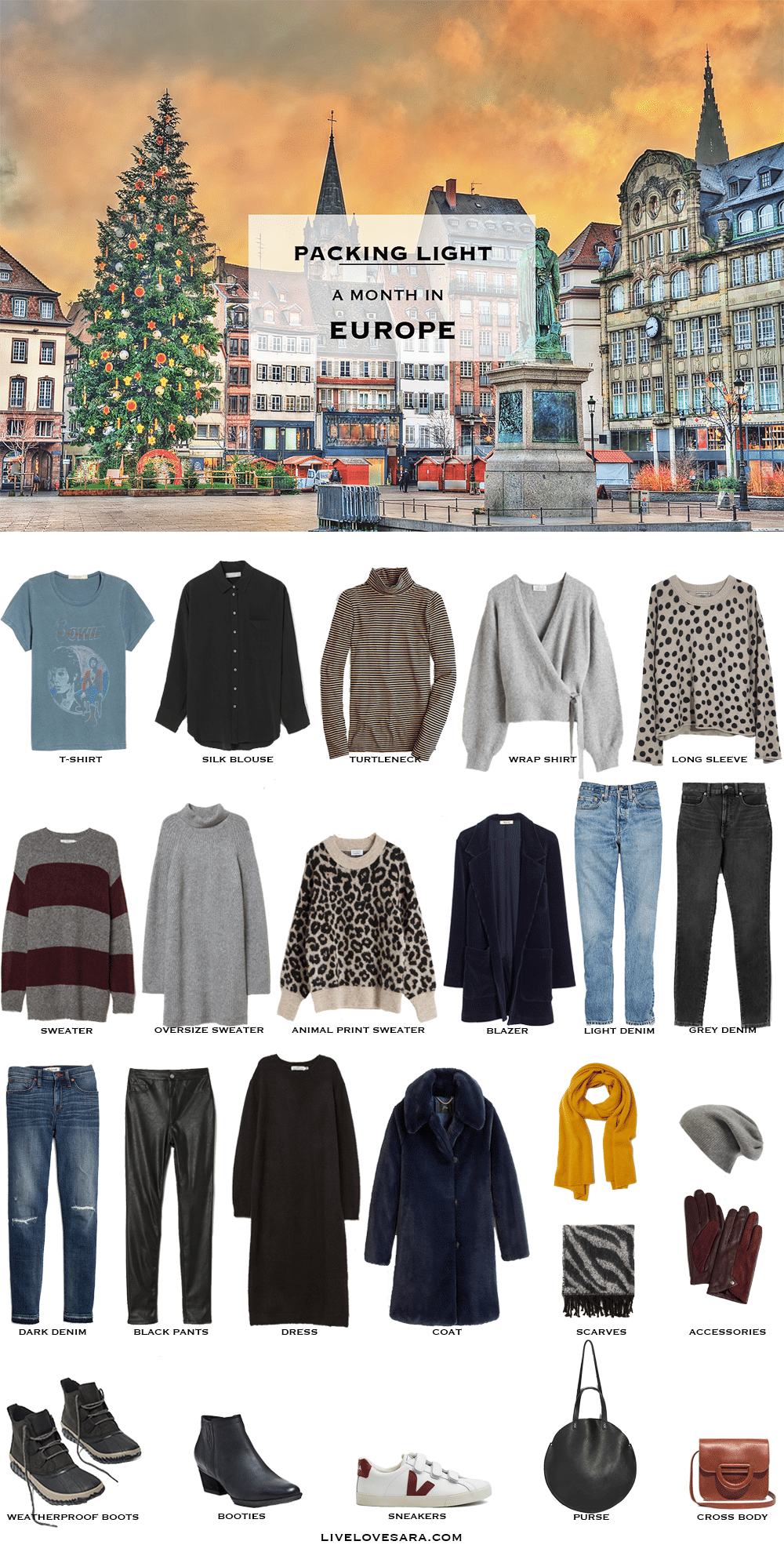 T-shirt | Silk Blouse | Turtleneck | Wrap Shirt | Spotted Long Sleeve | Striped Sweater | Oversized Grey Sweater | Animal Print Sweater | Blue Blazer | Light Denim | Grey Denim | Dark Denim | Black Faux Leather Pants | Black Dress | Blue Coat | Yellow Scarf | Grey & Black Scarf | Grey Beanie | Gloves | WeatherProof Boots | Booties | Sneakers | Black Purse | Crossbody |
---
SHOP THE POST


---
We went and got our flu shots on Tuesday. Thankfully none of us had any side effects except my arm feeling like it lifted too many weights today. I was worried that we would be out of commission for a day or two.
This week I am doing my annual Packing for Christmas in Europe post. Well, not annual since I only did one two years ago but a friend asked me to do this for her so maybe I will make it annual.
She is leaving the first week in December for a month in Europe and will be spending time between France and the UK to visit friends and family.
She has a very defined style and gave me a few must-haves for her travel wardrobe.
Easy to wear (basically throw on and go)
Easy to dress up or down options.
Focus on pants (mostly a jeans girl)
Include one dress that is preferably black and can be worn in several different ways.
Focus on neutrals and use prints to reduce monotony (she'll add colour with accessories).
No high heels.
There are a few pieces that she has already and decided that she wants to pack.
They are an animal print sweater, Levi's 501 skinnies, white Veja sneakers, and the Out N About by Sorel.
That's right about where she got stuck and asked me for some ideas.
I don't usually include four pairs of pants, but they serve different purposes.
First, you don't want to wear the same two pairs of pants every day for an entire month, and second faux leather pants are actually pretty wind and waterproof and I wear them all the time in the winter for this reason.
As for which jackets to pack you could easily bring a warmer puffer jacket without it taking up much extra room if you go for this style. It is a travel jacket and folds down to a neck pillow to make is extremely packable.
It is also crafted with PrimaLoft Insulation, which is apparently as warm as down and makes a great alternative. The best part? It is made of 100% recycled content.
Speaking of recycled content, have you seen Everlane's new Renew line? Amazing.
I got the approval of all the selections before posting this……but I think she just wanted to have a sneak peek 😉
I hope you find this helpful in seeing that even in the winter, packing for month long vacations doesn't mean you have to pack your entire wardrobe.
There are 30 outfit option below.
If you are planning to spend a month in Europe and enjoyed my What to Pack for a Month in Europe packing list, please feel free to share it via Pinterest, Facebook, or Twitter. Thank you.
This post contains affiliate links. By using my links to shop I may receive a small commission (at no cost to you). Thanks for supporting what I do🙂
You may also like:
How to Pack for 3 Weeks in Europe in Winter
What to Pack for a Month in Europe in Summer
What to Pack for a Month in Europe

T-shirt | Silk Blouse | Turtleneck | Wrap Shirt | Spotted Long Sleeve | Striped Sweater | Oversized Grey Sweater | Animal Print Sweater | Blue Blazer | Light Denim | Grey Denim | Dark Denim | Black Faux Leather Pants | Black Dress | Blue Coat | Yellow Scarf | Grey & Black Scarf | Grey Beanie | Gloves | WeatherProof Boots | Booties | Sneakers | Black Purse | Crossbody |
---
SHOP THE POST


---
Follow me on
FACEBOOK || INSTAGRAM || PINTEREST || LIKEtoKNOW.it