New York City Packing List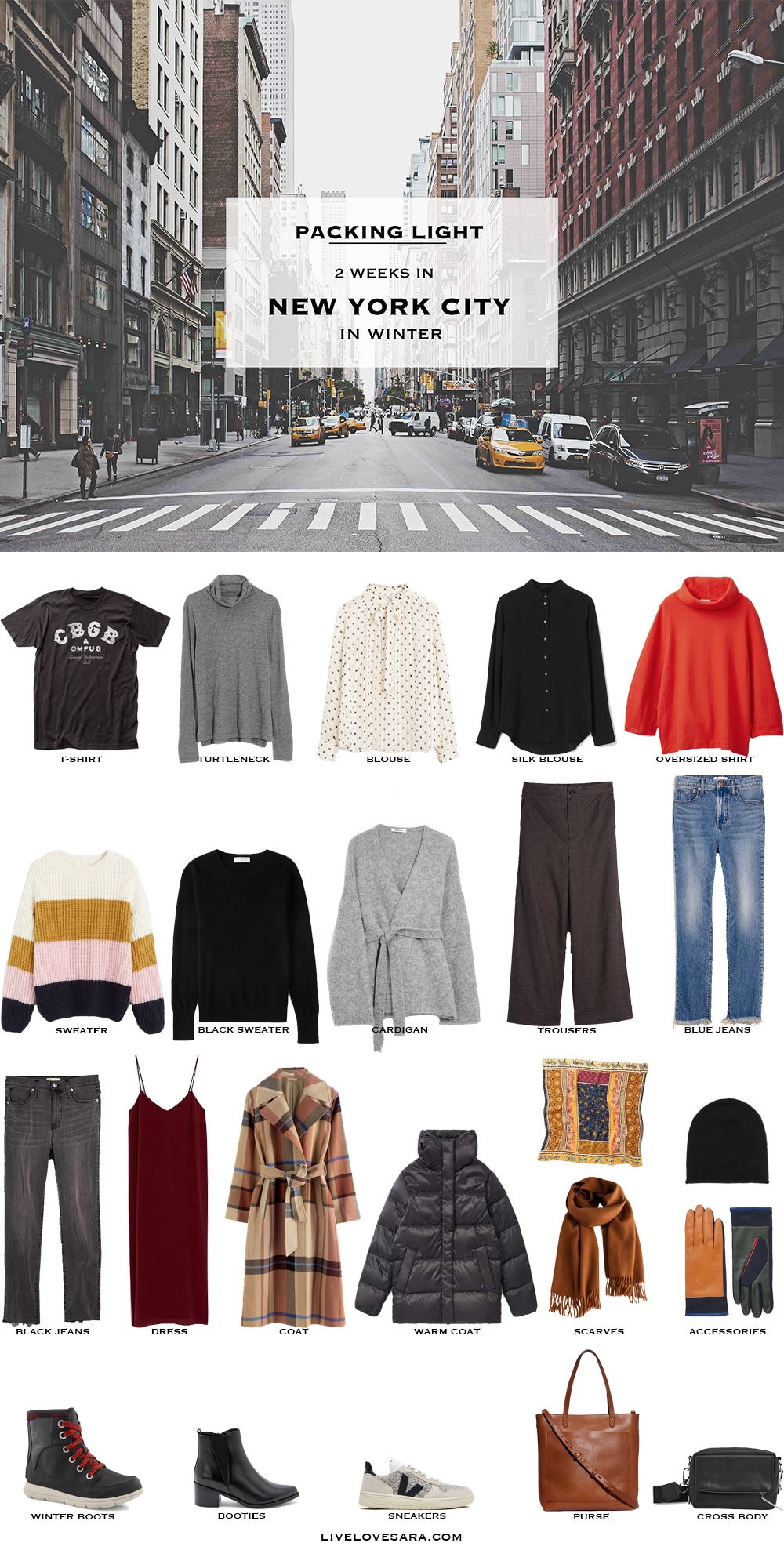 CBGB T-shirt | Turtleneck | Polka Dot Blouse | Silk Blouse | Red Shirt | Striped Sweater | Black Sweater | Grey Cardigan | Trousers | Blue Jeans | Black Jeans | Red Dress | Plaid Coat | Black Coat | Print Scarf | Brown Scarf | Black Hat | Gloves | Winter Boots | Black Boots | Sneakers | Brown Purse | Crossbody |
SHOP THE POST


If you are spending Christmas in New York City, and you have no idea what to pack you are in the right place. I love winter and I love finding ways to still be fashionable while it is freezing out, so as per request I put together a New York in winter packing list with accompanying travel outfit ideas.
The phrase Christmas in New York conjures up all kinds of images in my mind like the lighting of the Christmas tree, ice skating at the Rockefeller Centre, Chrismas shopping in New York while looking at the beautiful window displays, and of course, the New Years Eve Ball Drop at Times Square.
Is the special New Year's Rockin' Eve still on?
My mind also goes to the opening scene from Serendipity when the main characters first meet while Christmas shopping at Bloomingdales, and are trying to buy the same gloves. They then proceeded to go have dessert at Serendipity 3, which is where the magic begins.
I love that movie. It's not technically a Christmas movie, but it is Christmasy enough that I am going to add it to my list.
Back to the New York winter packing list. This list is for an NYC Christmas Holiday, that is two weeks in New York from before Christmas until after New Years. There are some planned dressier evenings and a ton of New York touring.
New York City Packing List Essentials
1. Winter Coats
While you will want to be checking, and rechecking the weather until you leave for your trip it is good to note that NYC weather in December tends to be not too cold.
It is usually between Christmas and New Year that the temps begin to drop and you may experience some of that deep bone-chilling cold.
That is one of the reasons why I included two jackets. One is an easily compactible down-filled jacket that will cover the cold times.
The other is a dressier, long wool jacket that will be warm with layers, and will be perfect for dressier outings, and those moments that you want to look like an NYC fashionista 😉
This seems to be the year of the puffy jacket and you can find them everywhere. Everlane just released a long version (I have it in black) and a shorter one that is made from recycled down and plastic bottles.
H&M has some more affordable styles for the budget-conscious, and if you don't mind splurging there is always Canada Goose Jackets that will never let you down.
2. Winter Accessories
Winter accessories are almost as important as a winter coat because without them you will be truly miserable spending any length of time outdoors.
A nice winter hat is easy to come by, and you can find a knit beanies (known as toques here) everywhere. I tend to stick to a neutral knit hat in winter, my preferred one is grey and I live in it when the weather starts to turn.
A good, warm scarf in imperative because when you are walking in between the skyrise buildings downtown they often form wind vortexes that can literally take your breath away.
In the summer they are nice, breezy, and easy to manoeuvre. In the winter you will want to literally wrap your scarf around your face and try not to cry. Don't forget your scarf.
A nice set of gloves or mittens. Mittens are hands down way warmer but they are also harder to work with. I have a great pair of mittens from Ugg.
A friend gave them to me ages ago when she decided they weren't her thing. I was like, ummmm I'm not going to pass them up 😉 but usually, save those for the brutally cold days.
I tend to wear a nice lined leather glove on most winter days.
3. Winter Travel Footwear
No one likes to be schlepping around in a big pair of winter boots, but thankfully there are some many styles now to choose from that you can have warm feet and still look fashionable.
Sorels are my go-to winter boot, and they have a lot of different styles to choose from that you should have no issues finding a pair that fit what you are looking for.
My hardcore boots are these, but I also have these (all black with a black liner) which I wear more often, and I would like this style for the times that there isn't as much snow on the ground, but it is still cold.
Aside from a pair of winter boots, I would also include some sneakers, and a bootie. Blondo makes some great waterproof booties that would work well for some chic winter footwear.
4. Pack Layers
Layers really are the secret sauce to packing light in winter. While you don't think that you will want to wear a t-shirt you may be singing a different tune when you are in a crowded shopping centre and sweating in your down jacket.
Slipping off a sweater and wearing a t-shirt underneath will make wearing the jacket more bearable. It is easier to stuff a sweater in your bag than it is to carry around a jacket.
That is also another reason why I love a lightweight down, it doesn't feel like you are carrying a weight on your shoulders when you are forced to wear it around all day.
I have a beautiful winter jacket that is very heavy to wear which is why I tend to not bring it out unless is brutally cold out (I am talking to you insane cold spell from last winter).
Base layers are also important, especially if you get cold easily. Uniqlo has some great base layers. They even have a heat tech turtleneck that you could easily wear just like a shirt and be nice and warm.
Base layers also make good pyjamas in a pinch or to travel light. Everything has more than one use.
5. Travel Bags
While I love a good backpack it is probably wiser to stick to regular purse totes, and/or crossbody bags.
Something that you can keep close to your body when you are in the packed subways, stores, or even standing in lines. Having all your valuables on your back make you an easier target for theft.
Also, most tourist places like museums do not allow you to wear a backpack, so to avoid having to coat check all of your belongings it is easier to just bring a more travel-friendly bag.
Now if you are using a backpack as your main travel bag that is a different story, and you will probably be leaving it in your hotel, or Airbnb anyway.
The suitcase you bring is a personal preference thing. I like a bag that I can grab and go (my review here), while many like a hardshell with wheels. It's totally up to how you prefer to travel.
Whatever your preferences, do not forget the packing cubes. They will make your travel life much easier.
When searching for travel deals you can check booking rates at Booking.com
New York Outfit Ideas

CBGB T-shirt | Turtleneck | Polka Dot Blouse | Silk Blouse | Red Shirt | Striped Sweater | Black Sweater | Grey Cardigan | Trousers | Blue Jeans | Black Jeans | Red Dress | Plaid Coat | Black Coat | Print Scarf | Brown Scarf | Black Hat | Gloves | Winter Boots | Black Boots | Sneakers | Brown Purse | Crossbody |
SHOP THE POST


You may also like:
What to Pack for New York in Winter
NYC in December
What to Pack for 3 Weeks in Europe in Winter
This post contains affiliate links. By using my links to shop I may receive a small commission (at no cost to you). Thanks for supporting what I do