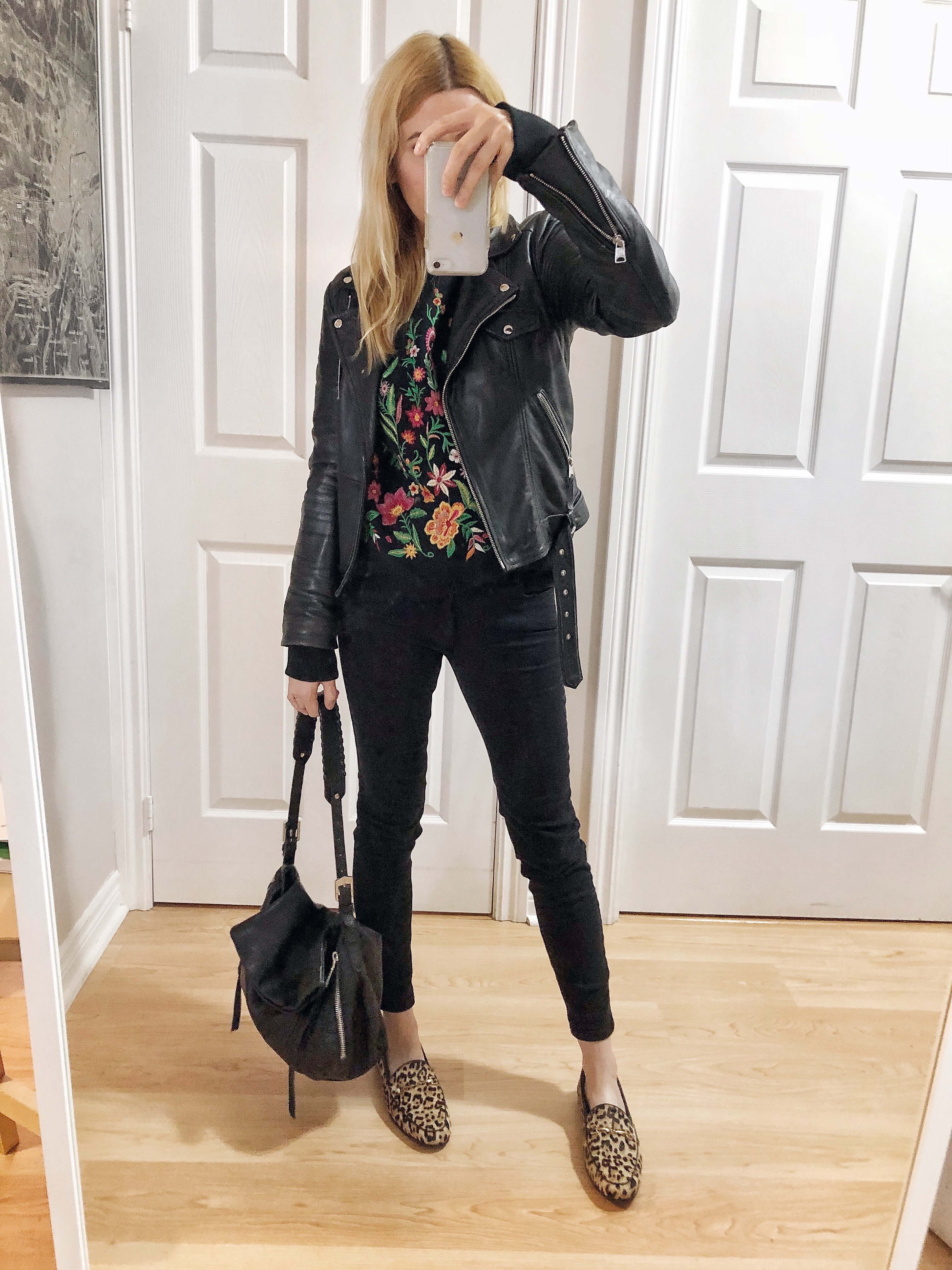 Outfit 1 – Jumpsuit (similar) | Sweater | Shoes | Purse
Outfit 2 -Sweatshirt (old) | Pants | Jacket | Shoes | Purse
Outfit 3 – Sweater | Jeans | Jacket | Socks | Shoes | Purse
Outfit 4 – Turtleneck | Pants | Shoes | Purse |
---
SHOP THE POST


---
I watch a lot of tv. In my defense I tend to have shows running on my computer in the background while I am doing other things, but yes I watch a lot of tv. I like to think of it as multi-tasking. Tom always asks me how I can watch something while working on other things and I usually just shrug in response. So on the topic of television I find that I am running out of things (or there are less things that appeal to me) and I am rejoicing that they have brought back shows that I loved like Murphy Brown, and Will & Grace. It's nice to see familiar faces again.
Sewing update from this weekend: The hat is almost done. A few touches, and the hair will make it complete, but it was a nightmare. The dress on the other hand was supposed to be "Easy Sew", but since I had to make is significantly smaller for Roo it was a "not so easy sew". It's about 80% done now, and all that is left aside from finishing those two pieces are some boot covers. Whew. This is why I should have started in the summer.
The temperature dropped to about 0°C today so I was forced to go out and buy Merle a winter jacket. I thought I would have a couple of more weeks but it was pretty cold this morning so I had to cave. I was able to find her one at Zara Kids that is down filled and black with no logos (her suggested requirements) for about half the price than the one from Gap that she had for the last two years and it seems pretty comparable.
*Wardrobe repeats for the week: Black sweater, moto jacket, animal print shoes, and black pants.
You check out more of my What I Wore posts here.
Follow me on
FACEBOOK || INSTAGRAM || PINTEREST || BLOGLOVIN'