Madrid Packing List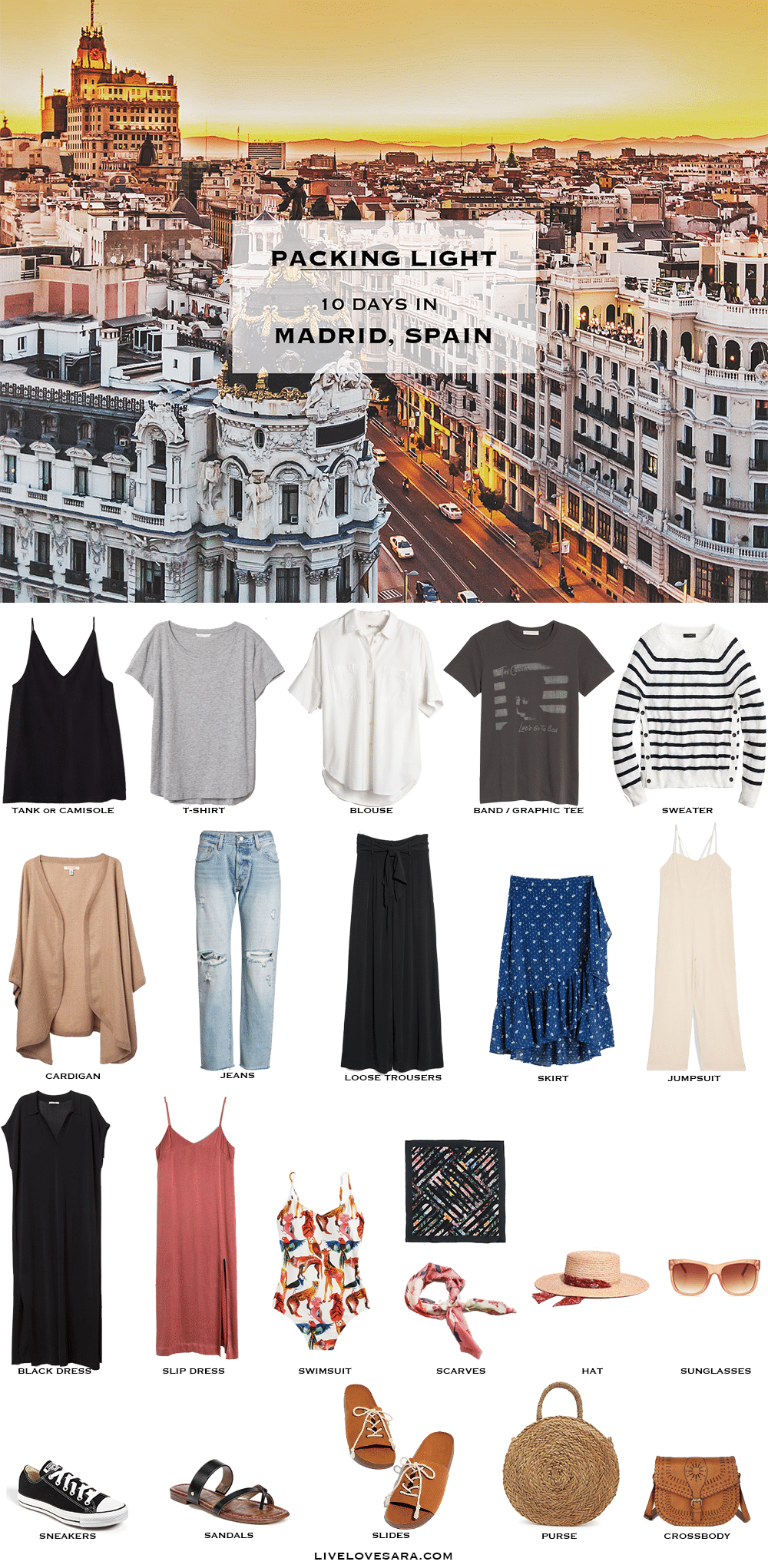 Black Camisole | Grey T-shirt | White Blouse | The Cure T-shirt | Striped Sweater | Camel Cardi Cape | Blue Jeans | Black Trousers | Black Dress | Pink Slip Dress | Blue Wrap Skirt | Jumpsuit | Bathing Suit | Black Scarf | Floral Scarf | Straw Hat | Sunglasses | Converse Sneakers | Black Sandals | Lace Up Slides | Circle Purse | Brown Crossbody |
---
SHOP THE POST


---
I'm getting my packing list inspiration this week from several different areas. First, it is based on the 11 summer Spain packing list requests that are currently sitting in my inbox.
Second, two bloggers that I follow on Instagram are both on vacation in Spain this week.
Both The Frugality, and The Savvy Sartorialist have a great fashion sense and I keep popping over to check out what they are wearing.
The Frugality is a new mom and I love seeing how she ties her fashion tastes in to easier to wear "new mom/breastfeeding/perpetually pumping" style.
The new mom time period is really hard to dress and a lot….and by a lot I mean the majority of women don't know how to begin dressing themselves during this transitional time. Those that do are surely unicorns 😉
So to begin a travel capsule for this type of trip think of what types of things that you like to wear when it is hot, really hot with an abundance sunshine.
How do you stay comfortable when you are outside in this weather? Then take those preferences and find a way to make them look polished and put together (if they are way too casual).
That will be the basis or of your capsule wardrobe.
Choose a colour theme. Most people stick to a fairly neutral base, and add colours when they want a lot of mixing and matching options.
But if you are someone who likes a bright, bold, and print mixing then make sure there is a sense of cohesiveness in the pieces you choose. Figuring out your hot weather style, and what colours you like/want to bring is the main step.
Select all the pieces you have that check those boxes and making a nice, neat organized pile from them.
Break them into groups of tops, bottoms, dresses, skirts etc…. This will help you to make your travel outfits. Give yourself a basic number of pieces you would like to include, all the way down to what shoes you want to pack.
Now you have the fun part.
Here is where you start making outfits.
Go through your selections and pick your favourites from each group, then start making them into as many outfits as you can.
If something can't be worn at least 2-3 different ways then it's probably a waste of space unless it's a formal dress or the like.
Decide whether it's worth the room it will take in your suitcase, or swap it out for something more versatile. Remember you can easily achieve different looks simply by switching the footwear and adding/removing accessories.
Be cutthroat, but honest with yourself. Are you going to have regular access to laundry?
If you are staying in an Airbnb you might, but yet you might also not want to spend vacation time laundering your clothes. If that won't be an issue then it could easily narrow down the amount of items that you want to bring.
Do you get wardrobe fatigue easily? Then throw in an extra shirt or two, so that you don't feel the need to run out and buy something.
At this time of year, you probably aren't going to need a jacket, but it is always a good idea to bring at least one sweater or cardigan even if it's just for the plane ride or to combat the air conditioning in the hotel room.
And some advice from The Frugality who really wanted to pack one of her basket bags but knew it would take too much room. Wait until you get there because Spain has merchants with basket bags all over the place for ridiculously low prices.
It was kind of like when we went to Barbados. We knew that Roo would want sand toys for the beach but we didn't want to pack them, so we just waited until we got there and bought some inexpensive ones. Then before we returned home we asked the hotel manager if he wanted them to keep for other guests and he took them so it wasn't wasteful.
I totally want this Cure t-shirt. If it didn't cost so much in duty charges and fees I would totally buy it. #selfcontrol
If you are planning to visit Spain this summer and enjoyed my What to Pack for Madrid, Spain packing list, please feel free to share it via Pinterest, Facebook, or Twitter. Thank you.
This post contains affiliate links. By using my links to shop I may receive a small commission (at no cost to you). Thanks for supporting what I do🙂
You may also like:
What to Pack for Seville, Spain
What to Pack for Spain and Portugal Packing Light
Madrid Outfit Ideas

Black Camisole | Grey T-shirt | White Blouse | The Cure T-shirt | Striped Sweater | Camel Cardi Cape | Blue Jeans | Black Trousers | Black Dress | Pink Slip Dress | Blue Wrap Skirt | Jumpsuit | Bathing Suit | Black Scarf | Floral Scarf | Straw Hat | Sunglasses | Converse Sneakers | Black Sandals | Lace Up Slides | Circle Purse | Brown Crossbody |
---
SHOP THE POST


---
Follow me on
FACEBOOK || INSTAGRAM || PINTEREST || LIKEtoKNOW.it