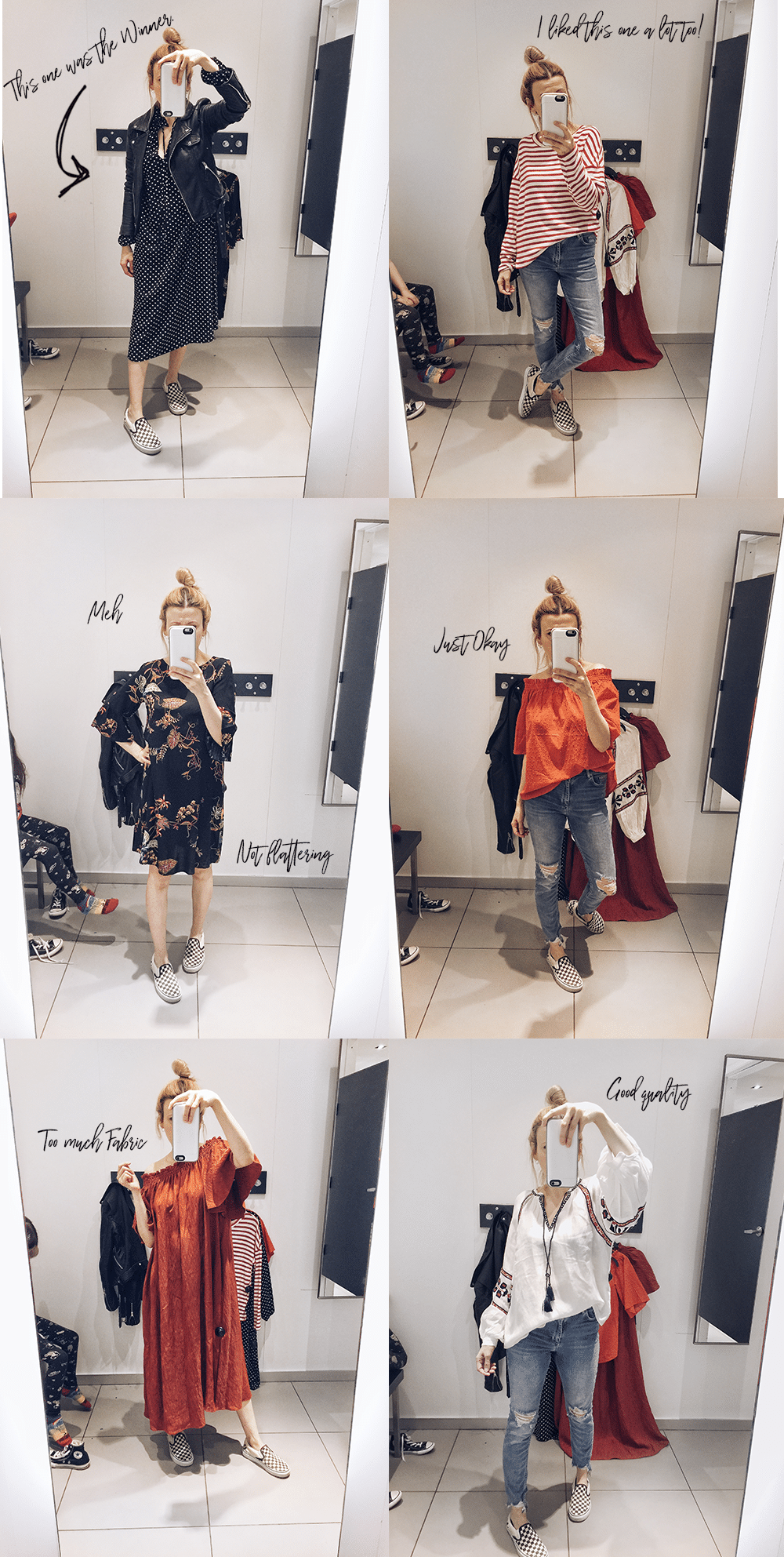 Polka Dot Dress | Striped Knit Top | Floral Print Dress | Off the Shoulder Blouse | Off the Shoulder Dress | White Embroidered Shirt (I can only find it on the UK sit right now)|
---
SHOP THE POST


---
Merle closed my finger in the bathroom door tonight so bear with me for being brief because typing hurts at the moment. Last week while it was pissing rain I decided to do a small try-on while running errands. The mall was dead so I took advantage and pulled somethings that I saw online so I could see how they fit. The change rooms had atrocious lighting, and I had to pull my hair up because I looked like a drowned rat so the photos aren't that flattering, but I managed to try on a six pieces.
First off I hate when the stock in store doesn't coincide with what they have online because a couple of these pieces I swear I saw on the website before I tried them on. It was the reason I tried them on, because I saw them online and wanted to know how they fit. So in this instance they might not be available yet online, and with the red shirt they have the similar style and colour but with an embroidery on the sleeves and a thinner elastic which I think I actually like it better.
The main piece I liked was the long polka dot dress in the first photo. I like the length, the fit, and how it looks with my jacket. It fit large so I had to size down, it's quite roomy so I would suggest you try one size down too. I also liked the red and white striped shirt, which is a lightweight knit that is actually very soft. I'm usually only like black & white stripes but I really liked the look and feel of this one.
Now on to the okay pieces. The black floral print dress was cute but kind of unflattering. I liked the print, the length, and the sleeves but it was a little shapeless. It emphasized my lack of curves too much for my tastes. It does come in a few other colours like a white print like the black one, and a polka dot print. It might look better on a different body shape than mine so it may be worth a try. Now we'll jump to the bottom right corner with the white emboridered shirt. This top actually feels like great quality. The fabric is really, really nice, the embroidery, and the cut all work well. I just tend to avoid white so if there was a black option it would probably move to my like category.
The two pieces I was not really a fan of were the off the shoulder styles in both the dress and cotton shirt. I think that I just don't like off the shoulder. I feel like I have to walk like that character on Seinfeld who doesn't move her arms in order for it to stay put. I know a lot of women who enjoy the off the shoulder trend, but I am just not comfortable in them. If you do like them then the shirt was really lightweight and would be really nice for summer with some cut off shorts, sandals, and a straw fedora. It also comes in a few different colours if you aren't on board with the bright reddish/orange. The dress on the other hand I really tried to love, but there was just way too much fabric and felt like I had a table-cloth wrapped around me. I think it would work on someone who was lot taller, where it would hit higher on the leg and the fabric would be less overwhelming. It does have pockets which is a plus, but the sleeves also had wide arm holes so you would need a strapless bra under it for sure…….unless you feel like me and walk with your arms not moving so the shoulders stay put 😉
There are a lot of cute things in store at the moment that might be worth checking out. I know we always complain about H&M's sizing but for some reason I found that many of these pieces were fitting larger versus their regular small fitting. Maybe they are getting their sizing figured out finally. 
Follow me on
FACEBOOK || INSTAGRAM || PINTEREST || BLOGLOVIN'
SaveSave
SaveSave