London Packing List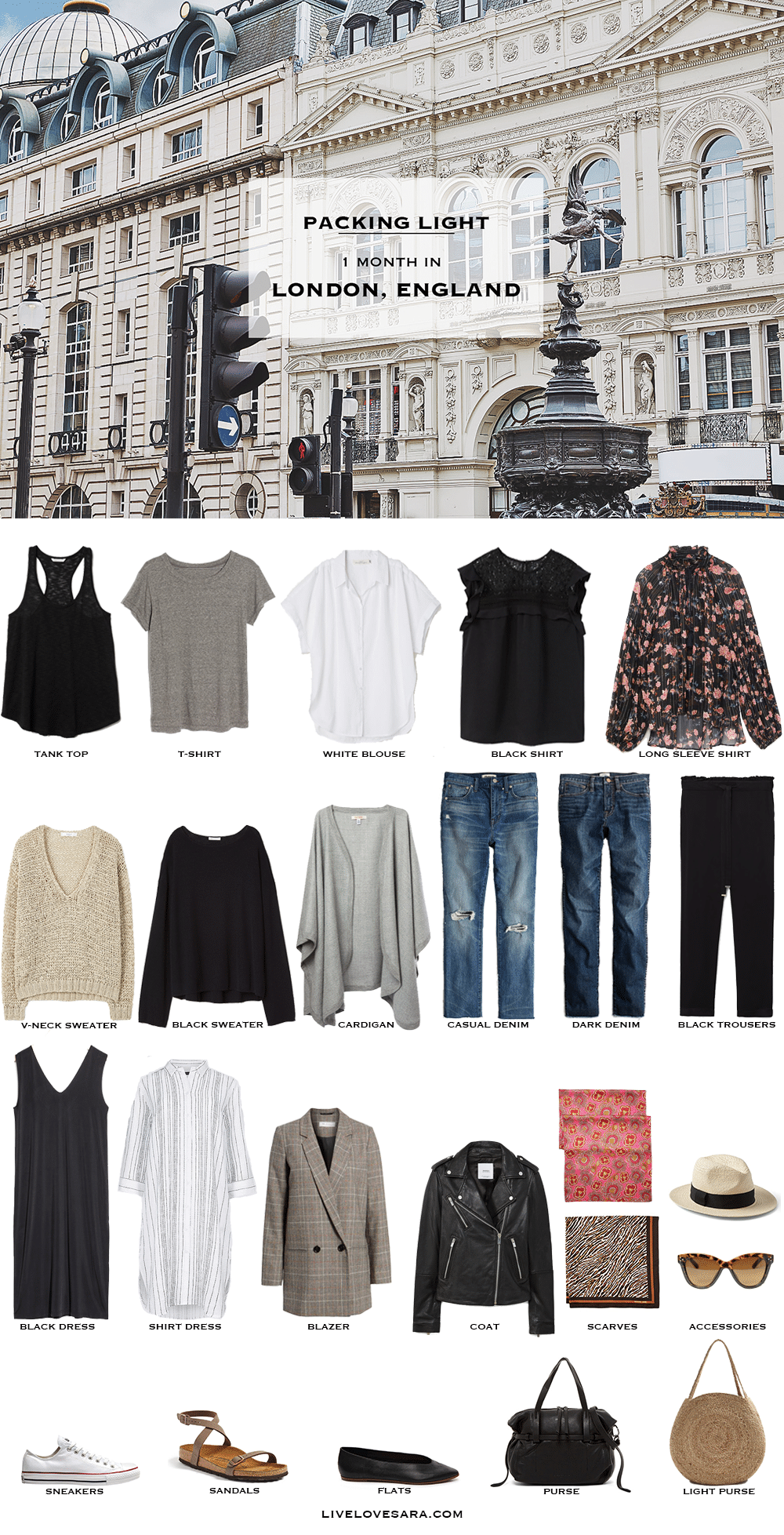 Black Tank Top | Grey T-shirt | White Shirt Sleeve Blouse | Black Sleeveless Shirt | Floral Blouse | Cream V-Neck Sweater | Black Pullover | Grey Cardigan-Cape | Casual Denim | Dark Denim | Black Trousers | Black Dress | Striped Shirt Dress | Blazer | Leather Moto | Pink Scarf | Animal Print Scarf | Straw Hat | Sunglasses | White Sneakers | Sandals | Black Flats | Black Purse | Circle Purse |
---
SHOP THE POST


---
Even though it is only Wednesday this week has been crazy. Not anything notable, just a lot of stuff going on at the same time and I feel like my head is spinning.
I wasn't sure if I was going to finish this tonight because my schedule got thrown out of whack with a sick kid this afternoon but all is well, and I literally just finished these collages.
This week I have a packing list request from a 40 something who is going on a month-long European vacation in summer that includes London for two weeks, then Rome, Naples, and Sorento.
Her style is fairly casual but classic and she wanted me to include tees, jeans, a blazer, cardigan, leather moto, and some white low converse sneakers. Taking those pieces and adding in a few more to flush it out I think we have a pretty versatile wardrobe.
This travel capsule wardrobe includes some key pieces for various temperatures and outings like jeans that can be cuffed and worn with a tank, hat, and sandals for hot days. Dresses that can be dressed up and down, and taken from the heat to cooler weather with layers.
The black trousers are a cropped and slightly slouchy style that can both be casual and polished in hot temperatures.
A moto jacket that will work for cooler nights or days, and a blazer that can pull together even the most casual outfit.
The floral blouse, while it looks like it has a high neck, it actually has a tie there and opens up at the neck/upper chest area. The style is loose, and the fabric is lightweight, and gauzy making it very comfortable to wear in summer (I tried it on in Zara).
I put together 18 travel outfits below to give you an idea of how versatile it can be. There were many more options that I could have put together but collages that are too big slow the post from loading quickly.
I only included one t-shirt, but it is easy to include another one like your standard white tee that goes with everything. In hotter weather, you may want an extra shirt if you aren't going to have access to a washer very often.
Overall this wardrobe pulls together a lot of classic closet wardrobe staples and veers away from trends so it will work for almost anyone.
As you know I have been looking for a pair of sandals for this spring/summer and I kind of really like the ones that I included in this list.
I find Birkenstocks to be extremely comfortable (for me) and with this ankle buckle, they veer away from the traditional style that we all probably owned at some point in our lives 😉
Now to see if I can find them in Canada.
What is your take on Birks?
This packing list is for a month in London during summer. All of the visuals in this post are meant as a guideline to aid you in creating your own London, England Packing List based on your own clothing, colour preferences, and personal style.
If you are planning to visit London this summer and enjoyed my What to Pack for London in Summer packing list, please feel free to share it via Pinterest, Facebook, or Twitter. Thank you.
This post contains affiliate links. By using my links to shop I may receive a small commission (at no cost to you). Thanks for supporting what I do🙂
You may also like:
What to Pack for London in Autumn
What to Pack for London in Spring
What to Wear in London


Black Tank Top | Grey T-shirt | White Shirt Sleeve Blouse | Black Sleeveless Shirt | Floral Blouse | Cream V-Neck Sweater | Black Pullover | Grey Cardigan-Cape | Casual Denim | Dark Denim | Black Trousers | Black Dress | Striped Shirt Dress | Blazer | Leather Moto | Pink Scarf | Animal Print Scarf | Straw Hat | Sunglasses | White Sneakers | Sandals | Black Flats | Black Purse | Circle Purse |
---
SHOP THE POST


---
Follow me on
FACEBOOK || INSTAGRAM || PINTEREST || LIKEtoKNOW.it