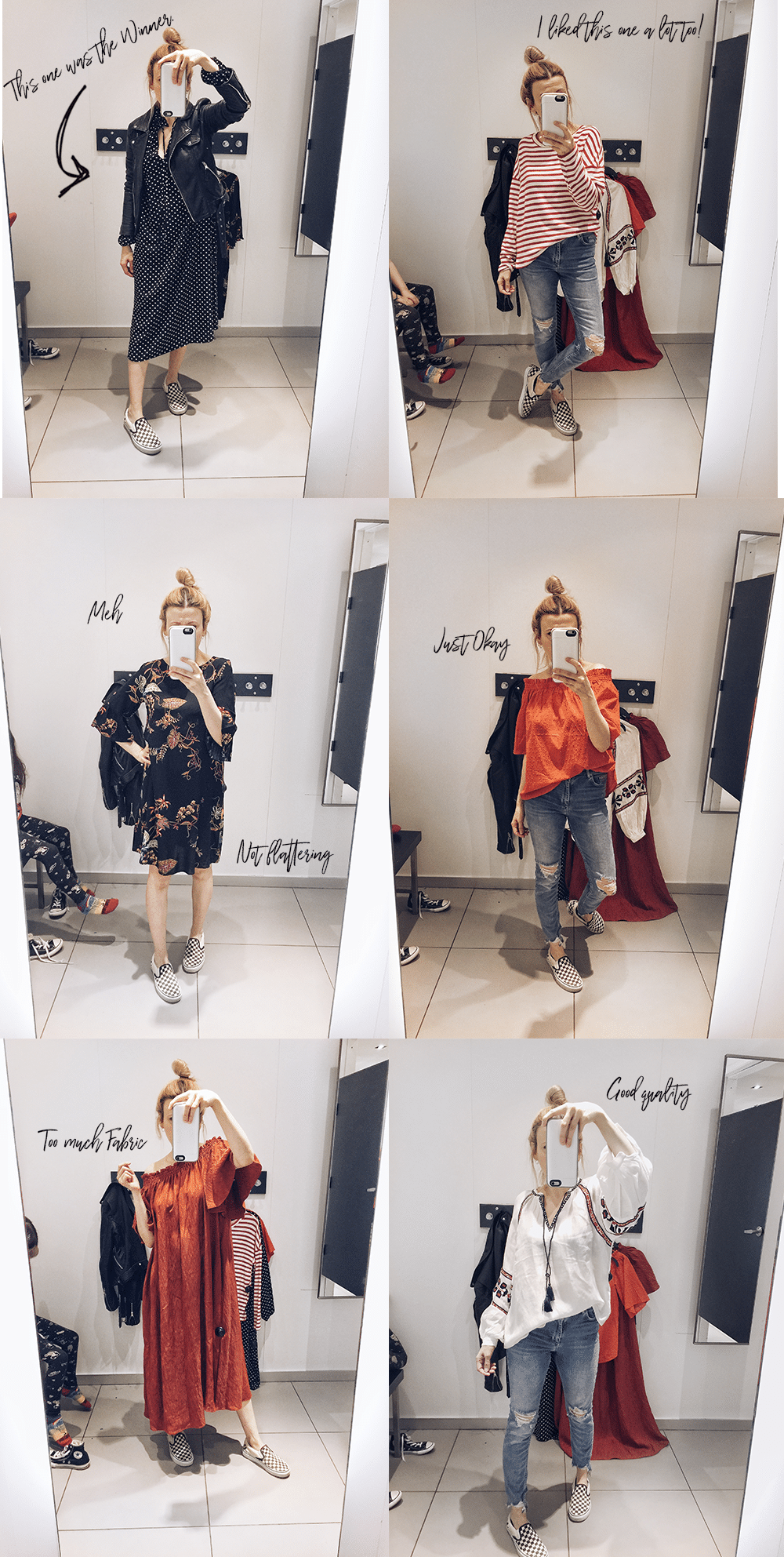 Polka Dot Dress | Striped Knit Top | Floral Print Dress | Off the Shoulder Blouse | Off the Shoulder Dress | White Embroidered Shirt (I can only find it on the UK sit right now)|
---
SHOP THE POST


---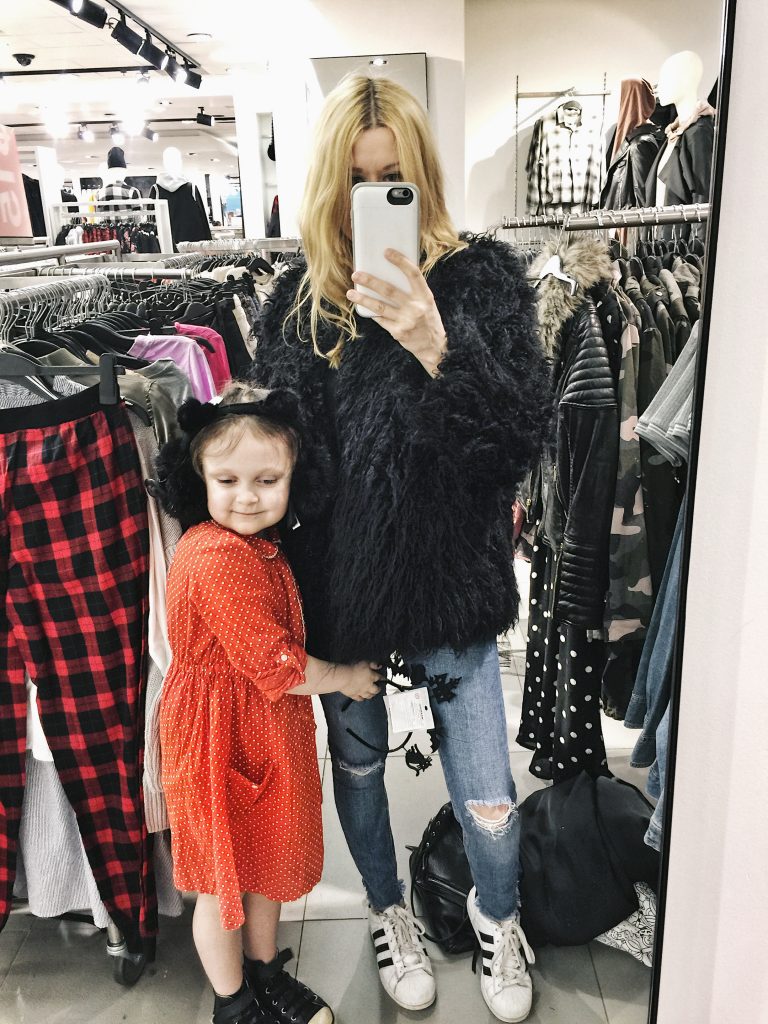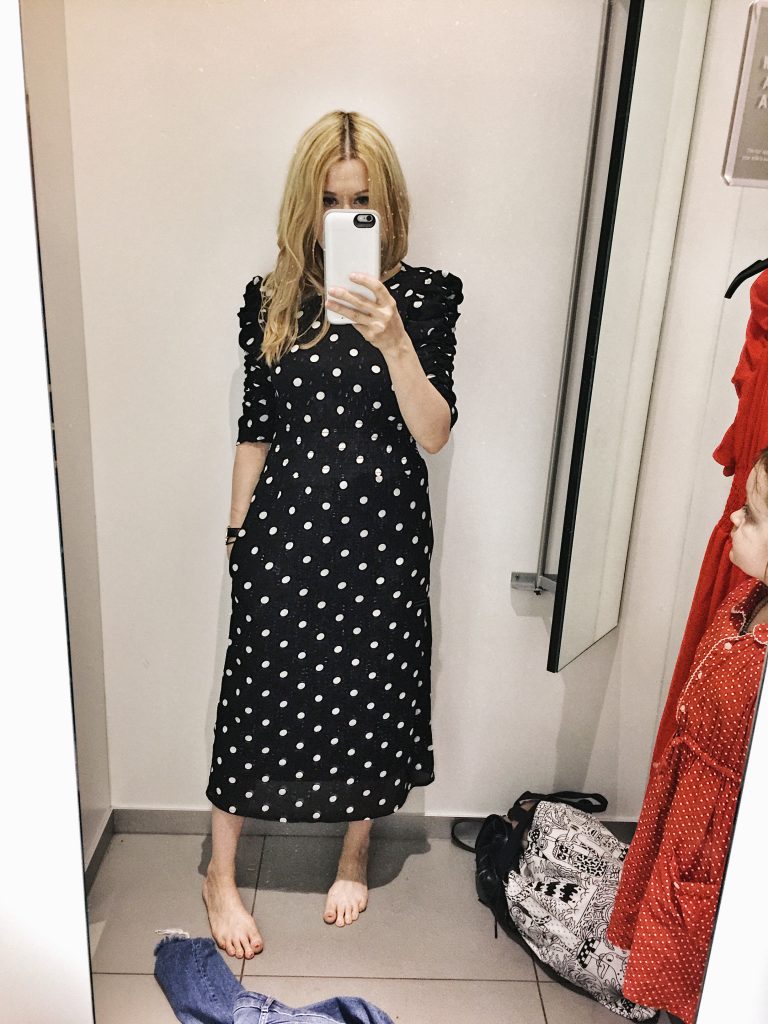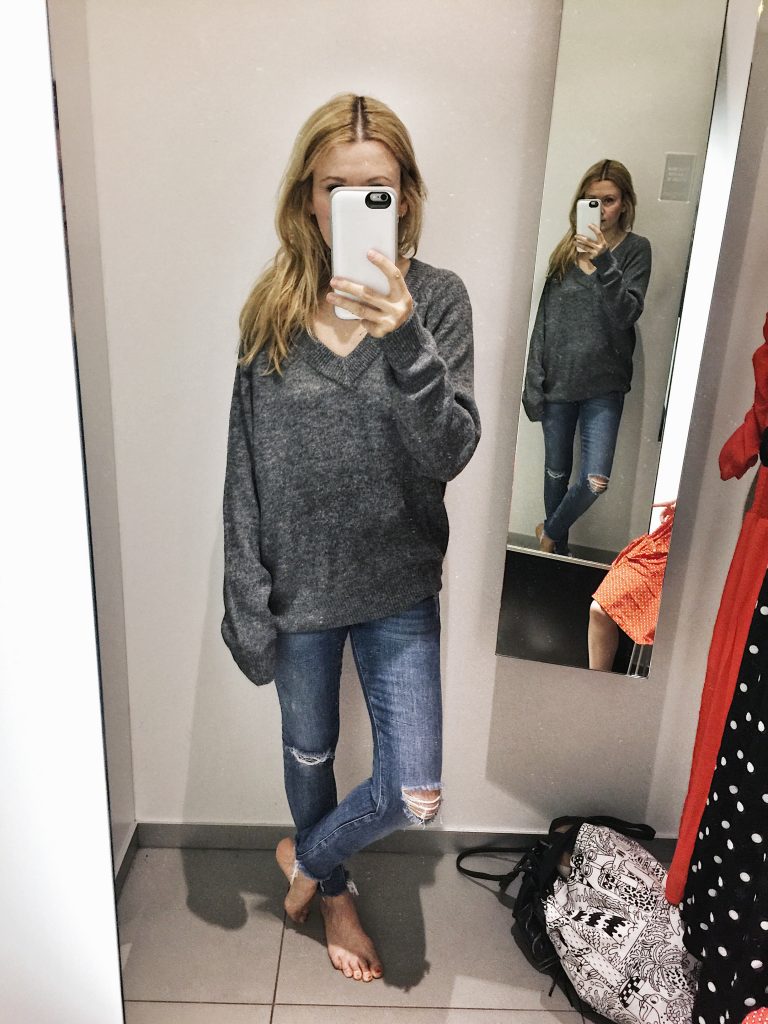 Black fur jacket | Moto Jacket with fur collar | Polka Dot dress | Grey Sweater | Polka Dot Blouse | Camel Oversized Sweater |
---
SHOP THE POST

---
I am going to preface this by saying that I didn't realize how dirty the mirrors were, so no I am not actually covered in fuzz from head to toe 😉 And please ignore the half assed painted toe nails. I haven't work sandals in well over a month (insert cringing emoji). Once again I have a Saturday post but I promised myself I would get these up by today. I went to H&M for a try-on last week and took some photos of several of the pieces I have featured lately. I thought I would try them out to see how they fit and then post photos.
It's so windy right now the girls are scared of a tornado. I told them that while it is quite windy out, it seems worse because we are on a higher floor. But yay for fall finally being here, it's actually starting to smell like it.
Merle is pretty much in every shot. She is my shadow so it should be expected that any place you see me she is some place close by. For the record she got both the witch hat, and cat ear muffs in the photos. She was super indecisive, but although the ear muffs make more sense you can't really pass up a jaunty witch hat 😉
I showed several of these pieces in my last packing list What to Pack for Italy and Greece and in my Fall Jacket Round-up.
Black fuzzy jacket $59.99: Fits true to size, comfortable, and a fun statement jacket. I'm not sure how it would look if it got wet though 😉
Black Moto Jacket with fur collar $69.99 – Fits true to size but I went up a size because I like to have room to layer sweaters underneath. If you get it too fitted then your arms end up looking like stuffed sausages when you wear something bulky underneath.
Polka Dot Midi Dress $34.99 – I really like this dress. It fits well but you might need to size up if you have a larger bust. The waist is a wide elastic cinch and there are pockets which are a huge selling feature for me. It also comes in a very bright but awesome red-orange.
Grey V-neck Sweater $29.99 – This is just a standard v-neck sweater in a great price. Fits true to size, but a slightly looser fit. Is a soft knit with a stretch and comes in a variety of colours.
Polka Dot Blouse $9.99 – This blouse should be sized up because the waistline has darts that make it slightly more fitted in that area. The fabric is gauzy but not sheer, with a large easy to tie bow. The price is only $9.99 so this is a steal and would look awesome paired with a print blazer (to check out how I paired it you can see my outfit options post from yesterday).
Oversized Sweater $59.99 – This sweater comes in camel and soft grey. It is oversized but I am only 5'3″ so it would be shorter on a taller person. The neckline is a loose mock neck and the knit is extremely soft. I actually really like this sweater and wouldn't mind getting it in both colours. There is an identical style in their Conscious line that is made from a cashmere blend and is lovely.
All in all, these pieces worked. There were two that I didn't post a photo of because the pants wouldn't fit over my ass and they didn't have the next size up, and a wrap shirt that ended up being way too cropped at the waist and was not cute with my muffin top 😉 The top would have work with a high waist pant or skirt though.
Here are some sales this weekend that may inspire your own dressing room selfies.
Neiman Marcus: up to $100 off select with code NMSAVE
Macy's: Extra 20% off select with code FALL
Lord + Taylor: Extra 15% off with code LOVE
American Eagle Outfitters: Up to 40% off no code
Lou & Grey: 30% off sale styles no code
Urban Outfitters: Up to 20% off shoes no code
Madewell: Up to 30% off elect with code YEASANDYES
Luisaviaroma: Extra 20% off sale no code
J Brand: extra 25% off with code FAMILY
Pottery Barn Kids: Up to 20% off select no code
West Elm: 20% off elite purchase with code FFSALE
Wayfair: Up to 70% off elect no code
---

---
 Follow me on
FACEBOOK || INSTAGRAM || PINTEREST || BLOGLOVIN'
SaveSave
SaveSave
SaveSaveSaveSave
SaveSave
I love shopping online. It allows me to shop at my leisure, browse multiple stores at once (I always have a minimum of 15 tabs open at any given time), compare prices, find deals, and quick painless purchasing. I also try to buy from places that allow easy returns with good shipping fees.  Don't get me wrong, I love to shop in stores but with Tom working such long hours, I don't get free time to go and shop alone. I tend to feel bad dragging the kids with me and can never spend as much time in each store as I would like to because I am constantly looking to make sure that my youngest doesn't disappear (she tends to wander if something catches her eye), so I generally stick to online.
The Canadian H&M doesn't have online shopping so I actually have to drag my ass down there. Yesterday I had some errands so while at the mall I thought I would stop in to see if those jeans I have my eye on were in stock yet. They weren't, so I pulled some of the things that I have had my eye on and tried them on. I'll sum it up as a general fail. The only thing I bought there were some loose summer Pants for my oldest and a cat sweater for my youngest. I tried on a shirt, skirt, dress, and cardigan and these were the results.
1. A red sleeveless lace shirt (I can't find it in the red online) While the colour and fabric were nice, it wasn't a flattering cut on me. It may have looked nicer with a skirt but that wouldn't give me a lot of versatility. This is the small and it seems a little boxy, the x-small was a little too fitted that it bunched at the waist.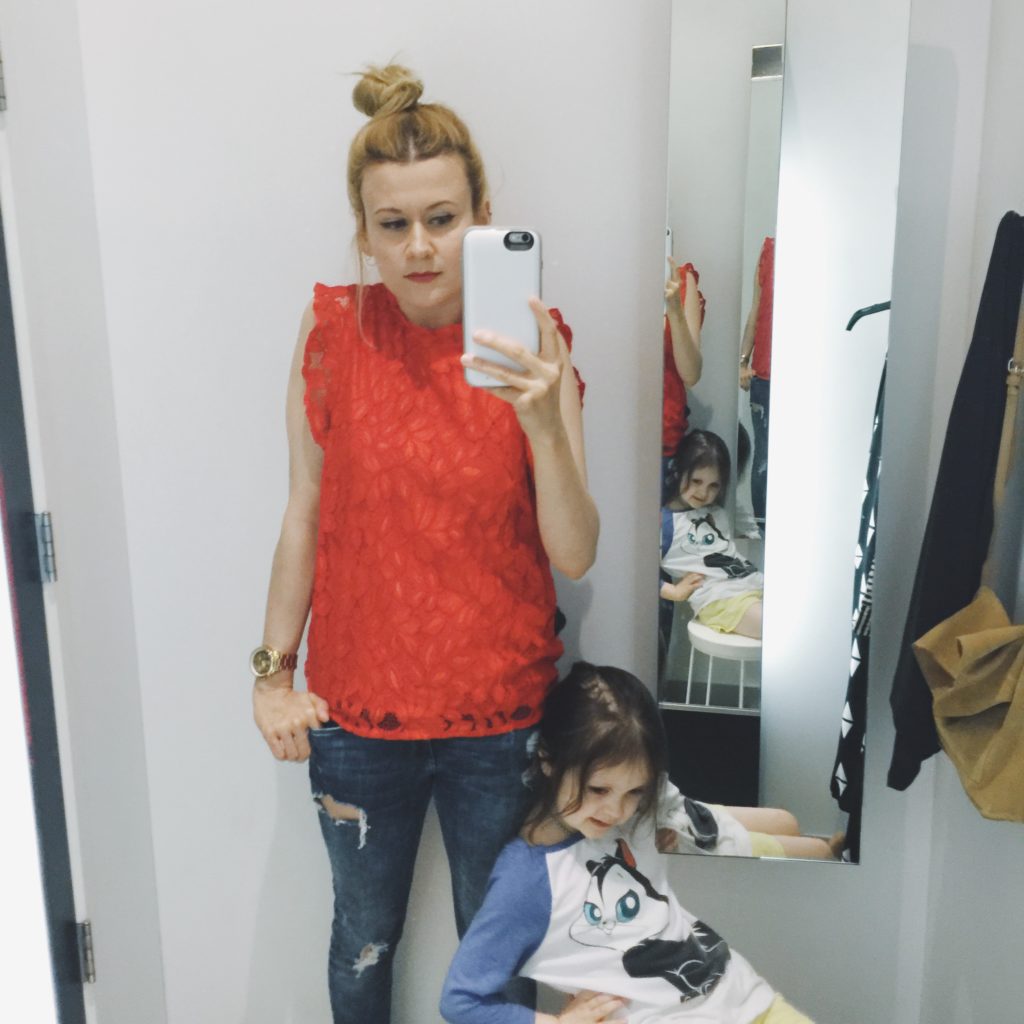 2. A long, loose summer dress (available in other prints and colours online). I have had my eye in this one for a while, and I like the casual cool effortless look of this dress but it was a huge fail for me. Way too long on my 5'3″ frame, too baggy and overwhelming. I looked like a kid playing dress up or like I should be wearing fuzzy slippers and curlers in my hair. I think this style is best suited for a taller or curvier woman. They do offer this print in a shorter more fitted option but they did not have it at more store to try on.
3. Black and white, feather print skirt. This was meh. While it would be cool for summer and I have looked for a breezy, print skirt or a while and this seemed to check a lot of boxes on the hanger. But on I am not a huge fang of the waist and it falls in a weird spot causing my legs to be cut off awkwardly. I can find something better.
4. Striped oversize sweater which I can't find online probably since it was on sale and the stock is limited. This was an almost though. I actually really like this sweater and would have bought it once upon a time based on an almost feeling but since I don't allow that in my shopping anymore I had to put it back. If they would have had one size down I may have bought it. I really like oversized cardigans for fall and winter. I am actually kind of regretting the decision, especially since it was $15 which is not a good reason to buy it but a hard habit to break.
I wish that I had the time to try on more things that day but the line-ups were too long (which shocked me on a Thursday morning)  and as you can see my kid is getting bored. My oldest was waiting in a chair with her iPod borrowing free wifi from GAP so she was mildly entertained 😉 I am hoping for some better luck next time.
Any shopping successes lately?
Follow me on
INSTAGRAM || PINTEREST || BLOGLOVIN'