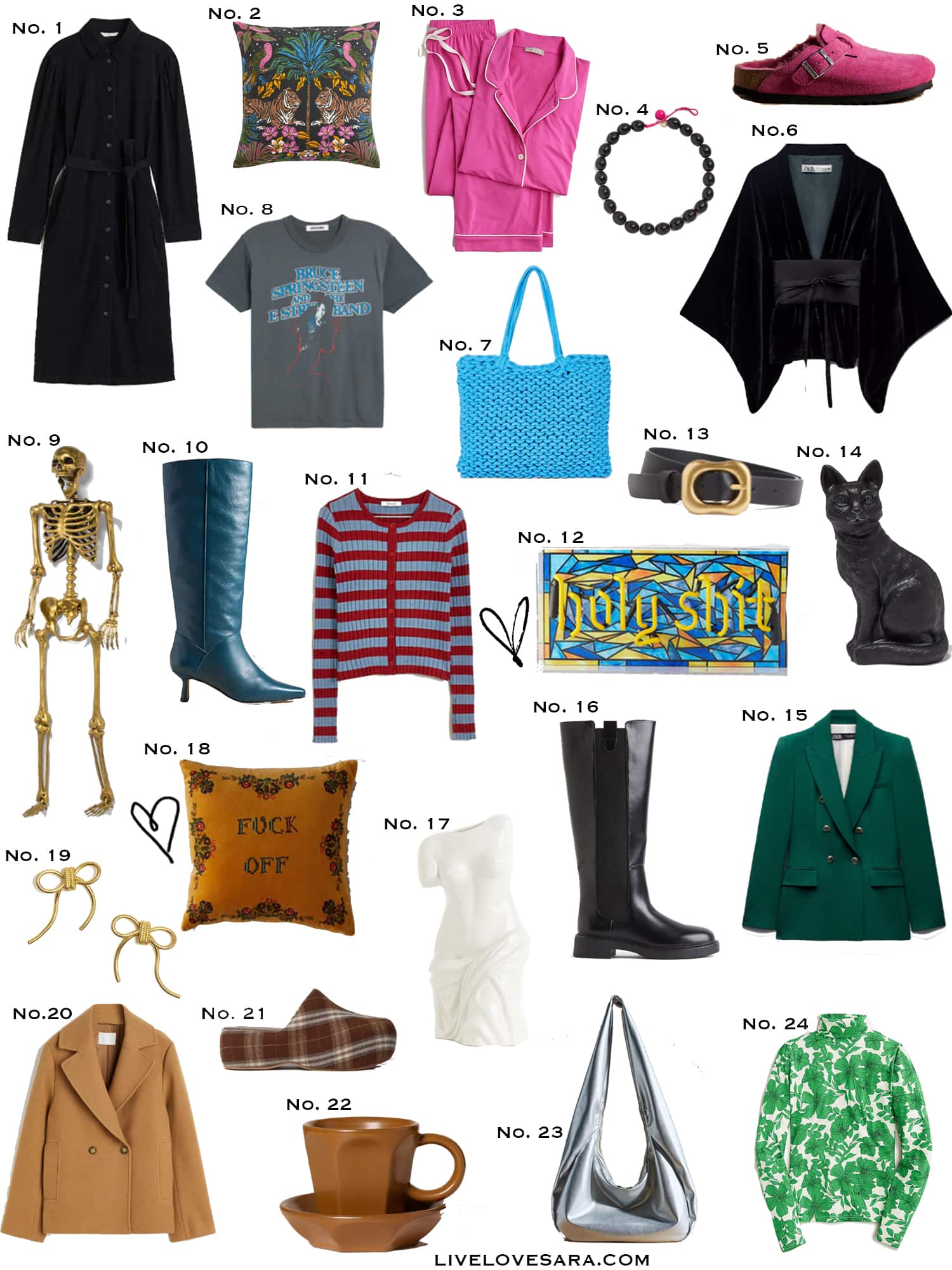 One | Two | Three | Four | Five | Six | Seven | Eight | Nine | Ten | Eleven | Twelve | Thirteen | Fourteen | Fifteen | Sixteen | Seventeen | Eighteen | Nineteen | Twenty | Twenty-one | Twenty-two | Twenty-three | Twenty-four
The weather was glorious today. I know it was a fluke but it felt like early fall which allowed me to wear the dress over jeans trend that is back.
I was also able to run errands (by foot) without overheating which was nice.
Now I have all the windows open airing everything out before it goes back to hot tomorrow.
If you missed it, I published a Scandinavian Street Style Fall Capsule yesterday that was fun. It is such a visually interesting style.
Not quite as visually interesting as the Tokyo Street Style. That's just fantastic.
The only new thing I bought this week is a pair of vintage men's Levi's off of Poshmark. She hasn't shipped them yet which is super annoying since it's been 4 days, but I hope to get them next week some time.
Aside from that, not much new. I am trying to get shit figured out before school starts back after Labour Day, and trying to get sleeping schedules back under control which isn't easy.
I'm currently watching The Lost City with Sandra Bullock, and it is actually pretty funny. A nice entertaining watch that I needed.
Weekly Reads and Some Videos:
Robert Reich's UC Berkeley Class on Wealth & Poverty
Extreme Minimalist movie posters
Okay, this is really good. Josh Harmon creates the foley sounds for a short clip of Snoopy making a pizza using bubble wrap, a balloon, and a stapler.
Scientists Should Stop Naming Species after Awful People
These Thai Railway Safety Posters are almost as good as the vintage Dutch Safety Posters that I shared before.
Sylvia Robinson, the Mother of Hip-Hop
iMac at 25: a visual history of Apple's iconic all-in-one computer
A forthcoming book from Mary Beard: Emperor of Rome: Ruling the Ancient Roman World. This is very exciting to me because I absolutely love her Ancient Rome documentaries and lectures on Youtube.
The Rise of "Europecore" is Peak American Escapism
On the Difficulty of Getting Rid of Books
The Most Loved And Hated Brands From Around The World, Mapped
You might also like:
Weekly Reads and Finds Last Week
SHOP THE UK LINKS


I am now offering digital styling guides, and personal styling services. If you are looking for some styling help that is inexpensive and easy, check out my digital styling guides. If you want some one-on-one help shopping, building and editing your wardrobe, or packing for a trip, I can also assist. Check out all the styling services that I offer here.
This post contains affiliate links. By using my links to shop I may receive a small commission (at no cost to you). Thanks for supporting what I do