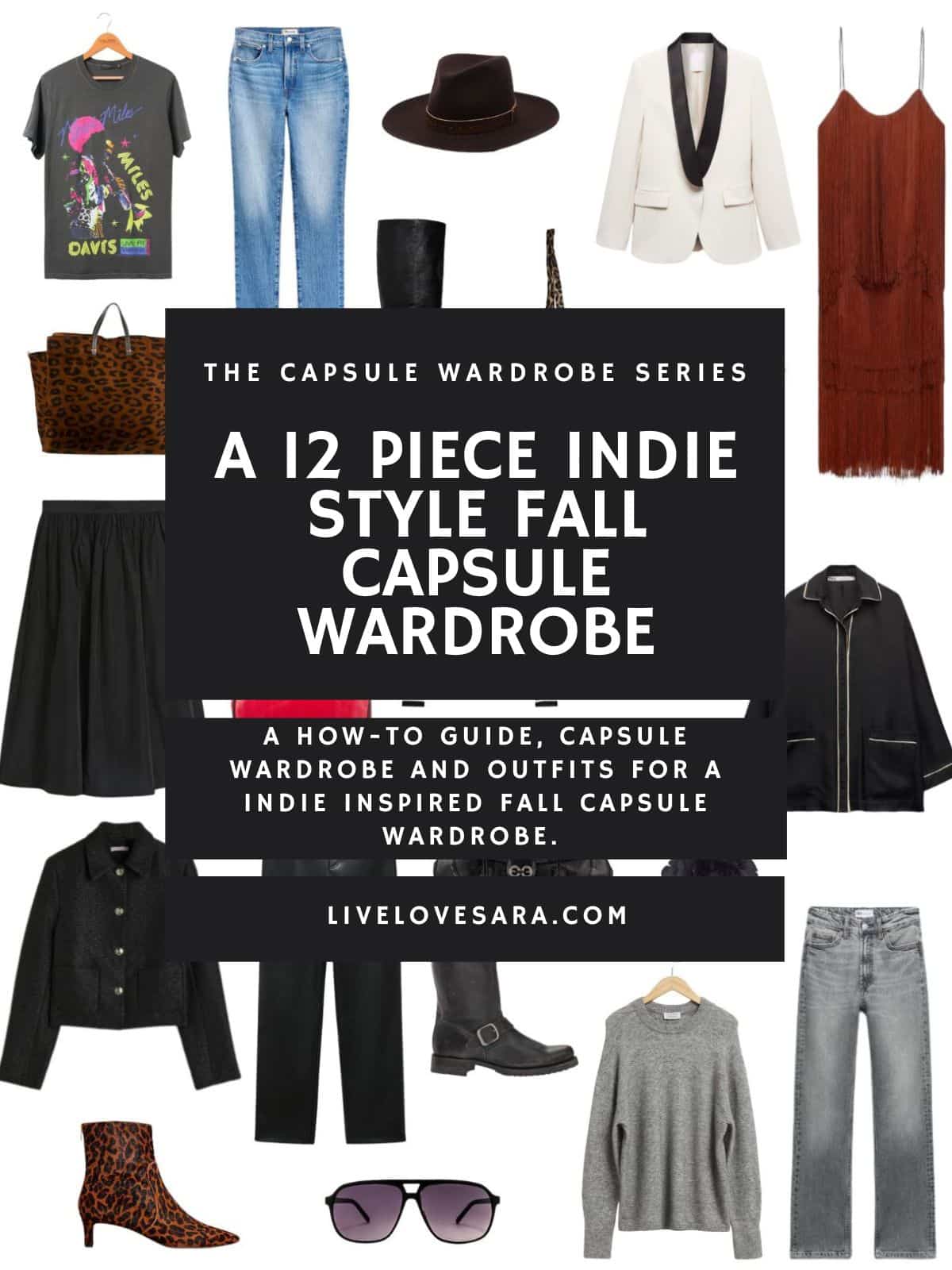 This week we go back to a time that many of us remember well with a 2000s indie fall capsule wardrobe. The notable It girls of this time were Kate Moss, Alexa Chung, Irina Lazareanu, Agyness Deyn, Sienna Miller, and Mary-Kate Olsen to name a few.
Indie style was known by several titles, often blended along with hipster, it is now looked back lovingly by the name indie sleaze.
It is a combination of 90s grunge, the opulence of the 80s, and lots of vintage with a slight rough around the edges undertone.
Fashion throughout recent history has repeated on a 20 year cycle.
That was the norm up until the last couple of years when we have sped through so many different eras of fashion in such a small amount of time that it is hard to keep track.
This is all thanks to social media.
At any given time there are also a million micro trends circulating, and it makes fashion have a much broader scope than ever before.
Which brings the bad with the good.
The bad is that the whiplash that the trends are giving us with every new article spouting the new "must have" or newest trend pushes the production of new products for these flash-in-the-pan trends.
The good is that these trends are cycling so fast that you probably still have items in your wardrobe from that era.
And if not that, then they will be really easy to find secondhand.
It is a lot going on at once, but it has also allowed us to slow down and realize that personal style is more important than trends.
We can use trends to enhance our personal style, but we really need to focus on a wardrobe that makes us our authentic selves.
I watch the fashion shows every season, because I like to be inspired.
I like seeing what ideas they have and the way fashion is leaning that season, and what items or styles I think are going to carry over into the mainstream
The one that had the most effect on me this season was the Celine fall/winter show.
It was the resurgence of the indie style we know and loved.
It was a modernized version that doesn't have quite the rawness that the original had, but back then we still had the lingering effect of the 90s influencing it.
So this week I decided that I wanted to put together an indie sleaze wardrobe.
A 12 Piece Indie Fall Capsule Wardrobe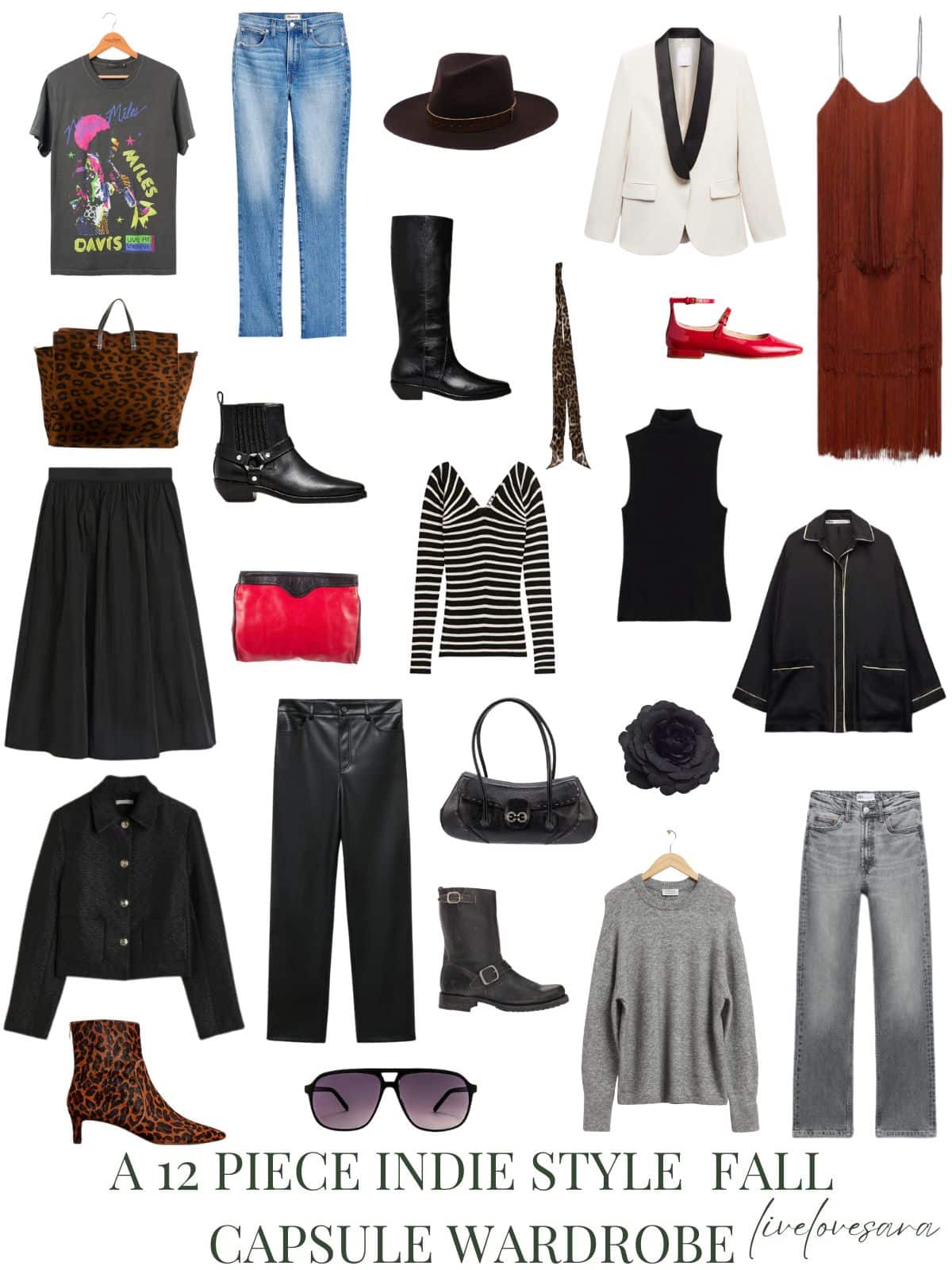 Miles Davis T-shirt | Blue Jeans | Felt Fedora | Tuxedo Blazer | Fringe Dress | Red Mary Janes | Skinny Scarf | High Boots | Low Moto Boots | Animal Print Tote | Skirt | Red Clutch | Striped Shirt | Sleeveless Turtleneck | Silk Blouse | Flower Brooch | Black Purse | Leather Pants | Black Jacket | Animal Print Boots | Sunglasses | Frye Boots | Grey Sweater | Grey Jeans

What is Indie Sleaze style?
People often comment how the 00s lacked a defined style for that generation, but I don't agree. I think the style from around 2005-2010 was very defined, we just didn't have the exposure to social media to the lengths of today.
This style wasn't even that long ago, and faded out by around 2012. Which is only about a decade ago, so it is very much fresh in the minds of many of us still.
It was a cultural phenomenon that stemmed from the genre of music that shared the same name.
Indie style was like epic coolness during a time that life was still actually affordable, so watching music shows, drinks, and dancing often took place several times a week.
It was a part of your lifestyle.
Although it was only a little over a decade ago, Gen Z is labelling American Apparel which was an indie style staple, as vintage.
I worked in a store that sold it, and the thought that it is considered vintage is uncomfortable to my newly 44-year-old self.
Indie Sleaze was like the contradiction between trendy and trashy, and you often looked like you just walked out of a bar and smelled like cigarette smoke.
Yes, I come from the time when you were still actually allowed to smoke in bars.
It was the small space of time before being connected to the world through our phones was the new normal, and therefore a little more authentic and candid.
A time of dancing without selfies.
It was when you could still live relatively cheaply and thrift stores were a mecca of treasures before people bought everything up and marked them up 300%.
It came from an era where music and art were so important and influential. I mean Kate Moss' Glastonbury looks were epic.
So we are taking these ideals from that time and making it fresher.
I don't think that the tides have turned quite yet to be welcoming back skinny jeans with open arms, but straight-leg denim will give you the same vibe.
I'm going to have to say no to low rise skinnies. I just can't be bothered with hoisting up my pants every time I stand.
Indie style has a history that goes way back and is often heavily associated with new wave, punk, and the rocks scenes of London, Manchester, and Birmingham.
Bands like The Smiths, and Jesus and Mary Chain, morphing to the grunge scene in the 90s, and then the early aughts favourites of The Strokes, and The White Stripes.
All of these heavily influenced the indie fashion scene with its effortlessly cool looks, which consisted of dark colours, and leather.
Key Items from an Indie wardrobe
Because of these rock roots we couldn't have an indie sleaze wardrobe without a band tee.
And leather.
And while in the 00s it would have been a jacket, in our modern version we could do leather anything. Pants, boots, bags, hats, shirts, dresses. You name it, it will work.
Or you could change the aesthetic from the traditional moto to something like a leather trench (preferably vintage) or a leather bomber jacket.
Flannel was necessity the first time around, this time try your plaid in a trouser instead. Throw on a dangly chain belt for a little touch of punk.
As the weather turns cooler the indie staple beanie should come out, but try other headwear as well like flat caps, or felt fedoras.
In the modernized version we are a bit more polished. It seems to borrow some elements from the quiet luxury trend but makes it a bit more edgy.
We are seeing the boxy cropped jackets with a Chanelesque vibe.
To go with the jacket theme we are seeing a lot of various toppers like capes, tuxedo style blazers, jackets with military detailing, and oversized overcoats.
Layer these over gauzy shirts, flouncy blouses, tanks, dresses, and crisp white button downs.
We have a full range of boots that start in height with a riding boot, moto boots, and then a short flat boot and heeled boot.
For accessories, we are leaning toward large black sunglasses and large bags, skinny scarves and loose neckties, and long layered necklaces.
And don't forget to carry your bag in the crook of your elbow.
The goal with this new indie sleaze is to pair contradictions like sequins and ties, or suits and moto boots.
It's the small details that will make the look, with intentional layering of both clothes and accessories.
It is a jump to the recent past with this wardrobe, but it also feels like a gentle step forward, and I am here for it.
Indie Sleaze Outfit Ideas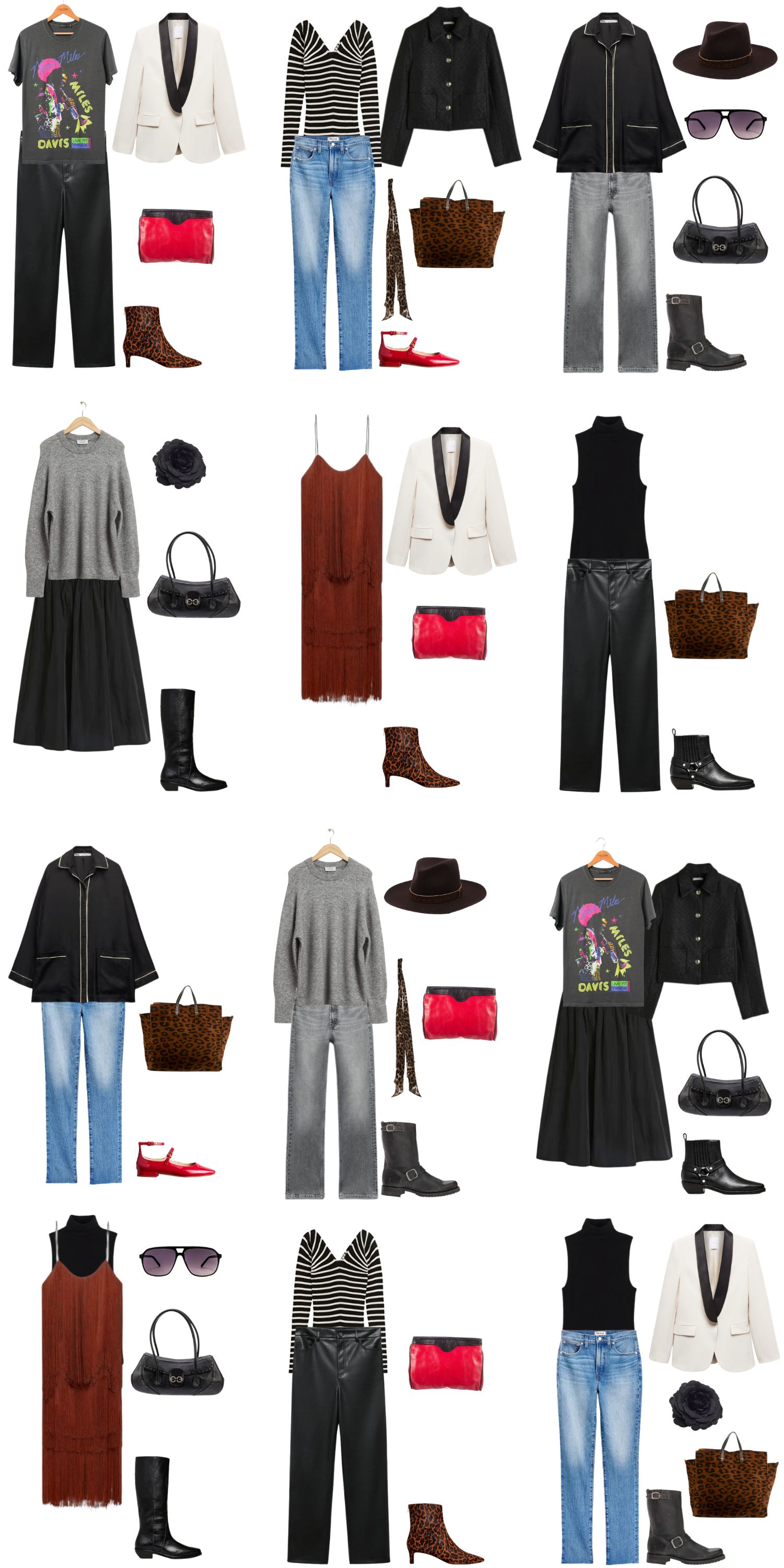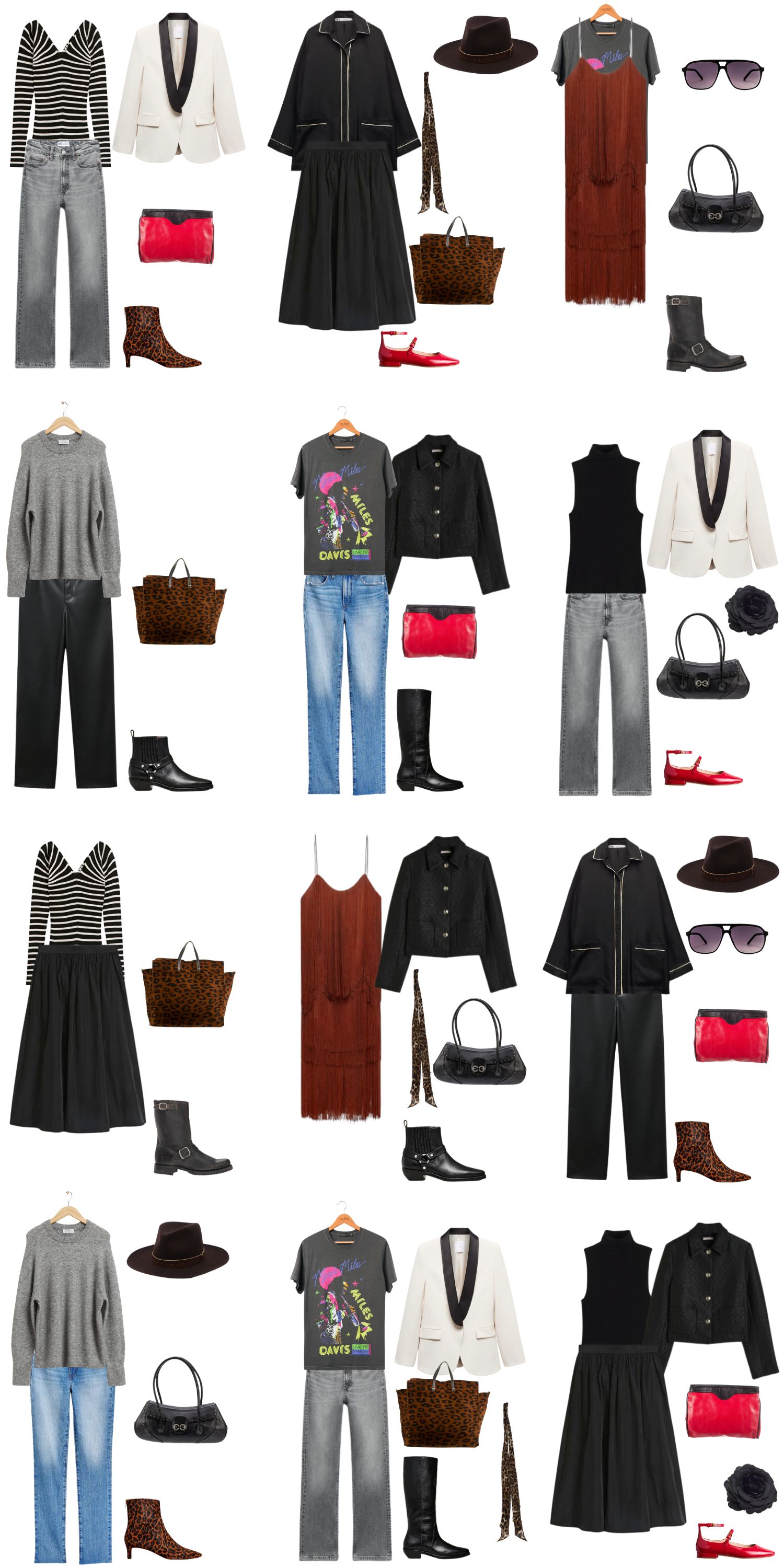 Miles Davis T-shirt | Blue Jeans | Felt Fedora | Tuxedo Blazer | Fringe Dress | Red Mary Janes | Skinny Scarf | High Boots | Low Moto Boots | Animal Print Tote | Skirt | Red Clutch | Striped Shirt | Sleeveless Turtleneck | Silk Blouse | Flower Brooch | Black Purse | Leather Pants | Black Jacket | Animal Print Boots | Sunglasses | Frye Boots | Grey Sweater | Grey Jeans

You might also like:
A 12 Piece New Preppy Style Fall Capsule Wardrobe
A 12 Piece Minimalist Fall Capsule Wardrobe
A 12 Piece 90s Fashion Fall Capsule Wardrobe
A 12 Piece Quiet Luxury Fall Capsule Wardrobe
A 12 Piece Rock Inspired Falls Capsule Wardrobe
A 12 Piece Dark Academia Capsule Wardrobe
SHOP THE UK LINKS


I am now offering digital styling guides, and personal styling services. If you are looking for some styling help that is inexpensive and easy, check out my digital styling guides. If you want some one-on-one help shopping, building and editing your wardrobe, or packing for a trip, I can also assist. Check out all the styling services that I offer here.
This post contains affiliate links. By using my links to shop I may receive a small commission (at no cost to you). Thanks for supporting what I do