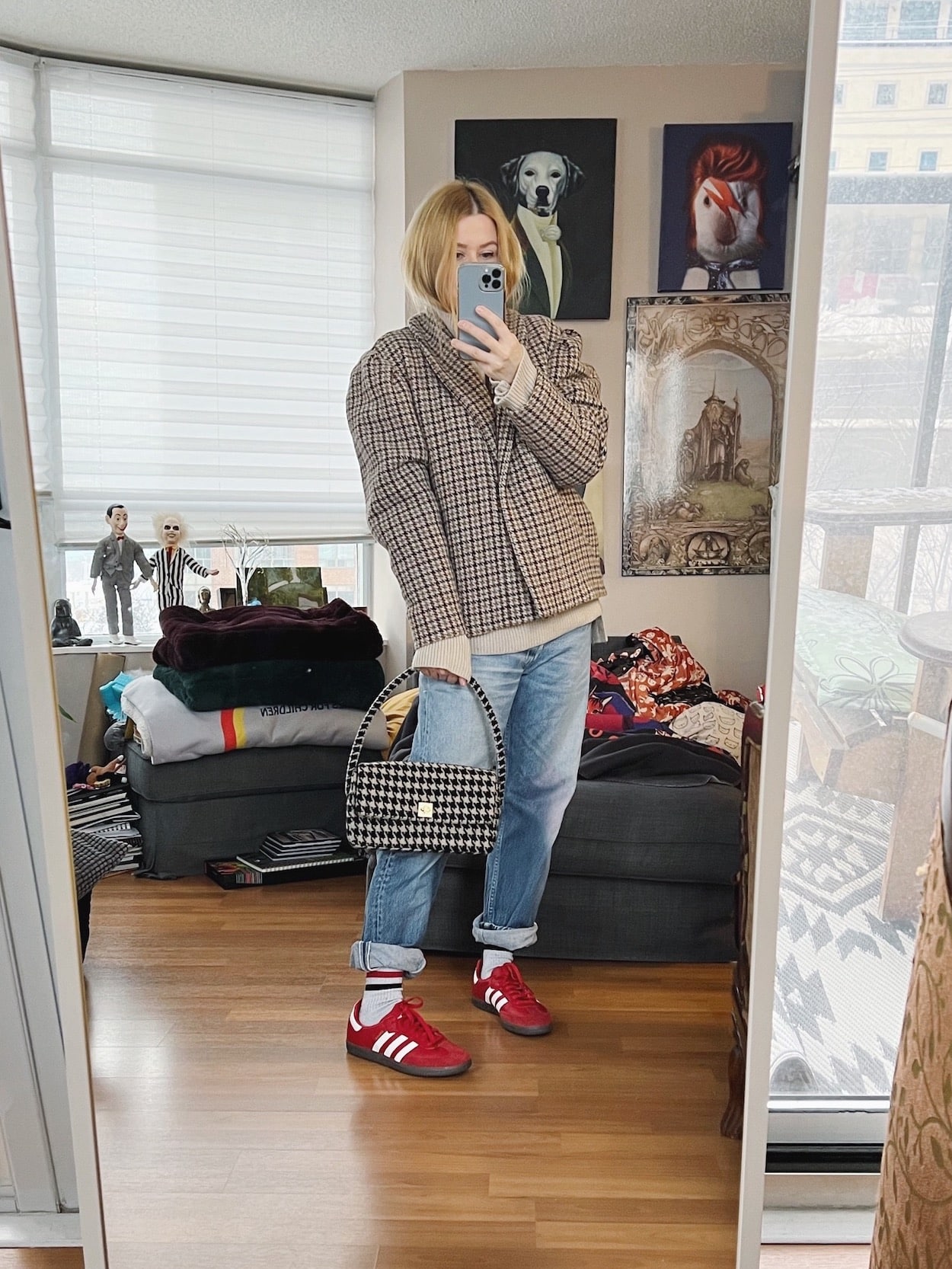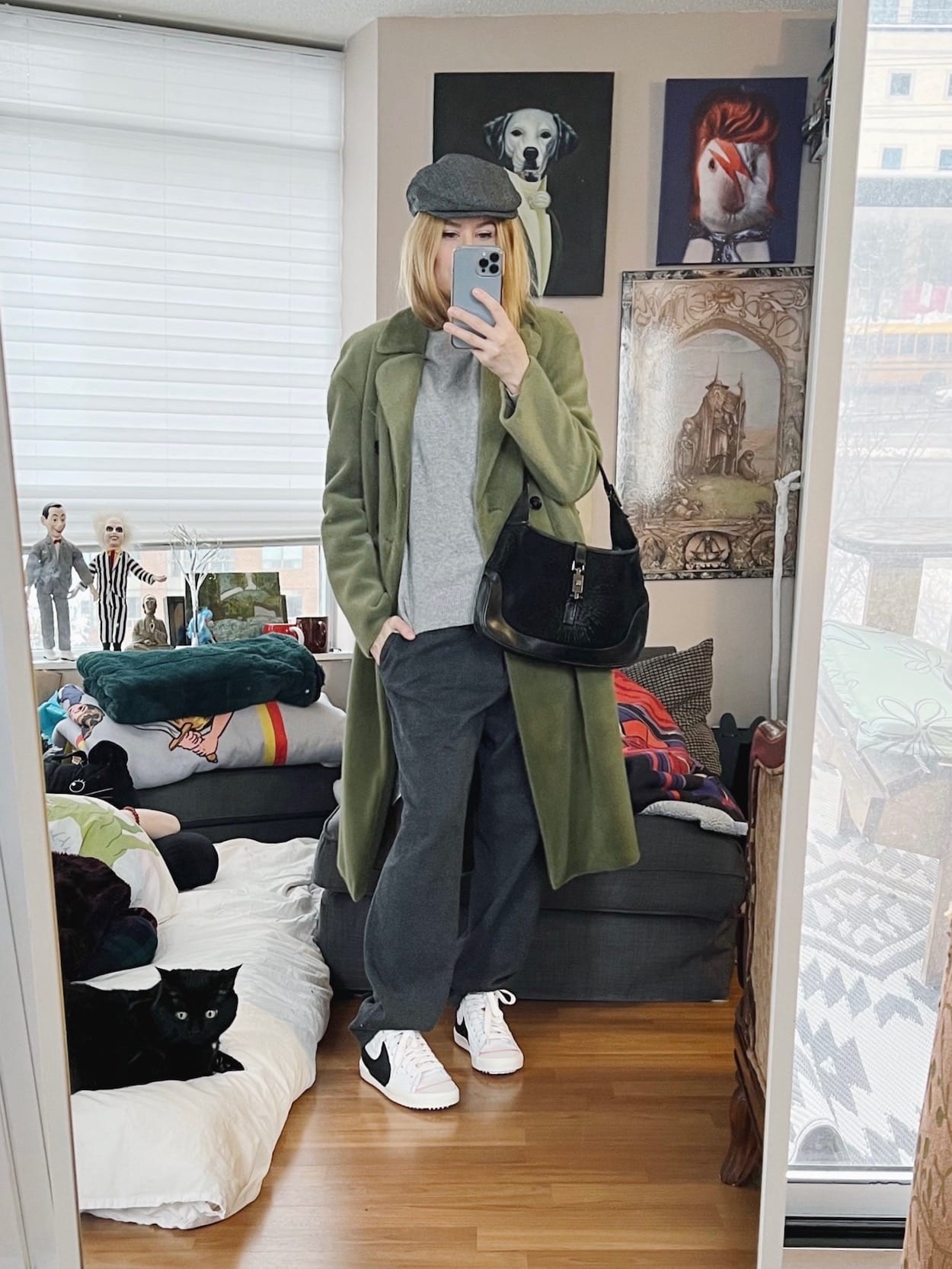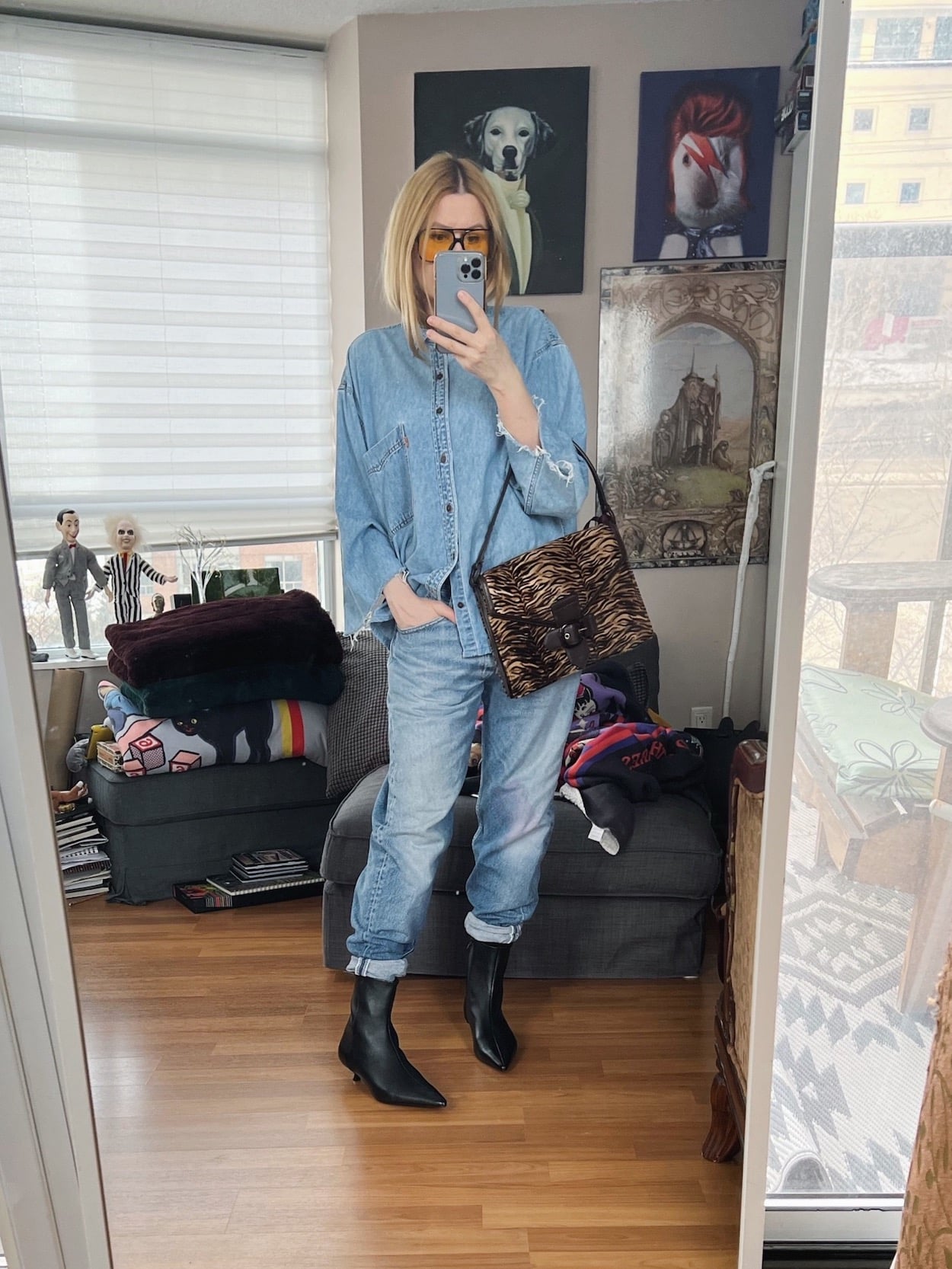 Outfit 1 – Jacket (similar) | Sweater (similar) | Jeans | Bag | Sneakers
Outfit 2 – Sweater | Trousers | Hat | Coat (old Zara) | Vintage Bag | Sneakers
Outfit 3 – Sweater | Leather Trousers | Vintage Coat | Vintage Bag | Sneakers
Outfit 4 – Vintage Shirt | Jeans | Boots (similar) | Vintage Bag | Sunglasses

I am liking how the evolution of my wardrobe is working for me. I notice that the number of vintage and secondhand items is increasing to the point that I wear no less than one vintage or secondhand item every day.
Last week it went 2, 1, 2, 3 vintage/secondhand items each day. This is getting to where I want it to be.
I feel like my closet might be about 50/50 now. My footwear and handbags have a much higher secondhand ratio though.
On my current secondhand shopping list is a fringe jacket or overshirt, fringe tote, and some wide-shaft riding boots.
I already missed the boat on two of those, and I am still annoyed with myself.
I did manage to find another pair of men's vintage Levi's on Poshmark, but I am a bit skeptical because they were only $12, so we shall see.
They are a light wash and have a shorter inseam which is good for spring and summer if they work out.
As for new items, I have been trying to find a denim maxi skirt, but they keep selling out due to being another spring trend, but late last night I saw that Zara had a new skirt listed, so I grabbed it.
I'm glad I did because as of this morning, it was sold out in most sizes with coming soon beside the others for a restock.
I hope it's not too maxi on my short self. I might do better with a longer midi.
This brings me around to think that I have almost achieved my spring wish list that I posted on my Instagram stories several weeks back.
Now I just need to order that Ikea shelf, so I can this shit organized because it is currently in a level of chaos.
An Ikea is right near Tom's work so all I have to do is coordinate a time with him that he won't be busy, order via click and collect with him as the designated pickup person, and then he can grab it and bring it back after work.
Sounds simple, so we'll see how long I procrastinate over it. I should probably wait until he's feeling 100% better though.
You might also like:
What I Wore last week
SHOP THE UK LINKS


I am now offering digital styling guides, and personal styling services. If you are looking for some styling help that is inexpensive and easy, check out my digital styling guides. If you want some one-on-one help shopping, building and editing your wardrobe, or packing for a trip, I can also assist. Check out all the styling services that I offer here.
This post contains affiliate links. By using my links to shop I may receive a small commission (at no cost to you). Thanks for supporting what I do