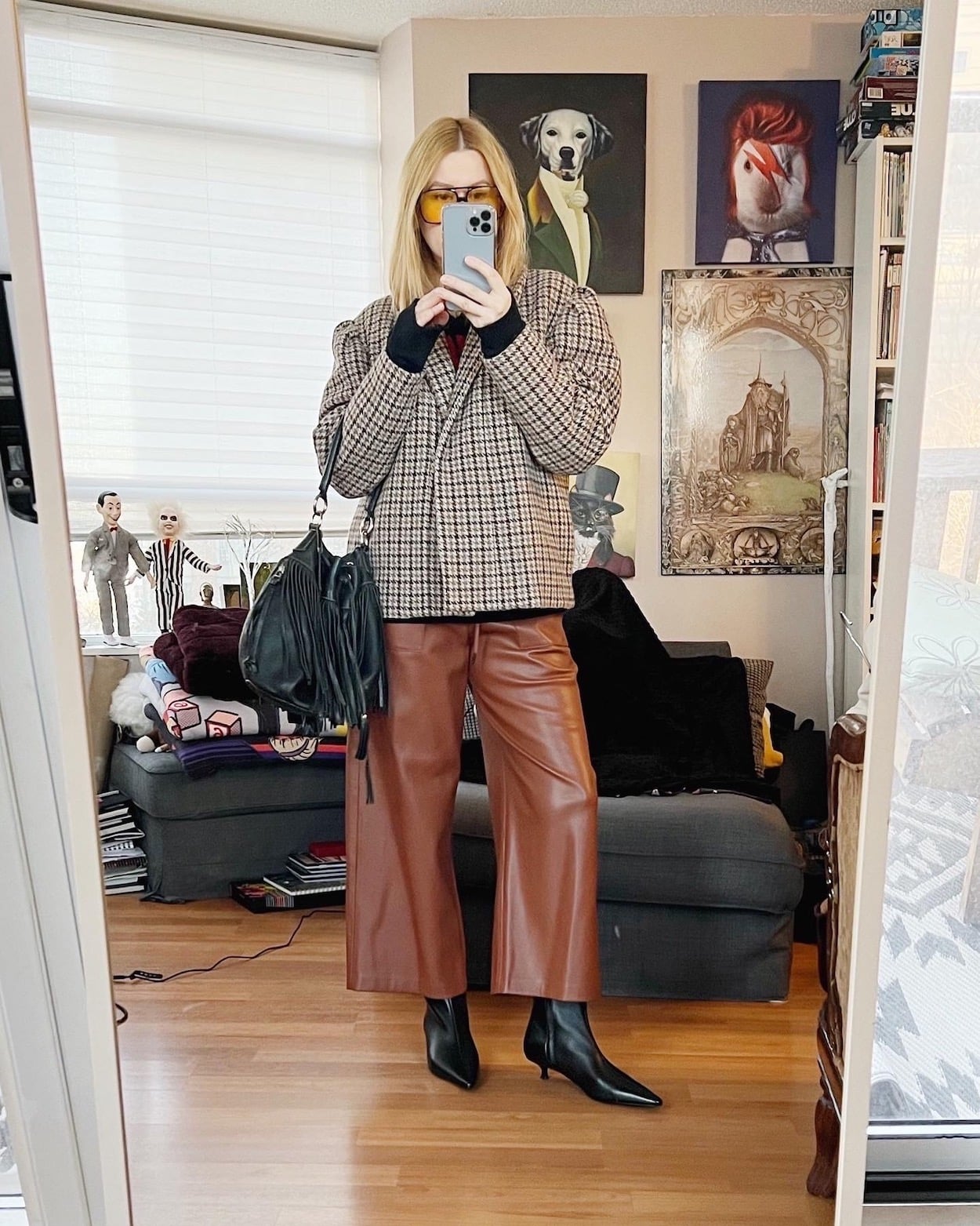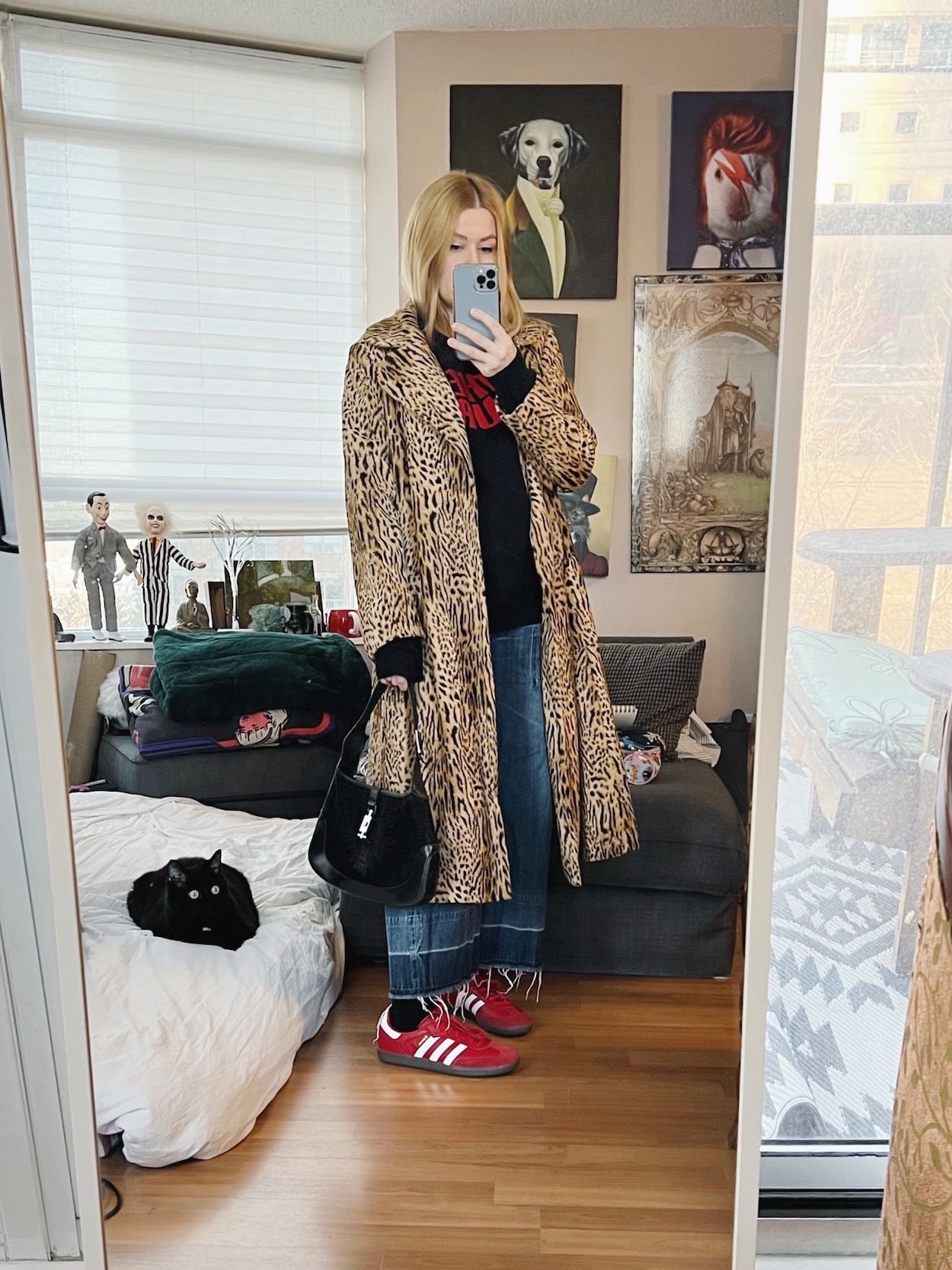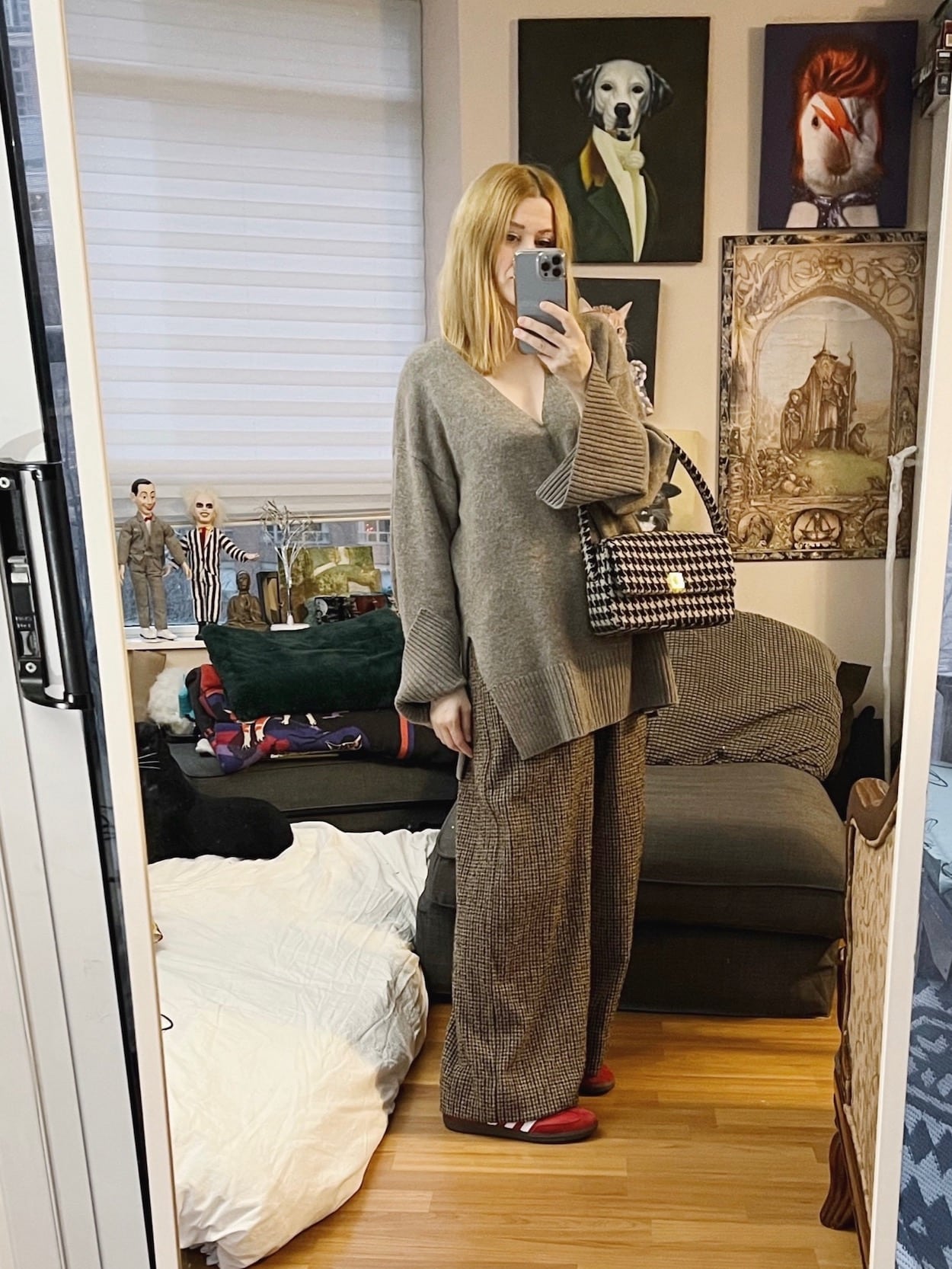 Outfit 1 – Sweater | Jacket (similar) | Trousers (similar) | Sunglasses | Boots | Vintage Bag (similar)
Outfit 2 – Sweater | Vintage Coat | Jeans | Sneakers | Vintage Bag
Outfit 3 – T-shirt | Jacket | Jeans | Sneakers | Vintage Bag (similar) | Brooch
Outfit 4 – Sweater (similar) | Trousers (consignment) | Sneakers | Bag

The more I wear them, the more I am really glad that I bought the red Adidas Sambas. They seem to just really add something to my wardrobe and outfits. Maybe sometimes things work out for the best.
I procrastinated too long today to decide what to have for dinner, so now we have hamburgers/hot dogs, poutine, and milkshakes on the way, and I am okay with that.
Amended: It actually didn't end up arriving, even though it was marked as delivered, which sucks because I am super hangry. I even went to the lobby and walked the outside perimeter just in case.
My assumption is that they dropped it at the wrong unit, so someone gets a free dinner.
Then I got a credit back and reordered only to have them modify my order and cancel my youngest daughter's portion.
This meant I had to order her something from someplace else, and it ended up costing me an extra $14 just because someone didn't deliver the order the first time. Super fun.
It would have been easier to cook. Last night I did actually cook, and I made an improvised wonton soup, and it was actually great.
Quick, easy (I used frozen potstickers), and actually inexpensive which is rare with the price of groceries right now.
I'm going to have to come up with more ideas like that. I also made this twice last week because both kids loved it which is never happens.
I made extra sauce and kept it cooking until the sauce became like a candy coating. I will also be making it tomorrow.
What I am also doing tomorrow is starting up yoga again. I literally have not exercised besides walking since June.
That's not good for my mental or physical health, so I am starting back slowly and gently because I have been feeling very rough lately.
And now that I have typed it here, I have to follow through.
That is the rule.
You might also like:
What I Wore last week
SHOP THE UK LINKS


I am now offering digital styling guides, and personal styling services. If you are looking for some styling help that is inexpensive and easy, check out my digital styling guides. If you want some one-on-one help shopping, building and editing your wardrobe, or packing for a trip, I can also assist. Check out all the styling services that I offer here.
This post contains affiliate links. By using my links to shop I may receive a small commission (at no cost to you). Thanks for supporting what I do