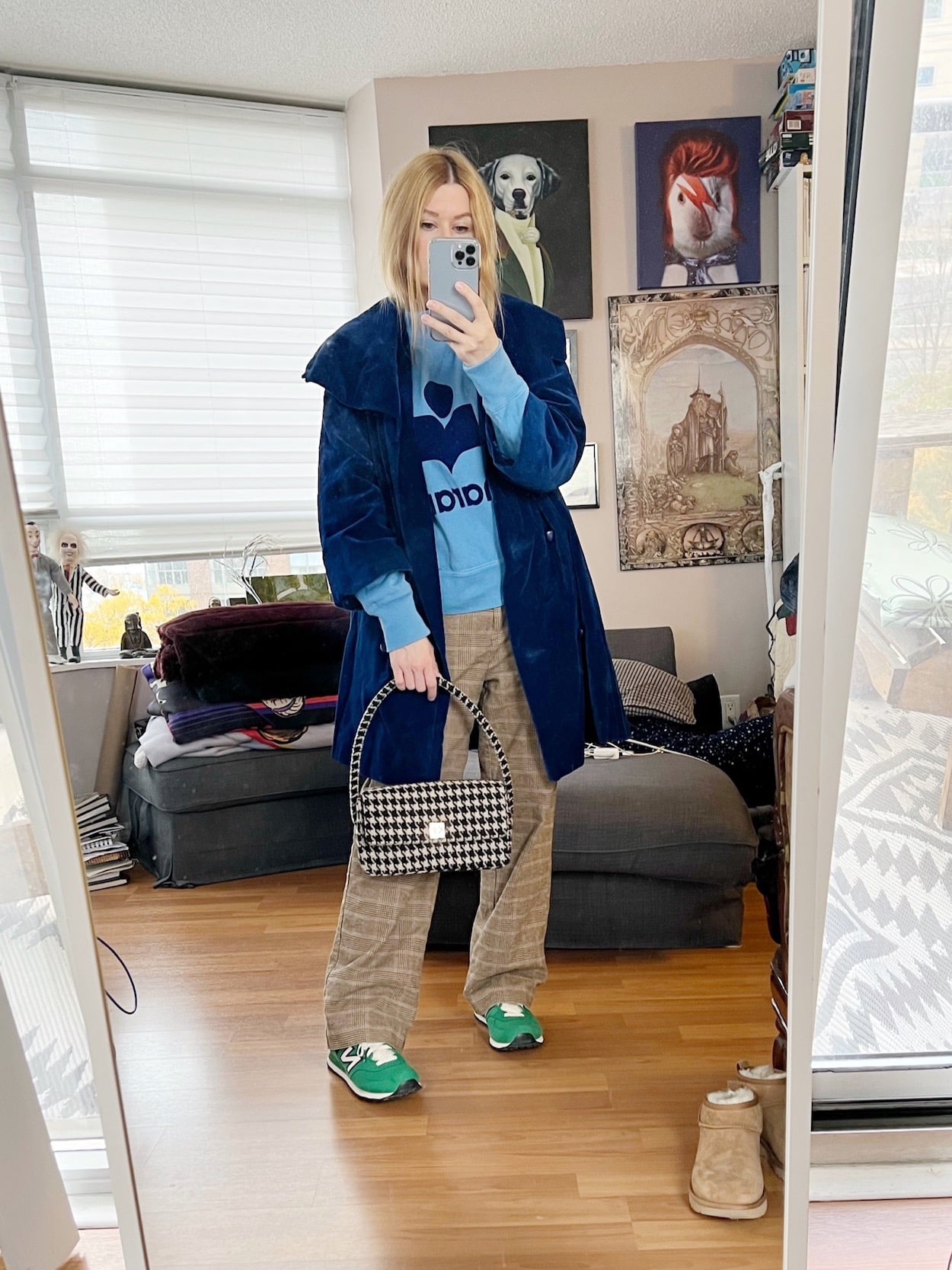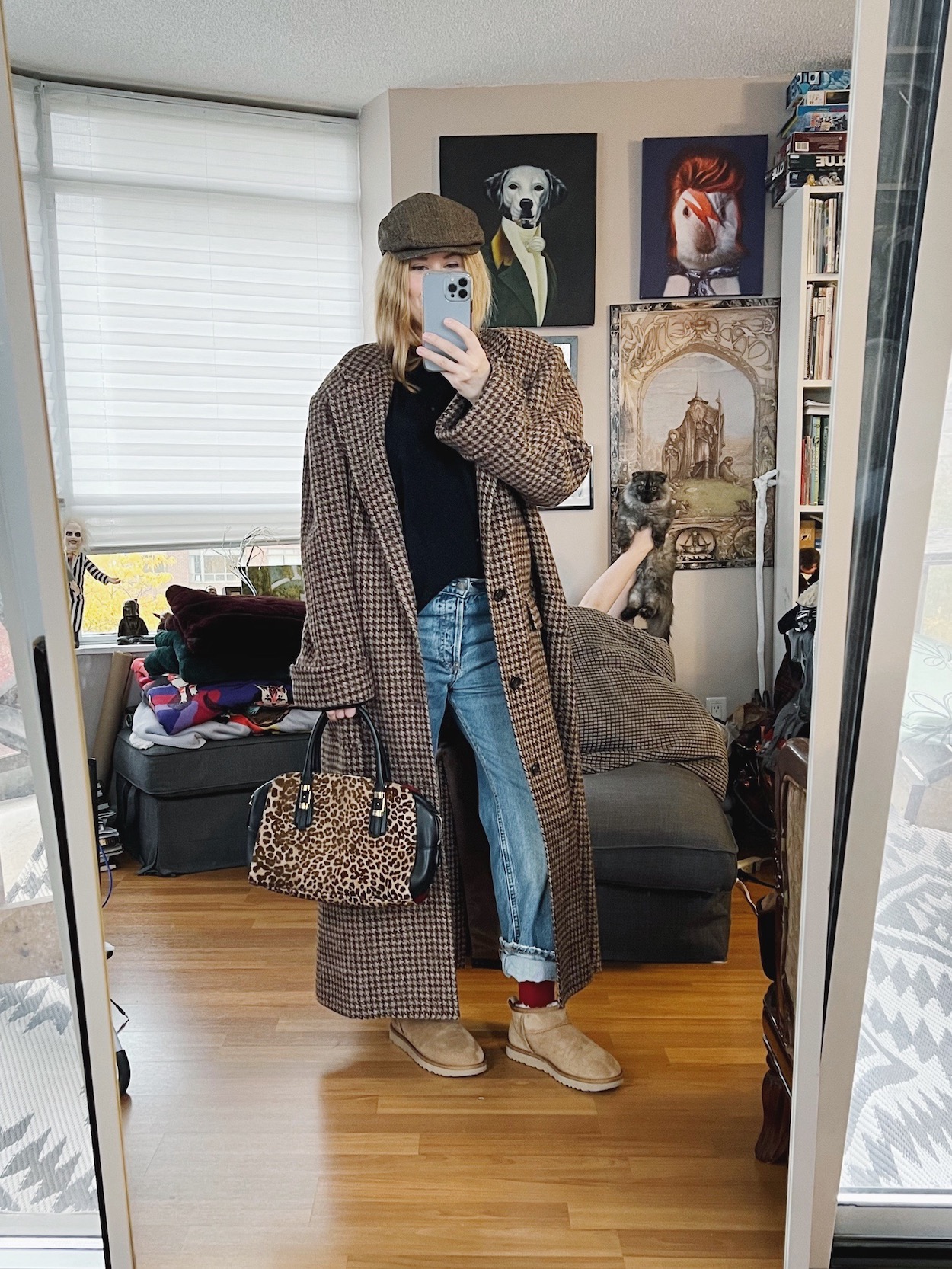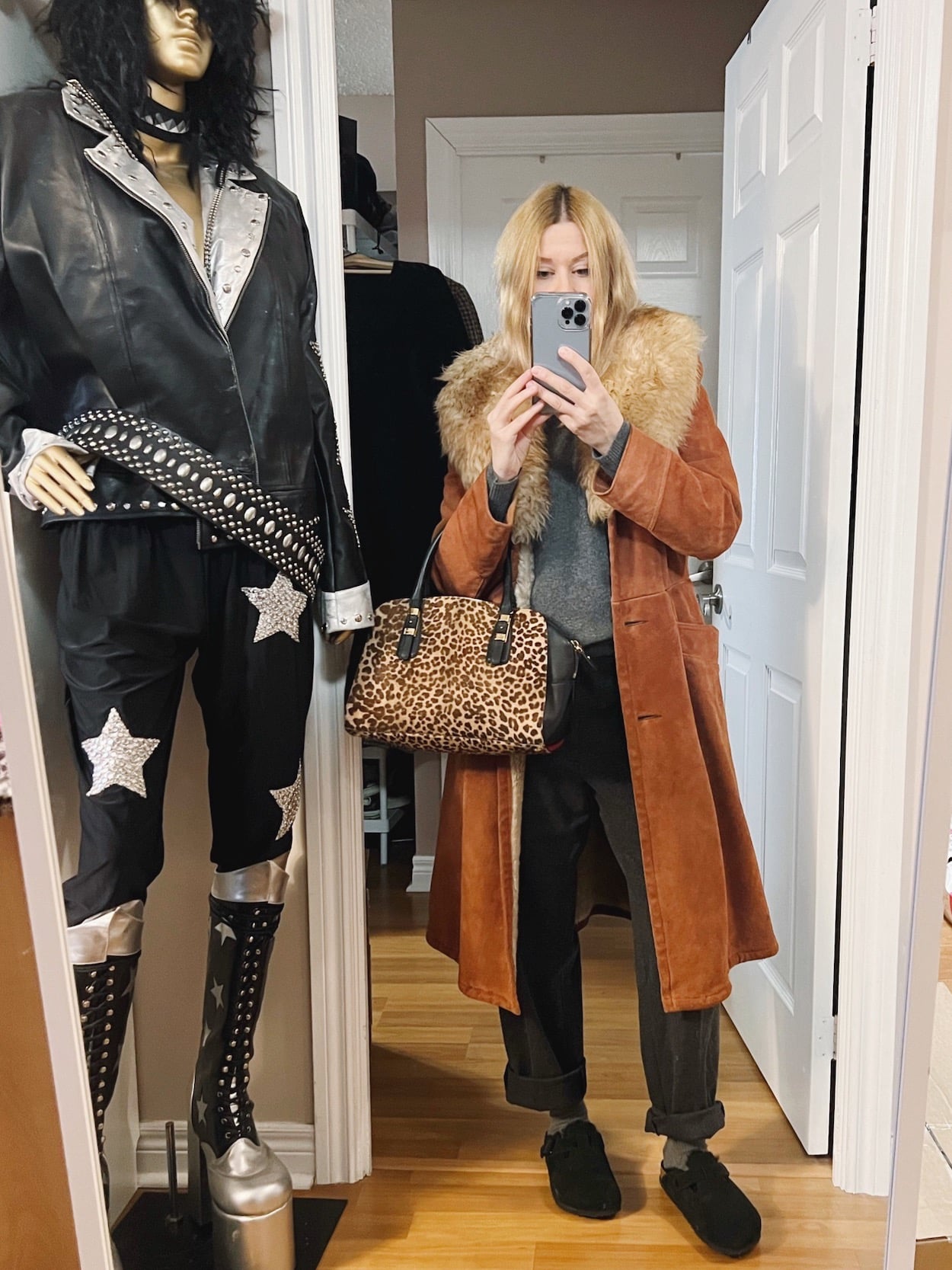 Outfit 1 – Sweatshirt | Vintage Trousers | Vintage Coat | Sneakers (similar) | Purse
Outfit 2 – Sweater | Jeans | Vintage Coat | Uggs | Hat | Purse (similar)
Outfit 3 – Sweater | Trousers | Vintage Coat | Birkenstocks | Purse
Outfit 4 – Turtleneck | Button Up | Vintage Blazer | Jeans | Mary Janes | Sunglasses | Socks | Purse

I forgot how much having a cold sucks. I generally sleep like crap, but have been sleeping like extra crap recently and am so damn tired. My husband moves around a lot when he is sleeping.
That combined with his snoring, gasping, and twitching means that I don't have a restful sleep until he leaves for work and most days that is only an hour before I get up.
So it really catches up to you, and he definitely needs to go to a sleep clinic because I am fairly postive he has sleep apnea.
It's also unseasonably warm for the past couple of days, and sunny so our apartment heats up by 9 am when the sun is blasting in.
On a positive note, at night when I look out from the balcony and the windows I can see quite a few people have hung up Christmas lights.
You might be thinking, already?
But I saw that Walmart had lights for sale already (I bought some because our tree lights burnt out).
I also think that over the last few years, people have learned to stretch out and celebrate what they enjoy, and if that means Christmas lights or decor out already, then I am all for it.
My youngest really loves the vintage Beistle Halloween decorations and The Creepy Company put out some Beistle Merchandise, so I bought her this throw blanket.
If it is made like their other throws that we own, it is really soft and well-made.
She is a hot sleeper so only uses throw blankets for bedtime. She gets way too hot with her duvet.
If you like vintage Halloween decorations I found this company that has tons. I meant to order some this year but waited too long.
They are good to bookmark for later though.
You might also like:
Weekly Reads and Finds last week
SHOP THE UK LINKS


I am now offering digital styling guides, and personal styling services. If you are looking for some styling help that is inexpensive and easy, check out my digital styling guides. If you want some one-on-one help shopping, building and editing your wardrobe, or packing for a trip, I can also assist. Check out all the styling services that I offer here.
This post contains affiliate links. By using my links to shop I may receive a small commission (at no cost to you). Thanks for supporting what I do
This post contains affiliate links. By using my links to shop I may receive a small commission (at no cost to you). Thanks for supporting what I do