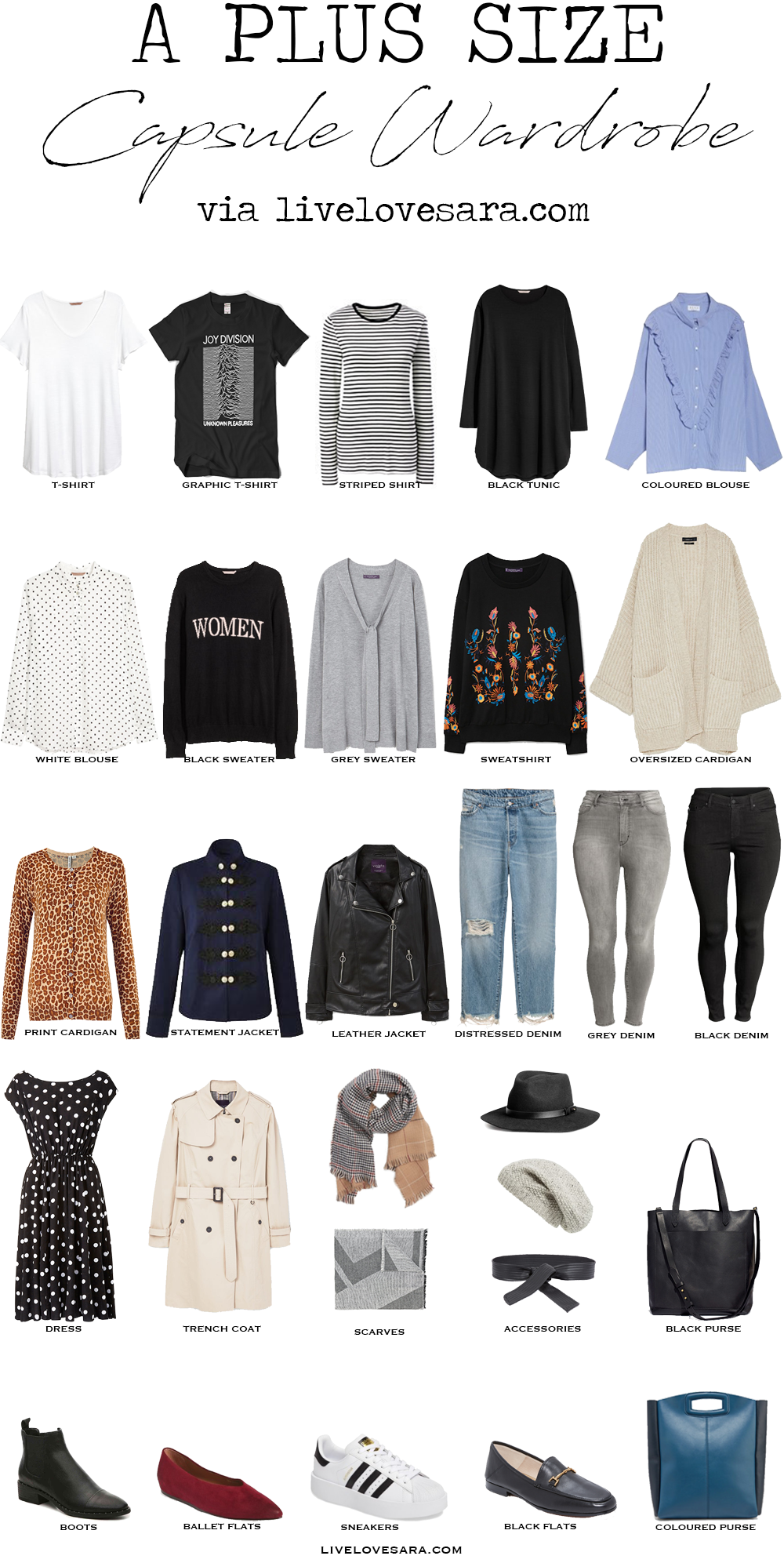 White T-shirt | Graphic T-shirt | Striped Shirt | Black Tunic | Blue Blouse | White Blouse | Black Sweater | Grey Sweater | Embroidered Sweatshirt | Oversized Cardigan | Animal Print Cardigan | Statement Jacket | Leather Jacket | Blue Jeans | Grey Jeans | Black Jeans | Dress | Trench Coat | Reversible Scarf | Grey Scarf | Black Hat | Knit Hat | Obi Belt | Black Purse | Chelsea Boot | Burgundy Flat | Sneakers | Black Loafers | Blue Purse |
SHOP THE POST



I don't just get requests for packing lists, I also get them for capsule wardrobe ideas. This week I have a fall plus size capsule wardrobe.
The requirements for the capsule wardrobe palette are black, grey, neutrals, black denim, leather, and military/modern for someone who predominantly wears pants and likes a little edgier look.
These are some ideas and suggestions to have a fall wardrobe update. I actually find that this mirrors my style a lot, so it was fun hunting for the pieces.
There are a lot of options for plus size fashion today and many popular retailers have a plus-size section like they do a petite and/or tall.
Mango has Violeta by Mango, H&M has H&M+, there are:
And that is just to name a few. I tried to pull some pieces from several of these to give a variety.
Most of these pieces can easily be mirrored from your own wardrobe since most of us have at least one white tee, a graphic tee, a variety of sweaters, denim, and favourite footwear there shouldn't be any issues finding pieces that work.
I think that pulling together a variety of shirts, sweaters, and pants that can easily be replicated is important to make it attainable.
Although she doesn't wear dresses it thought including one for "just in case" would be okay.
Everything is kept in the neutral tones with an addition of some blue, and leopard (which I consider a neutral anyway).
For jackets I have a statement jacket that's the military feel to it, a leather jacket for edge, and a trench because incorporating classic pieces makes your wardrobe timeless.
Accessories should be simple like scarves, hats for the season, at least one belt. I love the statement obi best because they can go over anything from dresses to blazers, to coats.
Then add in whatever jewellery you wear regularly.
A couple of purses easily round out the selections, and that is it.
This should work well for taking you through fall and every piece will transition to winter, and then to spring with the addition of a winter jacket (unless you live in a non-winter jacket place in the world).
It is a capsule that includes 18 items of clothing, plus shoes, and accessories. 30 days worth of outfits from these pieces can be found in this post.
*note: the ivory cardigan is from Zara and while it is not technically plus size it is a very oversized fit that will work on many people. It's a great piece that I am contemplating going down to get tomorrow 😉


SaveSave
This post contains affiliate links. By using my links to shop I may receive a small commission (at no cost to you). Thanks for supporting what I do
SaveSave