Spring Packing List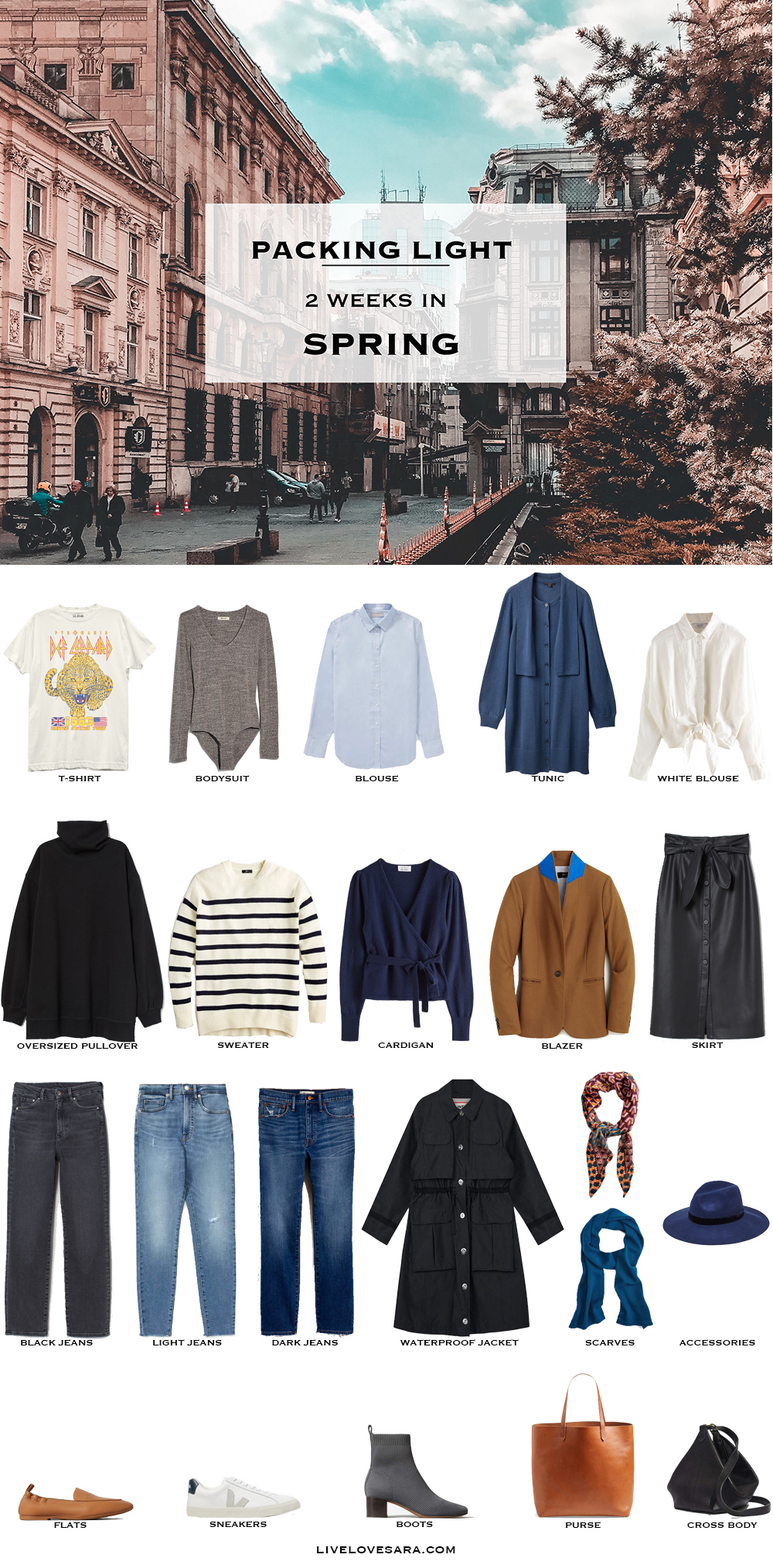 T-shirt | Grey Bodysuit | Blue Blouse | Tunic Top | White Blouse | Oversized Pullover | Striped Sweater | Wrap Cardigan | Blazer | Faux Leather Skirt | Black Jeans | Light Blue Jeans | Dark Blue Jeans | Waterproof Jacket | Print Scarf | Blue Scarf | Hat | Brown Flats | Sneakers | Grey Boots | Brown Tote | Black Crossbody |
---
SHOP THE POST


---
Now that the holidays are over, everyone seems to be switching from a winter mindset to "hurry up spring!" I thought I would start the upcoming season with a general spring packing list.
I'd be lying if I said I wasn't looking forward to it too. Spring is my second favourite season next to autumn, and just like autumn there is usually a small window of time that we get to enjoy is before the weather dramatically shifts.
It was so weird because last year it felt like we only got 3 weeks of spring weather before it jumped to 30°C summer temperatures. I thoroughly dislike summer so I was NOT happy about seemingly losing the entire season.
The point I am trying to make is that this is a pretty general spring packing list. Obviously seasonal weather fluctuates greatly between cities, and countries so it is important to not just take someone's word.
Do your due diligence and research the weather for where you are going. Pay close attention to not only the weather trends but most importantly the weather channel. Keep doing this right up until the day you leave so that you can adjust your packing list accordingly.
In many cities, spring weather welcomes sundresses and sandals, but I'm going more for the mid-teens temperatures. I classify sundresses as summer weather clothes and would be inclined to use a summer packing list for that.
Spring can be wet depending on where you travel, so waterproof anything is a good rule of thumb if there is a lot of rain in the forecast. A waterproof slicker (this one is really nice) or trenchcoat is a good travel outerwear option and at least one pair of waterproof travel footwear.
Does that mean rainboots? No, there are tons of waterproof shoe options that are both chic and practical. If you don't want to spring for a new pair of shoes…..see what I did there 😉 then treating your favourite pair with a weather spray is an inexpensive and smart option.
I really enjoy the rain and was disappointed that last spring had much less rainfall than usual. This is why you need to always watch the weather channel. The weather has been all over the place these past few years and it is getting hard to predict.
And because I both love and do so much walking in the rain have my eye on these. I have full-size Hunter Boots that I have had for years (6-7 years) but I find being short they tend to visually cut my leg in half. I'm interested in trying the shorter style at some point.
Packing for transition weather can be difficult, but if you focus on a cohesive colour palette and building layers you will have a perfect spring capsule travel wardrobe.
If you are travelling for spring break and enjoyed my What to Pack for spring packing list, please feel free to share it via Pinterest, Facebook, or Twitter. Thank you.
This post contains affiliate links. By using my links to shop I may receive a small commission (at no cost to you). Thanks for supporting what I do 🙂
You may also like:
What to Pack for London, England in Spring
What to Pack for Barcelona in Spring
Spring Outfit Ideas

T-shirt | Grey Bodysuit | Blue Blouse | Tunic Top | White Blouse | Oversized Pullover | Striped Sweater | Wrap Cardigan | Blazer | Faux Leather Skirt | Black Jeans | Light Blue Jeans | Dark Blue Jeans | Waterproof Jacket | Print Scarf | Blue Scarf | Hat | Brown Flats | Sneakers | Grey Boots | Brown Tote | Black Crossbody |
---
SHOP THE POST


---
Follow me on
FACEBOOK || INSTAGRAM || PINTEREST || BLOGLOVIN'