Palm Springs Packing List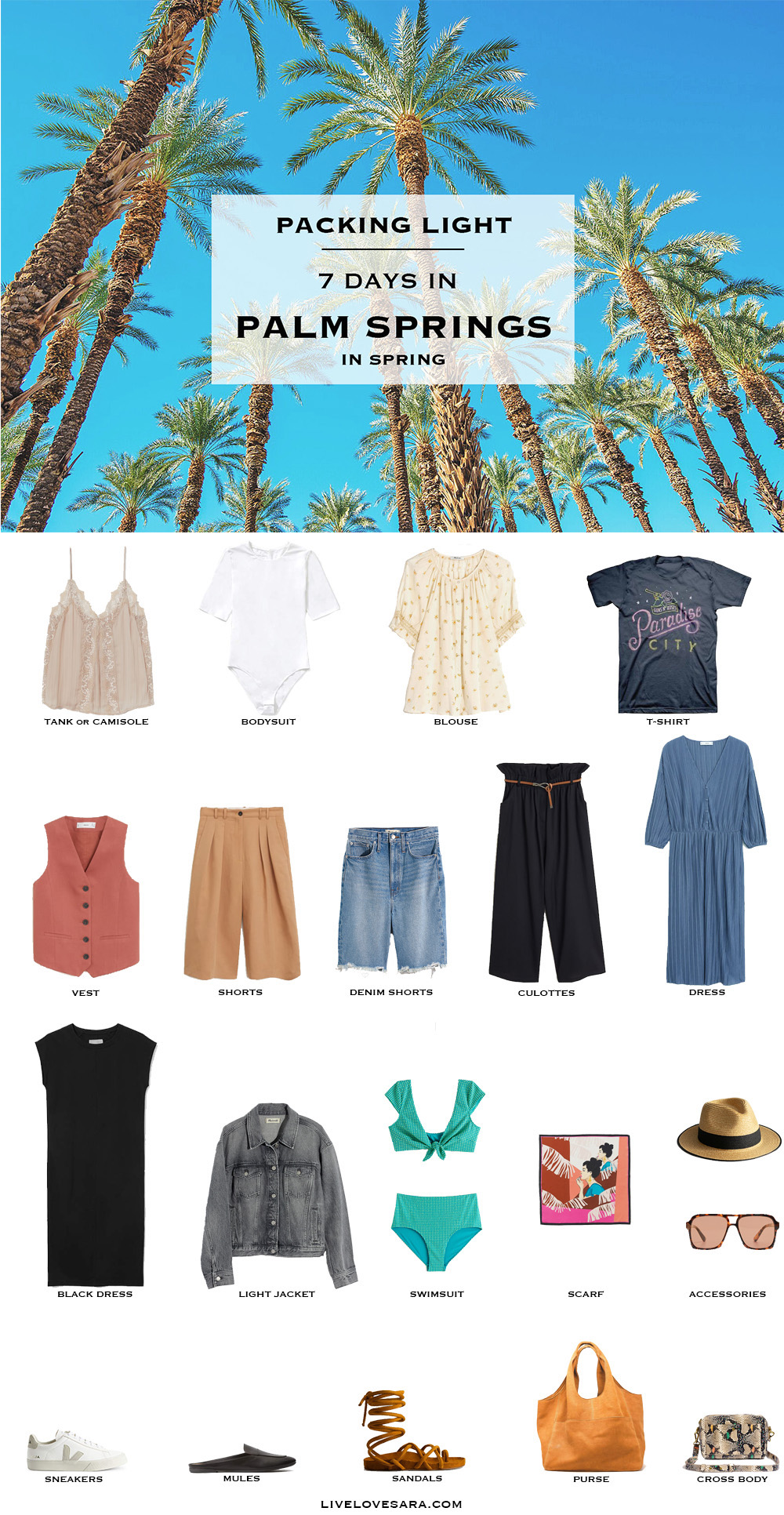 Camisole | Bodysuit | Blouse | T-shirt | Vest | Camel Shorts | Denim Shorts | Culottes | Blue Dress | Black Dress | Denim Jacket | Swimsuit Top and Bottom | Scarf | Fedora | Sunglasses | Sneakers | Mules | Sandals | Purse | Crossbody |
---
SHOP THE POST


---
When you think of Palm Springs you may think about young crowds going on spring vacation, concerts, and festivals like the infamous Coachella.
Only a two hour drive from Los Angeles, it's not just for the young crowds anymore. It is a prime spot for spring break for all ages because and there is plenty to do for everyone.
I have a one week in Palm Springs packing list today for the not-quite-as-young crowds. That doesn't mean boring though. There are still lots of ways to look and remain cool without looking like you raided your teens closet 😉
What is Palm Springs like in the Spring?
Palm Springs is a dry, desert climate with the most popular tourist time during the months of November to May.
You are guaranteed sunshine and blue skies during this time so make sure to dress for a typical summer because the days will be warm.
What to Pack for Palm Springs
Palm Springs style is very much like Los Angeles style but with a more vintage and boho flair. Probably thanks to all the wonderful vintage shops that are located there.
So pack your favourite summer pieces in your Southern California packing list. And don't be scared to add some colour and prints to your capsule wardrobe because spring is the time for boldness after the more dreary winter months.
It is hot year-round in this desert city, but spring is one of the coolest times so embrace the more comfortable and less touristy months.
I'm really feeling vests right now. I have raided the thrift stores and bought several over the last few weeks. I love the way they look over dresses and shirts (open or closed).
I also love the way they look when worn as a shirt over trousers or jeans. It gives me a Winona Ryder in Reality Bites feeling and we all need to bring back the 90s Winona style because she was iconic.
Don't forget the sunhat and sunglasses (if they are vintage even better).
Things to Do in Palm Springs
GO VINTAGE AND ANTIQUE SHOPPING. Seriously though. Palm Springs has some of the best vintage and antique shopping around and you don't want to miss out finding that piece that may make your entire wardrobe.
Admire the views on the Palm Springs Aerial Tramway.
Live out your inner Peewee's Big Adventure by visiting the Cabazon Dinosaurs. That is if you can ignore the historical nonsense of the museum part. I just want to see the dinosaurs because I love Peewee Herman.
If you love architecture you could take an architecture tour.
Take a celebrity tour of Hollywood's Playground.
Robolights. Once a Christmas time only event it is now year-round, although many of the light displays still have Christmas themes ( and some sinister).
Visit the Palm Springs Art Museum.
Have a Pretty Woman moment and hit up El Paseo, which is Southern California's version of Rodeo Drive.
Do you love Cacti? Visit the Cactarium at Moorten Botanical Gardens.
Or you know, you could just hang out at the pool in your Airbnb the whole time and it could still be the ultimate vacation.
This packing list is for 7 days in Palm Springs in spring. All of the visuals in this post are meant as a guideline to aid you in creating your own Palm Springs Packing List based on your own clothing, colour preferences, and personal style.
If you are planning to visit Southern California this spring and enjoyed my What to Pack for Palm Springs in Spring packing list, please feel free to share it via Pinterest, Facebook, or Twitter. Thank you.
This post contains affiliate links. By using my links to shop I may receive a small commission (at no cost to you). Thanks for supporting what I do🙂
You may also like:
What to Pack for Hilton Head in Spring
What to Pack for Los Angeles in Spring
What to Wear in Palm Springs

Camisole | Bodysuit | Blouse | T-shirt | Vest | Camel Shorts | Denim Shorts | Culottes | Blue Dress | Black Dress | Denim Jacket | Swimsuit Top and Bottom | Scarf | Fedora | Sunglasses | Sneakers | Mules | Sandals | Purse | Crossbody |
---
SHOP THE POST


---
Follow me on
FACEBOOK || INSTAGRAM || PINTEREST || LIKEtoKNOW.it