Los Angeles Packing List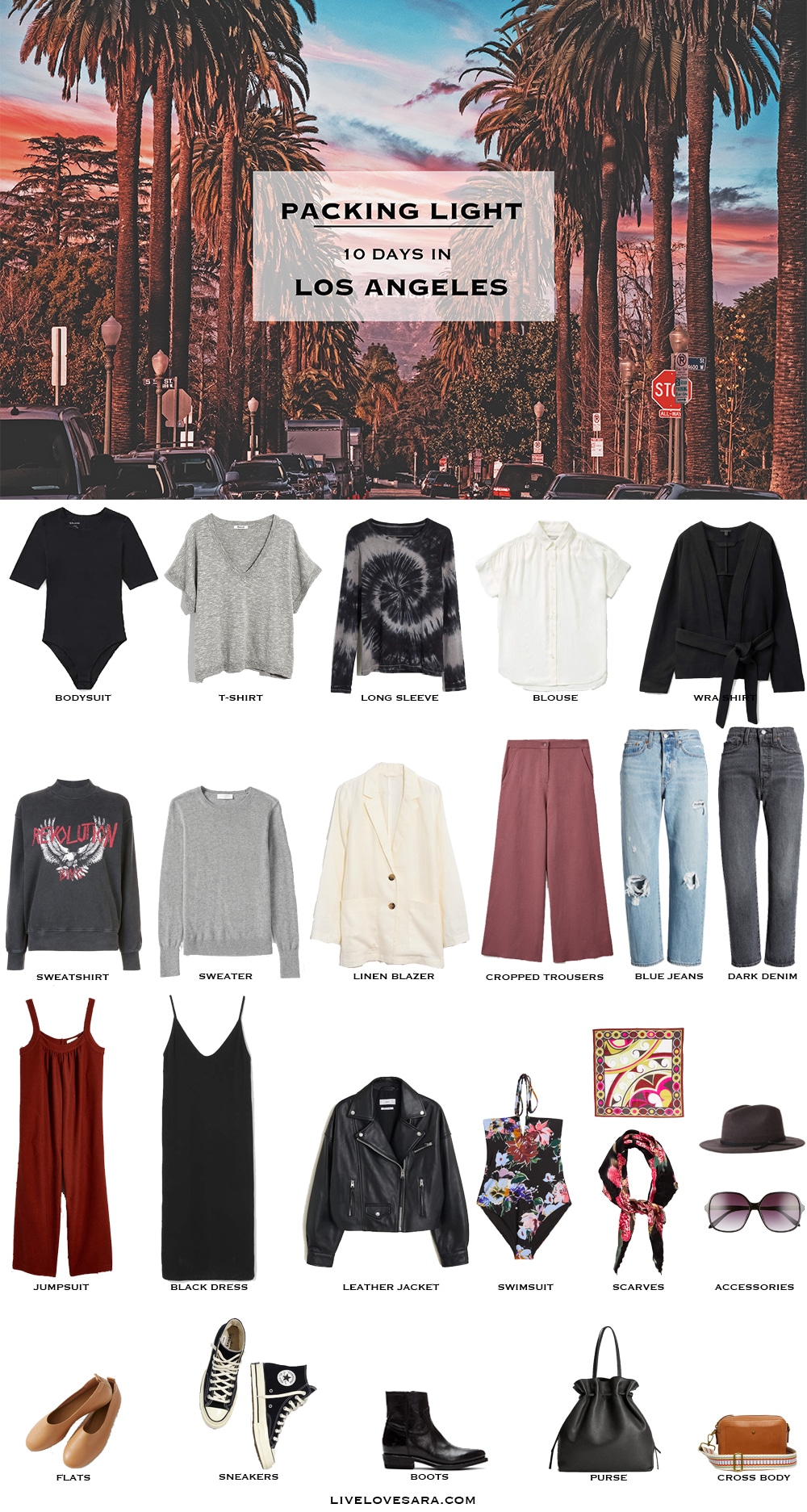 Bodysuit | Grey V-Neck | Tie-Dye Long Sleeve | White Blouse | Black Wrap Shirt | Sweatshirt | Grey Sweater | Linen Blazer | Pink Cropped Trousers | Blue Denim | Black Denim | Jumpsuit | Slip Dress | Leather Jacket | Swimsuit | Square Scarf | Floral Scarf | Hat | Sunglasses | Nude Flats | Converse | Boots | Black Purse | Crossbody |
---
SHOP THE POST


---
It seems that so many movies start off with someone running away to L.A. to pursue their dream in whatever artsy field they are trying to gain success in.
We've all watched and loved Pretty Women. The magical rags to riches love story right? Too many times to count.
There is something about that city that draws people in, it's no wonder that it is one of the top tourist destinations in the world.
If you are wondering what to pack for LA then look no further. I have a 10 days in Los Angeles packing list with 21 accompanying travel capsule wardrobe outfit ideas. They are located at the bottom of this post, so make sure that you scroll all the way down to the bottom of the post.
What is the Los Angeles weather like in the spring?
Los Angeles has over 3,000 hours of sunshine a year which is A LOT. With only around 35 days of rain a year on average, that number of days full of sunshine, you usually have warm weather.
The nice thing about L.A. is that it is very temperate (aside from those heat waves that come during the summer and September). The annual average temperatures range from 19°C – 24°C which what makes dressing in L.A. really easy.
And also why you will see people complaining about how cold it is when the temps drop a few degrees. I always get a kick out of that 😉
In spring the winter rain should go away to welcome the warming temps and blue skies once again.
Many say that it is at its most beautiful at this time of year, and lucky for those who want to see for themselves, it is also the low season. This means that travel and accommodations are less expensive, and the crowds are significantly smaller.
What to Pack for Los Angeles in Summer?
Lucky for those that live there, Los Angeles wardrobes can work all four seasons for them since the weather doesn't fluctuate too much.
This same idea will apply to a Los Angeles travel wardrobe. You will pack the same basics for each season and then switch in different pieces and footwear that works best depending on the time of year.
For example travel footwear. For spring and autumn I would pack sneakers, flats, and boots. For winter I would make sure the boots were waterproof, and for summer I would take the boots out and replace them with sandals, and maybe switch the flats for mules.
The great thing about Los Angeles is that you can pretty much wear whatever you want and no one will bat an eyelash. In reality, you will see tons of yoga pants, crop tops, oversized sweatshirts, and fancy sneakers. It is very laid back.
To get the full California girl look make sure to pack some denim, a leather jacket, some fun sunglasses, and a crossbody bag.
Since there is such a casual vibe, a loose jumpsuit or maxi dress are good choices for when the weather warms a bit.
Note: Los Angeles has something they call "May Gray" which means that it will be overcast and grey in the morning, but that will burn off by the afternoon so make sure you layer to avoid overdressing.
Remember to bring a swimsuit. You never know when you might get the urge to swim or lay on the beach.
Don't forget the suntan lotion in any California packing list 🙂
What to do in Los Angeles in the Spring
The Natural History Museum looks pretty awesome, especially the Natural History of Horror exhibition that is there until April 19th 2020.
After you visit the dinosaurs you can visit the tar pits.
Soak up the celebrity culture and go to Madame Tussauds, and the Hollywood Museum.
Griffiths Park and Observatory.
Visit The Huntington Library which is not just a library but also an art museum and botanical gardens.
And of course Disney Land and Universal Studios (Harry Potter Yay!).
And if you like weird or unusual things here are a few:
While you are at Griffith Park and Observatory yo can check out the Abandoned Zoo that is there.
The Museum of Death sounds right up my alley. They recently closed while they are relocating to a larger location so make sure to check out the website for their reopening date.
The Hollywood Forever Cemetery. Toto from the Wizard of Oz is even buried there.
If you want to see a show, then check out the California Institute of Abnormal Arts.
Randsburg: A Living Ghost Town. (Near Death Valley)
The Michael Jackson Thriller house, or the Halloween House.
There is something for everyone in Los Angeles 😉
All of the visuals in this post are meant as a guideline to aid you in creating your own Los Angeles, California Travel Capsule based on your own clothing, colour preferences, and personal style.
If you are planning to visit Los Angeles in spring and enjoyed my What to Pack for Los Angeles in Spring packing list, please feel free to share it via Pinterest, Facebook, or Twitter. Thank you.
This post contains affiliate links. By using my links to shop I may receive a small commission (at no cost to you). Thanks for supporting what I do🙂
You may also like:
What to Pack for San Francisco in Summer
What to Pack for Los Angeles, California
What to Wear in Los Angeles

Bodysuit | Grey V-Neck | Tie-Dye Long Sleeve | White Blouse | Black Wrap Shirt | Sweatshirt | Grey Sweater | Linen Blazer | Pink Cropped Trousers | Blue Denim | Black Denim | Jumpsuit | Slip Dress | Leather Jacket | Swimsuit | Square Scarf | Floral Scarf | Hat | Sunglasses | Nude Flats | Converse | Boots | Black Purse | Crossbody |
---
SHOP THE POST


---
Follow me on
FACEBOOK || INSTAGRAM || PINTEREST || BLOGLOVIN'