Hilton Head Packing List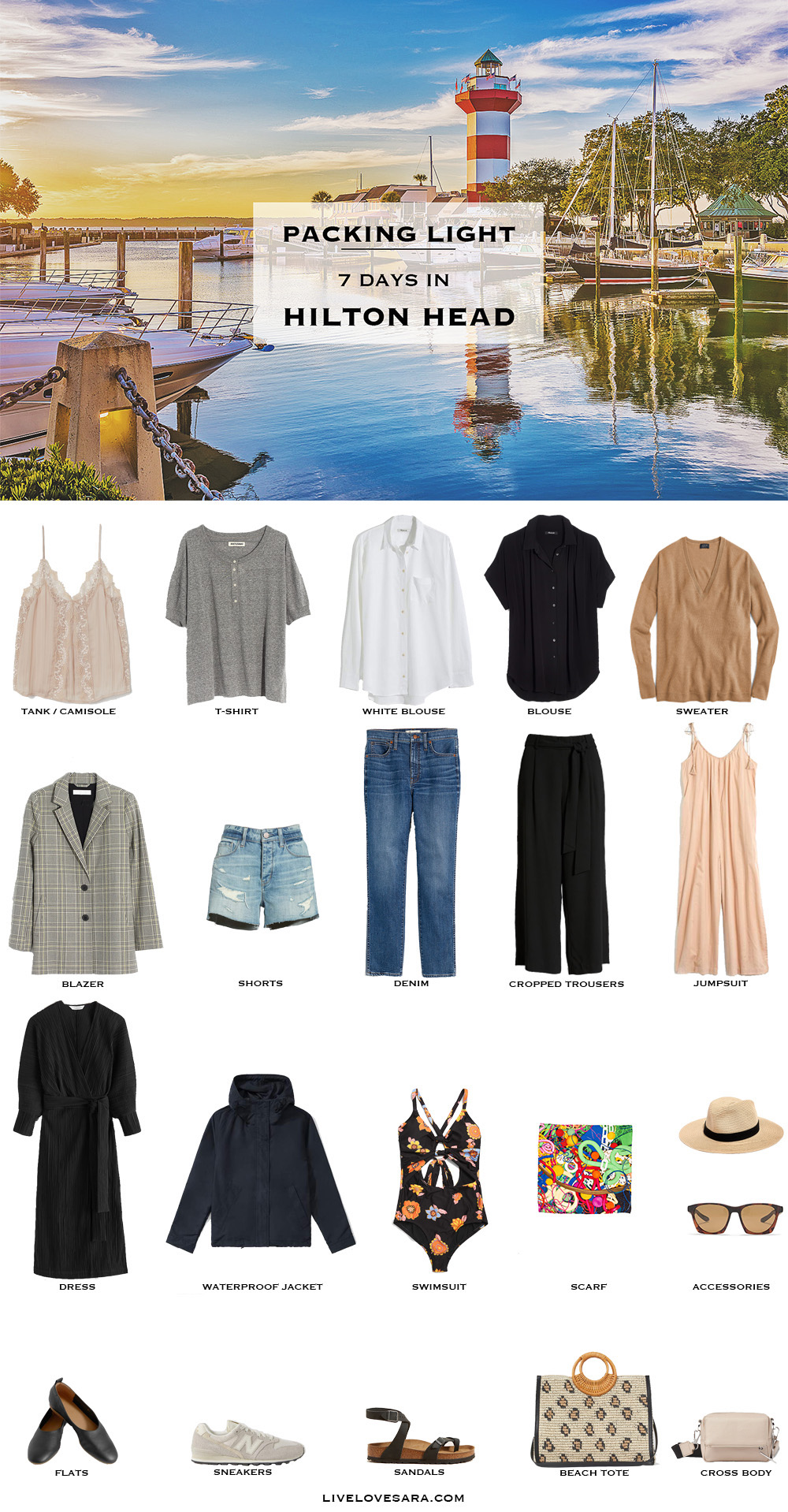 Camisole | T-shirt | White Blouse | Black Blouse | Sweater | Blazer | Shorts | Denim | Cropped Trousers | Jumpsuit | Dress | Waterproof Jacket | Swimsuit | Scarf | Hat | Sunglasses | Flats | Sneakers | Sandals | Beach Tote | Crossbody |
---
SHOP THE POST


---
I had a challenge this week of coming up with a Hilton Head packing list that was not filled with Lilly Pulitzer or Vineyard Vines clothing which seems to be the go-to suggested styles when you are searching for what to pack for Hilton Head.
We all know by now that neither one of those styles are me, so I am up to the challenge for putting together what I would pack for this beachy destination in the springtime (the end of March).
Hilton Head weather in March
The first thing I always look at when planning a travel capsule is what is the historic weather, and the predicted weather for the destination during that time. It is one of the most important things when deciding what you want to pack.
Hilton Head in March averages between 19-22°C. This year is looking to be about the same with a day or two of rain. It's important to pay close attention to the weather up until you leave for your trip because it can be the difference of packing for predicted one day of rain, and 7 days of rain.
Be prepared to have a day or two of drizzly weather in your itinerary. I included a waterproof jacket in case you still want to venture out. I have that one above and it's a great, lightweight model.
Remember that the evening will be much cooler at this time of year near the water so make sure you are prepared with warmer layers.
What should I pack for Hilton Head?
Hilton Head is pretty laid back, so casual but chic outfits are always a good choice. If you are like the requestee then trying to come up with a beach vacation packing list without the addition of some Lilly Pulitzer dresses, or the traditional stripes and white jean look might be hard.
Since it is so casual I suggest sticking with what you are comfortable with. Nothing is worse than going on a vacation with a bunch of clothes that just aren't your style, and then trying to make them work.
Stick with what you know and then expand on that. If you want to get more adventurous than add a nice dinner dress that is different from your norm or those fun sandals you have been eyeing but haven't braved the purchase yet.
Vacations are a time to let loose have a little fun with your looks.
Many people just go to Hilton Head for a long weekend, but I decided to make this a week in Hilton Head packing. It will be easy to make smaller for shorter trips and add a few things for any longer ones.
What to do in Hilton Head in the Spring
Since you aren't quite into the tourist season yet you will get to enjoy the scene without the crowds.
The island isn't huge but there are almost 60 miles of bicycle trails, so take the whole family on bike rides.
It seems like a no brainer, but even if you don't like the sport you might feel inclined to try golfing once while you are there.
Enjoy a little flora, fauna, and history at the Coastal Discovery Museum.
Are you adventurous? How about Zipline Hilton Head.
Have dinner at one of the many fantastic restaurants. Many restaurants may have a standard dress code of resort casual, but some might lean towards a little more dressy so take note.
How about a Pirate Tour?
Even though the Atlantic Ocean will still be cold you will want to spend some time the glorious beaches. There are also pools you can swim in if the ocean is too cold but you still want to go for a dip.
Or you know….you could just do nothing and relax and read a book or 12.
All of the visuals in this post are meant to give you a guideline for creating your own Hilton Head capsule wardrobe based on your own clothing, colour preferences, and personal style choices.
If you are planning to visit South Carolina in spring and enjoyed my What to Pack for Hilton Head in Spring packing list, please feel free to share it via Pinterest, Facebook, or Twitter. Thank you.
This post contains affiliate links. By using my links to shop I may receive a small commission (at no cost to you). Thanks for supporting what I do🙂
You may also like:
What to Pack for Los Angeles in Spring
What to Pack for Riviera Maya
What to Wear in Hilton Head

Camisole | T-shirt | White Blouse | Black Blouse | Sweater | Blazer | Shorts | Denim | Cropped Trousers | Jumpsuit | Dress | Waterproof Jacket | Swimsuit | Scarf | Hat | Sunglasses | Flats | Sneakers | Sandals | Beach Tote | Crossbody |
---
SHOP THE POST


---
Follow me on
FACEBOOK || INSTAGRAM || PINTEREST || BLOGLOVIN'