Mexico Packing List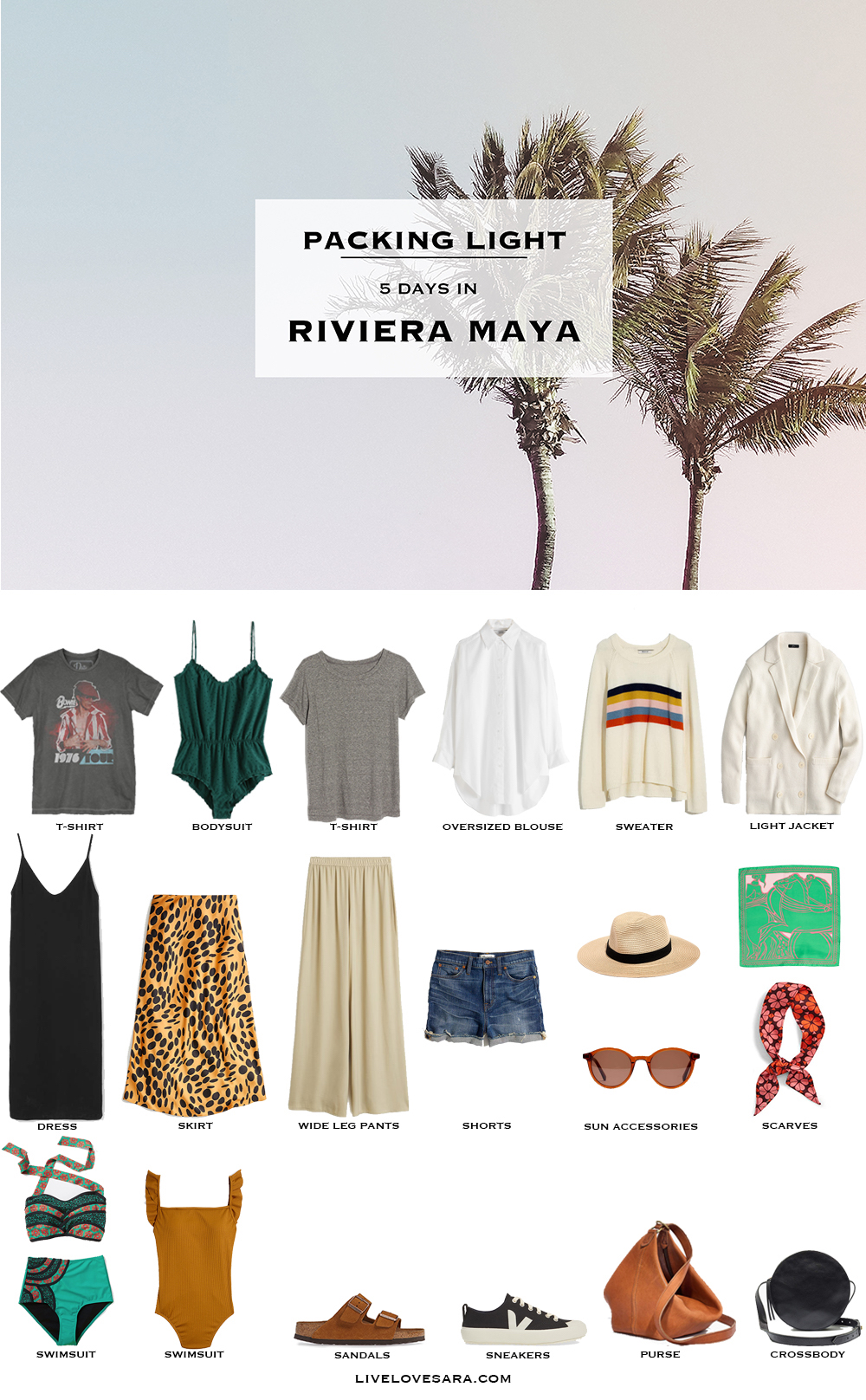 Band T-shirt | Green Bodysuit | Grey Tee | Oversized Blouse | Sweater | Light Jacket | Slip Dress | Skirt | Wide Leg Pants | Shorts | Hat | Sunglasses | Green Scarf | Skinny Scarf | Bikini Top | Bikini Bottom | Swimsuit | Sandals | Sneakers | Brown Purse | Black Purse |
---
SHOP THE POST


---
Winter has sunk its claws in, and a lot of people are starting think of warmer destinations. I'm not going to complain about the cold right now though, because it's been unseasonably warm at this past month and it is getting concerning.
When I was younger the people that went south for the winter were called Snowbirds, and they primarily consisted of well off retirees that would escape to Florida over the cold Canadian winters.
As I have got older and travel seems to have become more common and accessible to the average everyday person it is normal to see people planning their winter escape to warmer destinations.
Today I have 5 days in Riviera Maya packing list. The general consensus is that it is much easier to pack light for warm destinations than it is for cold, and I have to agree. But that doesn't mean that people still don't get carried away while planning their travel wardrobes.
I used to be under the mentality that the more the better. I thought that is was smarter to overpack than take the chance of having nothing to wear.
Example Barbados trip 2006. I called dibs on the biggest suitcase, and didn't even share it with my then 2-year-old daughter…..she had her own. If I could insert an eye roll emoji there I would because it was such a waste fo space for all of us.
I mean, who needs 5 pairs of shoes for 10 days in Barbados? Apparently this girl did and learned so many packing lessons from that trip.
I need to do a Barbados packing list showing what I wore versus what I packed. It was pretty crazy. Everything I wore would have easily fit into a weekender bag.
It was shortly after I came back from there that I realized packing light in a carry-on was a thing. Then another few years after that, when the internet expanded and I had access to sites where you could make visual inspiration boards (RIP Polyvore) that I really delved into the world of learning to pack light.
This blog is basically the outcome of that time of my life. It is something that I wish I started earlier, but it was a really hard time in my life mentally (I just had my second daughter) and I had hard enough time just getting through the day.
These capsule wardrobes and packing light lists became of a mode of escapism to me.
Riviera Maya Winter Weather
It's hot, and even when the locals feel like it isn't hot, it will still be hot to you so pack for the heat. The average temperature for that area of Mexico in February is 28°C (as a high).
Something that I foolishly wasn't aware of back then was how much more intense the sun is around the equator. Tom got a pretty bad sunburn the first day.
I always used a high SPF on both Roo and me, but she still ended up not feeling very well for the first 24 hours due to the intense heat and sun.
So the moral of the story is to bring a hat, wear lots of suntan lotion, drink shit tons of water, and sit in the shade when you can.
What to Pack for Riviera Maya
Not much. For a 5 day trip, you could easily get away with using a weekender bag if you truly wanted to because your travel outfits will come out of the above pieces.
I've leaned towards a little more than necessary with this Mexico packing list because I know that some people look at it and think, "this isn't enough clothing. There is no way I can pack light. This isn't for me." I try to keep it in the realm of possibility even for the biggest over-packer.
Plan based on your itinerary. If you are going to be touring/walking/hiking then you need either comfortable walking sneakers or a hiking sandal. Versus if you are going to be spending most of your time on the beach relaxing, then slip-on shoes are a better choice.
And if you just don't know what you are going to be doing on a day to day basis because you like to fly by the seat of your pants. You will have ample room for a sneaker, sandal, and/or a slip-on shoe.
Nighttime can cool a bit, especially by the water so bring a light sweater or summery jacket.
An oversized cotton or linen blouse is a very versatile piece. It can be cuffed, tied, left open over a dress or sleeveless top, and makes an awesome beach coverup.
For the what to wear in Riviera Maya travel outfit options keep scrolling to the bottom of this post. I put together 10 outfit ideas for various outings from the selections in the packing list.
If you are visiting Mexico in Winter and enjoyed my What to Pack for Riviera Maya, Mexico packing list, please feel free to share it via Pinterest, Facebook, or Twitter. Thank you.
This post contains affiliate links. By using my links to shop I may receive a small commission (at no cost to you). Thanks for supporting what I do 🙂
You may also like:
What to Pack for Havana, Cuba
What to Pack for Mexico on a Budget
What to Wear in Mexico


Band T-shirt | Green Bodysuit | Grey Tee | Oversized Blouse | Sweater | Light Jacket | Slip Dress | Skirt | Wide Leg Pants | Shorts | Hat | Sunglasses | Green Scarf | Skinny Scarf | Bikini Top | Bikini Bottom | Swimsuit | Sandals | Sneakers | Brown Purse | Black Purse |
SHOP THE POST


Follow me on
FACEBOOK || INSTAGRAM || PINTEREST || BLOGLOVIN'