Italy Packing List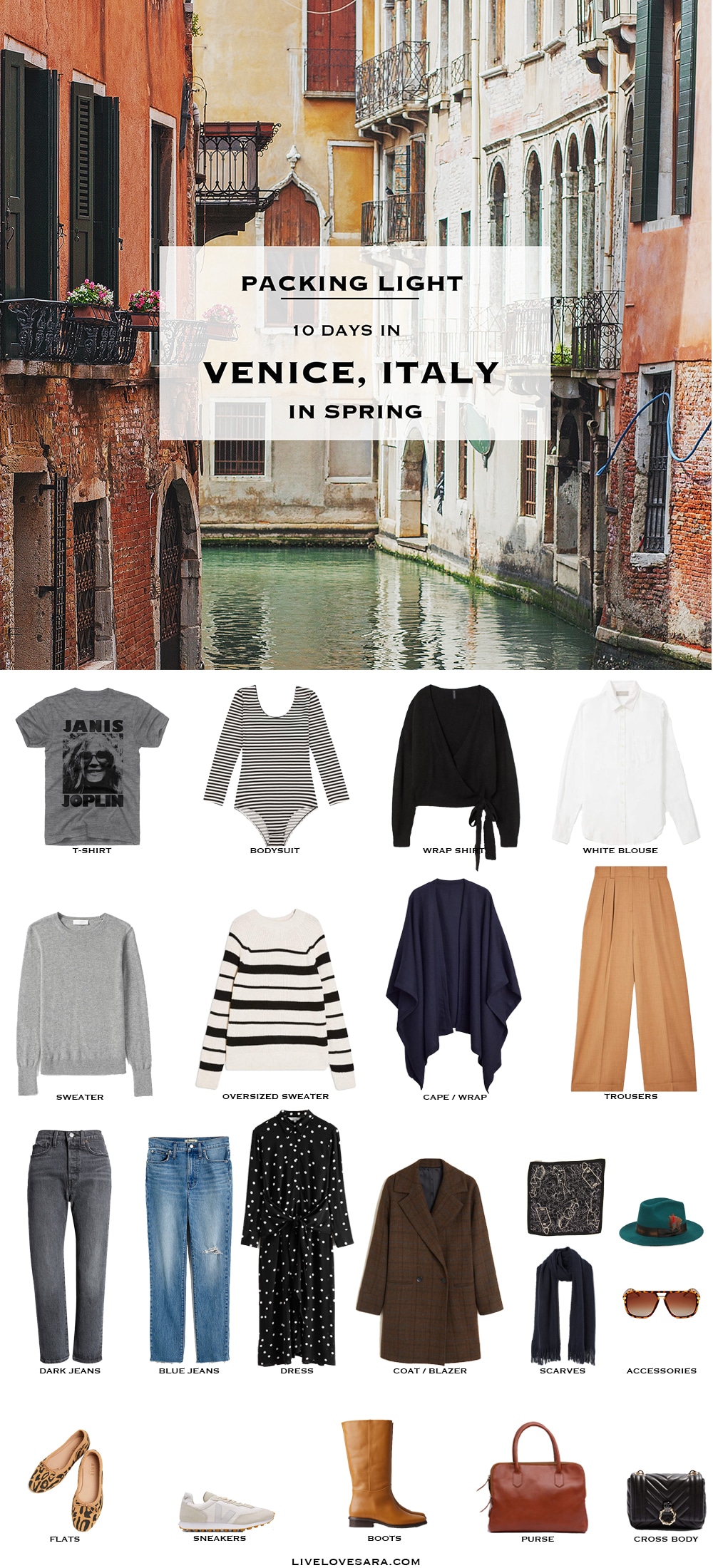 T-shirt | Bodysuit | Wrap Shirt | White Blouse | Grey Sweater | Striped Sweater | Navy Cape | Trousers | Grey Jeans | Blue Jeans | Polka Dot Dress | Brown Coat | Print Scarf | Navy Scarf | Green Hat | Sunglasses | Flats | Sneakers | Boots | Purse | Crossbody |
---
SHOP THE POST


---
Over the Christmas holidays, I tried not to look at my emails. Which can be hard for me, but was made easier by the fact that we were all sick for the past 1.5 months.
When I came back to the emails there were a few requests for capsule wardrobes, two for Mexico packing lists, a spring vacation, New York, and SEVEN for Venice. Is Venice the new hotspot?
I know someone that recently got married in Venice. They eloped to Italy and ended up having the ceremony in Venice. It wasn't quite as easy as they anticipated, and there was a lot of paperwork and jumping through hoops. The pictures were lovely though.
Because of the popular demand, I thought that I would get a Venice packing list posted today, along with 12 travel outfit ideas that are made from the pieces in the packing list. You can see them if you scroll to the bottom of the post.
The last time I made a Venice post was in July with my What to Pack for Venice in Fall post, which you can click on for reference.
Venice Weather in Spring
The wettest months in Venice are between November and March which brings flooding also known as the "Acqua Alta", and can cover areas with ankle-deep water. This past year was especially bad with some areas flooding to the knees and thighs.
As you enter into spring the wettest part of the year should already be finished, but you may still want to bring a raincoat or umbrella for spring showers.
The temperatures in March average the low to mid-teens (celsius), and then get progressively warmer and less wet through April, to about 21°C as summer closes in.
Remember that the temperatures at night will drop enough that you will want to have something warm to wear.
You won't have the humidity or massive tourist crowds that summer has at this time of year, which is why many people prefer to travel to Venice in the spring.
What to Pack for Venice in Spring
The first step that I always mention is that to make the most out of your vacation wardrobe you need pieces that you can layer, and a colour palette so that you can have a mix and match capsule wardrobe that works to its fullest potential.
Then take into consideration whether you will have access to laundry. This can make packing light even easier because you are able to bring less since you will do laundry during your trip. If worse comes to worst, a shower or sink wash will do the trick.
I won't lie, I've been known to throw a piece or two of dirty laundry in the shower with me when I am not at home and wash it while I wash. Then just hang it to dry for the next day. Easy, and fast.
I wouldn't hand wash jeans, but honestly, jeans need to be washed rarely in order to keep them in good condition. I wouldn't wash them on a trip unless they were extremely dirty…..feel free to be grossed out 😉
Italian women dress very fashionably, with a lean towards slightly conservative. Remember that you will need to have both your knees and shoulders covered when going into any religious site.
At this time of year it shouldn't be an issue but if you have a random hot day, then make sure you are carrying something you can use to cover yourself up properly.
The Cuyana Cape that I included in this packing list would work well for this reason. It is also great to keep warm and looks truly chic on. It's been on my wishlist for about 5 years now. I want it in the camel.
Want to keep everything well organized in your carryon suitcase? Use packing cubes (this one has almost 9,000 reviews) because they will make your travel life a whole lot easier. It will also help you to make room for all of your Italian souvenirs.
If you are visiting Venice in spring and enjoyed my What to Pack for Venice in Spring packing list, please feel free to share it via Pinterest, Facebook, or Twitter. Thank you.
This post contains affiliate links. By using my links to shop I may receive a small commission (at no cost to you). Thanks for supporting what I do 🙂
You may also like:
What to Pack for Naples in Spring
What to Pack for Italy and Paris
What to Wear in Italy


T-shirt | Bodysuit | Wrap Shirt | White Blouse | Grey Sweater | Striped Sweater | Navy Cape | Trousers | Grey Jeans | Blue Jeans | Polka Dot Dress | Brown Coat | Print Scarf | Navy Scarf | Green Hat | Sunglasses | Flats | Sneakers | Boots | Purse | Crossbody |
---
SHOP THE POST


---
Follow me on
FACEBOOK || INSTAGRAM || PINTEREST || BLOGLOVIN'