Paris Packing List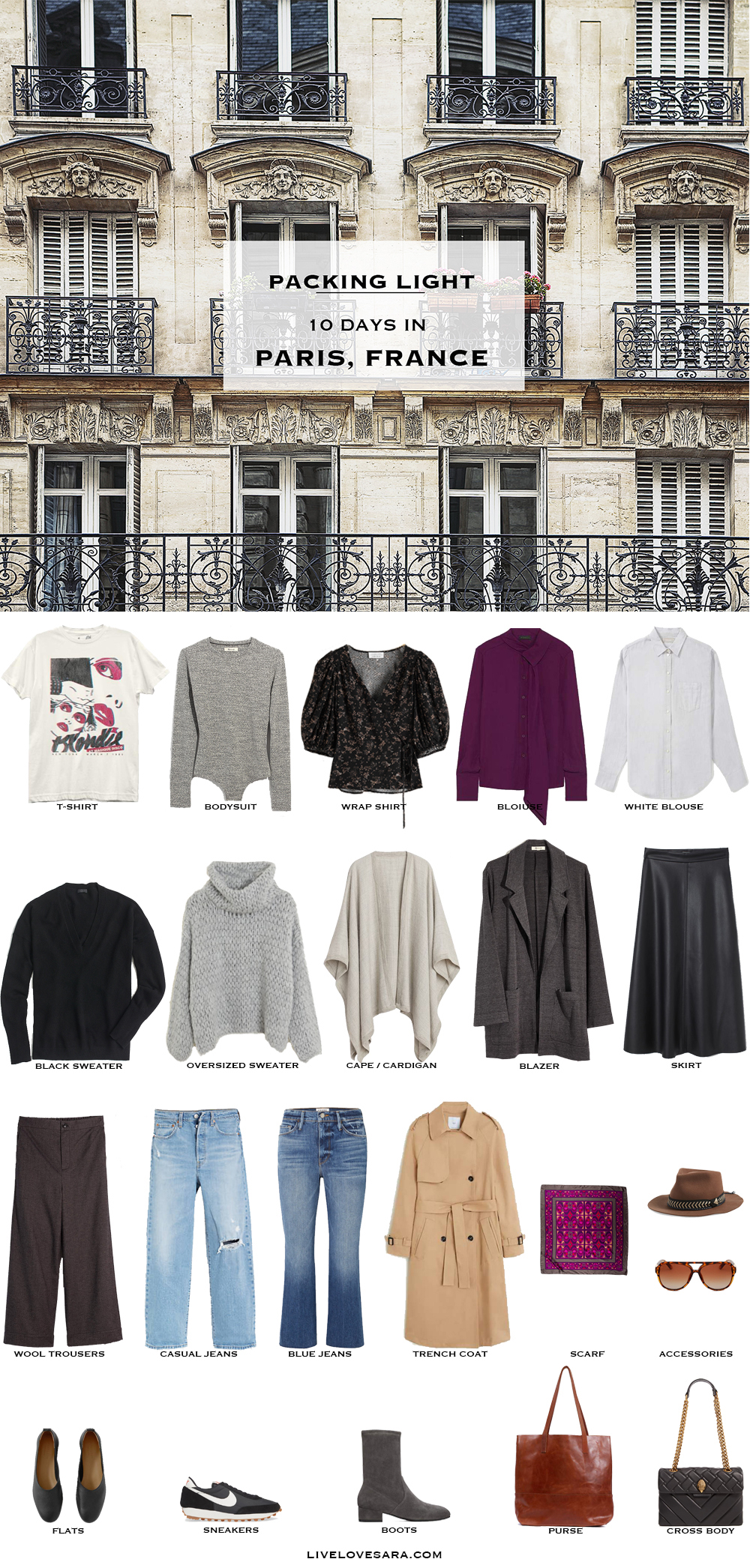 T-shirt | Grey Bodysuit | Wrap Shirt | Magenta Blouse | White Blouse | Black Sweater | Grey Sweater | Grey Cape | Blazer | Leather Skirt | Wool Trousers | Casual Jeans | Blue Jeans | Trench Coat | Scarf | Hat | Sunglasses | Flats | Sneakers | Grey Boots | Brown Tote | Black Purse |
---
SHOP THE POST


---
Are you are trying to decide what to pack for Paris? Looking for some packing inspiration? This packing list might give you some ideas for building your Paris capsule wardrobe to the point that you will look like you were born there 😉
Every new season I get asked for updated versions of my most popular posts, so today I am giving an updated Paris packing list for spring.
The most prominent bit of advice you will see any time you google "What to pack for Paris?" is to avoid the typical North American fashion choices of tank tops, sweatpants, flip flops, shorty shorts, leggings, and Uggs. That is the most obvious sign that you are a tourist.
Not that there is anything wrong with standing out as a tourist, because it will become obvious the moment you open your mouth or the confused look you have while trying to figure out where you are. But Parisiens take fashion very seriously. They always have.
Your goal is to look presentable at all times with minimal effort.
To make your travel experience as stress-free as possible I want to show you how to plan out your travel capsule in the most efficient and effective that I can.
Paris Weather in Spring
It is said that spring is the best time of year to visit Paris. The days are sunny and getting longer. The parks and gardens are bursting with new life, and the cafe terraces will be full again.
Spring temperatures in Paris start to get warmer in March with an average high of 12°C and gradually gets warmer to around 20°C in May. Which makes it the perfect time to get out and explore Paris before the heat and summer crowds settle in.
In the evenings and early morning, warmer layers are still necessary at this time of year. Please remember to pay attention to the weather channel up until the day you leave for your trip so that you can make any last-minute wardrobe adjustments if necessary.
What to Pack for Paris
Paris is quite a compact city which makes it easy to access on foot. So slip on some comfortable shoes and get walking.
And by comfortable shoes, that is my nice way of telling you to leave your high heels at home. Block heels are a better choice if heels are your thing because they won't get stuck in the cobblestone streets.
I'm a fan of the Everlane Day Heel. I find them comfortable, versatile, and easy to stand in for extended periods of time. They also come in a variety of great colours.
I have the red, and the honey (which no longer seems to be available. The cognac is similar though). Note: these fit a tad small and I suggest going up a 1/2 to full size.
In Paris, you will see lots of mid-length dresses paired with expensive sneakers, leather jackets, and expensive bags. For this packing list, I decided to go with a midi leather skirt instead of a dress to make the wardrobe stretch farther.
You'll get more outfit choices with a skirt than a dress because you can mix and match your skirt with all of the different tops you brought.
Trousers and statement jackets are a good wardrobe staple as well. They always look chic, are easy to wear, and there are so many different combinations that you can put together.
When building your Paris capsule wardrobe remember that it is best to stick with a neutral based palette and add colour through shoes, accessories, or individual key pieces.
The number one secret to packing light? Packing cubes. They will keep everything you need organized, compressed, and easy to access once you reach your hotel.
The visual at the bottom contains 11 outfit options and different scenarios where you might wear them.
The visuals in this post are meant as a guideline to aid you in creating your own Paris outfits based on your own clothing, colour, and style preferences.
If you are visiting Paris in spring and enjoyed my What to Pack for Paris in Spring packing list, please feel free to share it via Pinterest, Facebook, or Twitter. Thank you.
This post contains affiliate links. By using my links to shop I may receive a small commission (at no cost to you). Thanks for supporting what I do🙂
You may also like:
What to Pack for Paris, France
How to Pack for Paris, Barcelona, and London
What to Pack for Paris in Winter
What to Wear in Paris


T-shirt | Grey Bodysuit | Wrap Shirt | Magenta Blouse | White Blouse | Black Sweater | Grey Sweater | Grey Cape | Blazer | Leather Skirt | Wool Trousers | Casual Jeans | Blue Jeans | Trench Coat | Scarf | Hat | Sunglasses | Flats | Sneakers | Grey Boots | Brown Tote | Black Purse |
---
SHOP THE POST


---
Follow me on
FACEBOOK || INSTAGRAM || PINTEREST || BLOGLOVIN'