Paris Packing List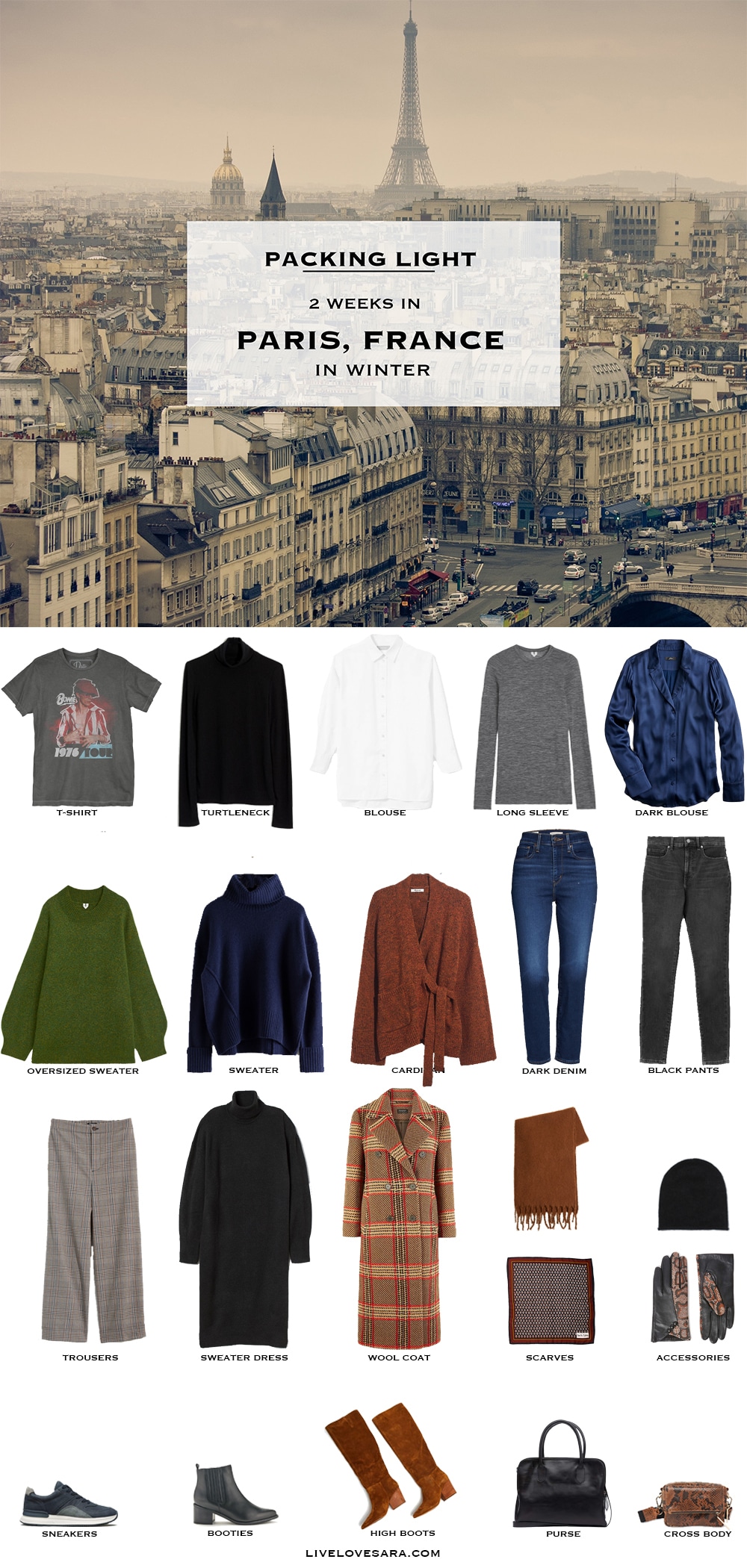 T-shirt | Black Turtleneck | White Blouse | Grey Long Sleeve | Blue Blouse | Green Sweater | Navy Blue Sweater | Cardigan | Dark Denim | Black Jeans | Trousers | Black Sweater Dress | Wool Coat | Brown Scarf | Square Scarf | Beanie | Gloves | Sneakers | Booties | High Boots | Black Purse | Crossbody |
---
SHOP THE POST


---
You always hear about people wanting to spend Christmas in New York, but who wouldn't want to spend Christmas in Paris? Apparently everyone does too because I received at least 12 requests over the last 3 months for a Paris packing list at Christmas. If you are planning to visit the City of Lights this Christmas and don't know what to bring look no further.
I've put together a Paris capsule wardrobe that will have you looking like an edgy and chic Parisienne without much effort.
It isn't called to City of Lights for no reason, but add some Paris Christmas lights to the mix and you have a whole new magical type of experience.
Paris' Weather in Winter
The weather in Paris at winter time is relatively mild in comparison to some places. It ranges from day highs of 8°C to a low of 3°C (this tends to carry on through the remainder of winter months).
Prepare for a drop in temperature at night when the air gets frosty and you can see some messy rain or sleet…..a somewhat funny name for something that is really not very funny or fun to be out in 😉 An umbrella would be handy to bring for nights like this.
Regardless of what weather you might be experiencing, there will always be warm places to take refuge and warm up for a bit.
Things to do in Paris at Christmas
Walk around and admire the Christmas lights. Starting about the middle of November, Paris gets dressed in her Christmas splendour. The most decked out area is always the Champs-Élysées and it should be launching on November 20th.
Go window shopping at Paris' department stores even if it is just to check out the window displays. Each year they do a theme and they are absolutely beautiful. The Galeries Lafayette gives some of the best window displays that you will see.
What is Christmas in Europe without visiting the Christmas markets? They originated in Germany and have been around since the middle ages. They are now found all over Europe and Paris' Christmas markets are chock full of great things. Fill up on festive treats and bring home some handmade Christmas ornaments for a souvenir (or gifts). They are open across the city during the month of December. A few names and dates to remember are:
– The Champ-de-Mars Christmas village which runs from December 20th, 2019 – January 5, 2020
– The Tuileries Gardner Market November 15, 2019 – January 5, 2020
– La Défense Christmas Market November 21 – December 28, 2019
– The Saint Germain des Prés Christmas Market from November 30, 2019 – January 5, 2020
– The Marché de Noel Paris Notre Dame market which is open from December 13 – 29, 2019.
Did you know that you can ice skate underneath the Eiffel Tower? No? Well, you can, so you might want to embrace the relatively mild weather, slap on some skates and partake in something that only comes once a year. There are other various rinks across the city if this one is too full to be enjoyable.
Have you ever wanted to take a foodie tour? Can you think of a better place or time of year to embark on one? How about The Paris Christmas Gourmet Food Tour?
Warm up with some Vin Chaud which is soooo good. I've made my own but I don't think it compares to the real deal which you will find being sold all over the city and Christmas markets during the season.
If you are travelling with children then you may want to spend some magical time at Disneyland Paris. What kid would pass up the opportunity for a little Disney at Christmas time?
What to Pack for Paris in Winter
By going with the above Paris packing list you can see the breakdown of things that I would bring. Paris is eternally known as one of the most fashionable cities in the world so you want to make sure that you include items that will give leave you more chic and less like a tourist.
Stick with a long wool coat, because nothing screams tourist more than being bundled up in your North Face parka….not that there is anything wrong with that 😉 I have had North Face Parkas in the past, I just wouldn't want to bring one with me to Paris.
For travel footwear, I included a pair of knee-high boots since they are so on trend right now, and will make you look like a million bucks. They have a shorter block heel so they will be easy to walk on. I also included a sneaker and a waterproof bootie. It will help you to retain some style while still keeping your feet dry.
I chose to include some classic pieces like a slim, black turtleneck, white cotton blouse, and some dark wash jeans because they instantaneously give you a polished look. Along with those I picked a pair of wide-leg trousers in a cropped length because they will look fabulous over the knee-high boots, and a midi length turtleneck sweater dress that can be dressed up or down but will also look great over jeans.
Layers will be the key to keeping you warm so bring a few sweaters and a few tops that can be worn both alone, as well as underneath things. It will make your Paris travel capsule wardrobe more versatile.
Don't forget to pack your winter accessories. A hat, scarf (or scarves), and sleek leather gloves will keep you comfortable while you are sightseeing in Paris.
If you are visiting Paris this Christmas and enjoyed my What to Pack for Paris in Winter packing list, please feel free to share it via Pinterest, Facebook, or Twitter. Thank you.
You may also like:
How to Pack for Paris, Barcelona, and London
What to Pack for a Paris Honeymoon in Winter
What to Pack for Paris in Spring
What to Wear in Paris


T-shirt | Black Turtleneck | White Blouse | Grey Long Sleeve | Blue Blouse | Green Sweater | Navy Blue Sweater | Cardigan | Dark Denim | Black Jeans | Trousers | Black Sweater Dress | Wool Coat | Brown Scarf | Square Scarf | Beanie | Gloves | Sneakers | Booties | High Boots | Black Purse | Crossbody |
---
SHOP THE POST


---
Follow me on
FACEBOOK || INSTAGRAM || PINTEREST || BLOGLOVIN'