Mixed Climate Packing List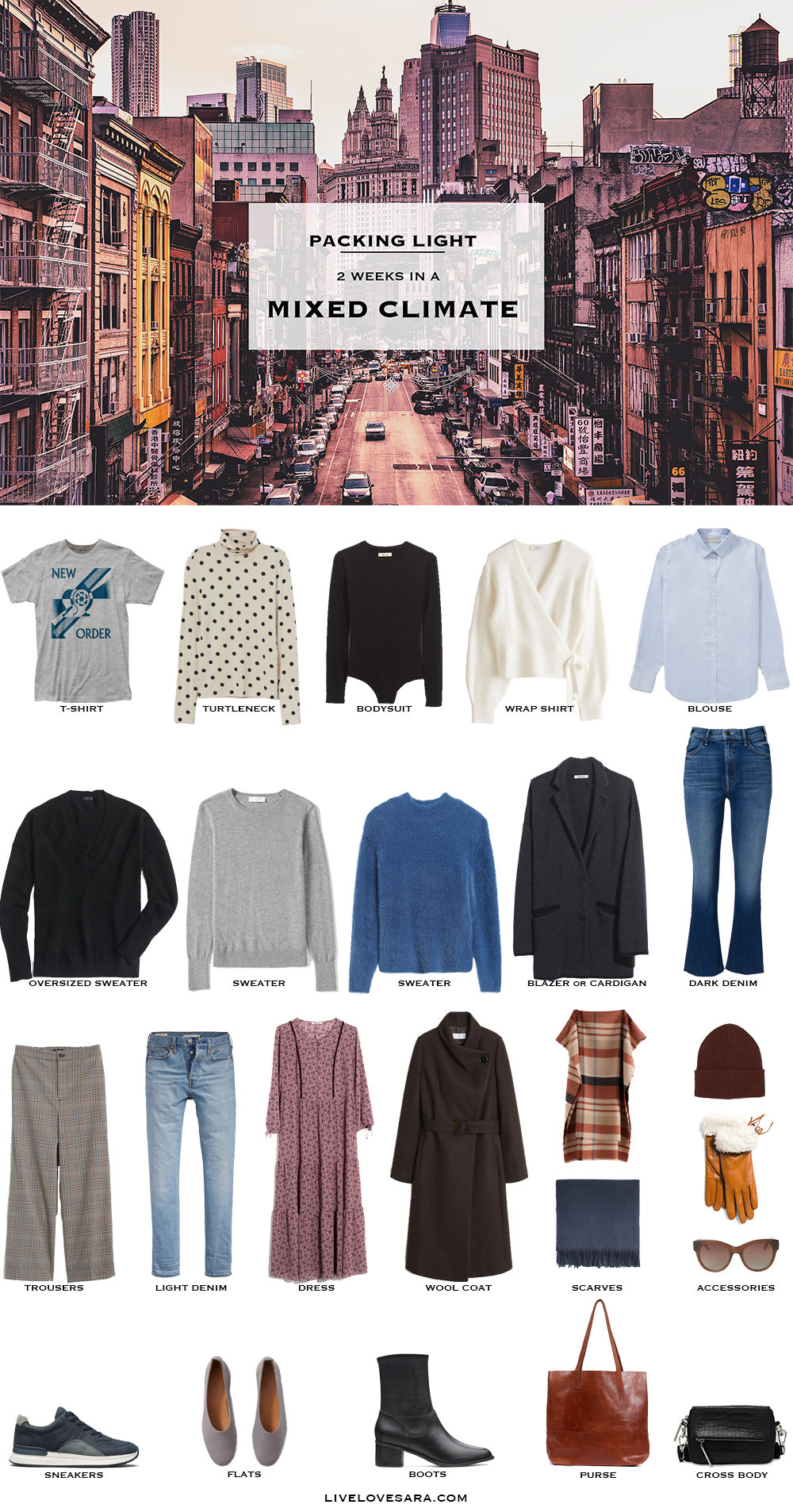 T-shirt | Polka Dot Turtleneck | Black Bodysuit | Wrap Shirt | Blue Blouse | Black Sweater | Grey Sweater | Blue Sweater | Knit Blazer | Dark Denim | Light Denim | Trousers | Dress | Wool Coat | Plaid Scarf | Navy Blue Scarf | Brown Beanie | Gloves | Sunglasses | Sneakers | Grey Flats | Boots | Brown Purse | Crossbody |
---
SHOP THE POST


---
One of the hardest challenges that people seem to face when trying to pack light is how do you pack for a mixed climate? Meaning, what can you pack when you will be vacationing in several countries that have a wide range of temperatures?
For example, this week I have a packing light for Europe list. It is a request for two weeks in Germany and Greece in February. The majority of the trip will be spent in Frankfurt, with 4 days in Greece.
The good news is that Frankfurt weather in February isn't bitterly cold. It averages 6°C, while Greece winter weather is like spring with an average of mid-teens (in celsius).
Obviously take weather averages with a grain of salt, and diligently watch the weather channel up until the day of your trip in case there are any weird weather trends that you need to make wardrobe adjustments for.
So the question is, how do you pack in a carryon bag when you are travelling to two climates?
What to Pack for a Mixed Climate
The answer is layers.
Focus on the warmer weather wardrobe first. This will give you a great base to build on. Then you simply add in the pieces that will make the outfits transition to colder weather.
This is where you will add in the sweaters, tights/leggings (fleece-lined are a great option), and footwear that will work for both climates. In this case, since the weather shouldn't be too hot a pair of ballet flats are a good choice.
Both the sneakers and the waterproof boots will work in the colder destination unless of course, they are expecting 3 feet of snow. A winter boot would make sense in that scenario.
Be hard on yourself when picking shoes for a multiple climate capsule wardrobe. They take up a lot of space in your suitcase, and are you really going to need multiple pairs for each destination?
Pick one for each destination and one pair that will work in both depending on your warm to cold climate travel ratio. If the bulk of your trip is in a cold climate then obviously 2/3 pairs should reflect that.
The last pieces to add will be your winter travel accessories. Depending on the cold, you may want a knit hat, scarves, gloves, and a warm coat.
A wool coat is dressier, but a down coat is very lightweight and can be rolled, and made compact by using a compression packing cube. This will keep it compressed so that it doesn't take over your suitcase.
The mid-teens is my favourite temperature to dress for. I love how you can slowly build the layers to accommodate any changing temperatures during the day.
You can start your day with a t-shirt, layer a wrap sweater/cardigan over that, then add an oversized blazer or cardigan with a scarf if the morning is cooler. As the day progresses and warms up you can take off the scarf, and wrap sweater to just wear a tee with the knit blazer. Then rebuild the layers as the evening come on.
There are so many options when you focus on building layers, versatile pieces, and choosing a colour palette that allows every piece to work well with one another.
This trip to Germany and Greece is supposed to be a romantic holiday, so the wardrobe selections I made have a little romantic vibe to it……or at least I feel it does 😉
*Remember that to lighten your load, and truly pack light you will wear your heaviest pieces instead of packing them.
Pack what you love. Do not waste precious souvenir space bringing something that you are uncertain whether it will work. Always do a wardrobe test run before you go so that you can unlock the potential of your travel wardrobe.
Even better? Document your travel outfits either via phone pictures for easy reference or through a wardrobe app. That way you should never run into the "I have nothing to wear" packing dilemma.
This will lessen your travel anxiety so you that you can focus on enjoying yourself, not what you are going to wear.
The outfit options are below. These are an example of what you can make with these capsule wardrobe selections. There are so many other outfits that you can build with some key layering and creativity.
This post contains affiliate links. By using my links to shop I may receive a small commission (at no cost to you). Thanks for supporting what I do 🙂
If you are travelling to mixed climate destinations and enjoyed my What to Pack for a Mixed Climate packing list, please feel free to share it via Pinterest, Facebook, or Twitter. Thank you.
You may also like:
What to Pack for Multiple Climates
How to Pack for Barcelona, Paris, and London
What to Wear in Germany

T-shirt | Polka Dot Turtleneck | Black Bodysuit | Wrap Shirt | Blue Blouse | Black Sweater | Grey Sweater | Blue Sweater | Knit Blazer | Dark Denim | Light Denim | Trousers | Dress | Wool Coat | Plaid Scarf | Navy Blue Scarf | Brown Beanie | Gloves | Sunglasses | Sneakers | Grey Flats | Boots | Brown Purse | Crossbody |
---
SHOP THE POST


---
Follow me on
FACEBOOK || INSTAGRAM || PINTEREST || BLOGLOVIN'