What to Pack for London, England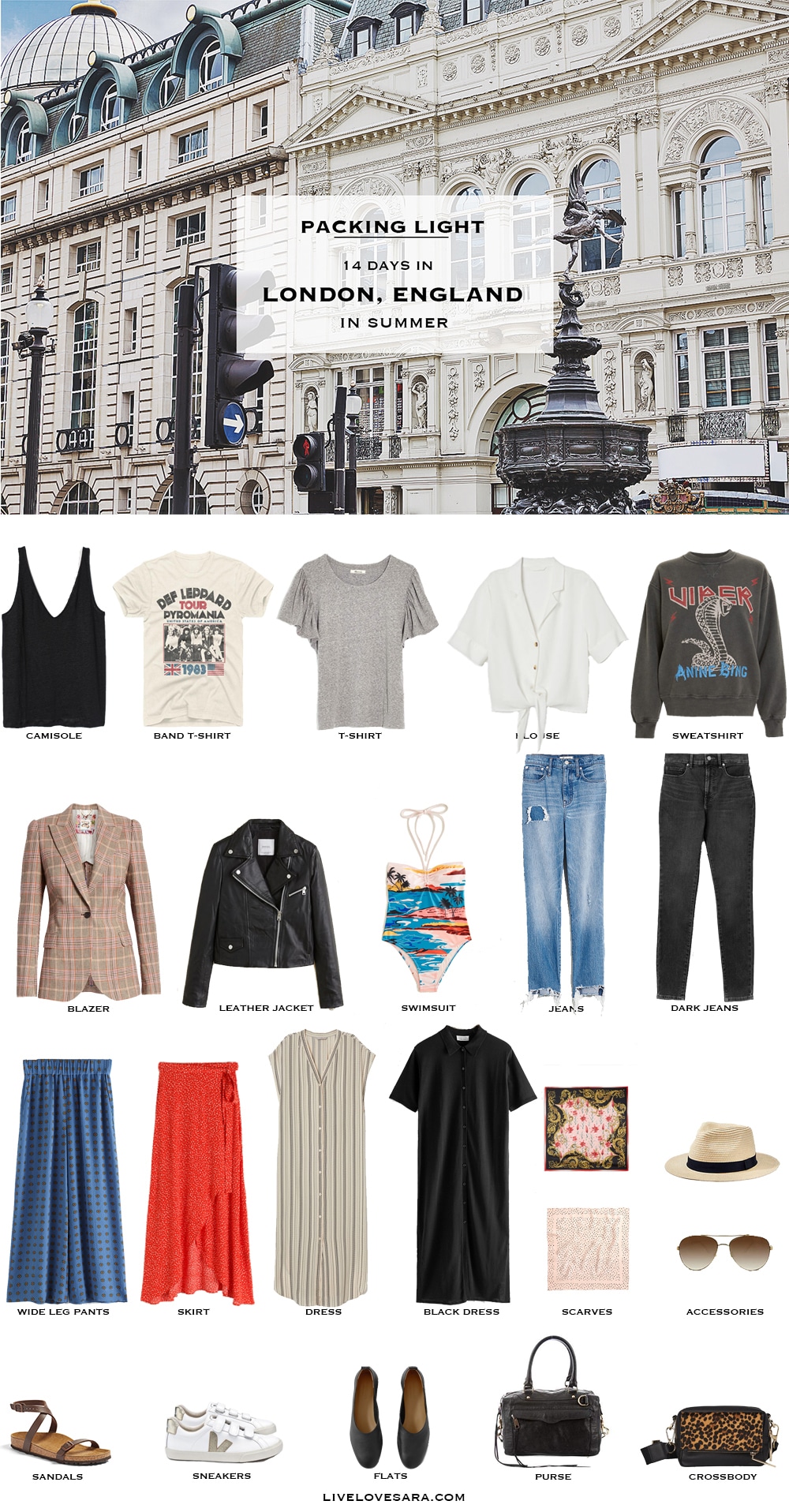 Black Camisole | Band Tee | Grey T-shirt | White Blouse | Anine Bing Sweatshirt | Blazer | Leather Jacket | Swimsuit | Blue Jeans | Black Jeans | Blue Pants | Skirt | Striped Dress | Black Dress | Black Floral Scarf | Pink Scarf | Hat | Sunglasses | Sandals | Sneakers | Flats | Black Purse | Animal Print Crossbody
---
SHOP THE POST


---
Summer is almost here, and that means the countdown to summer vacation is on. If you are travelling to London, England this summer, or just to England in General than you might be wondering….What to pack for London? This list might help you on your way to what to pack for London for two weeks in summer.
The style in London leans more towards conservative chic with an edge, which isn't as easy to visualize as when you think of their always chic french neighbours. Does this mean business casual style? No. This means choosing pieces that fit well, are polished, and do not lean too much towards our North American ideas of casual dressing (which should be avoided at all costs).
A blazer is a good piece that instantly elevates a look to more polished and put together, while a leather jacket adds the perfect amount of edge to a feminine dress. Both of those pieces will work well in the cooler english evenings, or the gloomier days. Because yes, it can rain a lot.
Always check the London weather forecast because what you would pack this week may not even be close to what you would want to pack next week if the weather decided to be dramatic. And dramatic it is currently being.
What kind of shoes should I wear in London the summer? Once again it depends on the weather. If the forecast calls for sun, then bring some comfortable walking sandals. If not then you can go wrong with an ankle boot (or a waterproof one), flats, and sneakers.
Travelling light and packing with a carry on only for London and other destinations is important since you will most likely be carrying your own luggage up flights of stairs, and along on cobblestone streets. The lighter you pack the easier it is to maneuver airplanes, trains, and public transportation. It also cuts down on bringing clothes that you won't wear because everything you choose for your travel capsule wardrobe is meant to mix and match giving you a large amount of travel outfit options with a smaller amount of pieces.
The above is an example of a capsule travel wardrobe that would be completely versatile for a variety of trips, destinations, and varying durations. The suggestions I provide are meant to work as a guideline, not as a definitive rule book. If it's not your style or favourite colour palette than tweak it to match your clothing preferences.
I had a London packing list several months back for the colder months, but I like to update my most requested travel destinations each season if I get the time. I hope this helps to give you some ideas of what to wear in London in the summertime.
If you like this post you can find more packing lists and outfit options in my:
Packing Light Series
What to Wear Options
What to Wear in London, England

Black Camisole | Band Tee | Grey T-shirt | White Blouse | Anine Bing Sweatshirt | Blazer | Leather Jacket | Swimsuit | Blue Jeans | Black Jeans | Blue Pants | Skirt | Striped Dress | Black Dress | Black Floral Scarf | Pink Scarf | Hat | Sunglasses | Sandals | Sneakers | Flats | Black Purse | Animal Print Crossbody
---
SHOP THE POST


---
Follow me on
FACEBOOK || INSTAGRAM || PINTEREST || BLOGLOVIN'