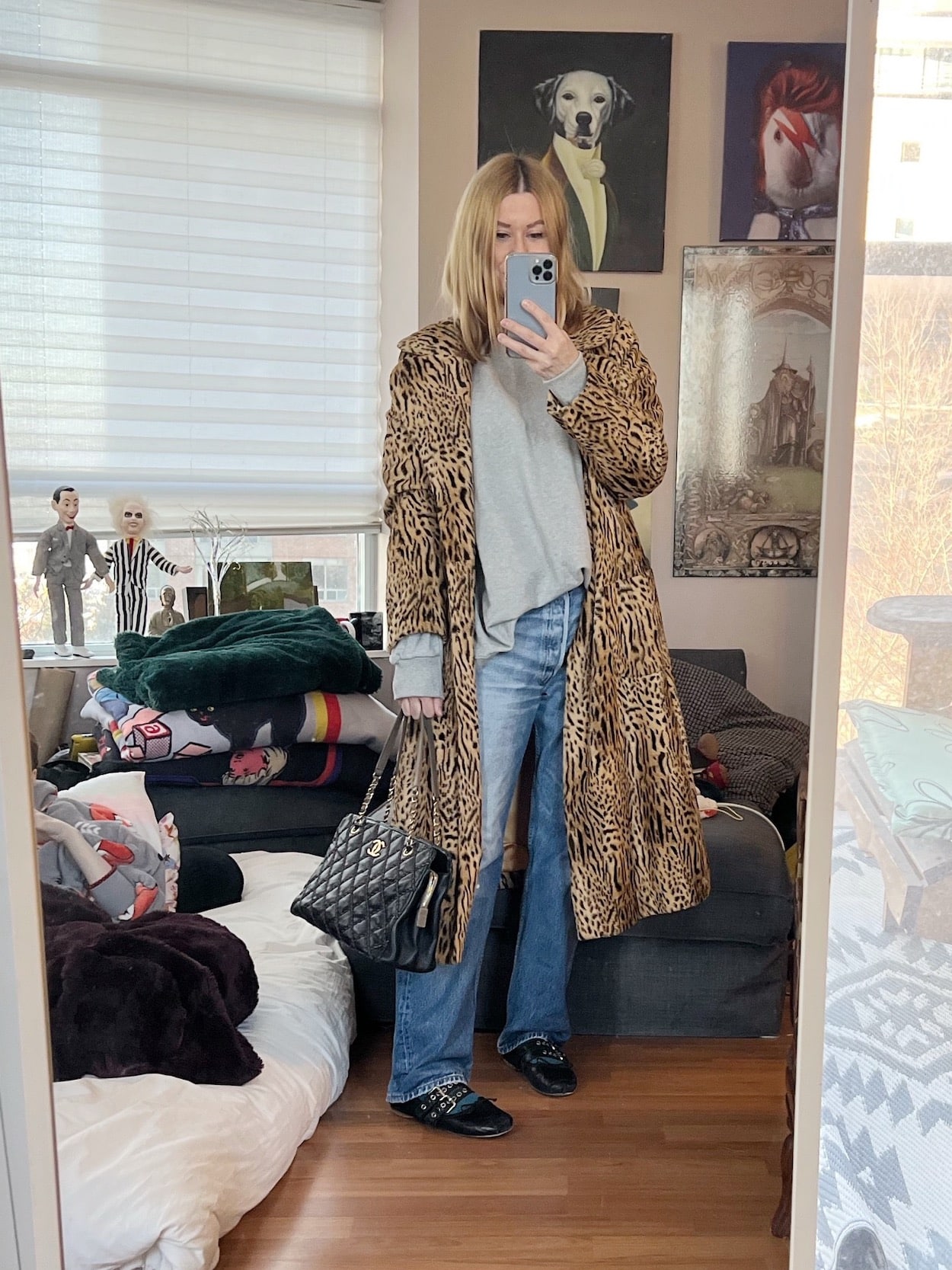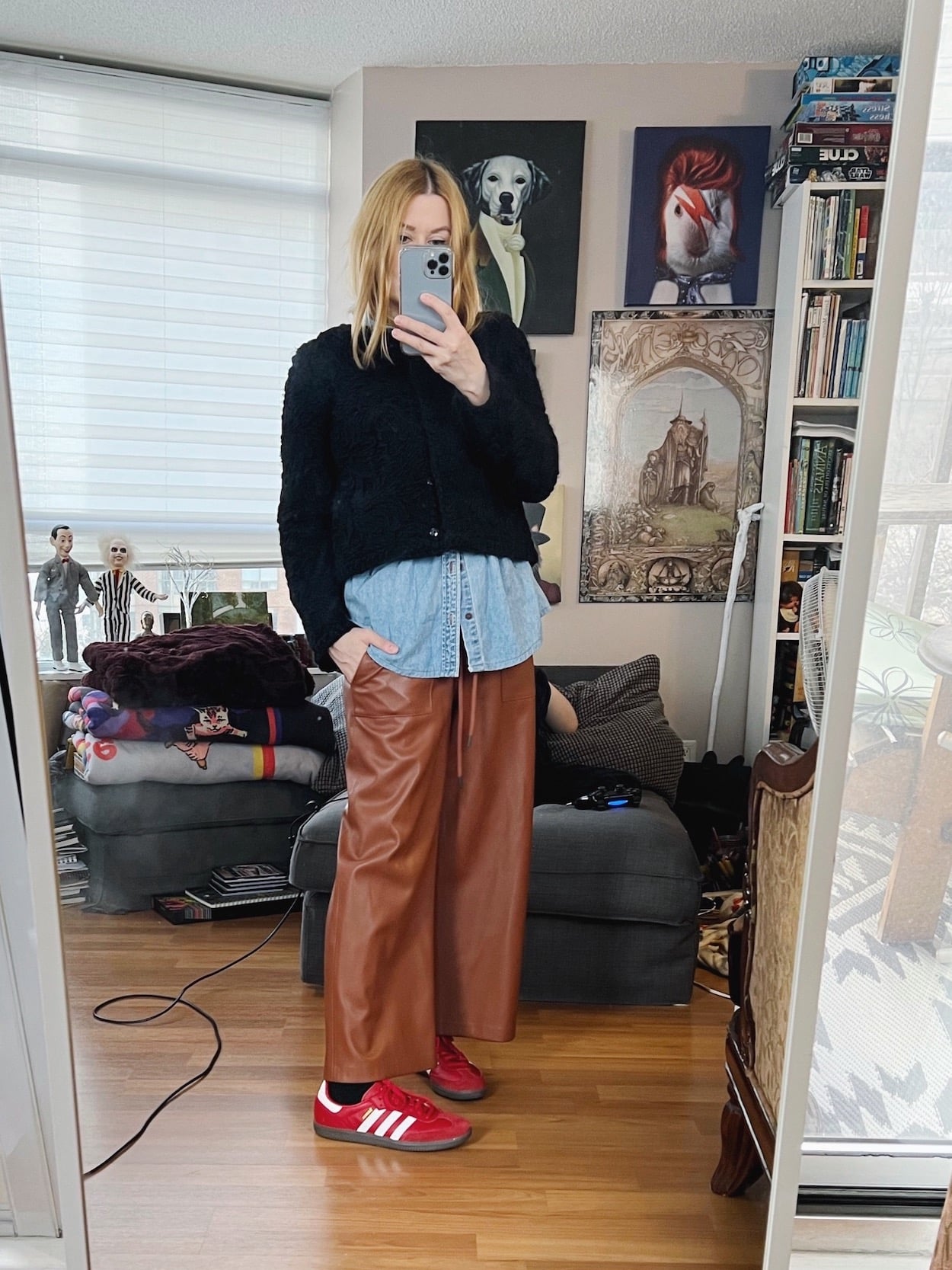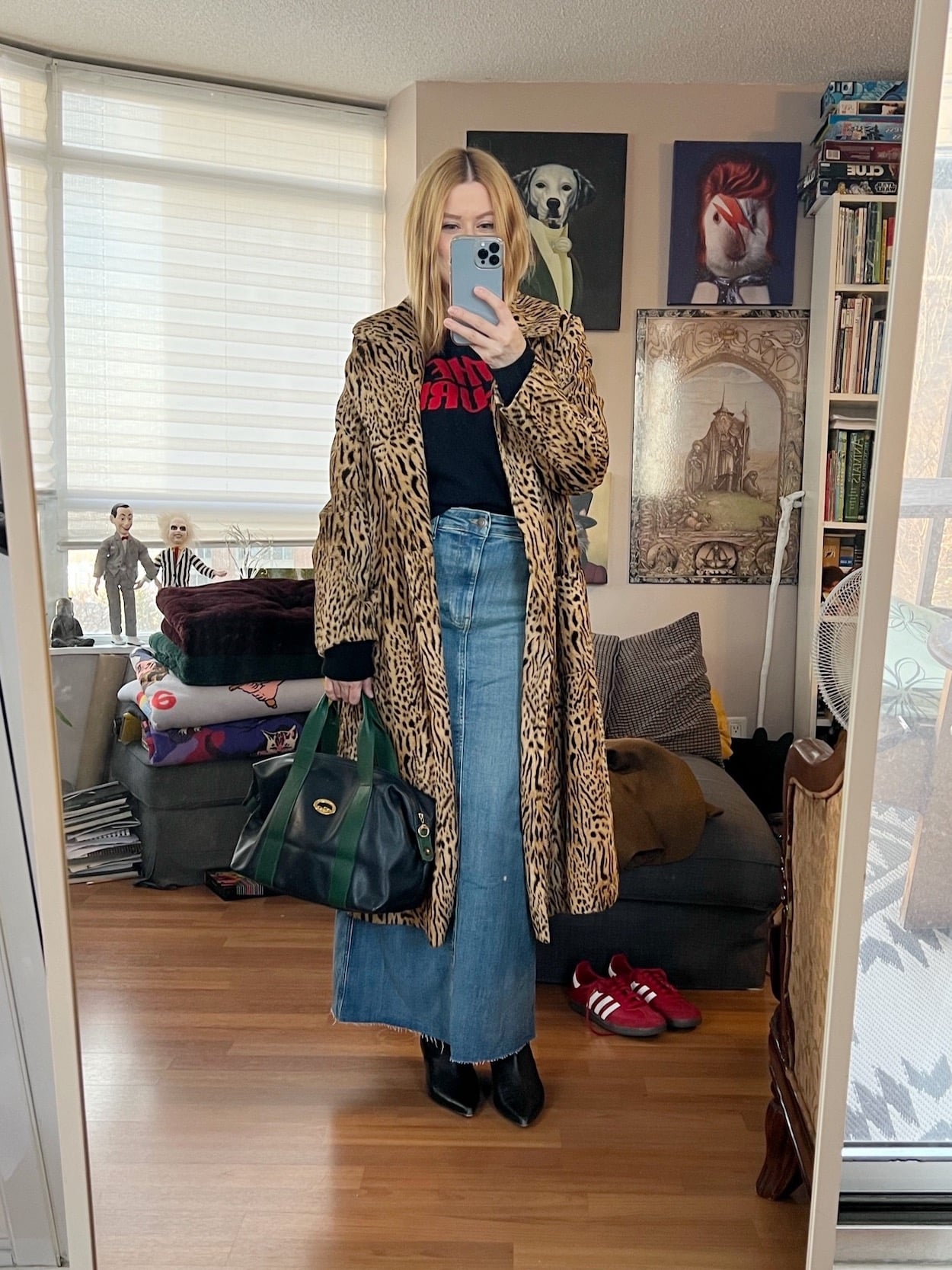 Outfit 1 – Sweatshirt | Jeans | Coat | Bag | Shoes
Outfit 2 – Vintage Shirt | Jacket | Trousers (similar) | Shoes
Outfit 3 – Sweater | Skirt | Coat | Boots (similar) | Vintage Bag
Outfit 4 – Shirt | Jeans | Boots | Vintage Sunglasses | Vintage Bag | Ring

I previously talked about how my style goal for this year is to incorporate at least one vintage or secondhand item into my wardrobe every day.
Which should be easy now, since the balance between vintage/secondhand to new are on equal playing fields.
This week's breakdown of new to secondhand items each day is as follows:
Four secondhand one new
One secondhand three new
Three secondhand two new
Three secondhand 2 new (counting sunglasses)
It's kind of a satisfying challenge because I am not intentionally selecting items because they are secondhand, so it is interesting to see the outcome when I catalogue it.
You can see the new vintage 1970s Longchamp bag that I recently bought off Poshmark. I bought it from it.must.be.loved after stalking it for months, she always has a great bag selection.
I feel like I am more of a vintage bag person than new one, because for some reason I'm always drawn to them.
Don't get me wrong, there are some really beautiful new bags out there, and I wouldn't turn one down, but there is something about the vintage models that always make my heart flutter just a tiny bit more.
I just finished an over 40 digital style guide for ideas of what to wear when you are in a style rut. Because let's face it, we often feel that rut after Christmas for some reason.
It's a good one with some great pieces.
For some reason this weekend I was feeling really inspired to get my online secondhand/vintage shop up and rolling.
Do I want a physical store? Yes. But I am a realist, and you need to start somewhere right?
Maybe it is the little bit of extra daylight each day, or maybe it was the bright sunshine today. Whatever the reason, it felt promising.
I know I have to do a lot of prep behind the scenes before I can, but I just had this overwhelming feeling of, "you can do this" which if you know me, is not something that I regularly feel.
I am an extreme pessimist maybe I should look to it as a sign.
And just in case anyone else is looking for a sign and needs to hear it too, you can do this.
You might also like:
What I Wore Last Week
SHOP THE UK LINKS


I am now offering digital styling guides, and personal styling services. If you are looking for some styling help that is inexpensive and easy, check out my digital styling guides. If you want some one-on-one help shopping, building and editing your wardrobe, or packing for a trip, I can also assist. Check out all the styling services that I offer here.
This post contains affiliate links. By using my links to shop I may receive a small commission (at no cost to you). Thanks for supporting what I do