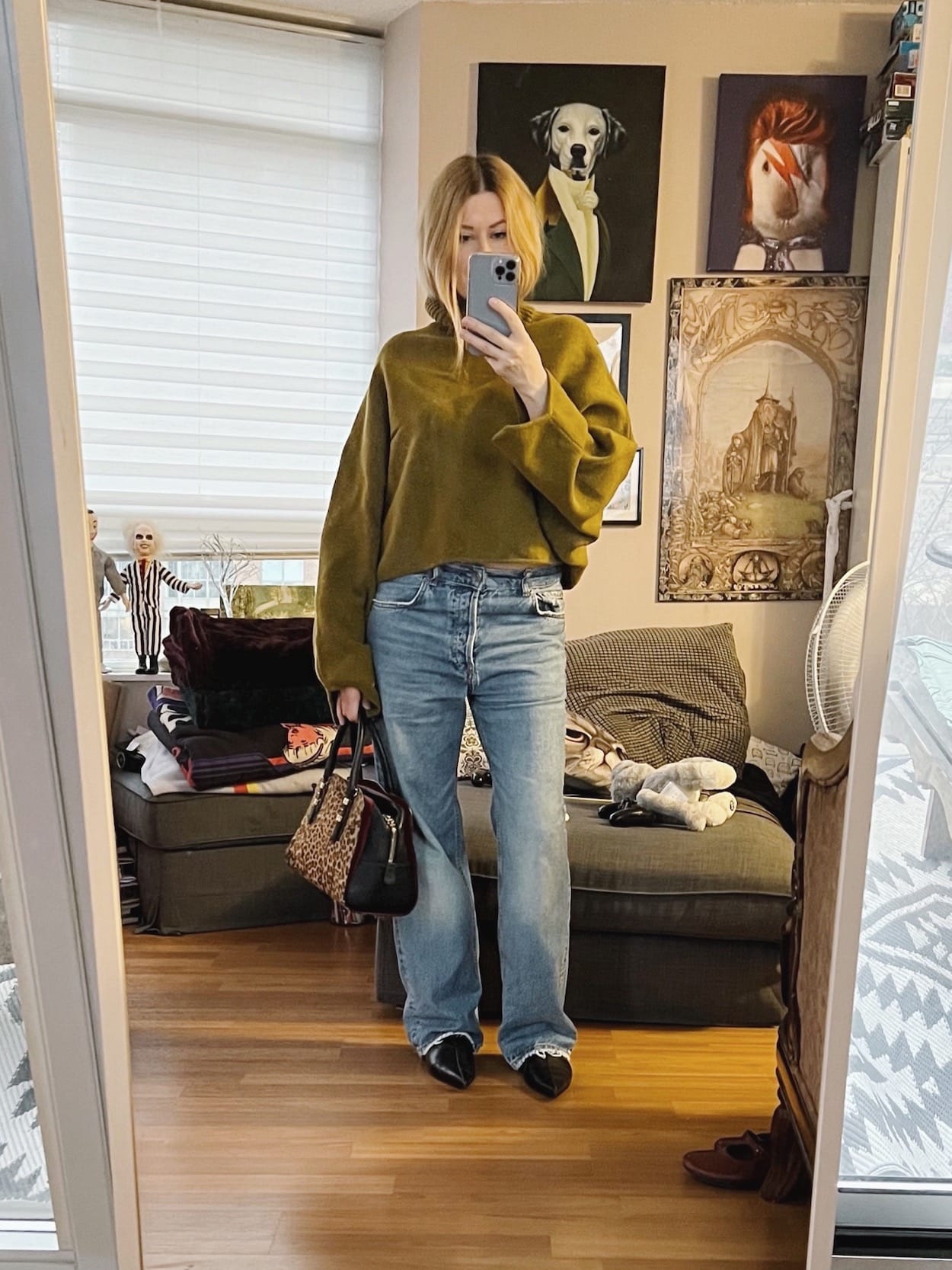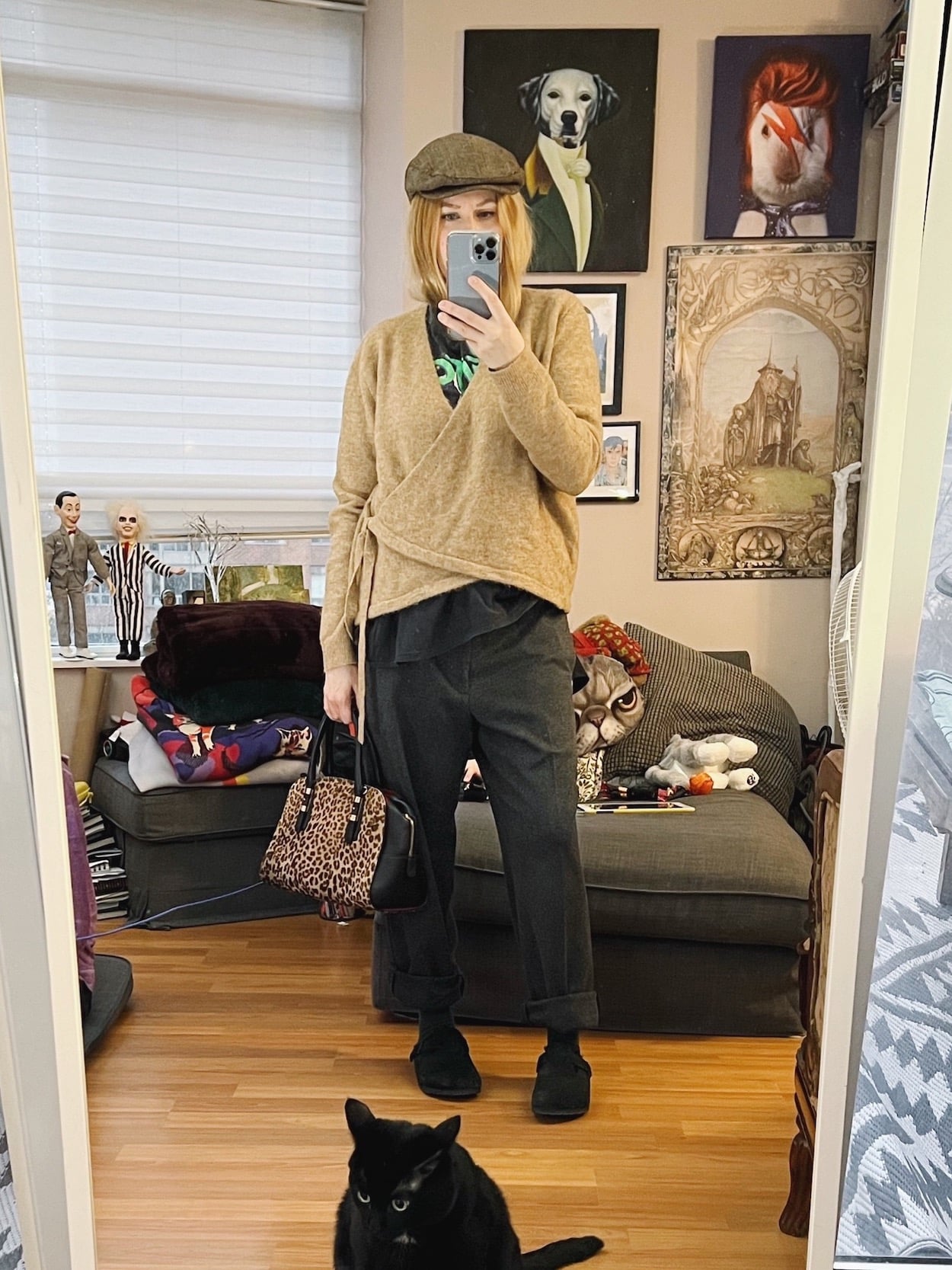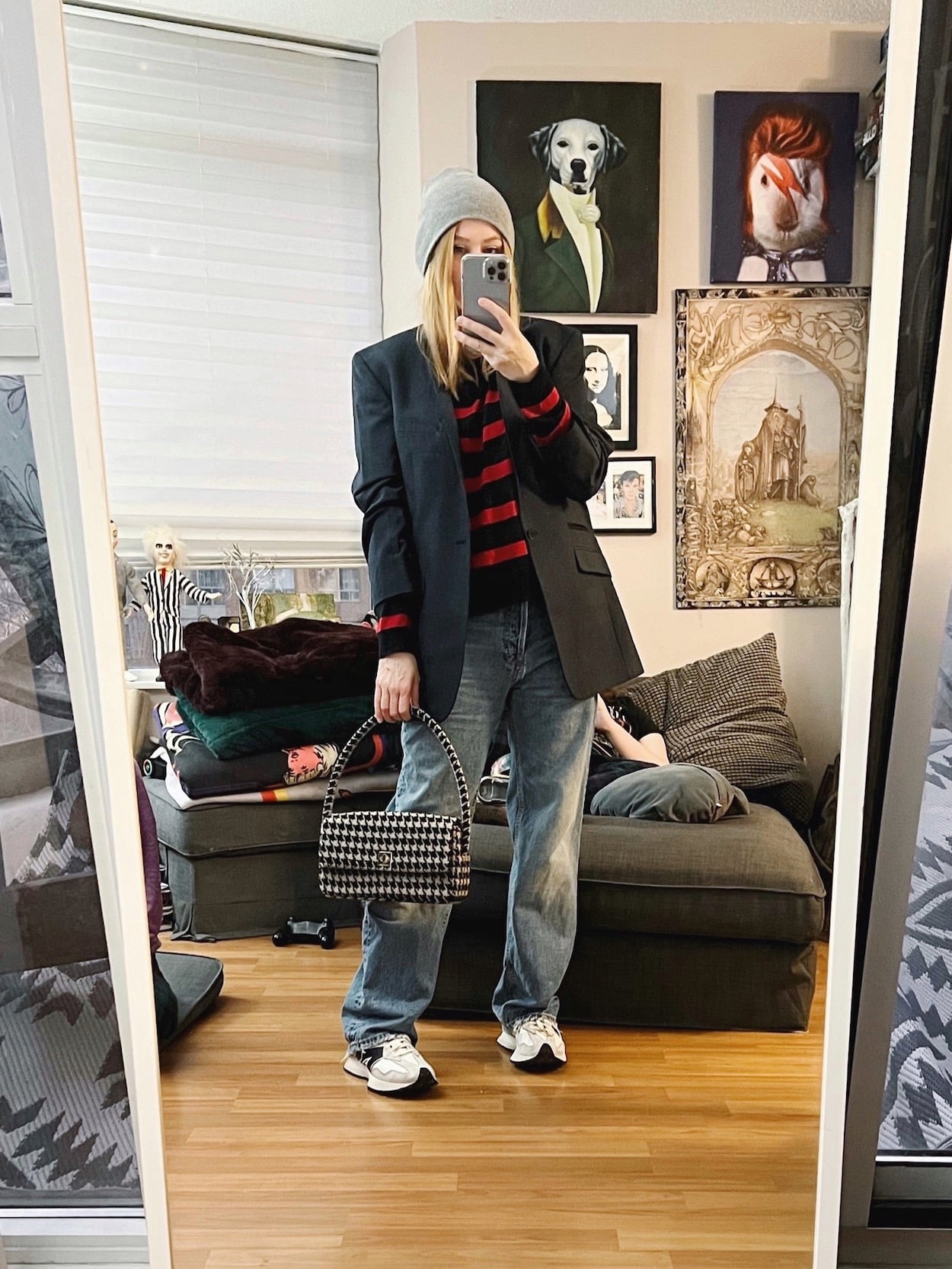 Outfit 1 – Sweater (old) | Jeans | Purse | Shoes
Outfit 2 – Sweater | Vintage Trousers | Vintage Coat | Belt | Sneakers | Purse
Outfit 3 – T-shirt | Wrap Sweater (similar) | Trousers | Hat | Shoes | Bag
Outfit 4 – Sweater | Blazer (similar) | Jeans | Beanie | Sneakers | Bag

I am not usually one to suffer from seasonal Affective Disorder but jeez, if the rest of this winter is as dark and gloomy as the past week then I might. So I am sorry for the more shit quality than usual photos.
It was just way too dark to take them.
Building security just knocked on the door to say they had a smell complaint from our floor, so I assume it is from last night at around 3 am when it smelled like 80 cigarettes being smoked in the hall.
I looked out there and couldn't see anyone, but it reeked of smoke and was pouring under our front door.
Of course, he is going door to door on our floor asking and everyone is saying, it wasn't them, so unless it was caught on a security camera then they won't figure it out.
It probably doesn't help that this area has a high Airbnb ratio, so chances are, they are a visitor versus a long-term tenant.
I hate the smell of cigarettes. It's one smell that makes me feel nauseous, and since I have never been a smoker or allowed smoking in my home, I have never gotten used to it.
Car smell is the other. I get car sick every single time I get into a car. Then combine car smell and cigarettes, and we have a recipe for disaster.
I saw this outfit on Instagram a few weeks back and made it my mission to find a jacket with a similar shape.
I came across this one several days ago and decided that it would work.
It has rounded shoulders/sleeves as well as a boxier body, although I wish that it was a size or two bigger so that I could get a more oversized fit.
You can't really be picky when shopping secondhand though because you will miss out on fashion opportunities.
So unless you are looking for the exact same piece secondhand then finding a piece that has similar qualities and silhouette is what you should strive for.
It should arrive early this week, so I truly hope that it fits. That's also a secondhand problem, sometimes you have to take a gamble with the fit.
I love the use of a brooch in the styling of the original photo.
I have a few vintage brooches, but I think I would like to expand on the collection and get a few more varying shapes and sizes.
This one is a beauty, but I also love this for its creep factor.
Never underestimate the power of a vintage brooch as an accessory. Oftentimes you can find them in a thrift store for a couple of dollars.
It is truly an underappreciated and underutilized accessory.
You might also like:
What I Wore Last Week
SHOP THE UK LINKS


I am now offering digital styling guides, and personal styling services. If you are looking for some styling help that is inexpensive and easy, check out my digital styling guides. If you want some one-on-one help shopping, building and editing your wardrobe, or packing for a trip, I can also assist. Check out all the styling services that I offer here.
This post contains affiliate links. By using my links to shop I may receive a small commission (at no cost to you). Thanks for supporting what I do