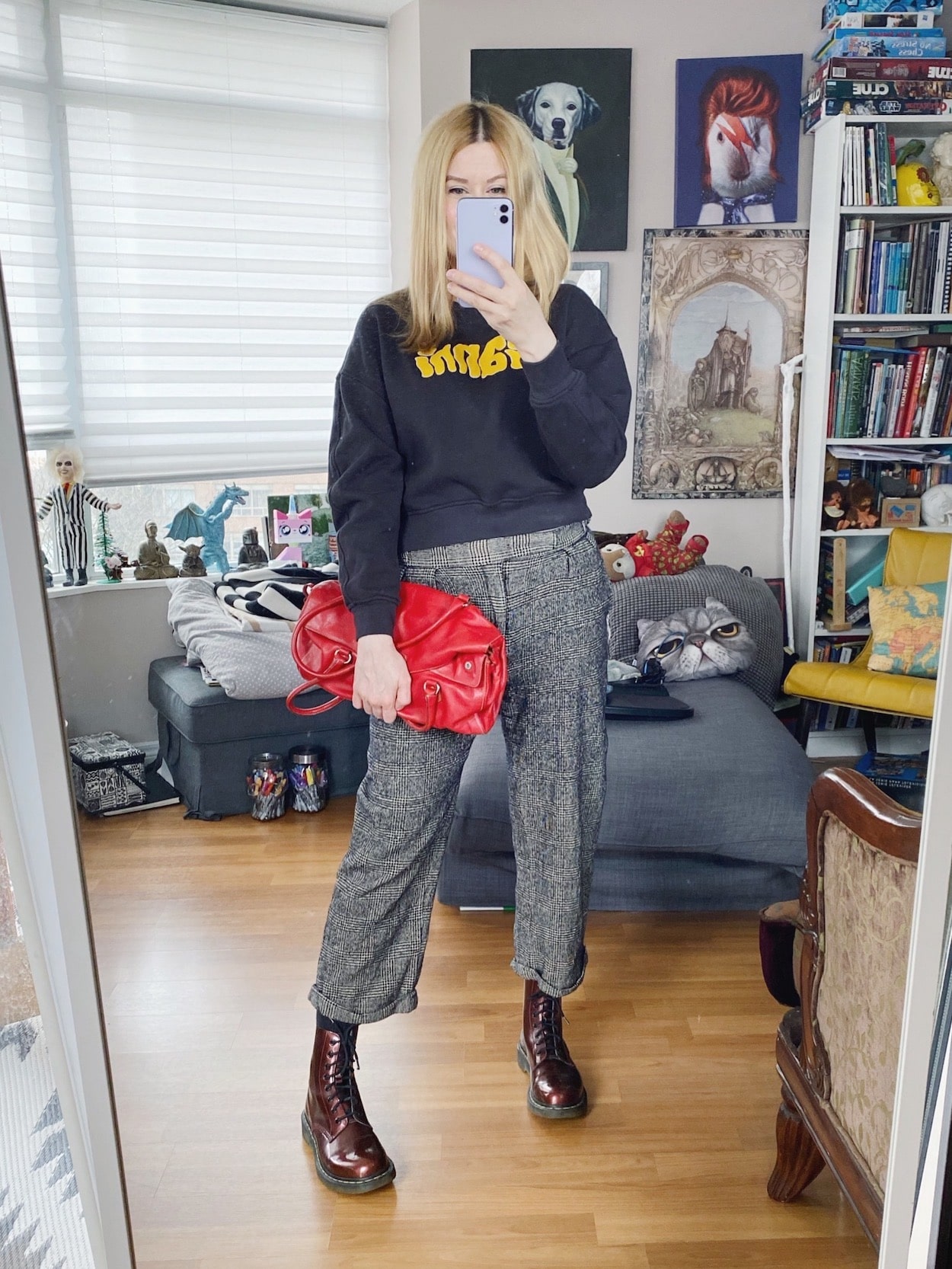 Outfit 1 – Sweater | Trousers | Sandals | Purse
Outfit 2 – Sweatshirt | Vintage Trousers | Boots | Purse
Outfit 3 – Sweatshirt | Jeans | Leather Coat | Loafers | Purse
Outfit 4 – Sweatshirt | Jeans | Vintage Trench Coat | Flats | Purse

If you ever shop on Poshmark, you know that they often have deals where if the seller drops their price by a certain amount they will slash shipping, and other various incentives.
This weekend, a lot of sellers seem to be doing closet clearouts and having big sales.
I go through listings all the time and then "like" them, which means click the heart, so it saves to my likes list.
That way I get notifications if someone puts an offer in before me, or anytime the price drops, and any new sales by the seller.
I scored this weekend with a few 50% off bundle sales.
I was able to score a handful of things off my like list for super slashed prices.
I love shopping secondhand.
The thrill of finding a treasure at a great price is way better than the thrill of buying something new.
I'm currently waiting to see if a seller accepts my offer on a pair of shoes that I was really excited to see listed.
Most people who shop regularly on Poshmark know this tip already, but there are many that don't so I thought I would share how I manage to find things for a great deal.
Maybe I should write a blog post on my tips for shopping secondhand online. I think I have already pondered this, but apparently forgot.
So I am putting it fresh back into my mind.
It was freezing out today. So much for the March goes in a like a lion out like a lamb saying. I think that it reversed itself this year.
Stay safe.
You might also like:
What I Wore last week
SHOP THE UK LINKS


This post contains affiliate links. By using my links to shop I may receive a small commission (at no cost to you). Thanks for supporting what I do