Las Vegas Packing List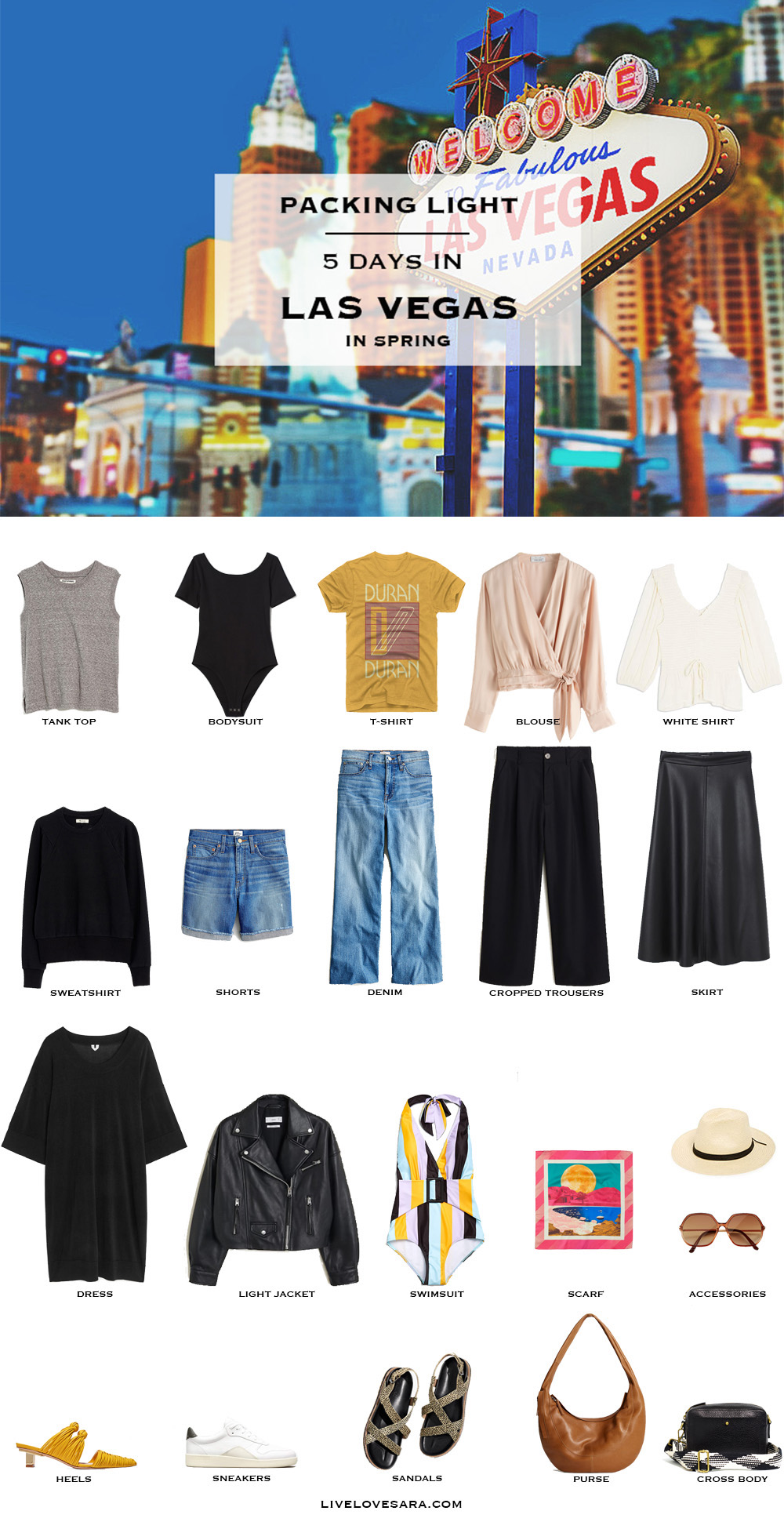 Tank Top | Bodysuit | T-shirt | Wrap Blouse | White Shirt | Sweatshirt | Shorts | Jeans | Cropped Trousers | Skirt | Dress | Leather Jacket | Swimsuit | Scarf | Hat | Sunglasses | Heels | Sneakers | Sandals | Purse | Crossbody |
---
SHOP THE POST


---
You have booked your trip and now you are wondering what you are going to pack for Las Vegas. Anything goes in this city in the desert. Which is why called Sin City.
You are going to see people dressed in their absolute best, mixed with people wearing tracksuits and sneakers in any venue you visit. Because of this packing for Vegas is relatively easy so to speak.
Spring is one of the best times to visit Las vegas because you get all the sunshine minus the summer heat. You can pack similar to what you pack for summer in Las Vegas but add in a light jacket and some close-toed shoes.
Are there Dress Codes in Las Vegas?
It might actually come as a surprise but most Las Vegas casino floors do not have a dress code. By day you will see it all kinds of outfits while you make your way around the different games testing out your luck.
The night is another matter. People tend to put a little more effort into their Vegas night time looks, although you will not be turned away if you don't so do not worry. It might be a good time to have a little fun with your looks though.
There are no dress codes in Las Vegas night clubs either, although men should abide by the business casual suggestion to be safe.
What to Pack for Las Vegas
This is one time that you will most likely have a day/night wardrobe to pack. It's not totally necessary but it is a good idea to pack at least one dressier outfit for any duration trip. Or at least one outfit that you can easily dress up with a few changes for a night time look.
It's really no holds barred when it comes to clothes so if you are feeling that head to toe fuschia sequin jumpsuit, by all means, bring because no one will judge.
If you are going with your family then have some comfortable day clothes and a few items that can be dressed up for the night in case you want to see a show or are going fine dining.
A bachelorette weekend would include some fun clubbing pieces, along with casual day looks.
A weekend away with your significant other needs no more than a casual day look, and an upscale evening look depending on your plans.
Remember that everything is air-conditioned, and the nights will still cool down at this time of year (compared to summer) so bring a light sweater and/or jacket. You can't go wrong with leather.
What to do in Las Vegas if You Don't Want to Gamble
I actually hate gambling. It makes me nauseous to risk money like that. I am too much of a non-risk type of person to enjoy it, so I need alternative things to other than hitting the casinos. If you are bringing kids I have included kid-friendly Vegas ideas as well.
Cirque du Soleil
Hit up the Pyramids, Eiffel Tower, the Brooklyn Bridge, and many other famous landmarks.
Swim in one of the 10 pools of the Venetian & Palazzo…or swim in as many as you can.
The Wildlife Habitat.
The High Roller Observation Wheel.
The VOID Virtual Reality.
Visit the Hoover Dam which is about 45 minutes to an hour from the city.
Go discount shopping at the Las Vegas North Outlet Mall.
Taste of the World Coca Cola Store.
Gondola Rides at the Venetian.
The fountain show at the Bellagio.
Bellagio Conservatory & Botanical Gardens.
Marvel Avengers S.T.A.T.I.O.N.
Remember: What happens in Vegas, stays in Vegas 😉 Have a great time!
This packing list is for 5 days in Las Vegas in spring. All of the visuals in this post are meant as a guideline to aid you in creating your own Las Vegas Packing List based on your own clothing, colour preferences, and personal style.
If you are planning to visit Las Vegas in spring and enjoyed my What to Pack for Las Vegas in Spring packing list, please feel free to share it via Pinterest, Facebook, or Twitter. Thank you.
This post contains affiliate links. By using my links to shop I may receive a small commission (at no cost to you). Thanks for supporting what I do🙂
You may also like:
What to Pack for Hilton Head in Spring
What to Pack for Los Angeles in Spring
What to Wear in Las Vegas

Tank Top | Bodysuit | T-shirt | Wrap Blouse | White Shirt | Sweatshirt | Shorts | Jeans | Cropped Trousers | Skirt | Dress | Leather Jacket | Swimsuit | Scarf | Hat | Sunglasses | Heels | Sneakers | Sandals | Purse | Crossbody |
---
SHOP THE POST


---
Follow me on
FACEBOOK || INSTAGRAM || PINTEREST || LIKEtoKNOW.it