Barcelona Packing List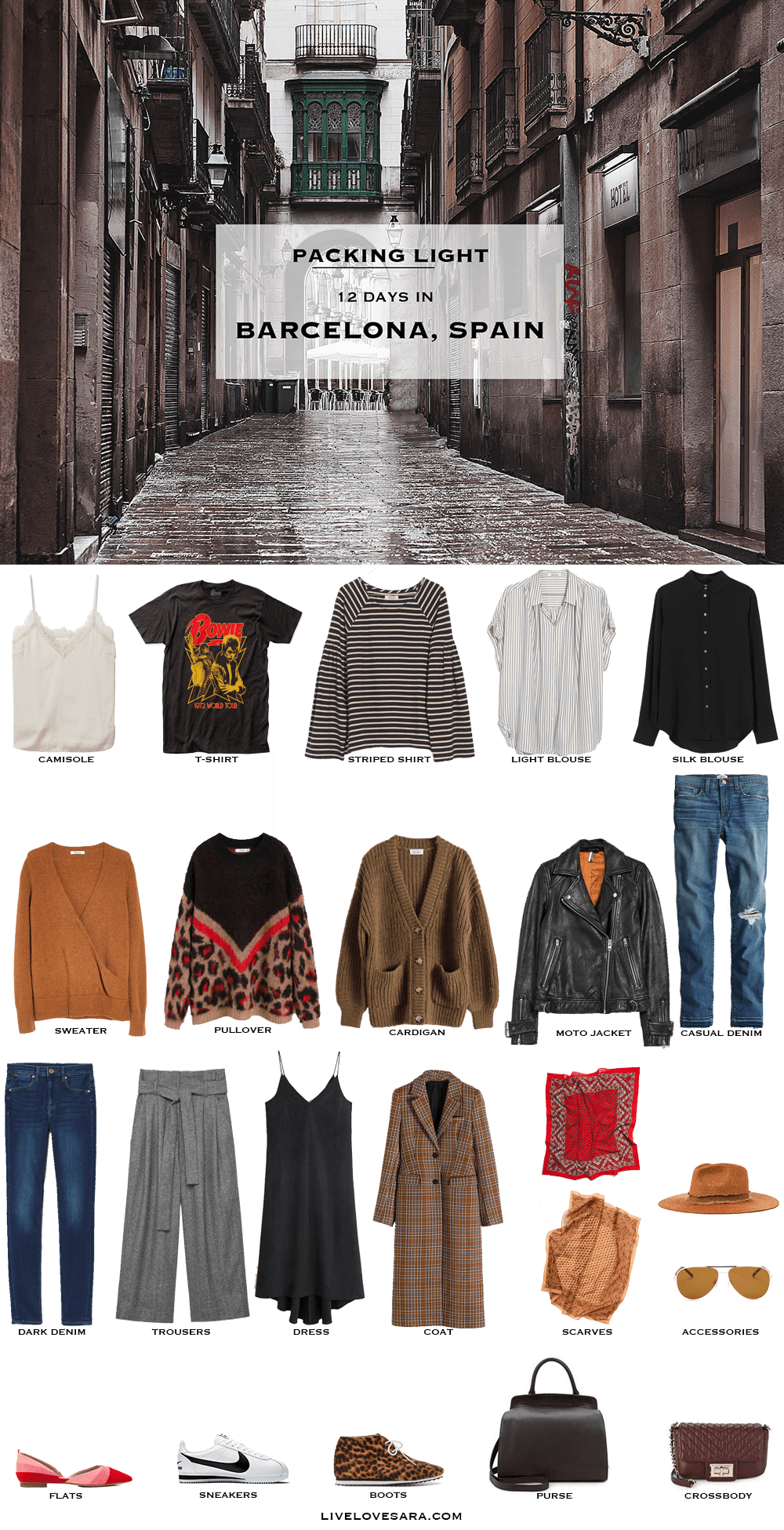 Camisole | Bowie T-shirt | Striped Shirt | Light Blouse | Silk Blouse | Camel Sweater | Animal Print Pullover | Cardigan | Moto Jacket | Casual Denim | Dark Denim | Grey Trousers | Black Dress | Checkered Coat | Red Scarf | Blush Scarf | Hat | Sunglasses | Red Flats | Sneakers | Animal Print Booties | Black Purse | Crossbody |
---
SHOP THE POST


---
Ugh. Website issues again today.
I really should move to another host, because every time I have an issue they always say "you need to optimize your website and then the issues will go away."
I optimize my website. I follow every step by step thing they tell me to do and still have issues.
A website doesn't suddenly get optimization issues when it is working better than ever, and then suddenly stops working without you having changed or done anything.
I think "optimization issues" is like a word they use when they don't want to admit that the fault is on their end.
It's easier to blame it on you and use big words that most people don't know. And once again Ugh.
If I was rich I would have a person I hired to specifically work on the website, because this stuff is hard for a person who has to learn as she goes along.
Thank god for Youtube tutorials.
Okay, enough of my complaining because it's fixed for now. It's just to warn you if it is loading really slow or not at all then I am apparently having "optimization issues" again.
This week I am doing a What to Pack for Barcelona, Spain. It is for the springtime.
That is supposed to be the best time to visit (March to May).
Where you will experience daily averages of the mid to high teens (in celsius) During this time, you'll notice that there are fewer crowds, the accommodations are less expensive, and it really is the best weather for touring (unless of course, you love the heat of summer).
Most of the days will be sunny, with a day of rain sprinkled in here and there.
When putting together your travel capsule wardrobe I would say to pack for sunshine and worry about the rain if it happens.
Little umbrellas can usually be found inexpensively at most corner/or dollar type stores.
And if you are really lucky you may get a day where it will be warm enough to hang around the beach, maybe not swim……unless you are adventurous.
But you might be able to catch some rays while sporting short sleeves if any day enters the low 20's.
*and a note for anyone who may have trouble walking or are in a wheelchair, I have read that getting around Barcelona in a wheelchair is a lot easier than many European cities.
When you think of medieval city centres you usually think of small alleys, and cobblestone roads, but Barcelona's Gothic Quarter is one of the most wheelchair-friendly medieval city centres, with smooth pavement, and flat to mild slopes.
If you are planning to visit Spain in spring and enjoyed my What to Pack for Barcelona, Spain packing list, please feel free to share it via Pinterest, Facebook, or Twitter. Thank you.
This post contains affiliate links. By using my links to shop I may receive a small commission (at no cost to you). Thanks for supporting what I do🙂
You may also like:
What to Pack for Seville, Spain
What to Pack for Spain and Portugal
What to Wear in Barcelona in Spring

Camisole
|
Bowie T-shirt
|
Striped Shirt
|
Light Blouse
|
Silk Blouse
|
Camel Sweater
|
Animal Print Pullover
|
Cardigan
|
Moto Jacket
|
Casual Denim
|
Dark Denim
|
Grey Trousers
|
Black Dress
|
Checkered Coat
|
Red Scarf
|
Blush Scarf
|
Hat
|
Sunglasses
|
Red Flats
|
Sneakers
|
Animal Print Booties
|
Black Purse
|
Crossbody
|
---
SHOP THE POST


---
Follow me on
FACEBOOK || INSTAGRAM || PINTEREST || LIKEtoKNOW.it