Holiday Gift Guide for Under $50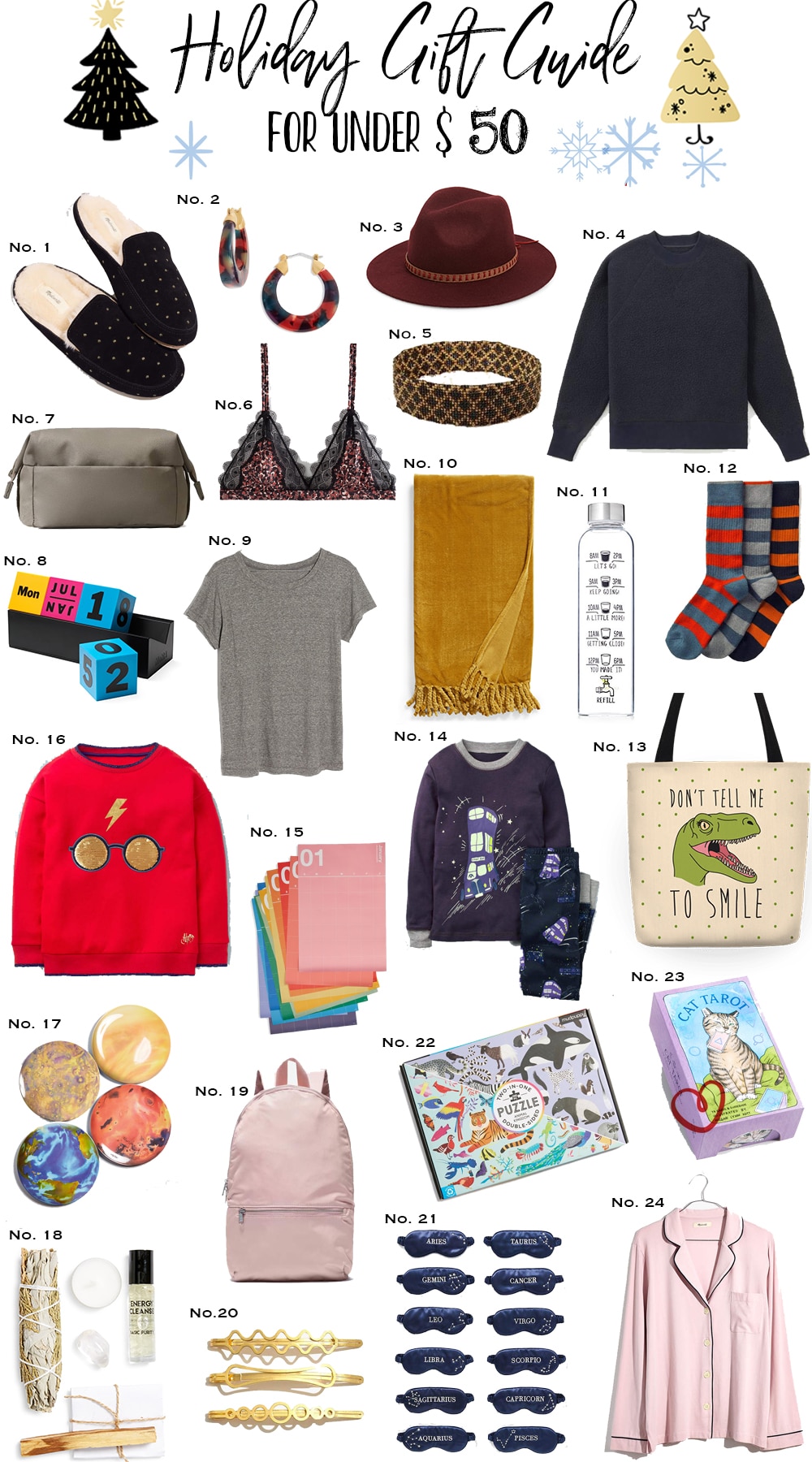 One | Two | Three | Four | Five | Six | Seven | Eight | Nine | Ten | Eleven | Twelve | Thirteen | Fourteen | Fifteen | Sixteen | Seventeen | Eighteen | Nineteen | Twenty | Twenty-one | Twenty-two | Twenty-three | Twenty-four |
SHOP THE POST


Today……or tonight I guess since I am running so very late, I have a holiday gift guide for under $50. It's a pretty average Christmas shopping budget for a lot of people so I pulled a variety of ideas. We are coming up to the biggest holiday shopping week of the
year. Are you prepared for it?
I have never met kids who clog a toilet as much as mine do :/ I just had to do a 9 pm run to Walmart for a new plunger and a drain snake….and by run I literally mean run (or at least speed walk).
Just how I want to spend my Friday evening.
It's Roo's 15th birthday on Sunday. I can't believe she will be 15. She wants me to take her to see Frozen II, which makes my heart happy that she still enjoys things like that.
She will also be coming into my room at midnight Saturday night to announce that it is her birthday and ask to open her presents. Which she does every year, and I always let her.
We put out tree up tonight. I was holding it hostage until they tidied up their crap a bit, but in the end, I was also punishing myself because I really wanted to put the tree up.
While I was digging out the tree I found my old DVD's of Empire Records, Pretty in Pink, Say Anything, Singles, and the season of My So Called Life. I'm letting Roo borrow them because I think that she will enjoy them.
Weekly Reads (and maybe videos):
Ethical brand ratings. They also have an app for convenience.
What Ancient Chinese Sounded Like.
Wearable Sleeping Bag Suit. I'm pretty sure that Roo would like one of these.
Dramatic Color Footage Shows a Bombed-Out Berlin a Month After Germany's WWII Defeat.
101 Ways to Live More Sustainably.
How to Politely Decline an Invitation.
A copy of Alice in Wonderland growing mushrooms because of water damage.
Rod Stewart's Epic Model Railway. This is AWESOME.
This one isn't a link, it is something that I learned through watching my Great Courses lecture on the Black Death. Apparently, people who have a natural immunity HIV-Aids had an ancestor who survived the plague. Isn't that incredible?

You may also like:
Holiday Gift Guide for Under $75
Holiday Gift Guide for Under $100
This post contains affiliate links. By using my links to shop I may receive a small commission (at no cost to you). Thanks for supporting what I do