Spain Packing List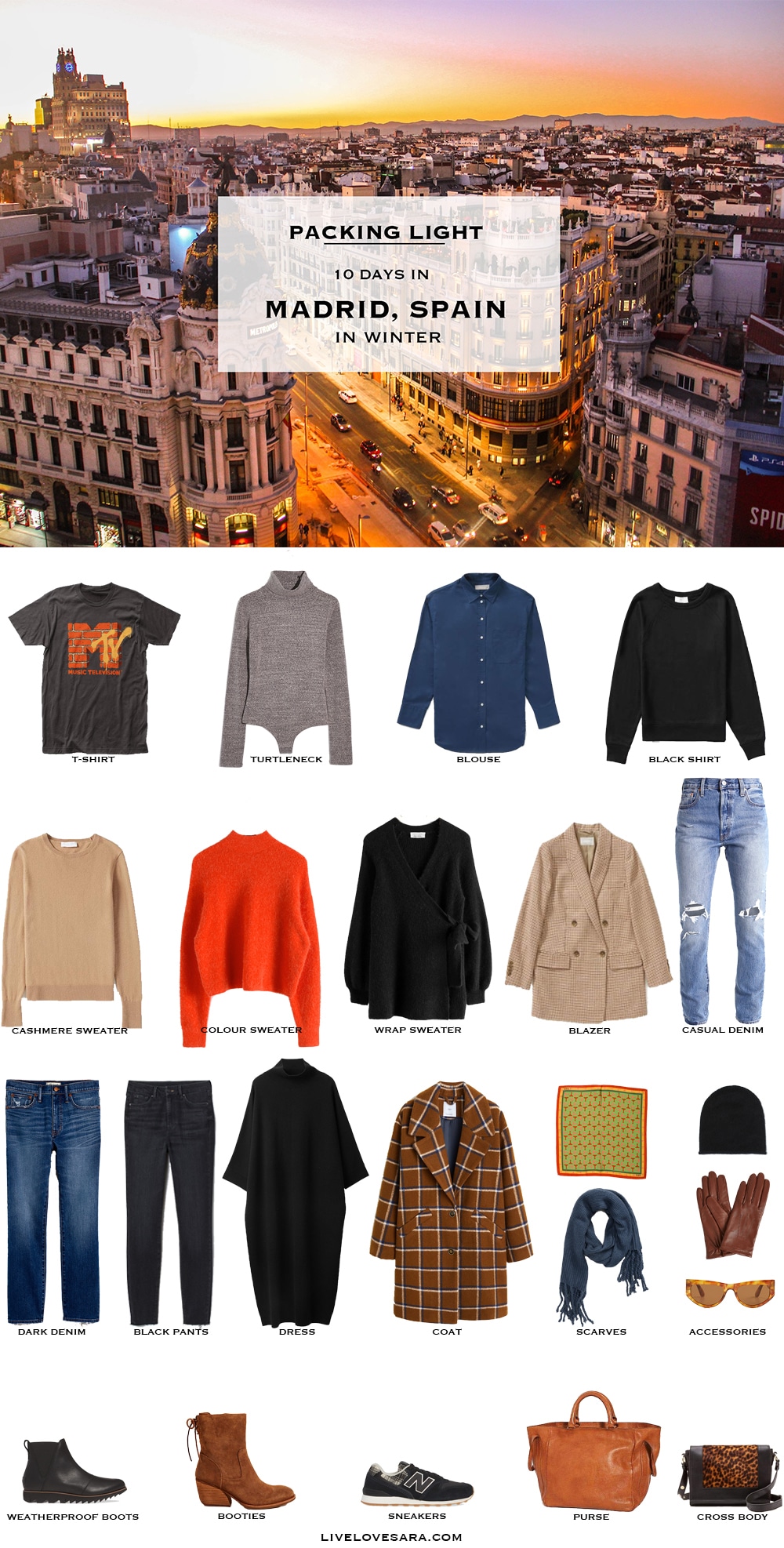 T-shirt | Turtleneck Bodysuit* | Blouse | Black Shirt | Cashmere Sweater | Red Sweater | Wrap Sweater | Blazer | Casual Denim | Dark Denim | Black Pants | Dress | Plaid Coat | Green Scarf | Knit Scarf | Black Hat | Gloves | Sunglasses | Waterproof Boots | Brown Boots | Sneakers | Brown Purse | Crossbody |
---
SHOP THE POST


---
When you think of Spain you think of sunshine, heat, and tourists. If you are like me and don't like intense summer heat then visiting Spain in the winter may be right up your alley. Today the post is focused on what to pack for 10 days in Madrid in winter.
Madrid Weather in Winter
You still get the same glorious sunshine minus the sweltering heat, and bustling crowds of tourists. Spain's weather in winter is much milder than it's other European neighbours located north of the country.
It is prone to rain more frequently during the winter so some waterproof footwear is a good idea. The weather is much less debilitating than many other cities during the winter months and you will be able to walk around the city comfortably with proper travel wardrobe planning. The weather is nice enough that you will still see people enjoying meals on terraces during the winter.
Things to do in Madrid in Winter
Madrid snows very infrequently, so if you plan to visit Madrid at Christmas then don't expect it to be a white one.
That doesn't mean that the Christmas holidays in Madrid are any less festive. When late November hits the Christmas markets in Madrid start to open.
The Christmas lights are supposed to be fantastic too so bundle up and walk the city centre at night, then stop off at a chocolateria to warm up with some churros. A chocolateria is a cafe where drinking chocolate is served, which sounds delightfully decadent.
There is also an interesting but intriguing New Years Eve tradition that involves 12 grapes. I'm not going to lie, I would probably choke which wouldn't be the best way to ring in the New Year. It sounds like a lot of fun and laughs though.
Madrid has the "Golden Triangle of Art" which consists of the three most important art museums in Madrid: Praddo Museum, Reina Sofia Museum (I really think my oldest daughter Roo would like this one), and the Thyssen-Bornemisza Museum. And I should also totally be writing museo instead of museum.
These three are located in close proximity to one another and public transportation should be able to get you to them easily.
These are also a great way to spend a rainy day if you don't feel like exploring outside.
Also, note that if you plan on visiting Madrid during the holiday season you should verify all the sites that you want to see will be open. Many businesses are closed during this time or have shortened hours.
Also, don't forget to hit up the tapas.
Packing Tips for Madrid
Now that we have covered the weather it's time to build your Madrid packing list. Spanish women are very fashionable and being home to both Zara and Mango they are well known for their impeccable taste in clothing.
Speaking of Zara and Mango, the Spain locations will have more than what you can find at your local stores so it may be worth a pop in, especially if you feel that you have an incomplete travel wardrobe.
It happens to the best of us, which is another reason they learn to pack light, it leaves room in your suitcase for all the souvenirs and shopping extras that you may want to bring home.
It's not fun when you can't close your suitcase, although packing cubes tend to help.
When you are planning your travel capsule wardrobe you need to figure out a colour palette. For this one, I went with black, grey, brown, navy, and a little pop of red for some fun colour.
It's a misconception that you won't need a winter jacket in Spain, you just shouldn't need your heavy-duty winter coat. Save that for your trip to Iceland or Scandinavia. A nice wool jacket that you can layer sweaters underneath should be fine.
A lightweight down jacket would also work well, but I like the chicer look of a wool jacket. This down jacket ties at the waist and has a dressier look than most other down jackets. It would make a good alternative.
Remember that while the weather in Spain may not get as cold, when you combine rain with the wind especially at night you will get chilled. Don't forget a nice knit scarf, hat and gloves. A travel umbrella would also be beneficial.
I wouldn't pack winter boots for Madrid because it rarely snows, although I would bring something waterproof and maybe some thicker socks to keep your feet warm.
Booking Accommodations in Madrid
I have read a lot recently that people are starting to steer away from booking Airbnbs in Madrid. This is because it is driving out the locals, and causing the rents to increase significantly. This is leading to some people running sketchy Airbnb with subpar conditions.
If you plan on using an Airbnb, then make sure to research well. This same thing is happening here in Toronto. There are so many units in my building being rented as Airbnbs that are going for double the amount of my current rent per month and they aren't even that nice. It's insane.
I know someone who lives in Madrid and it is so funny to see her complain of the cold when it is considered t-shirt weather here. She is also one of the most stylish women that I know, which proves the preconception that Spanish women are chic. Way chicer than I'll ever be but I will continue to try 😉 Fake it until you make it.
*I really want one of these turtleneck bodysuits or a bodysuit in general. They would keep everything so smooth and you don't have to worry about tucking.
When searching for travel deals you can check booking rates at Booking.com
If you are visiting Spain this winter and enjoyed my What to Pack for Madrid in Winter packing list, please feel free to share it via Pinterest, Facebook, or Twitter. Thank you.
You may also like:
What to Pack for Rome in Winter
What to Pack for Lisbon in Winter
What to Pack for Spain in Winter
What to Wear in Spain

T-shirt | Turtleneck Bodysuit* | Blouse | Black Shirt | Cashmere Sweater | Red Sweater | Wrap Sweater | Blazer | Casual Denim | Dark Denim | Black Pants | Dress | Plaid Coat | Green Scarf | Knit Scarf | Black Hat | Gloves | Sunglasses | Waterproof Boots | Brown Boots | Sneakers | Brown Purse | Crossbody |
---
SHOP THE POST


---
Follow me on
FACEBOOK || INSTAGRAM || PINTEREST || BLOGLOVIN'